Happy (late) 1 year anniversary!
I can't believe it has been a whole year since Monster Prom launched and I can still recall first playing this wonderful hybrid of genres that I honestly didn't think would ever be combined like it is. If you haven't heard of Monster Prom, it's a competitive visual novel dating sim where you try to get a date to your prom. Before each game, you'll take a quick magazine questionnaire to determine your starting stats and which of the six datable characters you'll get a first point with (which will have them featured in your events starting out). From there, you'll be able to go to different parts of the school, each giving you a boost in a specific stat, and then get an event featuring the other characters. Your stats come in towards the end of the event as you are faced with two choices that will check a stat and give you a fail or pass scenario (which will increase or decrease some stats). As you play more and more, you'll get a good sense of what an event choice will check. You'll also get to go to lunch where you can sit with your love interest to increase an invisible heart stat or with a side character to increase a stat. If you're in a multiplayer game, a weekend event will also pop up for one of the players.
There are also secret endings that you can achieve. Some of them you can randomly run into when going for one of the love interests, while some are event items that you have to buy from the store. Although some secret endings are automatically available, the majority of them are locked until you see a certain number of events to successfully get all the datable characters to say yes to being your prom date, and/or achieved the other secret endings.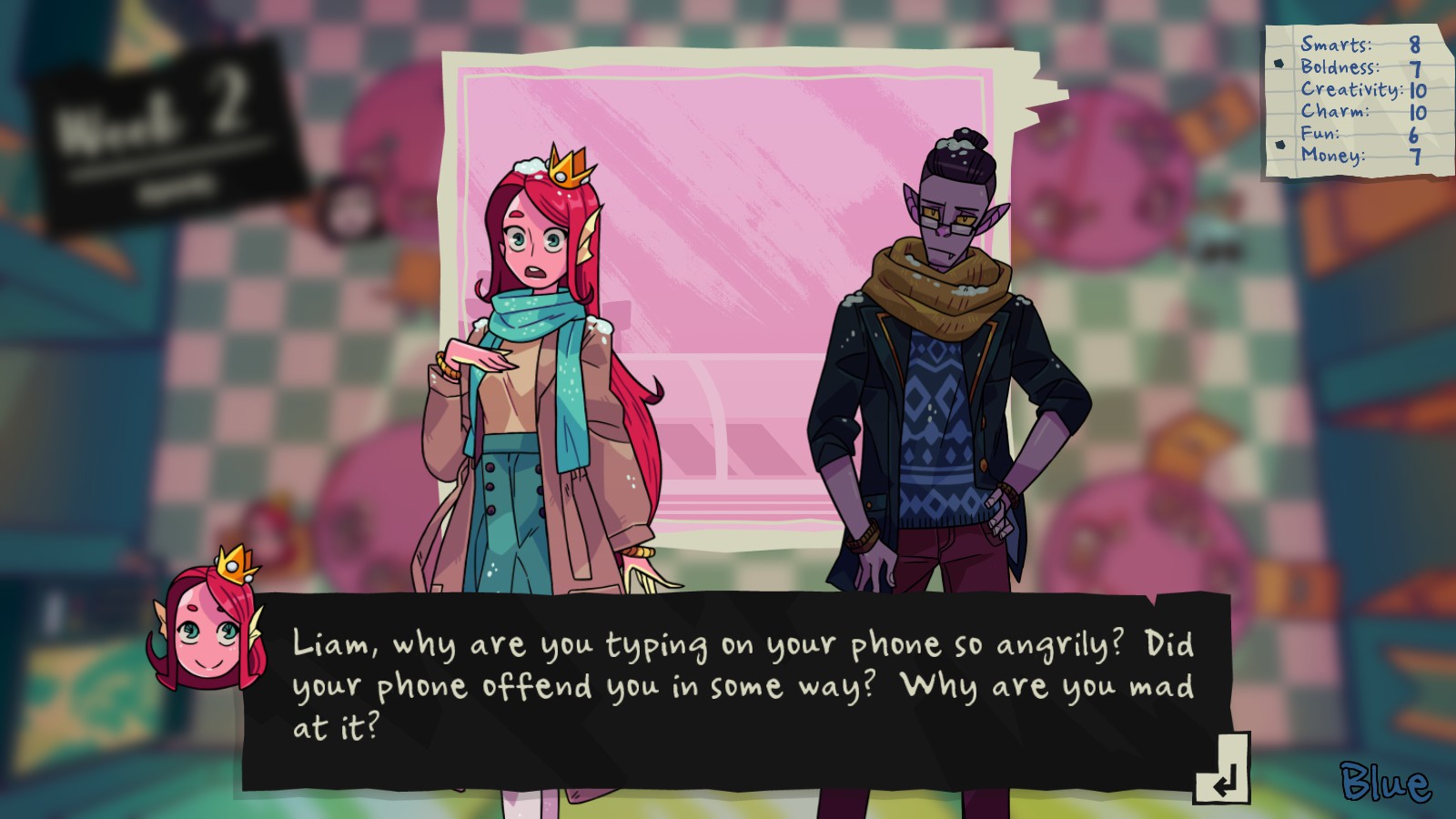 Seasonal Updates
Ever since Monster Prom launched, a lot has happened. A couple of seasonal updates made their way in: Summer's update titled "F*uckin' Hot", Halloween's "That October Holiday", and finally Christmas or "The Gift Update". Each of these updates brought us temporary cute seasonal outfits and at least one new secret ending. Summer gave us a new Damien secret ending, Halloween's involved the Prank Masterz, and Christmas gave us a special gift that can turn into thirteen different items (four of which unlocks five secret endings). In addition, the "F*uckin' Hot" update gave us updated art for weekend events, the cafeteria, and introduced the gallery. The gallery collected end credit polaroids, prom pictures, secret ending pictures, additional art (like concept art and character art with outfit variations), fanart, and more recently Monstersonas.
I'm not entirely sure if the seasonal outfits will be activated again, but we'll see on June 21st.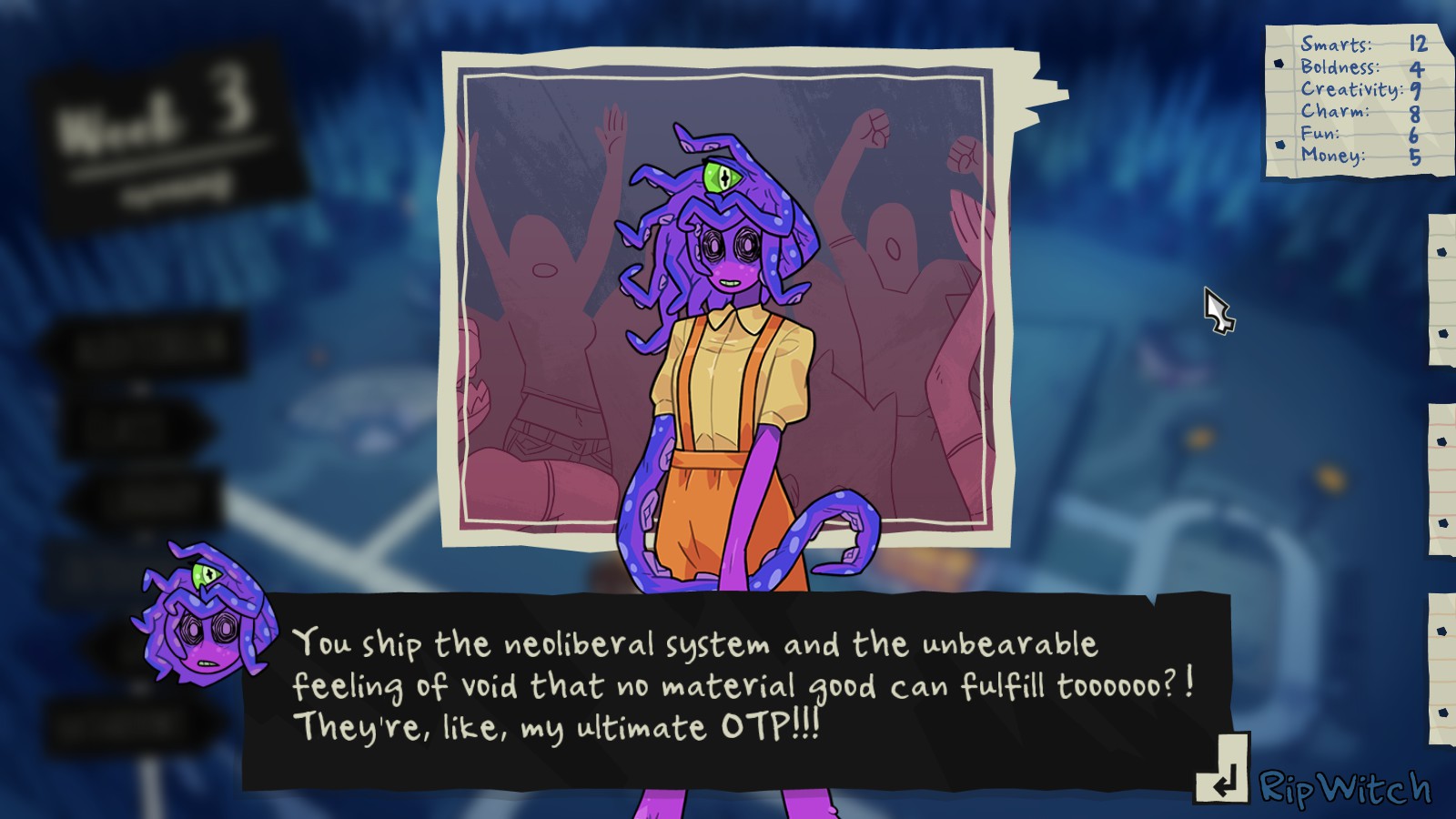 Monster Prom: Second Term
Then, we got DLC. On Valentine's day Monster Prom kicked off the new year with their first DLC called Monster Prom: Second Term. Bringing in a butt load of new events, twelve new secret endings (though only eleven were initially available until their anniversary update on May 17th), two new love interests that you may have recognized, and new side characters. The new side characters are a blue demon named Dahlia, a shirtless vampire named Dmitri, Leonard the kappa, and Violet who's totally not a mushroom feeding on her yeti boyfriend Tate. There are other characters, but they're involved in their respective secret ending.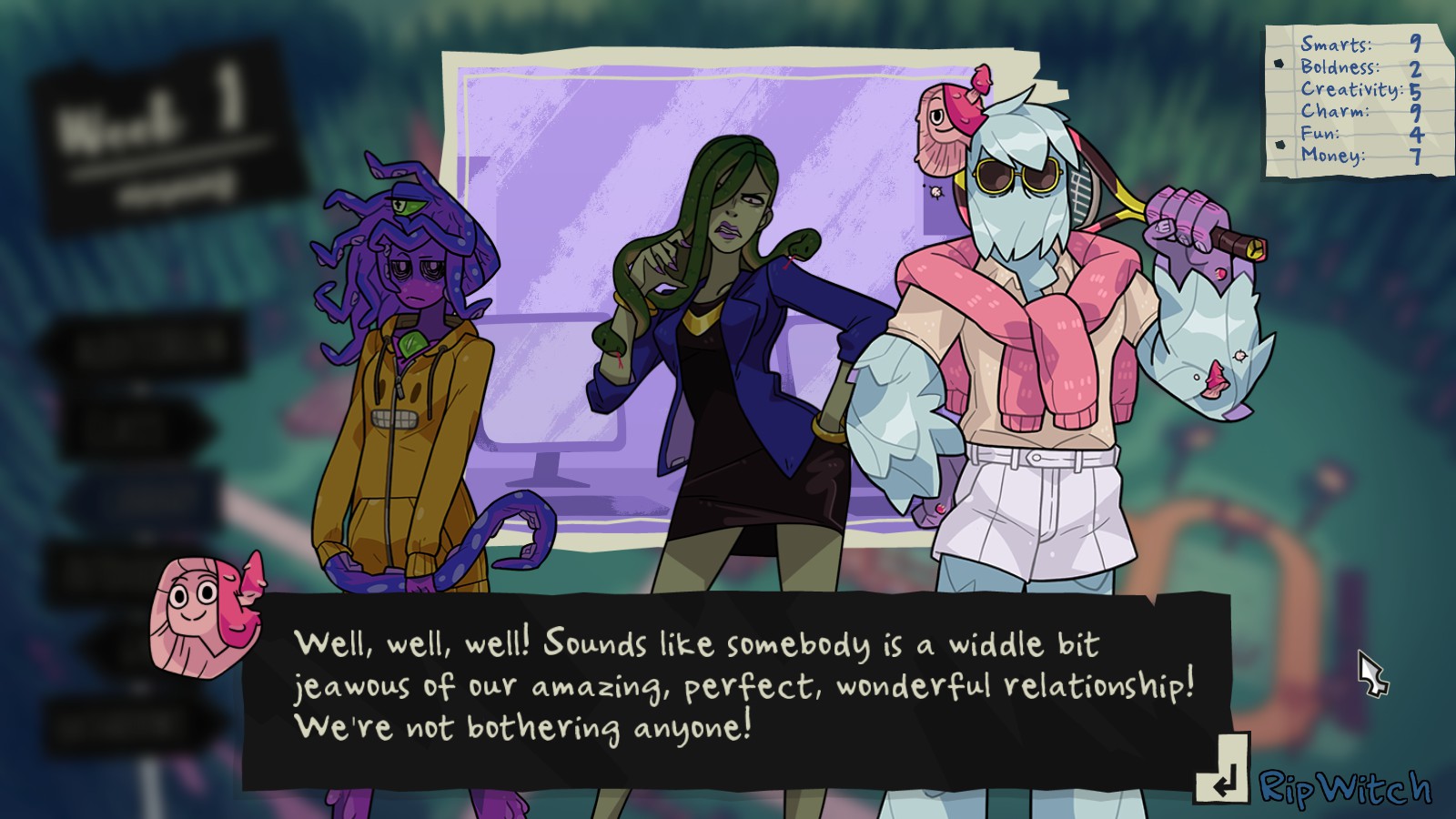 I totally bought Second Term the second it released. I was hyped and while I didn't set out to get all the endings immediately, I loved this DLC. The two new love interests that you can take to prom are Zoe and Calculester. If you went to get all the secret endings in Monster Prom, you'll recognize these two and notice that they both got new bodies. Zoe went from Eldritch horror to an Eldritch cutie that loves fanfiction and Calculester got an actual robot body (no need to push around a computer anymore) to finally experience life. For the secret endings, I don't want to spoil anything since they are wild, but I thoroughly enjoyed all of them.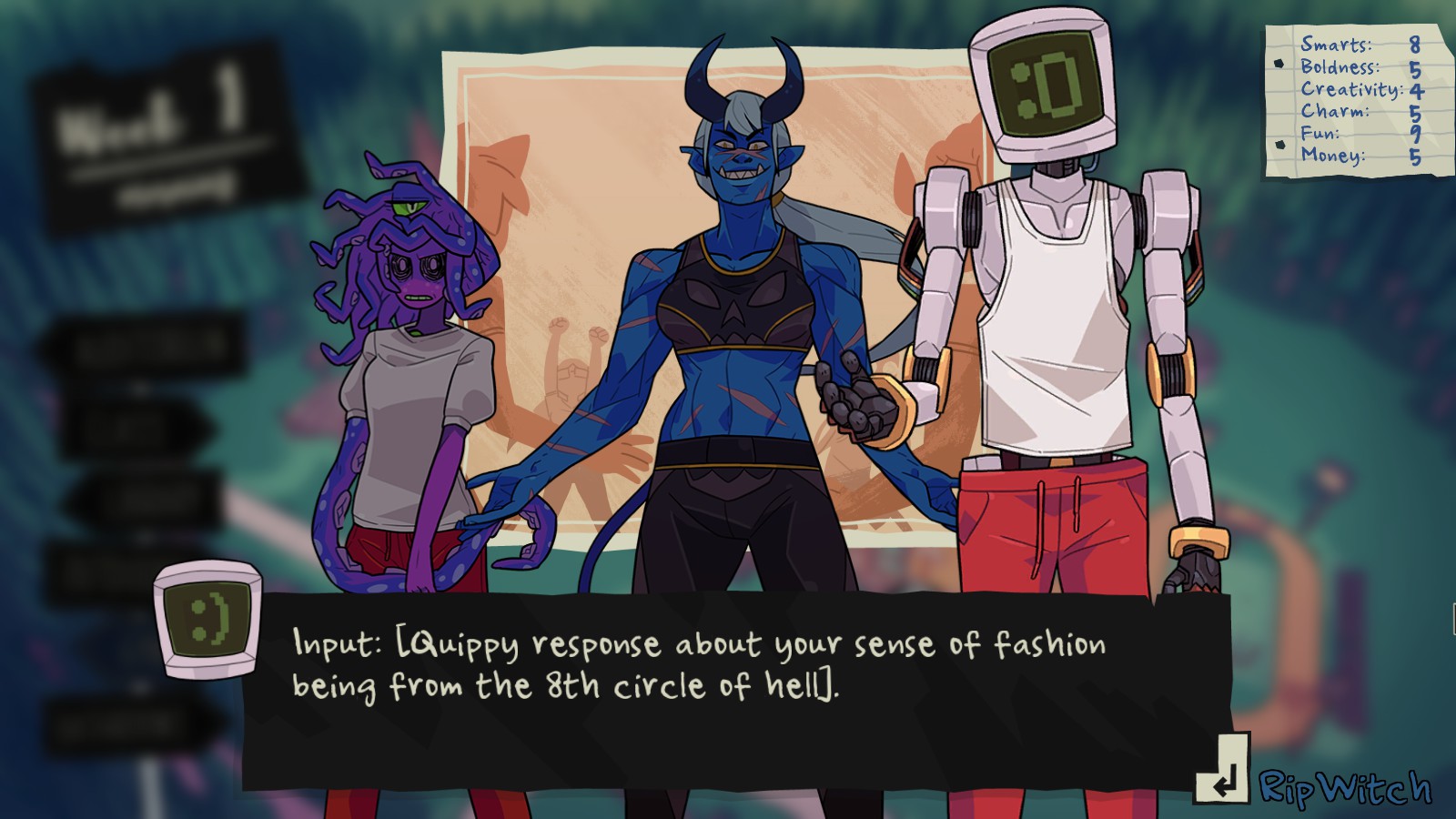 The only bad thing about Second Term is Leonard. He's a certain Kappa that is the combination of all the worst things you can find in obnoxious jerks online. I love Zoe, but Leonard just pops up in most of her events and ruins every scene he's in. The good thing is that he's obviously not a character that you're supposed to like and every other character hates him.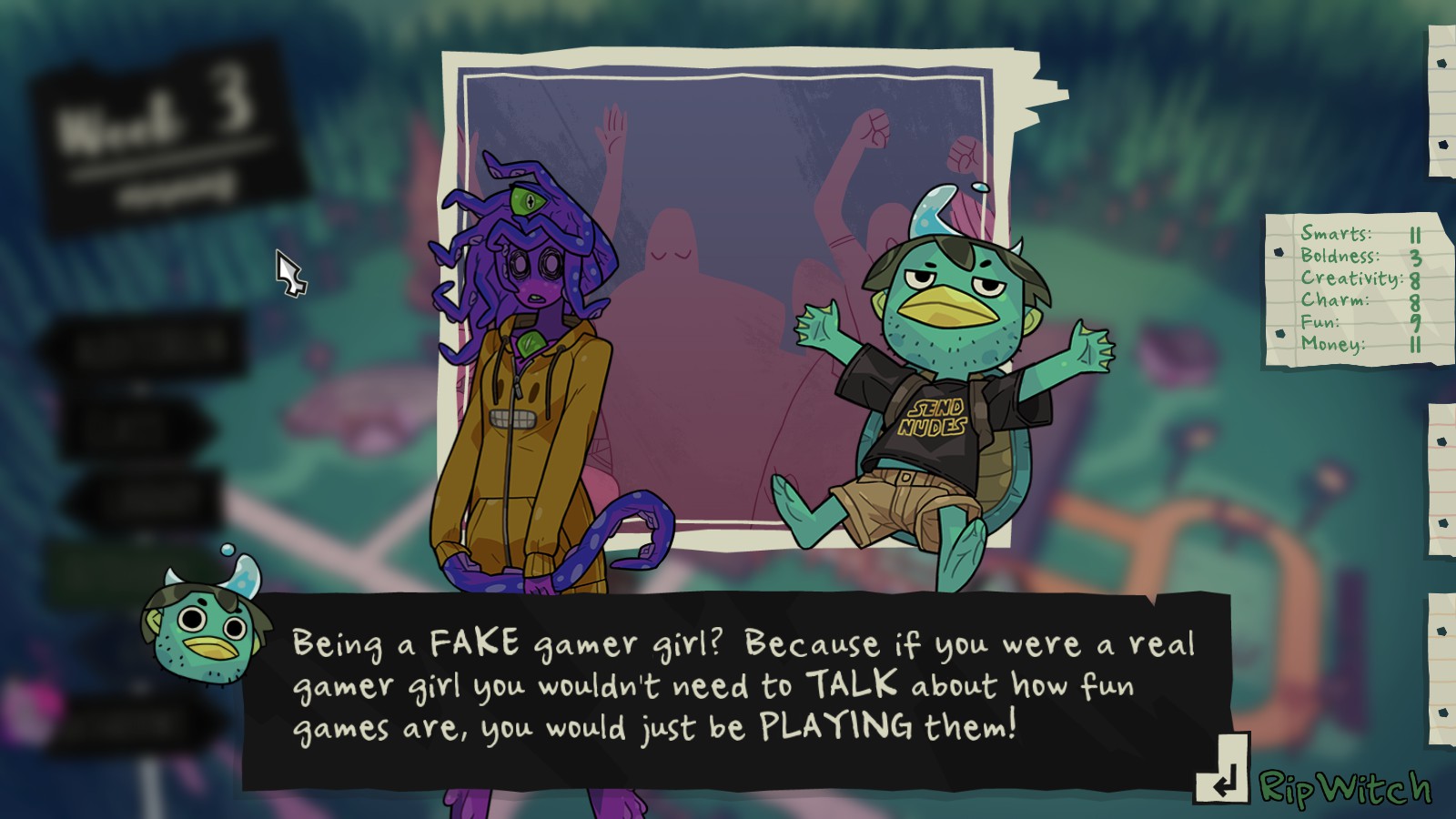 What's Next For Monster Prom?
Now we're here on the actual date of Monster Prom's anniversary. On Twitter, the Monster Prom team was teasing something that would be revealed on April 27th. When the day actually came, I don't think most of the Monster Prom fanbase could have guessed. Yes, that's right, Monster Prom is getting mod tools!
https://twitter.com/monsterprom/status/1122223167181869057
Looking back, it's not entirely out there that the Monster Prom team is going to put in modtools. From the start, they loved the community Monster Prom managed to make and encouraged people to make fanart and Monstersonas, so much that they even had some art contests. Once the modtools launched, players were able to make their own events, items, plotlines, secret endings, and insert their own characters. Not to mention that Beautiful Glitch will launch some mods themselves to kickstart the modtools.
Oh, but that wasn't all. A sequel was also announced called…
Monster Prom 2: Holiday Season
Yep that's right! A sequel Beautiful Glitch wanted to make since day one is actually coming! While the Kickstarter is going to end before this article is going to be published (haha sorry) it was quickly funded and a bunch of stretch goals were unlocked.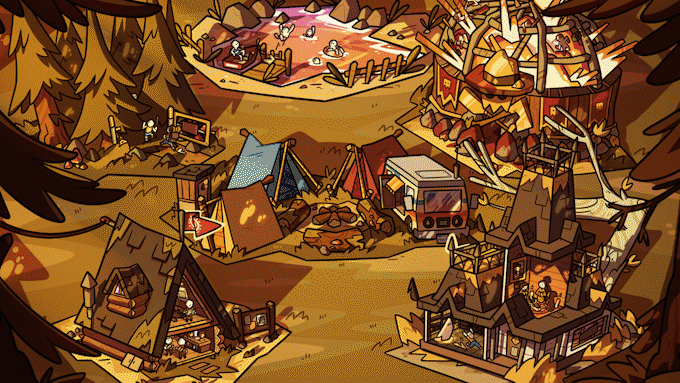 Monster Prom 2: Holiday Season is basically going to be three small games in one. You can go to the Monster Camp which will be a dating sim with four (now six) love interests and lots of side characters and new mechanics. Or perhaps you want to go to a Monster Retreat where everything is about war. You will be asked if you're Team Vera or Team Miranda, recruit allies, and learn techniques for the big strategic snowball fight at the end. Not feeling either of these? Well, you can take a Monster Roadtrip with the Prank Masterz! Monster Roadtrip will be more of a co-op experience as it will include survival mechanics while you ride around encountering unexpected stops and picking up hitchhikers.
There's a demo up on their Kickstarter page, so go check it out while you wait!
Of course, this means the focus will be on Holiday Season so updates for Monster Prom will most likely stop. Though, the team did say there are 5-10 more secret endings planned.