A short visual novel about a toxic relationship that is told in symbolism. It's a bizarre experience, although the true value lies to those who have experienced a similar story.
Released:
Steam
,
GOG
,
itch.io
,
Epic
Type: Singleplayer
Genre: Visual Novel
Developer:
Eyeguys
,
Lorenzo Redaelli
Publisher:
Santa Ragione
Release date: 13 Aug, 2020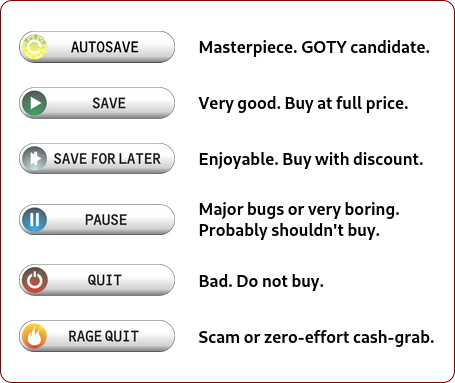 Intro
Milky Way Prince – The Vampire Star is a visual novel about a toxic relationship. It tells the story of two young men that are interested in each other, revealing their secret from time to time from a short encounter.
Visuals
The game uses a mix of 2D and 3D models. Characters are drawn in monochrome, 2D visuals while the rest are represented in 3D models. The contrast between the two doesn't look odd at all, especially with the visuals that are focusing on white, black, and red color. It's nice to see the animations that are shown whenever the game tries to express something. However, some animations are redundant. It's boring to see the same animations over and over again whenever the characters are trying to get a feel for each other.
Story
The story confuses me. It starts normally with an encounter of two men that become interested in each other. You'll soon realize that both sides are mentally unstable with their obsession and depression, which might be the reason why it's hard for me to relate to the topic. The dialogue sometimes steers off into them talking in their fantasy, making it hard for me to find a common ground. I took some words at face value at first, thinking that the other man was a literal star. It took me a while before realizing that everything is just a part of their symbolism, and I was already too deep into the story to realize my mistake.
There are a lot of problems that the couple faced, but there isn't much information that you can get off of them. The developer might be meaning to tell the story about someone who obsesses over other people so much without even knowing full well of the other, and how unhealthy that kind of relationship is. I liked how everything was presented though – the animation looks cool with the relation to the star and other astrology-related terms. I could feel the emotion that the developer was trying to convey from them, but sadly, I didn't get much on the narrative part. The good ending might be trying to send a moral message to the players, but that's everything that I could get from it.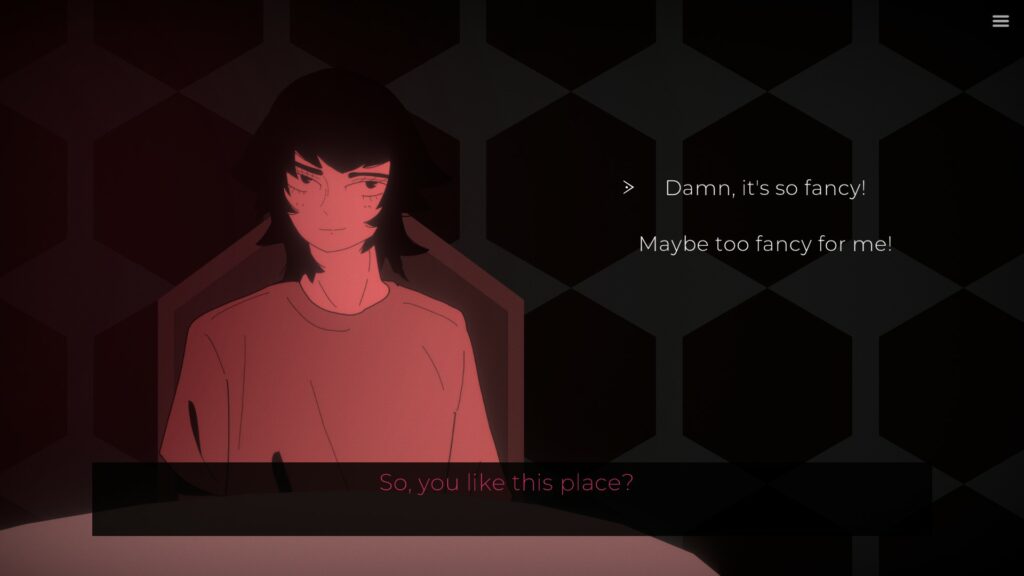 The Game
Gameplay
As a visual novel game, the game mostly revolves around the conversation between two people. Dialogues are light and full of small talks, making it easy to digest for those who are new to them. You'll also have the chance to interact with your surroundings in between as a breather.
The game does a lot of reference to sex. There are 4-5 encounters between the couple in the game which always end with sex. Although I liked how they are represented, it feels redundant, especially since you'll do the same thing with a different flavor text. It's nice to see that you can choose 3 out of 5 actions every time though.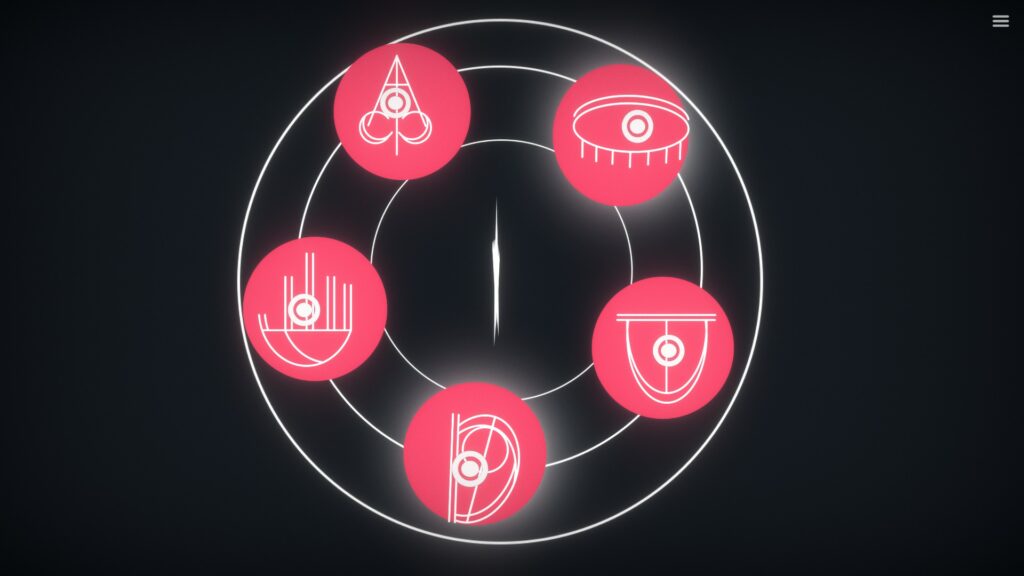 Length and Difficulty
I finished the game in 1.9h. The rest of my playtime was spent looking for the other 2 endings. There is no way to speed up the text on your subsequent playthroughs – you'll be forced to reread the same text just to experience the other endings. You still can speed up the animation speed, but that still wasn't fast enough to me. To be honest, I wished that I sped it up in my first playthrough; the animation speed was very slow by default.
Specs
Intel Core i5-9300H 2.40GHz, 8GB RAM, NVIDIA GeForce GTX 1650
Verdict
Milky Way Prince – The Vampire Star is a unique game for sure. It does a good job of conveying the emotions of the characters, but it was buried beneath a lot of symbolism that doesn't make sense. It was hard for me to make out what the game was talking about, and the only thing that got in my head was how to get out of a toxic relationship. It might be what the game was trying to convey, but with how bizarre and confusing my experience was, I don't think I could recommend it for now.