Yes yes, you can read this review, it is safe. No trap guaranteed. Just click here to display it, then scroll down a little bit, then BOOOOOOOOOOOOOOOOOOOOOOOOOOO!!!!!!!
Are you ok? If you are allergic to jump scares, perhaps you should not read anymore. Halloween 2016 has been quite fruitful in this department, and Hide and Shriek has a lot of tricks to provide while shaking up the cauldron, errr I mean the formula.
Steam: Released
Developer: Funcom
Publisher: Funcom
Genre: Horror
Release date: 25th of October, 2016
Type: Multi-player 1v1
Funcom, developers of The Longest Journey, are well known for their MMORPG The Secret World revolving around the occult and all sorts of myths, from Lovecraft to Vampires. I always regretted the multiplayer aspect of that game and wished for a single-player experience, especially considering that it was really close to the wonderful experience I had with Vampire The Masquerade: Bloodlines. I digress, we are not here to review The Secret World, but Hide and Shriek. Hide and Shriek, just like a few other games like The Park, takes place in The Secret World universe (understandable – they have great material) while being perfectly independent and requiring no knowledge of The Secret World. Basically, if you don't know anything about their previous games, you will not miss out on anything.
Mostly you won't miss out on anything because there is no story. Hide and Shriek is exclusively multi-player, and more precisely one vs one. As if this was not restrictive enough, the matchmaking is not always populated so you should plan to play it with a friend or your special someone. Except if your special someone is a Zombie, because this game requires a functioning brain to be played. No offense to Zombies' intelligence quotient, I just mean that if your friend is a Zombie you could be the one deficient in the brain department, after it has been nibbled with love.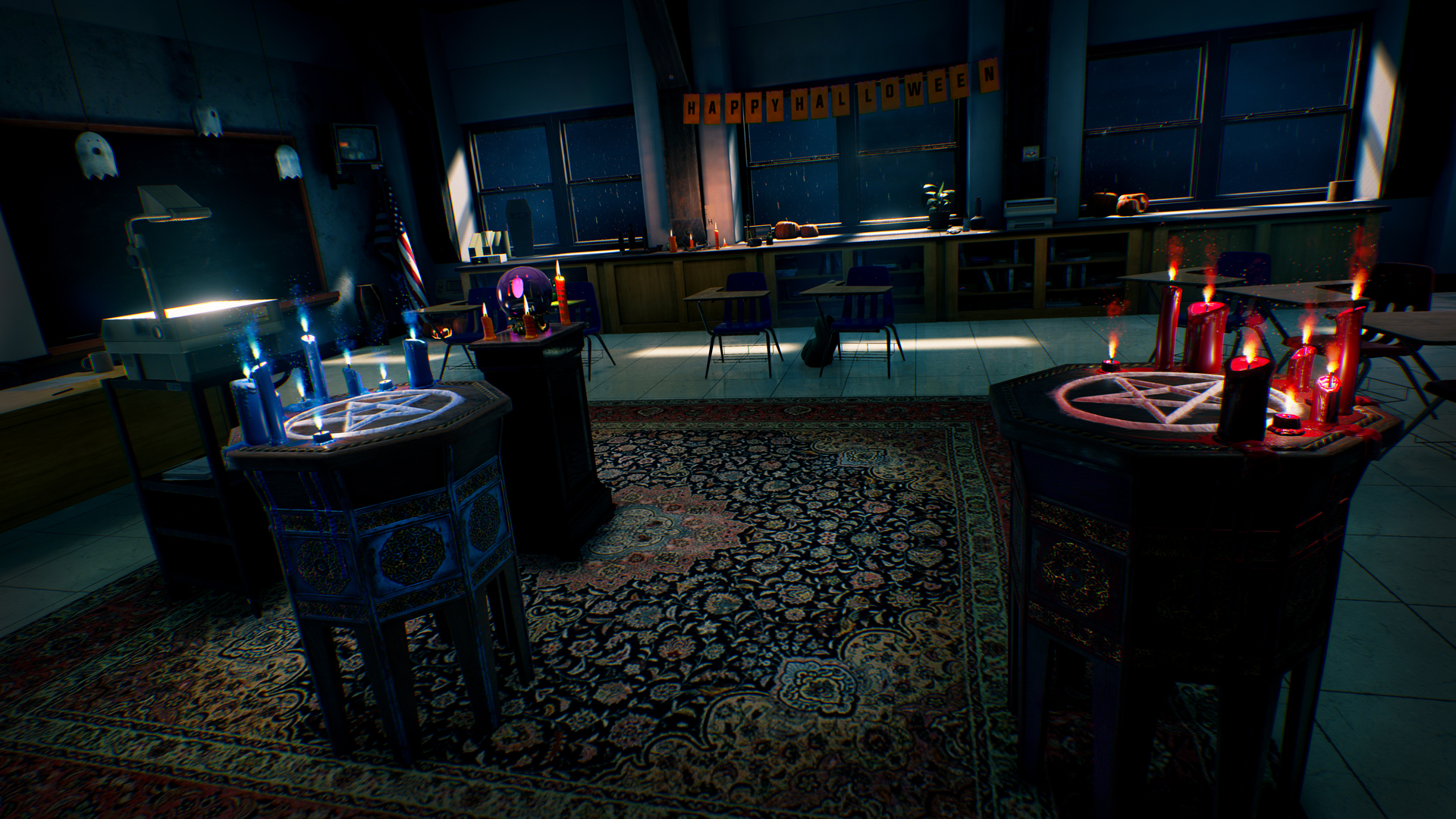 Once you have someone alive to play against you, you can really expect a good time. Both players are dropped in a school, but not any school. A magic school. Since wizards don't have fun like normal people do, instead of dressing up they drink an invisibility potion and try to scare each other. Now before I get more into the game mechanics, I have to mention that there is only one map. That map has four rooms and one corridor. There are no other locations. Maybe the dorms would have been fun too? At least this one map is perfectly well balanced and suitable for the game.
Hide and Shrek is a very sneaky game. However, the Ogre cannot fit behind a wardrobe, is too big to stand behind an open door, and thus the game ends very quickly. Ahem, sorry that was the wrong game. More seriously, there are two paths to victory. The first way to win is to have the highest score when the timer runs out. In order to score points faster, there are orbs of your color to find hidden around the map and bring on the corresponding altar. Altars disappear at times to times, or when they receive an orb, forcing the players to explore often and limit camping. The second way to win is by scaring the opponent three times in a row with the "Shriek", an instant jump scare if thrown on the opponent when they are right in front of you. "Shrieks" take time to recharge, so you should only trigger them when you are sure that the opponent is right in front of you.
Another core element of the gameplay is the presence of spells. There are tons of spells that are prepared by finding and combining runes scattered around the level. A lot of those spells consist of magical booby-traps, such as sound triggers or stuns, or even banishing the opponent to another dimension for a short amount of time. In the menu, there is a spell book to serve as a reminder for all the combinations, or you can just randomly combine the runes you find and use them. This might allow some players to master the game really thoroughly, which is a both a good thing because the game has a lot of hidden depth from the variety of traps and their usage, and a bad thing because if someone gets too good, playing becomes way less fun for the opponent.
In any case, to find the runes and orbs both players have to interact with their environment by opening doors and drawers or pick up items, and combined with traps revealing their presence or creating sound effects, opportunities will be set for "Shrieks" despite the fact that everyone is invisible. All these ingredients give a lot of potential for mind games, and past the initial fun and confusion the game really shines and becomes quite competitive. However, I think that an optional game mode that replaces rune types by randomly generated spells would be nice too, as it would erase the advantage that expert players could gain over others.
Technically, the game runs quite well. Made with the Unreal Engine 4, it has plenty of graphical and sound options, and all the keys can be rebound (controllers too). Surprisingly, the game takes 4GB of space for a single map. Maybe that's because of all the customizable "Shrieks" to unlock?
So if I were to nit-pick at the game, I found the visual "highlighting" of drawers and doors quite distracting when your eye is trying to catch subtle movements from the other player. High-level play can become quite unbalanced due to the inherent capacities of the players, then it stops being fun if someone keeps losing, and you won't always be able to find new adversaries through matchmaking. And finally, there can be situations in which the player that is ahead can afford to just remain ambushed and wait for the one that is lagging behind, which makes it really hard for that person. Indeed, the one lagging behind does not have many opportunities to detect an ambushed player, whereas they are taking all the risks when trying to bring an orb to the altar.
Overall, my time with Hide and Shriek was surprisingly good. I would not call it a scary game, the jump scares are in good fun. Under that flashy appeal, it's mostly a very fresh mind game with tons of cool spells that allow for a very rich experience and many possibilities. Sadly, this can also create an imbalance between players, and since it is not very populated the fun can be short lived. The game makes up for it with its very low price, so if you are looking for a few hours of good old Halloween tricks then it's the right treat.
Here is a video of a round:
RATING: 80/100