The last GREAT Need for Speed game!
Released:
Steam
Type: Singleplayer, Multiplayer
Genre: Racing
Developer: Criterion Games
Publisher: Electronic Arts
Release date: 18 Nov, 2010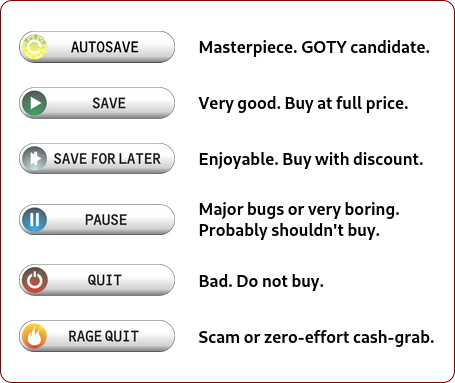 Intro
The year is 2010, you just came home from school and you see that your parents bought you the latest Need for Speed game. Taking the disc out and inserting it in your CD Drive or your console was the best feeling ever. After a couple of seconds, you're being presented with a beautiful cinematic while "Edge of the earth" is playing in the background. Need for Speed: Hot Pursuit is in my opinion the last great NFS game released in the last ten years.
Here is a gameplay section of Need for Speed: Hot Pursuit!
A fresh NFS experience back then…
Gameplay
When we talk about great NFS games we usually think about the Underground series, Most Wanted or Carbon games. All of these mentioned titles are city drivers with narrow city streets and mainly driving inside the city. Hot Pursuit does things differently, you drive on the highways, there is no city. Many players will say that this is actually a negative, not really though! Combined with its excellent control scheme you are able to achieve an extremely satisfying and smooth rhythm while driving around in this game. At first, someone might think that not driving in the narrow cities with sudden twists and turns will rob the casual NFS player out of the chase or race excitement of the game, but after spending over 300 hours on this game with multiple systems I can happily confirm that it will be a surprising experience for all of the NFS guys that haven't played this gem.
Hot Pursuit is a Cops & Robbers type of game that brings up even more question marks. You can choose between two careers, one becoming a famous and police marked illegal racer taking part in many illegal and dangerous timed events or races on the highways, the other career option being a newly recruited cop trying to fight against these illegal racers and climbing up the police ranks. You're given some very cool gadgets in order to make your opponents life miserable while racing. This is honestly what gives Hot Pursuit a very underrated tactical gameplay, when do I use the Turbo ability? When should I deploy the spikes? All of these questions while going 320KPH and avoiding ongoing traffic.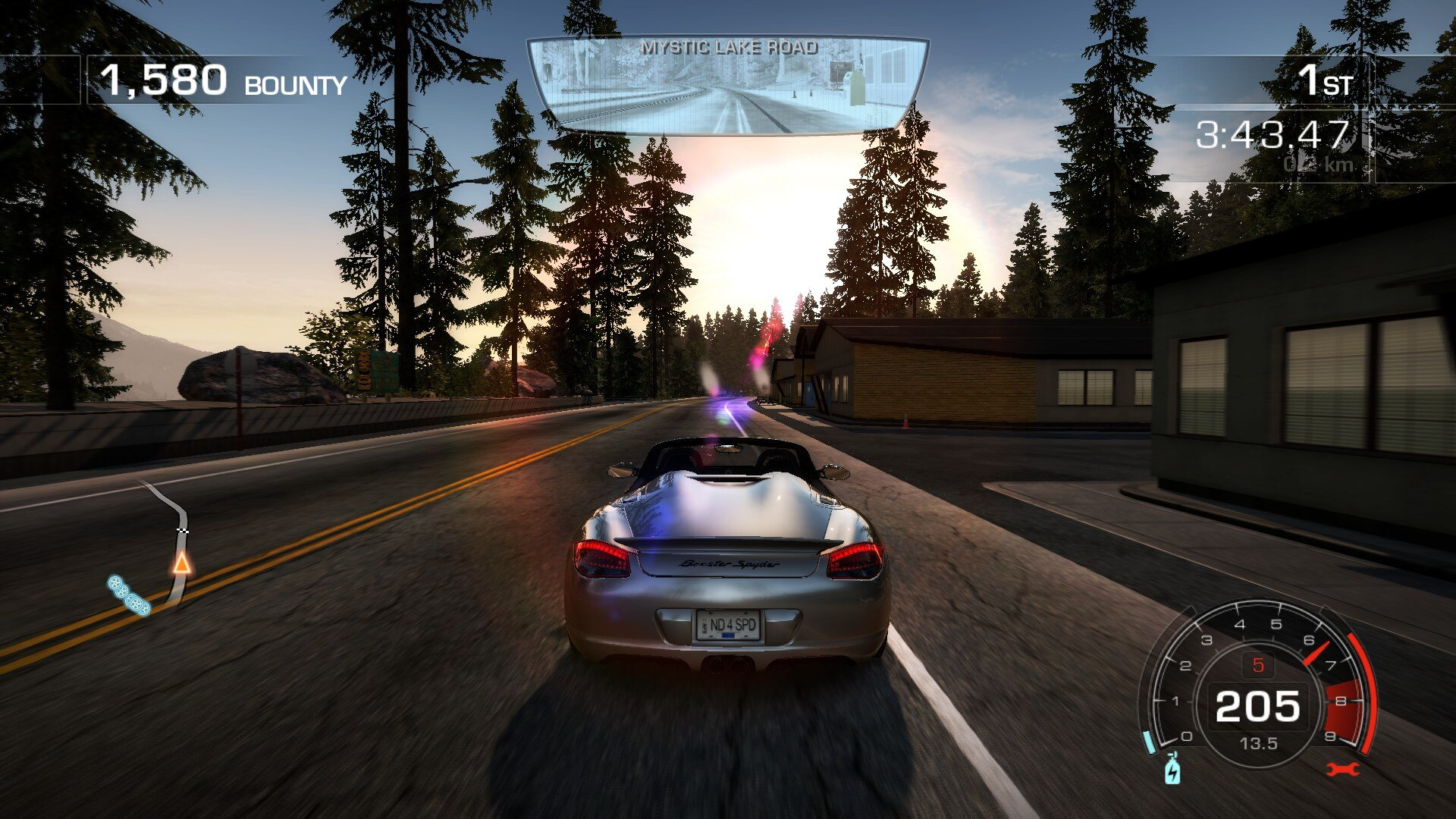 The great vehicle library is something to take note of as well! You're slowly working your way up with better and more expensive vehicles! Starting your career off with a Porsche Boxster, Mitsubishi Evo 10 or a Mazda RX-8 and then slowly but surely unlocking some faster cars like the Audi TTRS, Ford Mustang GT feels so rewarding. When you reach the end of the road with cars like the Buggati Veyron or the Koenigsegg Agera you feel as if you're on top of the world.
The Online portion of the title is easily the one I spend the most time in! There was always a full lobby with barely any waiting time for matchmaking, people were so smart with very cheeky tactics which proves that this game was constantly teaching you something new, lobbies were always competitive, leaderboards were proof of how good you were. 2010 was a different time and this game brings you back even a decade later.
One minor dislike I had with this game was the fact that there was nothing to do in the Free Ride mode. It felt dead honestly. The customization was laughable as well, previous games were known for their elite aftermarket parts and tunes, Hot Pursuit completely ditched that. Lastly, the game felt sometimes like a fancier Burnout Paradise game.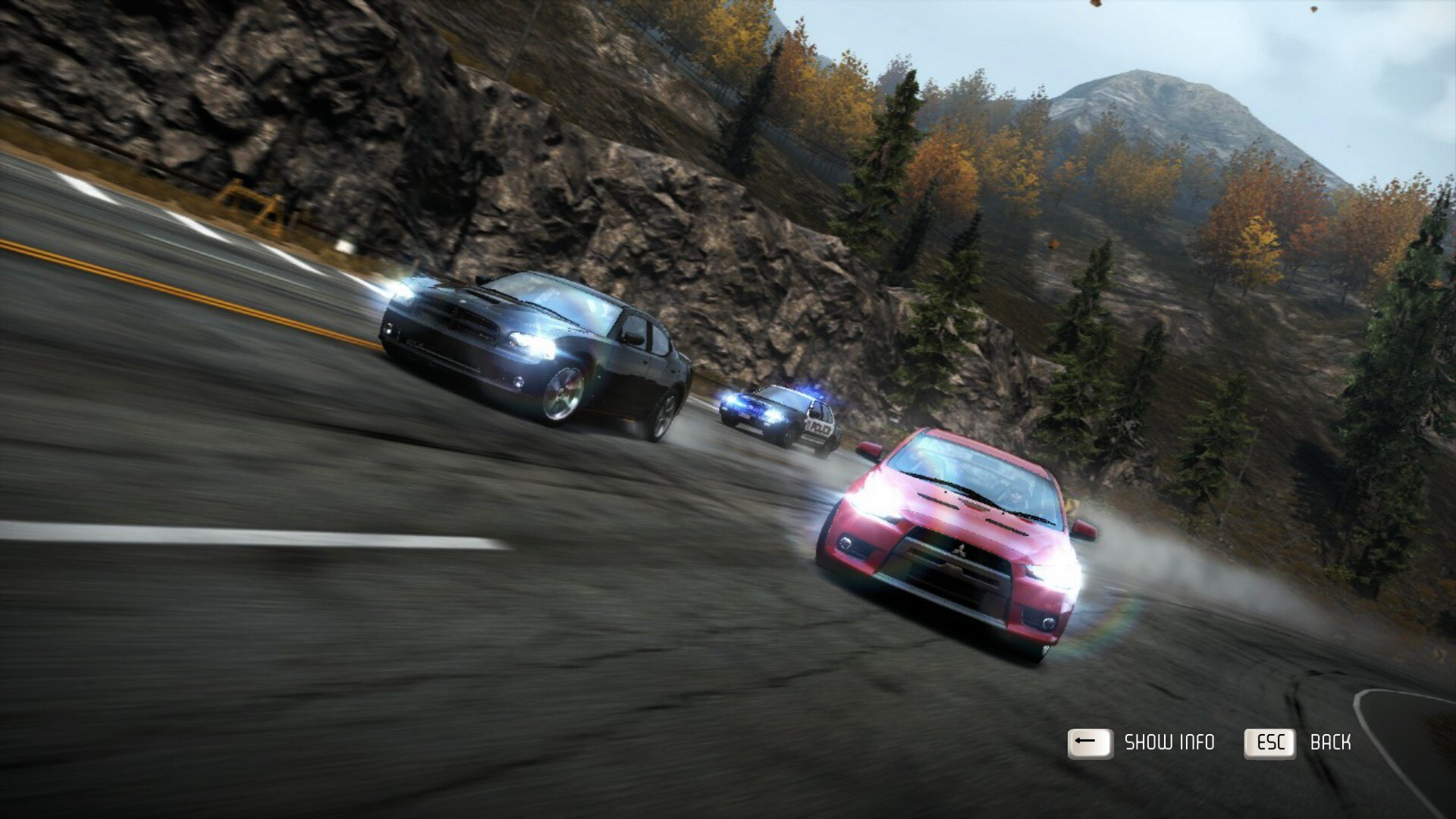 Graphics / Audio:
Here we see that DICE took part in developing this game which should be a reason as to why they used the Frostbite engine used for the Battlefield series at the time.
Graphics:
I did review the REVIEW: Need for Speed Hot Pursuit Remastered a year ago. If you would like to see a comparison screenshot take that for reference. In all honesty, the game doesn't look much worse compared to the Remaster. It holds up very well. The graphical settings are lacklustre on the other hand. You barely get any advanced or detailed options, also the Playstation 3 version had a 30fps cap while the PC version was lucky with a 60fps cap.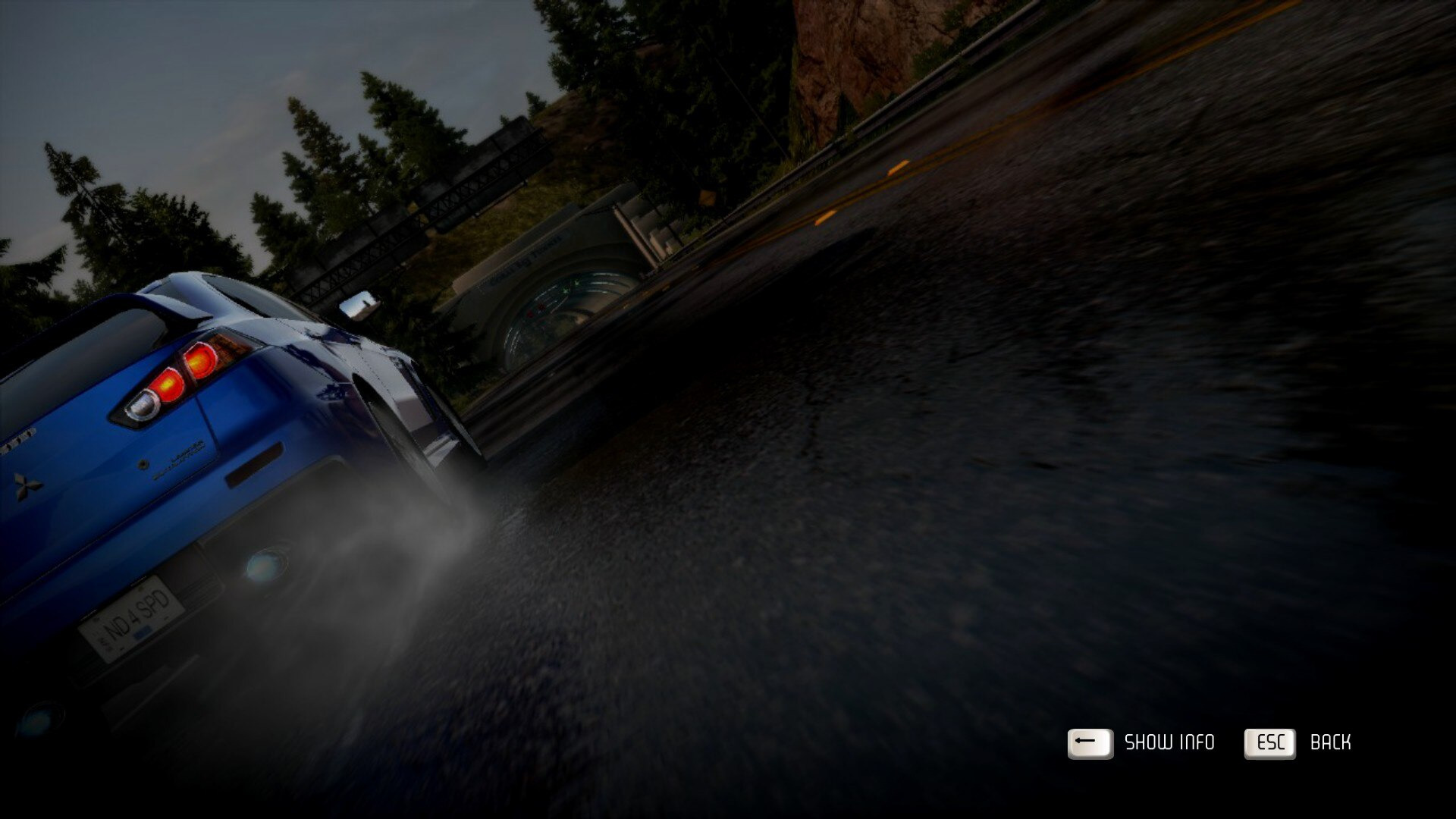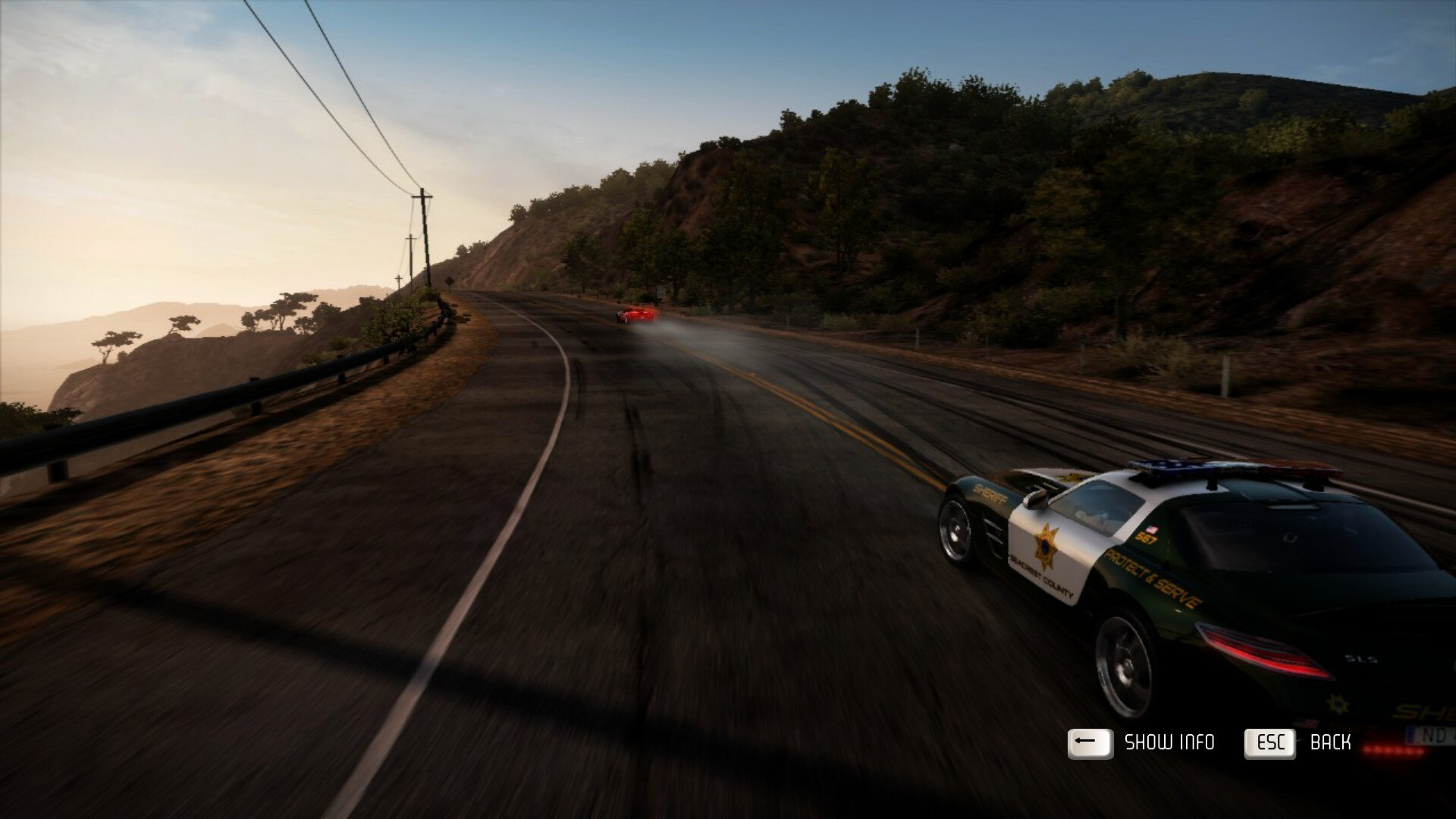 Audio / Soundtrack:
The soundtrack is obviously one of the biggest highlights in this game other than gameplay and visuals. Listen to this specific soundtrack brings you back to a decade ago, where COVID never existed, or TikTok…a much better world to live in.
Also, just in my Remaster review, the same is true here. This is arguably one of the best sounding games as far as vehicles go. Every car has its unique engine note, in the tunnels, the game becomes an orchestra for car people.
Performance:
In-Game:

AMD Ryzen 7 3700 X, 32GB Ram, Nvidia RTX 2070 Super:
The game was running with Max Settings at 1080p resolution while mostly hitting 60fps. (60 FPS lock)

In detail:

Average framerate: 60.0 FPS
Minimum framerate: 60.0 FPS
Maximum framerate: 60.0 FPS
In-Game:

AMD Ryzen 5 3500 U, 16GB Ram, Vega 8 2GB:
The game was running with Max Settings at 1080p resolution while mostly hitting 60fps. (60 FPS lock)

In detail:

Average framerate: 56.8 FPS
Minimum framerate: 37.9 FPS
Maximum framerate: 60.3 FPS
Bugs / Glitches / Crashes:
In my most recent playthrough, in about 15 hours of crashing into innocent drivers, I experienced no major issues at all. I was able to connect a regular Xbox Controller via Bluetooth, connected a regular Playstation 4 controller, as well as, a Playstation 3 one!
As far as steering wheels go: I was able to get my old Thrustmaster T150 Pro to work in this game which was not happening in the remaster.
On the other hand, I had no luck at all connecting my new Fanatec DD Pro wheel. Obviously, this is just nitpicking and being able to connect a sim setup is ridiculous on this occasion.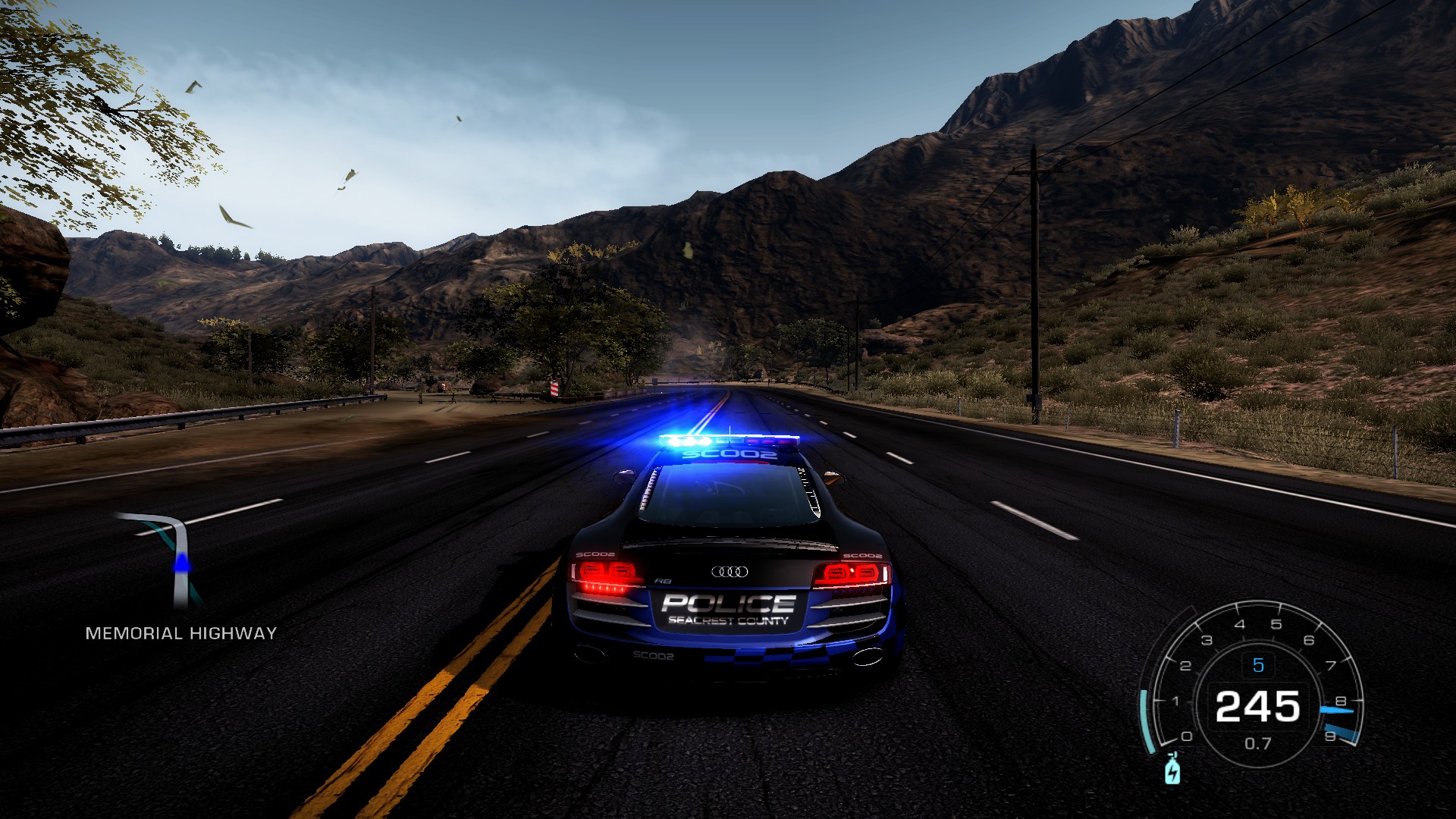 Verdict
Need for Speed: Hot Pursuit is an arcade racing game that still holds up impressively well. Gameplay-wise it is extremely unique compared to the most recent Need for Speed games, using the Frostbite engine made this game age like wine in all honesty, and lastly, the performance, as well as the online portion of the game, are a huge reason as to why you should install this game!
Many might ask now which would be a better purchase. If you already own the original Hot Pursuit 2010 then you should stick with that one. If not, do not be afraid, the Remaster has dropped below 10 Euros multiple times when on sale.