Traverse through a hostile alien spaceship, rescue crewmates, engage in tactical battles, and fight robots with your BARE FISTS.
Released:
Steam
Type: Single-player
Genre: Tactics, Strategy
Turn-based, RPG
Developer: 3Mind Games
Publisher: 3Mind Games
Release date: 2 Mar, 2021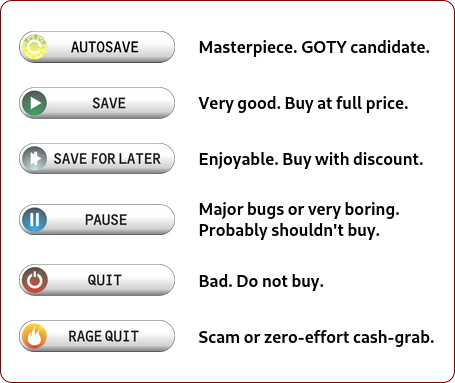 The Premise and Story
'The Protagonist: EX-1' is currently an early access game which takes us aboard an alien spaceship where our small group of soldiers has infiltrated in order to stop the alien invaders. The initial infiltration, however, failed and we got captured. The main character, Angel, doesn't remember anything and sets out to find survivors of her crew and to escape this alien spacecraft. So the game takes place in its entirety aboard a spaceship where we face machine enemies and find our way from one secure area to another. As we do so, we find other soldiers and even a dog to join our party.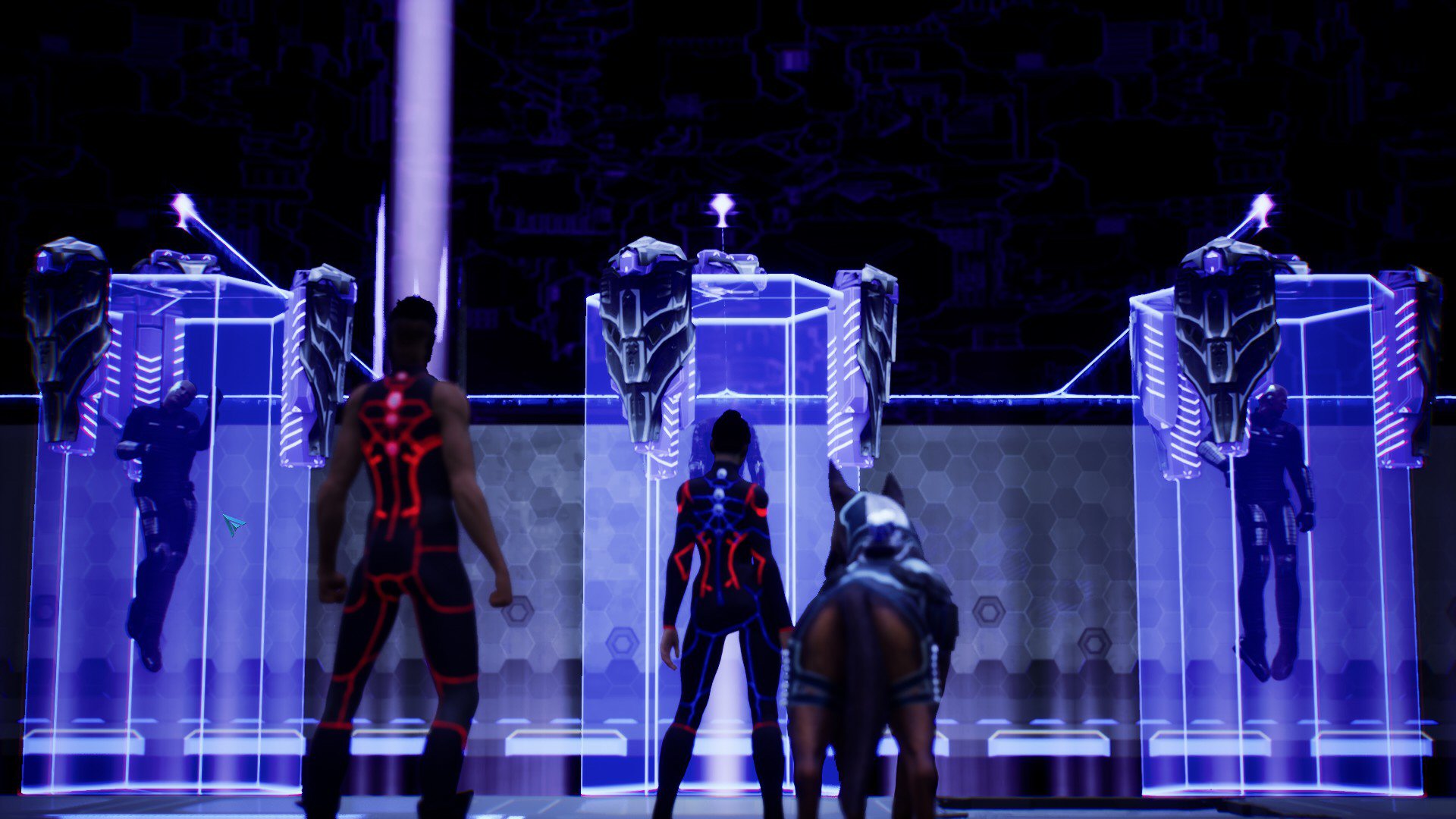 Gameplay
The gameplay consists mainly of exploration and combat. During exploration, we can freely roam about the corridors and rooms of the ship, pickup powerups, interact with some objects, and make progress through the level.
During the exploration, we get to solve some puzzles in order to gain access to new areas and get past security measures. Some of those can be as simple as moving a box onto a pressure plate to get the door to open, others can require to destroy a breakable wall section by putting an explosive box next to it, and some can require a bit more brain power by combining different puzzle elements together.
Since the main character is skilled at hacking, at times we need to hack into consoles and machinery. Some of those give us useful information and schematics for crafting gear, while others help us to manipulate things in the environment, such as unlocking doors or making moving platforms move.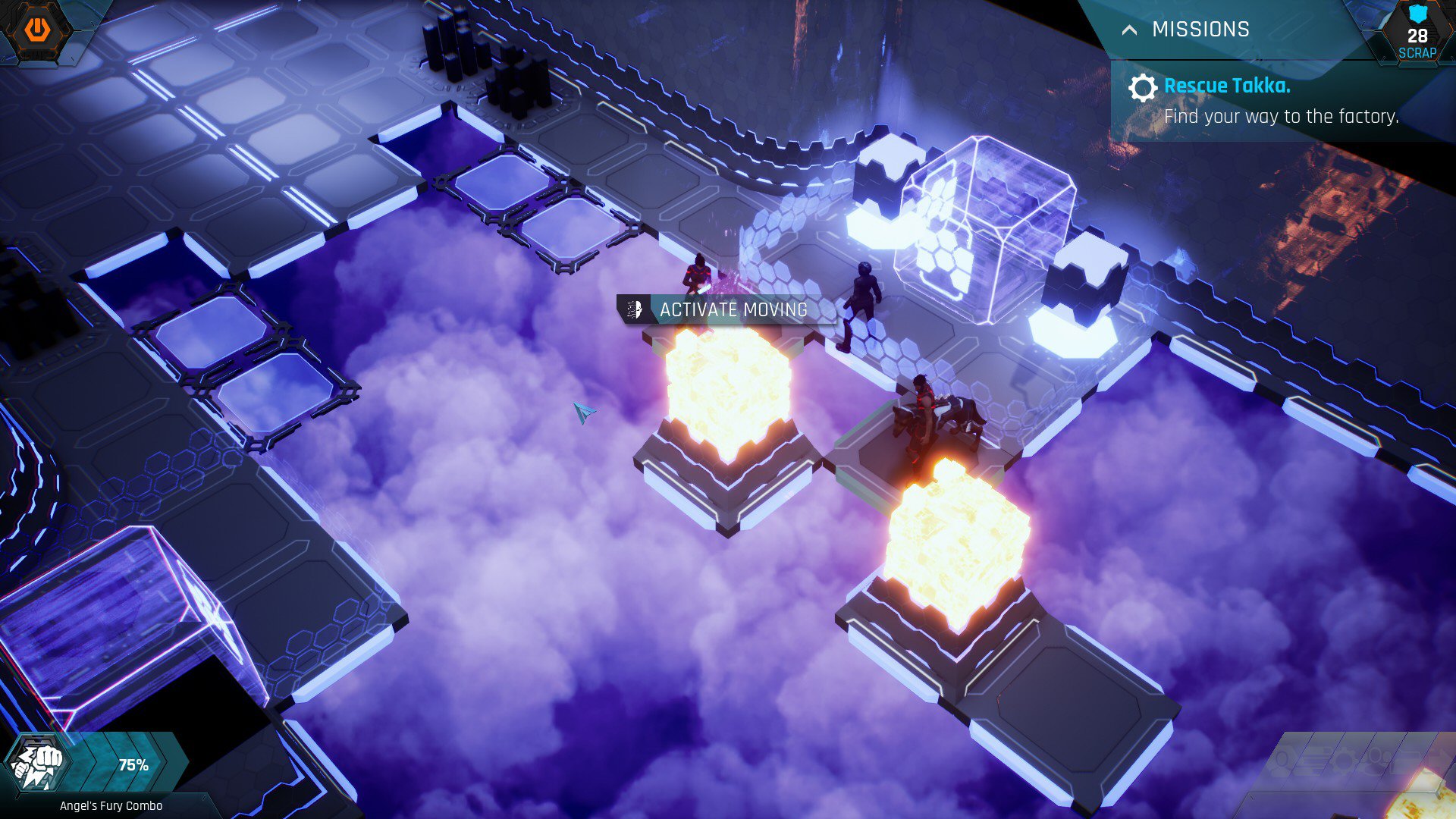 Speaking of crafting, we often pick up scrap pieces during exploration, and we can use those to craft weapons and other gear, so long as we have a schematic for said item. Each crafted item can also be upgraded to have better stats if our crafting skill is higher. Crafting screen itself can seem a bit confusing at first, and I think other menus could also use some improvement in being more user-friendly.
Besides the crafting screen, we also have screens for equipping each member of the squad with weapons and gear, and for upgrading their skills. Skill upgrading is not the same for everyone, as different characters specialise in slightly different things. Some skill upgrades will be similar for everyone, while others are more unique. Generally, there is a good diversity of different skills to learn and improve.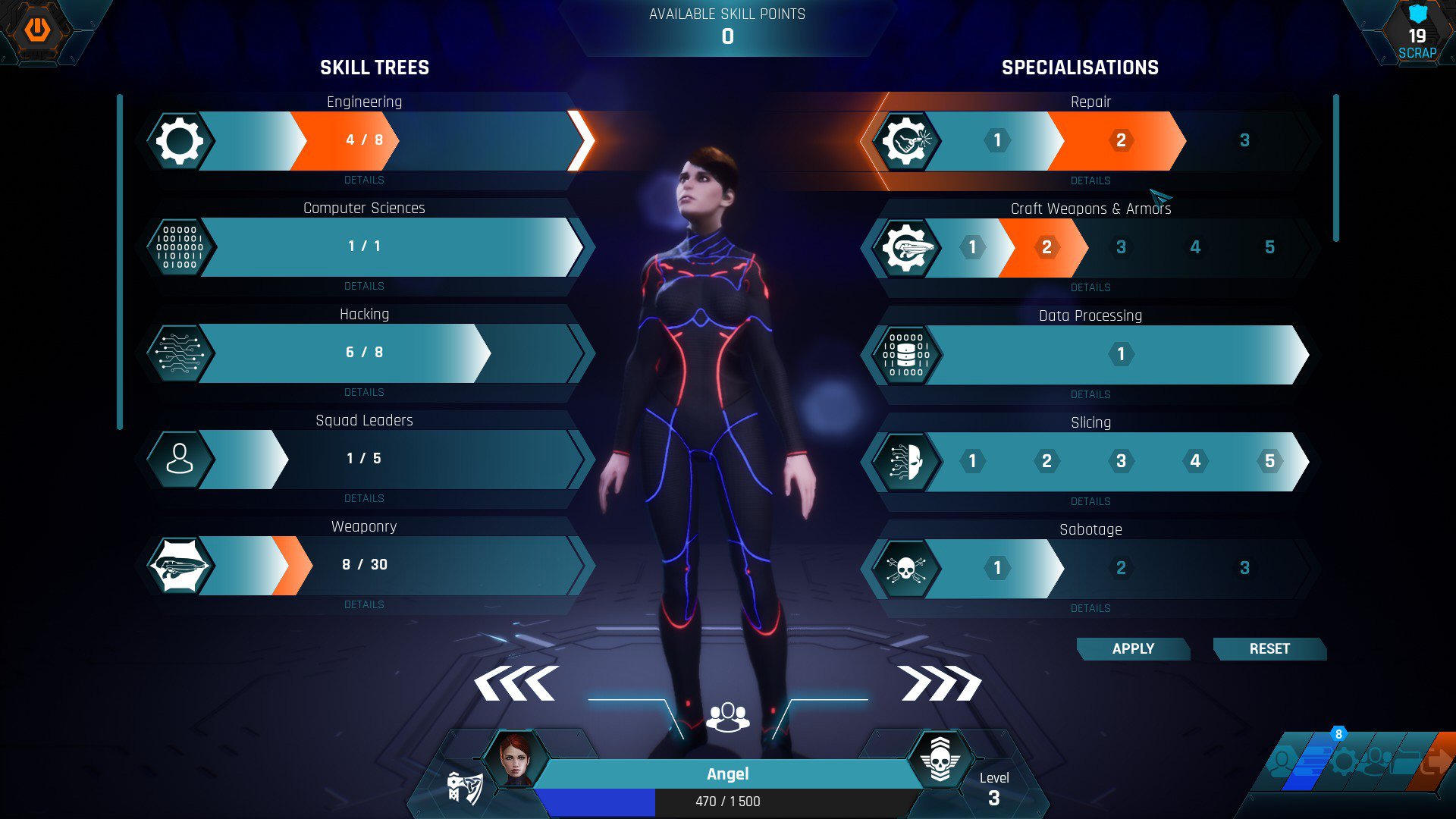 This brings me to the combat. The combat is chiefly turn- and grid-based, somewhat reminiscent of XCOM and FF Tactics styles, with certain number of action points to be used each turn by every character and moving along a grid. Though there's no proper cover system here. So anyone can be shot at if they're within range and not behind obstacles or corners.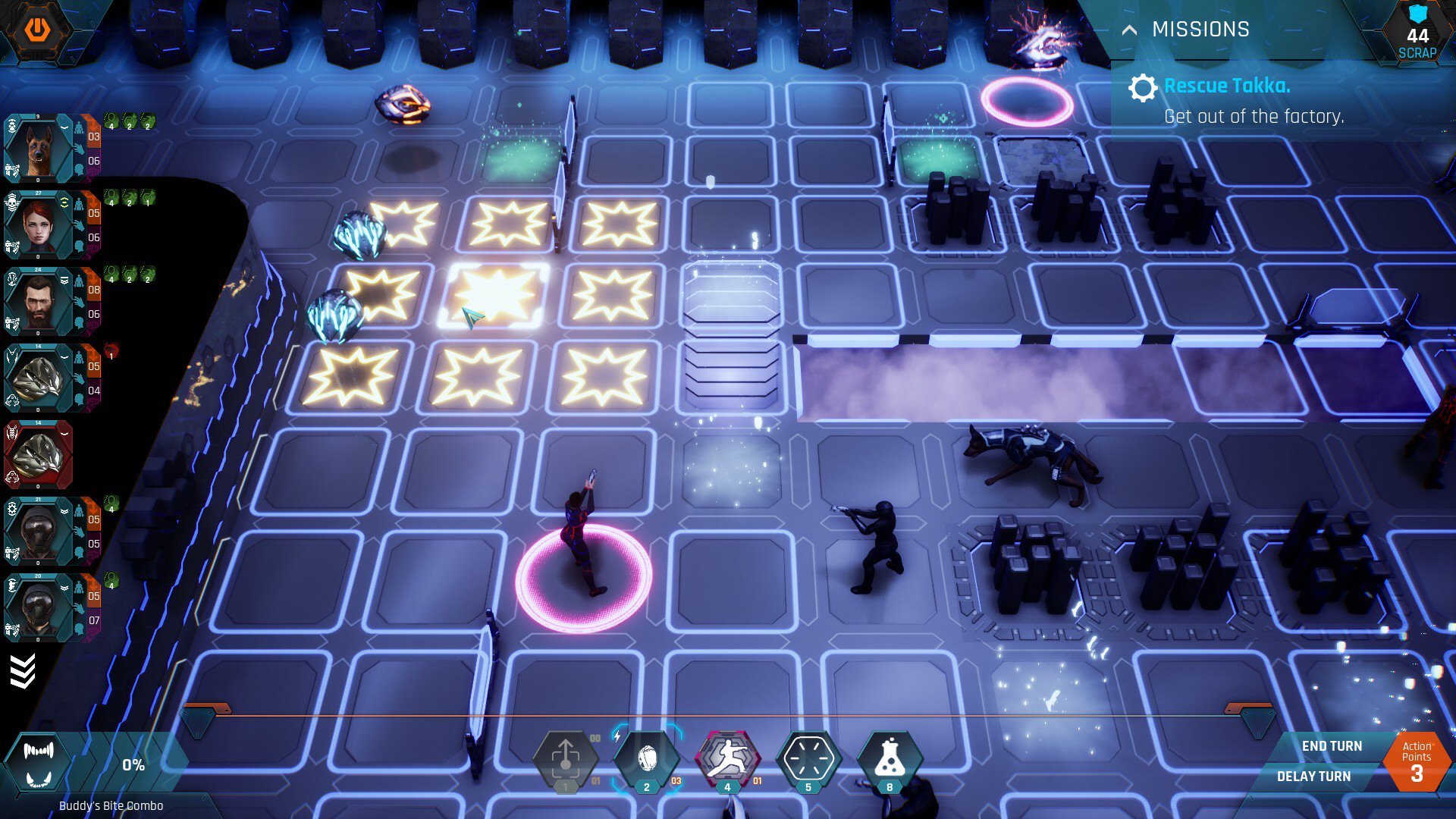 Melee attacks also exist if we stand directly next to the enemy. We can use a variety of melee weapons to fight the robot enemies, even things like knives and katanas. We can also pull out some sick martial arts moves to wallop the robot enemies and beat them down with our bare fists or kicks. Martial arts attacks have their own action points per turn, and different moves can be strung together to create a combo.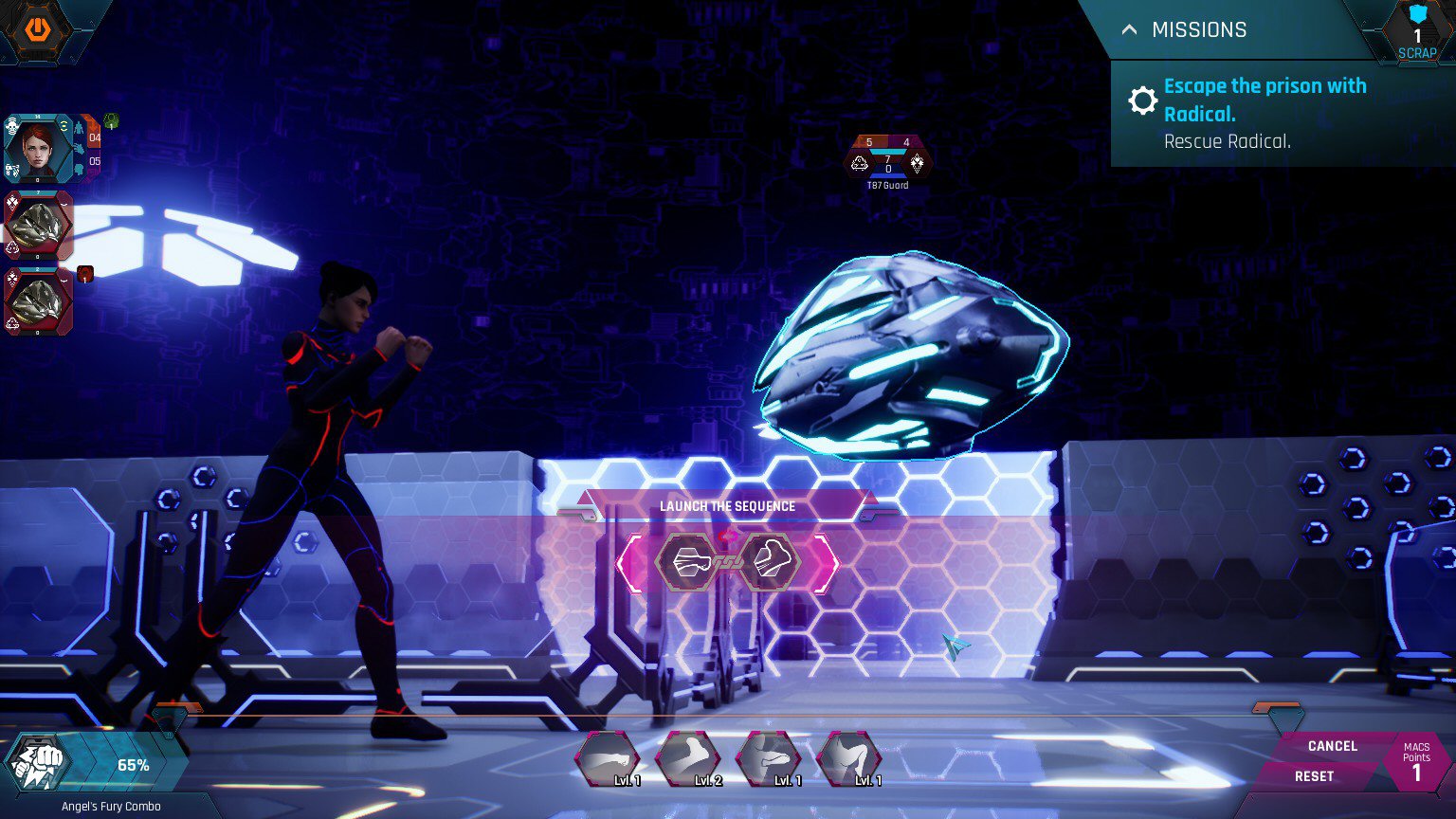 Generally, there's a good variety of options available for use in combat, and most characters can be upgraded to use most weapon types and abilities, which makes enemy encounters quite fun. One thing I am not too fond of though is how limited the movement range is each turn. Our character can only move to a certain distance each turn, regardless of how many action points they've got left. This quite substantially differs to XCOM-likes, where you could choose to either spend all action points to move further or move less and spend the rest of action points on attacks and abilities.
From just over the first 5 hours I played, the enemy variety was rather small – mainly they were just identical-looking hovering robots, with some just shooting at 1 target at a time and others shooting at an area. There was one other enemy, but it happened during a story-related scene and I've not yet come across other enemies of this type. So, I hope more different enemy types will be added into the game in order to make combat more interesting. This goes both for visual differences in the designs and also differences in tactics and abilities that they use.
Game progress saving seems to happen on a checkpoint basis, though these are quite frequent and the game difficulty isn't overly high, so you aren't likely to lose a lot of progress.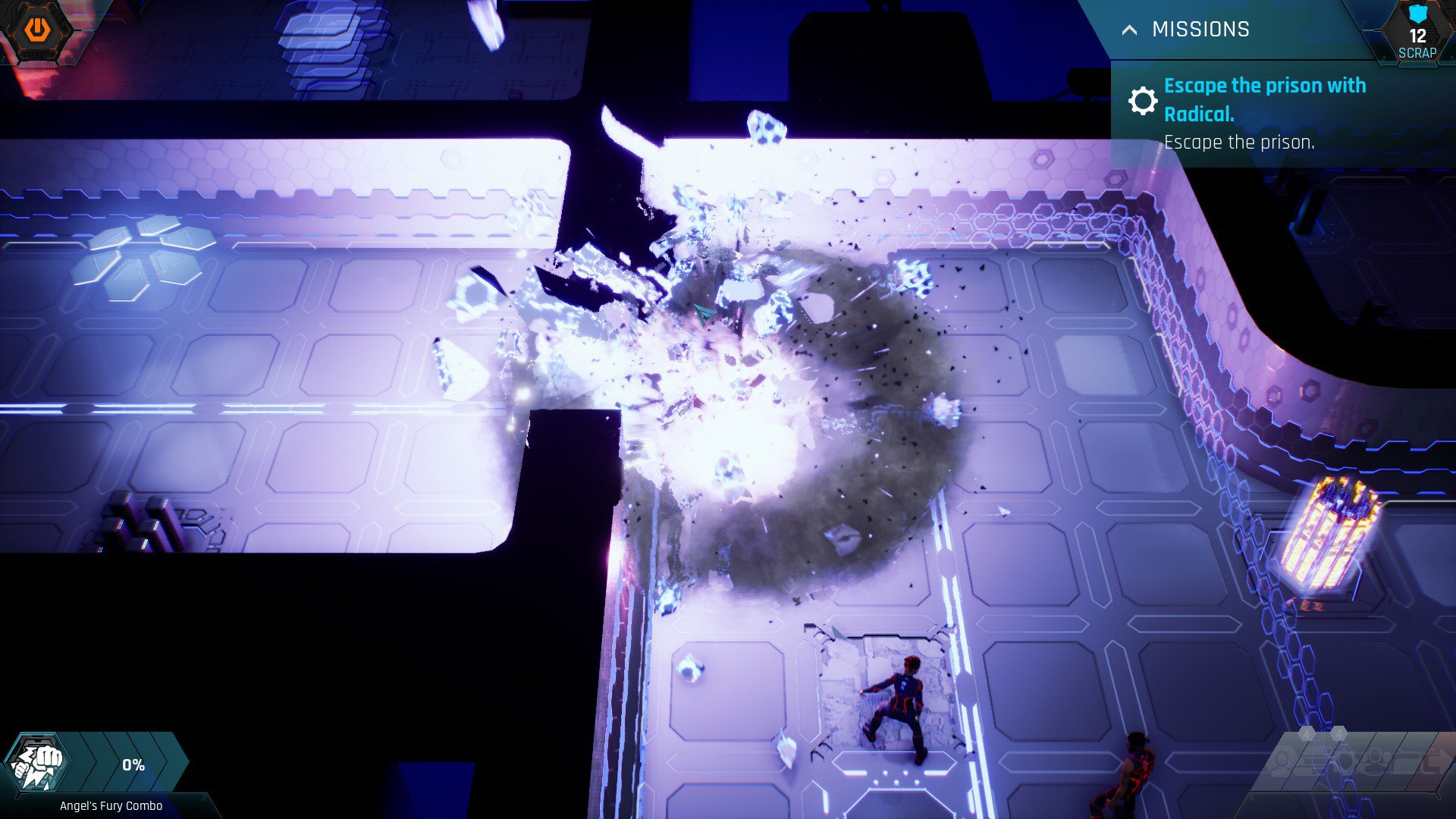 Presentation
The game has a very distinct visual style – futuristic machines and holograms all over the place, blue and violet colours, numerous corridors, and rather old-school character models. The atmosphere of space and an otherworldly ship is pulled off well and has enough to captivate most sci-fi fans.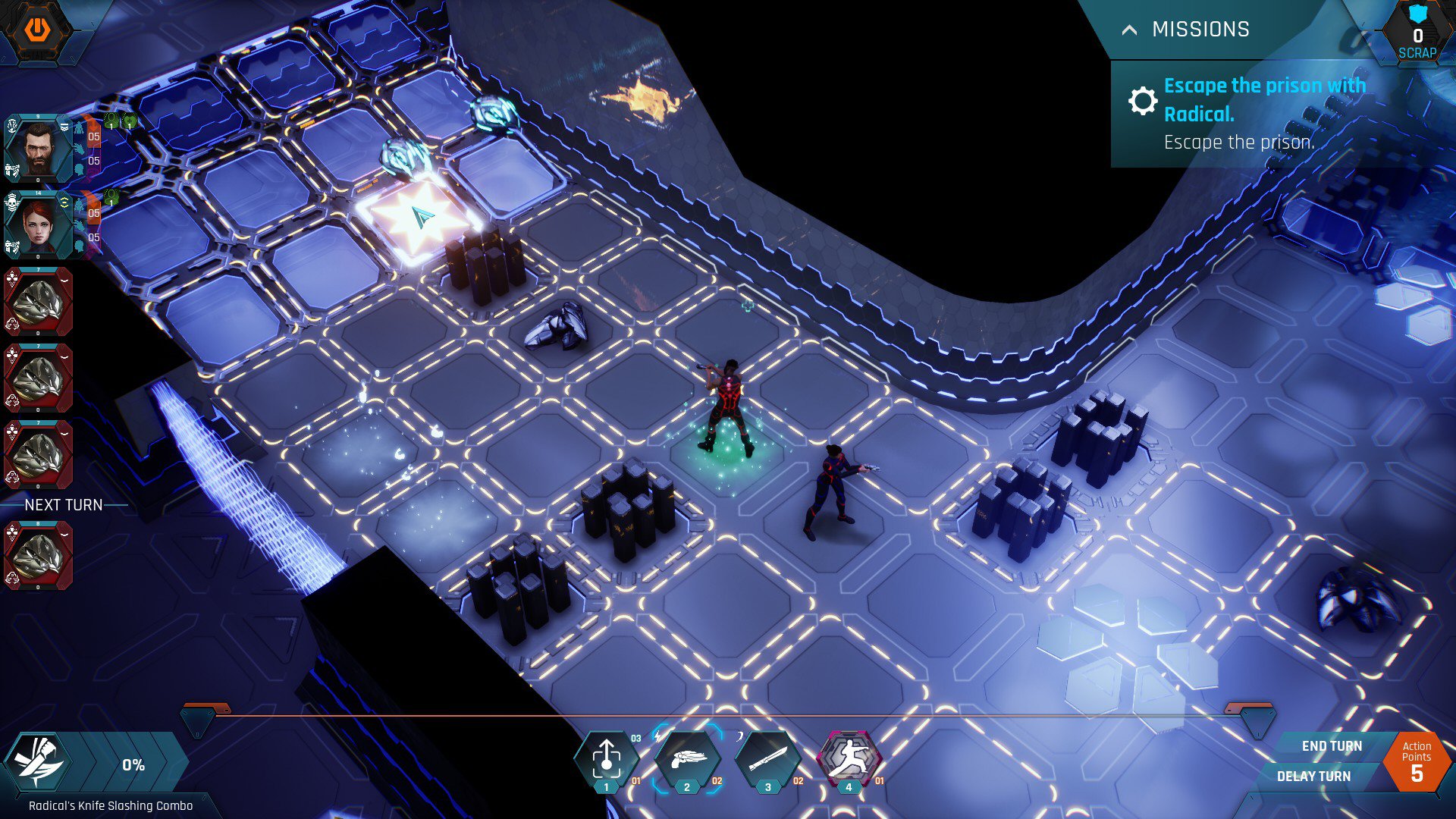 The menus and interface could be more user-friendly, but they're decent enough once you get used to them. I think some more tooltips and explanations for different items and skills would be useful, especially when upgrading skills and abilities. For example, I've no idea what the dog character's sense of smell does in terms of the gameplay mechanics and what use it has exactly.
Music is decent. Although the soundtrack isn't anything mindblowing, it fits the areas and combat encounters well enough. Sound effects are also good all round, especially during combat. Voice acting is also pretty good, although not all lines seem to have been voice-acted yet. The game has quite a fair bit of dialogue in various scenes, so perhaps we'll see all of them voiced by the time the full version of the game comes out.
The old-school style 3D visuals and the action-packed sci-fi plot aboard an alien spaceship is very reminiscent of the late 90s games and cartoons in my opinion, which could make it suitable for those looking for some nostalgia of those type of games.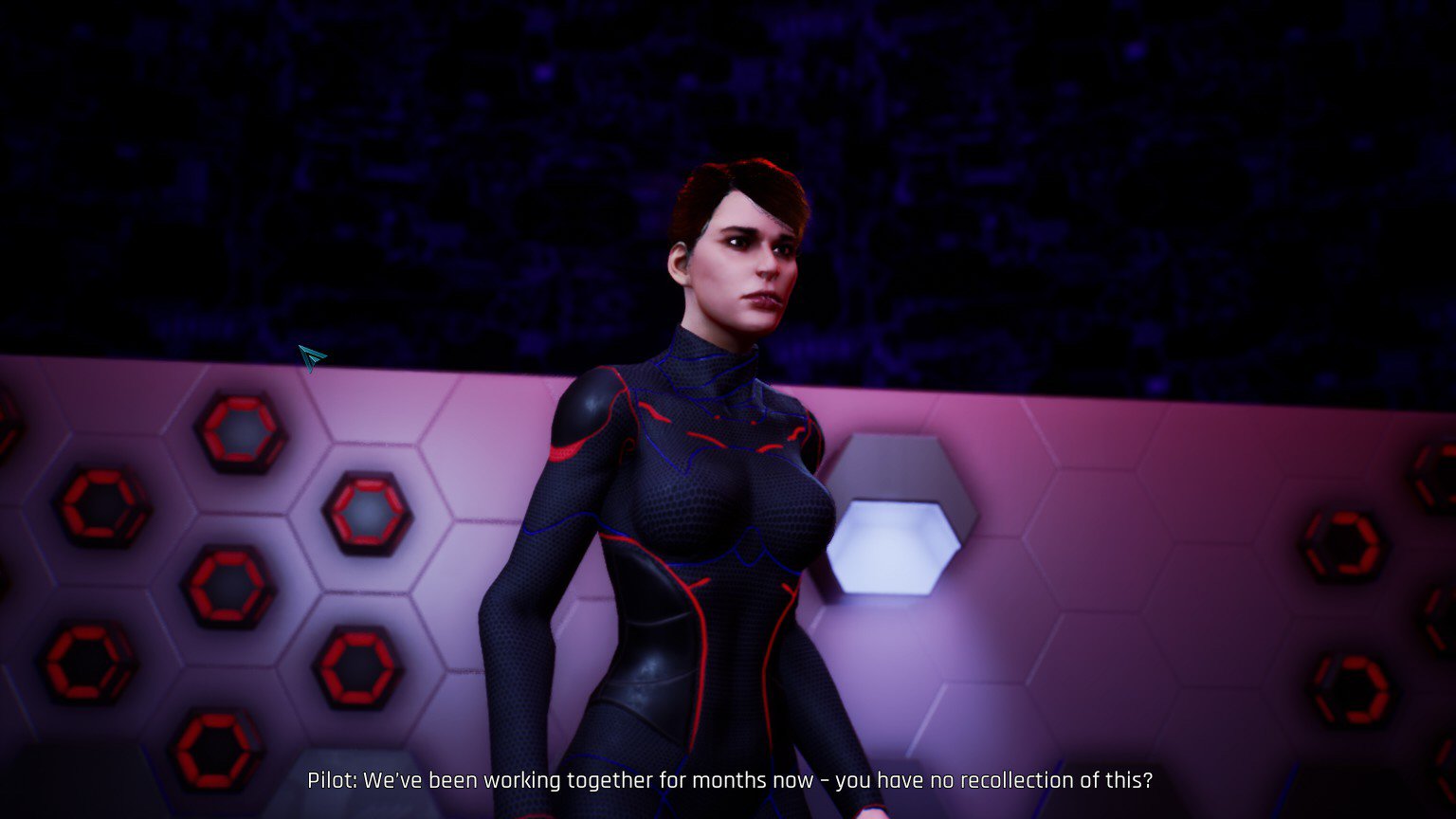 Verdict
'The Protagonist: EX-1' shows a lot of promise from the early access version and has been pretty polished and glitch-free for the most part. Its combat might not be as tactically deep as XCOM or some other similar grid-based tactics games and its story might not be as original as some other sci-fi plots in games, but it looks like it can become a very solid indie equivalent of those, taking us on a fun and action-packed adventure through a hostile spaceship where our goal is to survive… and maybe save the world whilst at it.
For the time being I'm giving it a high-end 'Save for Later' rating, but it sure looks like it can reach the 'Save' rating by the time its final version is out. I will be keeping an eye on its development for sure.