Decorate your beautiful table with this comic! Your guests will surely be enamoured.
Steam: Released
Developer: Gamechuck
Publisher: Gamechuck
Genre: Point and Click Comic Adventure
Type: Single Player
Release date: July 13, 2017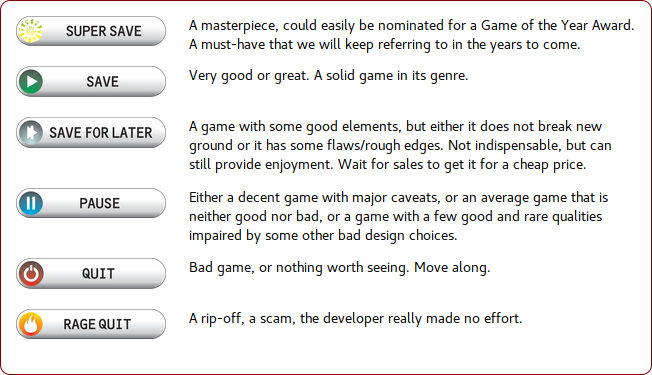 Oh it would be a dream for a restaurant to have a special all-you-can-eat coupon that only expires when you walk out of the door. Man, you could probably even just hand it off to someone else to make it infinite! Though of course the restaurant could go out of business if loopholes like this were possible.
In this game, the protagonist bought an all-you-can-eat coupon that does not expire as long as he stays in the establishment. Due to this he became a freeloader, living in that same diner for 10 years straight before the fated foreclosure sign appeared. If the diner closes his whole life will be turned upside down, so he has to go out, sadly making his coupon expire, in order to save the diner. It is a wonder how he did not cause them to close years ago though.
The art is similar to illustrations you'd see in a textbook. This makes everything easily readable, and the characters look unique. I suspect the style is also chosen to reduce the ink required to print the game (see below). The game is presented like a comic book, with no animation in the individual panels. Instead, the natural flow of the comic becomes the animation itself, and you can push the panels away to be replaced with new ones.
This is a pretty short game — around 30 minutes for your first play through — and it is linear throughout. I found one part that was difficult to work out, but everything else is very easy to put together. I do recommend talking to everyone as much as you can at first, so you can get all the joke comments and some information you can easily skip over.
While there is no replayability, the game only having one ending, there are some achievements to get. These include a speed run, and another challenging you to complete the game in under 80 comic panels.
It is not every day you find a game that you can actually print out after you finish. The concept is pretty cool, especially when the result matches up to what you did. There are some issues with the formatting afterwards, though, as trying to fit the print out on regular sized paper is pretty awkward, often resulting in sections being cut off or with a ton of blank space left. There also seems to be this weird static background behind the text that only shows up in the print preview and the printed version of the comic. It's one of those situations where it would work better if you had two pages printed on a horizontal piece of paper so you can just fold them up and staple it together.
https://giphy.com/gifs/xUA7aQLqxOSNKYY2zu
Overall
+ Interesting evolution of the comic concept
+ Cool to be able to print it out
+ Fun
+/- Formatting for printing the comic is a mix
– Short
All You Can Eat is interesting with how they handle this comic style type of making a game. Of course if you do not like point and clickers this obviously won't change your mind, though the game is short enough to take away most of the frustration, as really there is only one item combination and everything else is just remembering something. And of course the whole being able to print off your comic is not as much of a selling point if the story was not desirable.
The game does have a short, linear storyline that wraps up without any unanswered questions, but it is worth the asking price. I really want to see what they can do if they decide to make a longer game in this style as well.