Another adventure in Nivalis!
Released:
Steam
Type: Singleplayer, Action
Genre: Open-World,Cyberpunk
Developer: ION LANDS
Publisher: ION LANDS
Release date: 25th May 2021
Base Game Review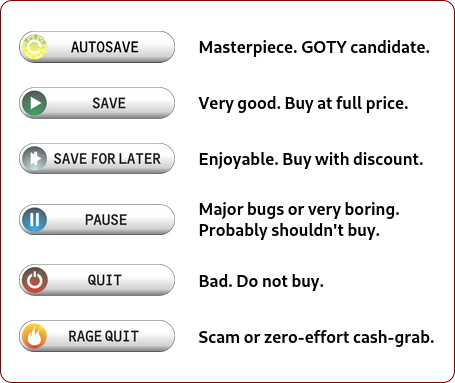 Intro
Cloudpunk – City of Ghosts is a recently published DLC for the base game of Cloudpunk. The goal is to showcase a more dangerous aspect of the city of Nivalis as well as further explaining the backstories of each character. The events of City of Ghosts take place 2 months after the happenings of the base game.
Here is a small gameplay section of City of Ghosts.
New characters, new missions and the beautiful lights of Nivalis…
Gameplay
I reviewed the base game a couple of months ago, and I will have to mention that the gameplay mechanics barely changed. I will strictly only talk about what the DLC offers. If you would like to check out my review of Cloudpunk, click here REVIEW: Cloudpunk!
Open-World and Missions:
The main feature is that multiple new characters are available for side-missions scattered throughout the city. Although these missions simply work like traditional sidequests just like within the base game. There is one type of mission where you do some races using your HOVA. You get prize money for winning, but you do need to upgrade your HOVA to stay competitive. Another big addition to the game is the fact that you can finally control other characters now. Your trusty companion Camus the dog, is a player character in multiple missions which adds more depth to the game. Even the newly introduced character named Hayes is playable for multiple missions. Lastly, there was one pretty subtle addition, but there was a section where you were playing using the "old school" Resident Evil camera angle. It was a mysterious section that instantly reminded me of a RE game. No idea if that was the goal of the developers or not but I liked that aspect.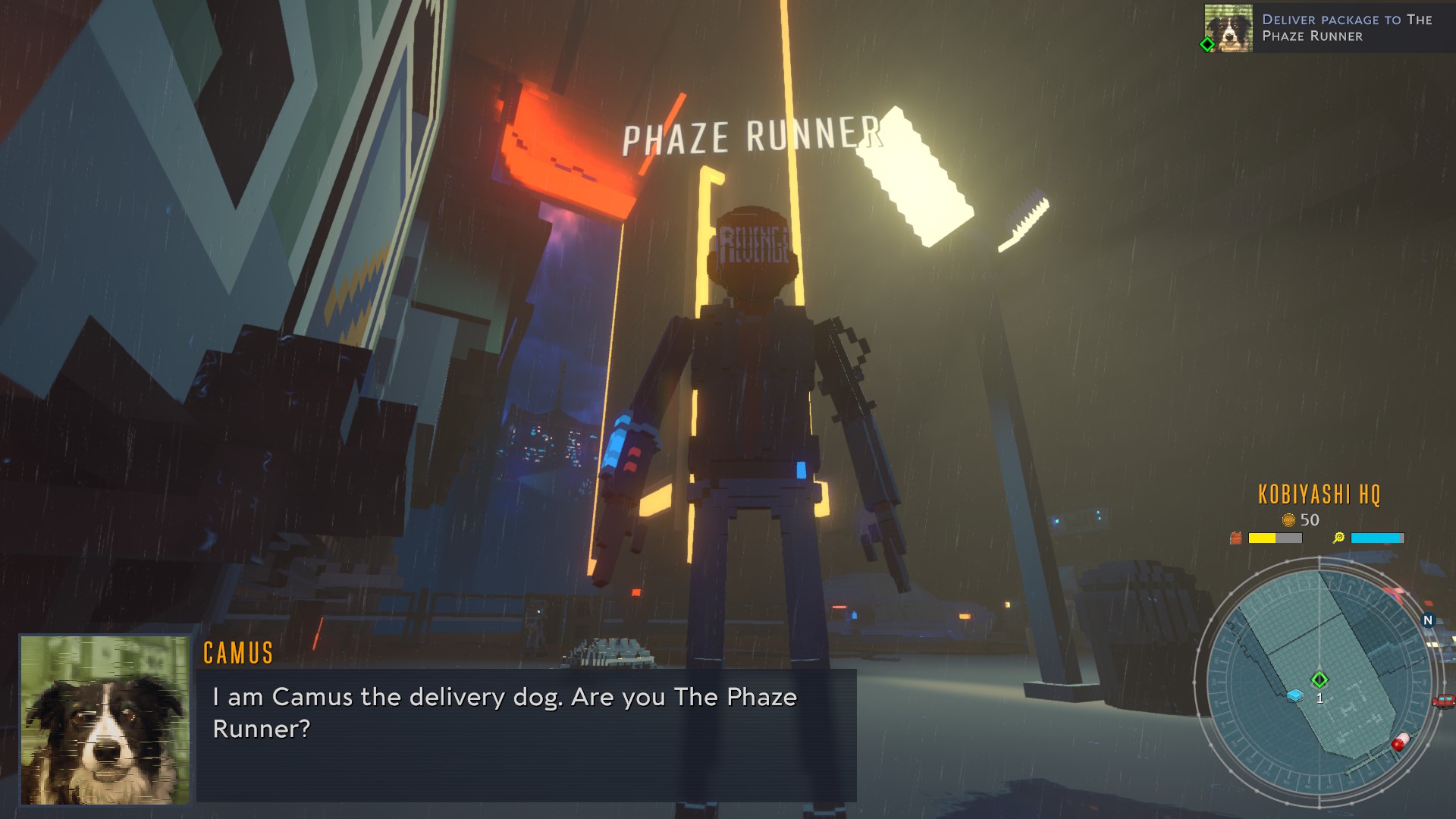 Story:
As mentioned, the review will not contain any spoilers. The story is a lot more aggressive and action-packed compared to the standalone game. You will have the feeling of being haunted which was lacking in the main story. The new characters were amazing as well, although they were playing identical roles with the old characters, it still felt fresh because they had different situations behind them. Speaking of situations, Rania, being the main protagonist in the main game, had a pretty solid story but we didn't have much of an idea of what happened in her childhood. Luckily the DLC answers everything and gives us a great start and ending to her story in Nivalis. Don't be afraid of all of the other side missions, City of Ghosts lets you continue from where you left off in the first game. As I have said in my first review, there is a lot to learn about the city of Nivalis and all of the characters it houses.
Graphics / Audio:
Cloudpunk – City of Ghosts makes use of the Unity engine.
Graphics:
The city of Nivalis does look pretty impressive despite being a retro-styled game. The people walking around and the traffic makes the game feel a lot more alive compared to other triples A titles. Animations are rather simplistic and lackluster but the interior view of HOVAS makes up for this. Overall I would say that Cloudpunk is a surprisingly good-looking game.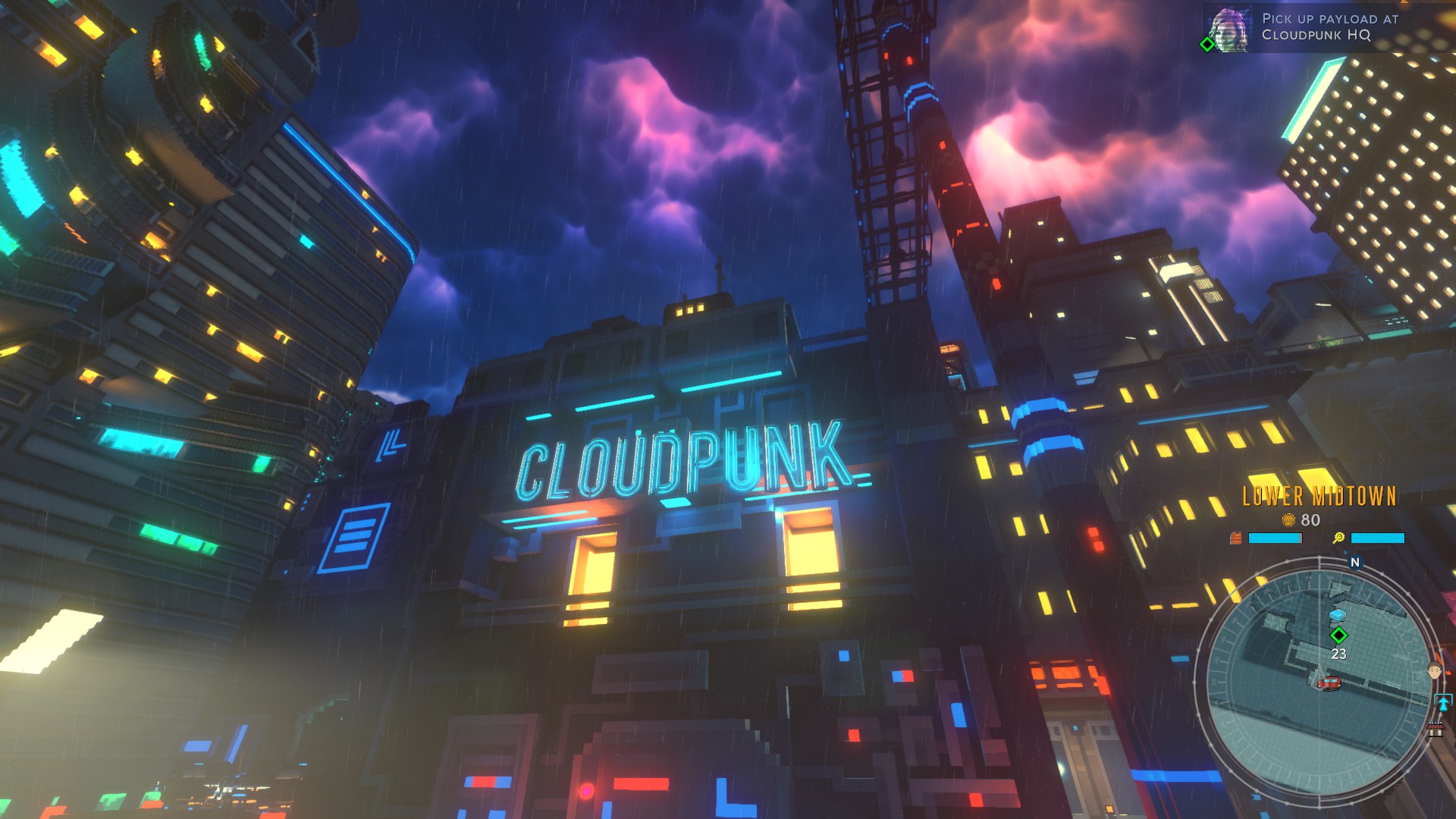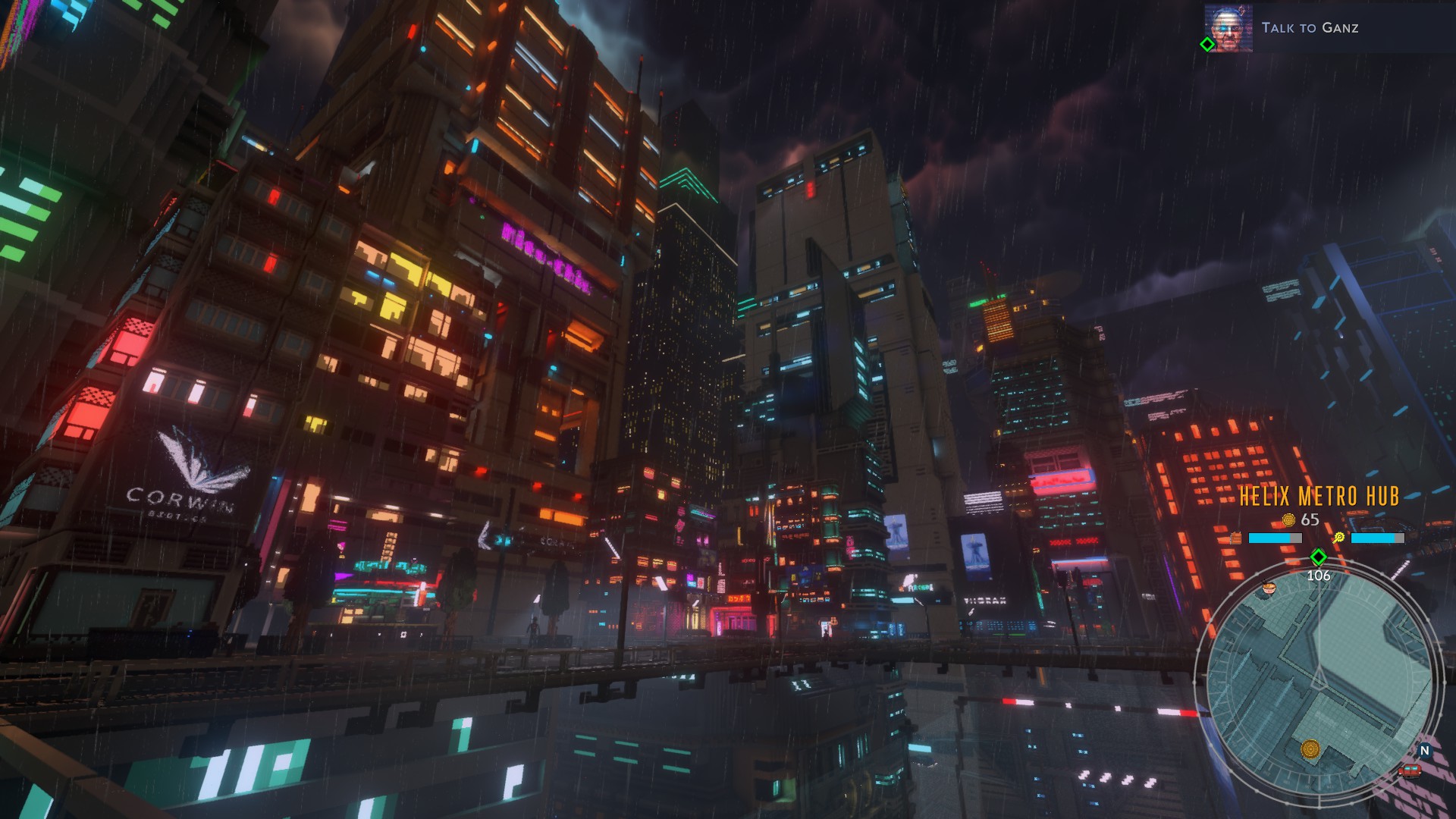 Audio / Soundtrack:
In my previous review, I said the following things:
The Voice-acting is truly a masterpiece, every character talks uniquely while being indistinguishable, you could recognize a character just by the sound of his voice. All of the voice actors are crystal clear which is rare for an Indie game. Only a small nitpick I have is with the main character Rania, there are some rare occasions where she does sound a little out of place, other than that I can't hide it but this game truly touches perfection with the voice-acting and amazing soundtrack.
Most of the things are still true about the DLC. The soundtrack is great and you can even purchase that one. Rania sounds a lot more alive in the DLC, making some good jokes and portraying someone in this specific situation.
Performance:
In-Game:

AMD Ryzen 7 3700 X, 32GB Ram, Nvidia RTX 2070 Super:
I was running the game on Maxed out settings at 1080p at around 144 fps (Vsync).

In detail:

AMD Ryzen 7 3700 X, 32GB Ram, Nvidia RTX 2070 Super:
City of Ghosts benchmark completed, 19775 frames rendered in 138.481 s
Average framerate : 142.8 FPS
Minimum framerate : 0.7 FPS
Maximum framerate : 143.9 FPS
1% low framerate : 0.7 FPS
0.1% low framerate : 0.7 FPS
Bugs / Glitches / Crashes:
In 7 hours of navigating around the city of Nivalis as Camus, I experienced no bugs, glitches, or crashes. This was once again a flawless experience. Even when using a low-end device I had no issues at all.
Verdict
City of Ghosts is in my opinion one of the best DLCs you can buy, this should be the norm for DLCs as this one in specific answers many questions regarding the main game, and it even adds more to the already brilliant story. This is a story-focused game but the developers even took the time to add more gameplay mechanics and missions! I recommend this game even for the full price of 14,99 Euros, simply because the main story of the additional content is five to seven hours long, the content is a lot more than that as well.