Boundless presents players with a huge voxel sandbox in a solar system full of planets to explore and colonise — very slowly, and with lots of bugs.
Steam:
Released
Type: Multi-Player
Genre: Action, Adventure,
MMO, RPG
Developer:
Wonderstruck
Publisher:
Square Enix
Release Date: 12 Sep, 2018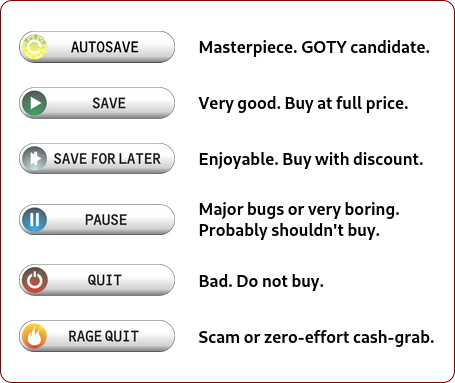 Introduction
Boundless is a "subscription-free MMO" sandbox game from Wonderstruck, published by Square Enix, recently out of Early Access.
I'm not sure if there's supposed to be a story behind the game. The Steam store page sort of hints at one, but there's nothing much in the game. That said, you don't really need anything more than a framework: an excuse to take your Oort citizen through an open portal to a planet fresh for colonisation.
Presentation
First impressions were terrible due to the wonky dialog box used to create a Boundless account, which is required before you can play at all: terrible grammar in the tooltips, weird focus issues, and the submit button disabling itself without telling you why. (In my case it was because my password was too long, but I only found this out through trial and error.) Once that's done, the game starts in a small window and doesn't let you change any options until you've finished creating a character. My first few minutes, at least, felt like I was dealing with a cheap EA indie game.
Characters are cartoon-like, with few customisation choices: a single face, two body types, 12 head shapes, and colour choices. This leaves characters looking pretty similar to each other. Enemy creatures are likewise lacking in variation, as are the blocks that make up the worlds themselves, with only colour to distinguish them. In a game that's all about exploration, I found this a bit disappointing.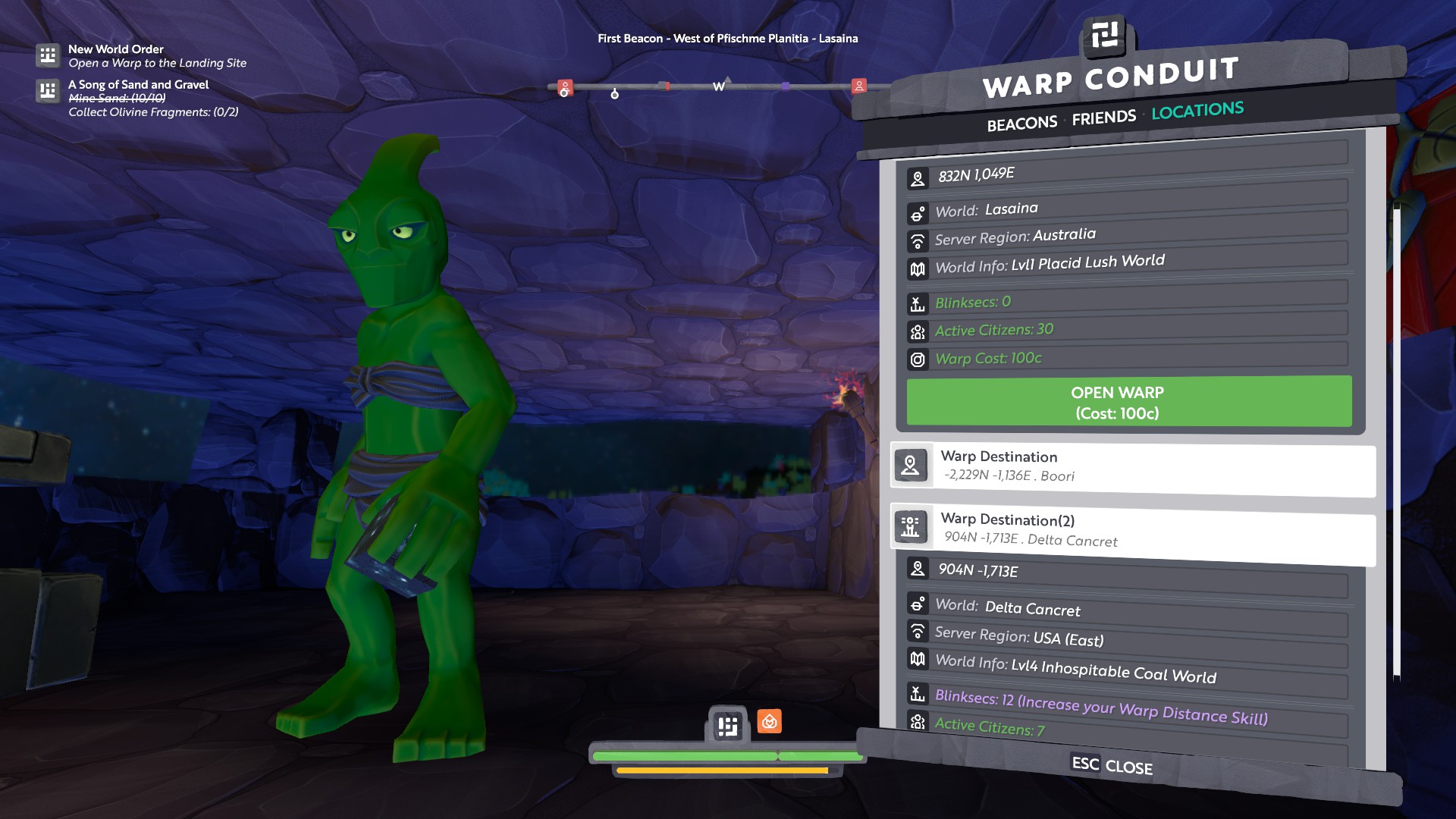 Apart from the lack of variation the worlds look pretty great, even if you're not a huge fan of the blocky voxel look. The engine has some fantastic effects: weather and day-night cycles, dynamic lighting effects, and nearby planets orbiting at night look great. Many players have built some impressive buildings, and water and reflections look nice from above, however, you'd be forgiven for thinking you were playing 7 Days to Die when you see water side-on, like a blue curtain. It's amazing how poor it looks in comparison.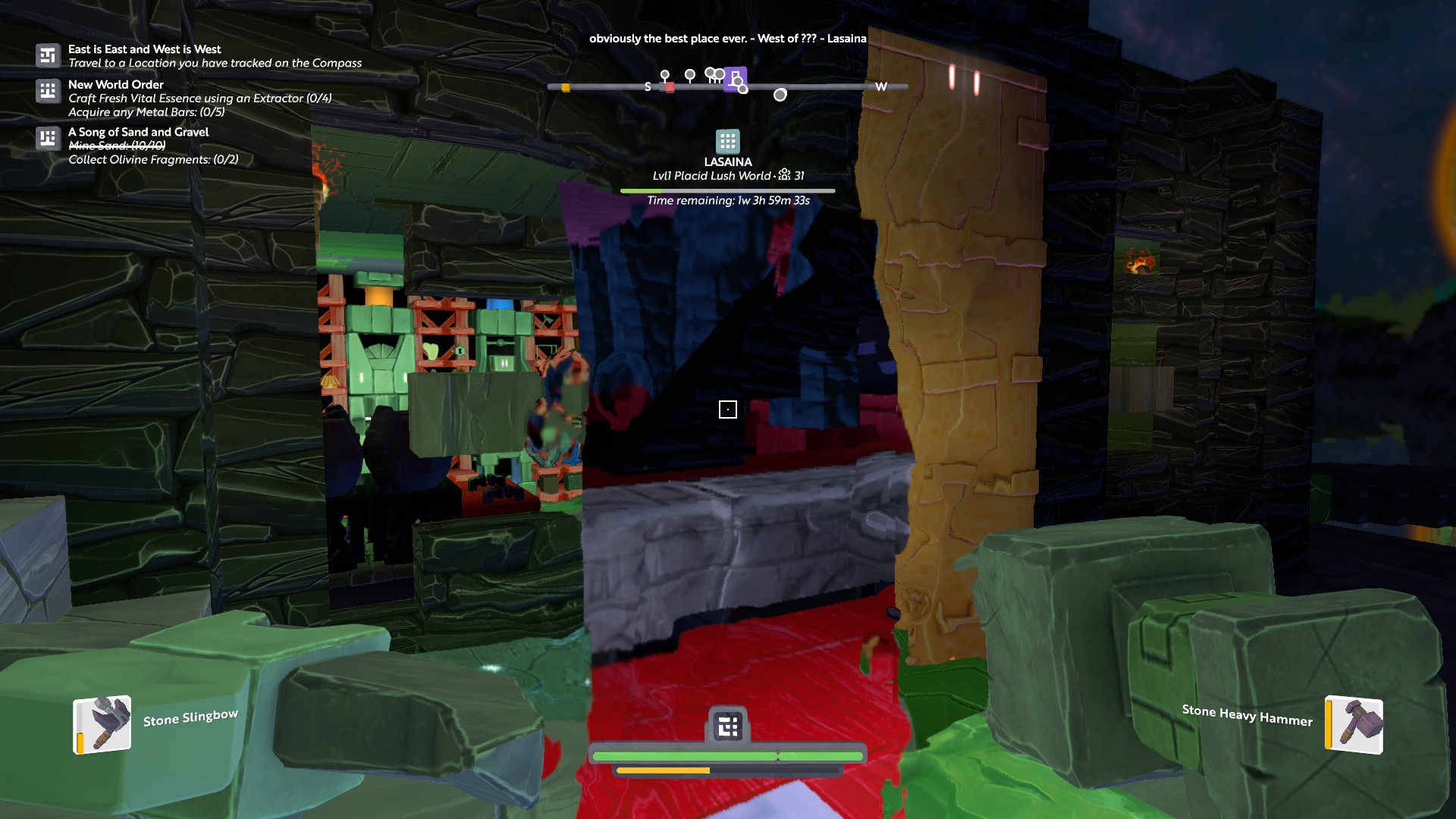 The UI is confusing at first, but it's built around support for both mouse and keyboard and a twin-stick controller setup, and it works fairly well once you get used to it. The poor grammar from the account-creation dialog continues into a few of the in-game screens, which is a bit of a surprise for what is now an AAA game.
Music and sound are lacklustre. Sound effects are acceptable, I suppose, but nothing stands out as being particularly interesting. Music is limited to a few quiet melodies every now and then; it's not necessarily bad — many people don't like in-game music — but it seems like a bit of a missed opportunity to me. There's not even any title music.
Performance is good on my GTX-1070-based laptop with everything turned up to maximum, but I've encountered occasional hitches in the sound effects.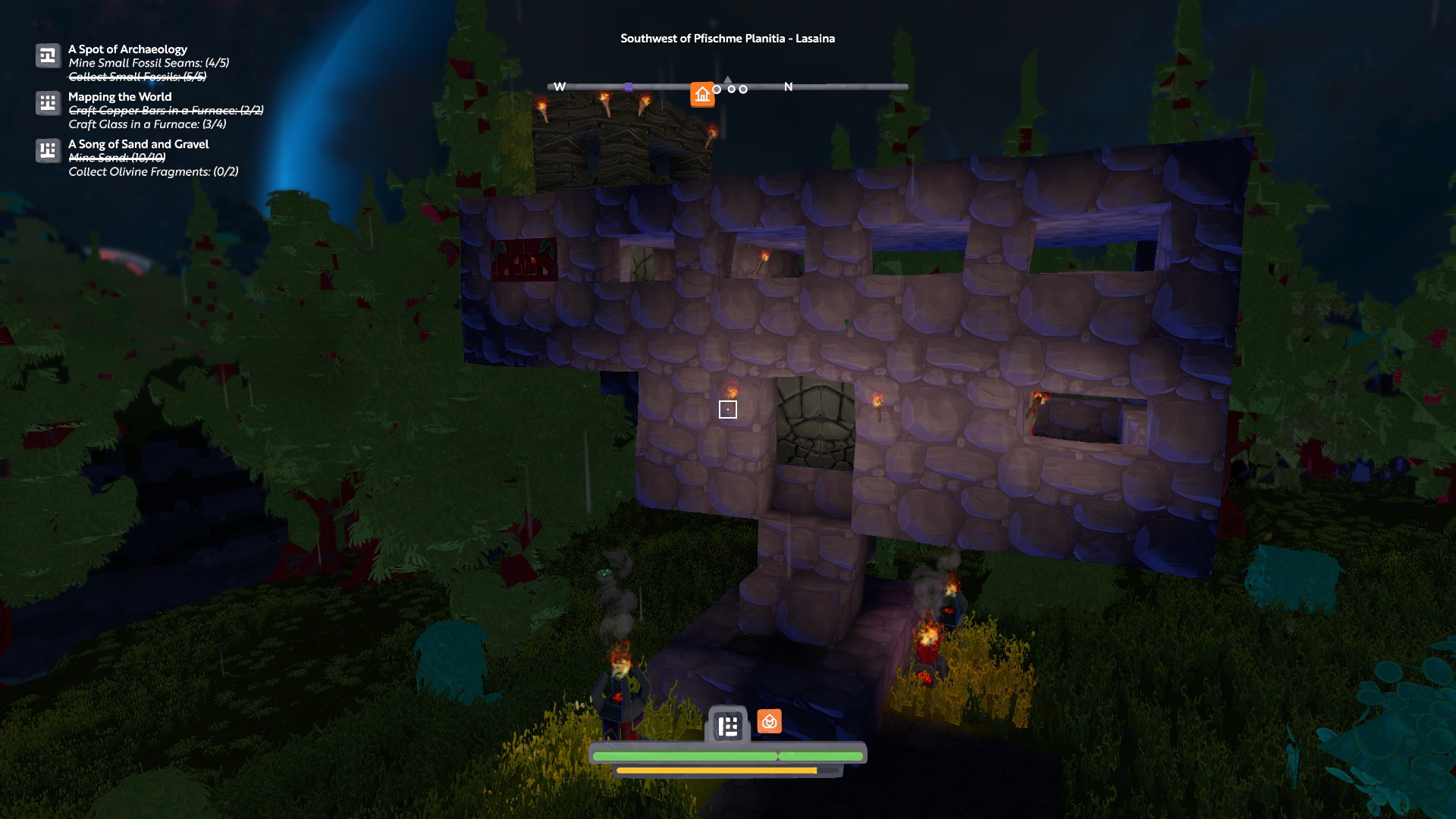 Gameplay
Boundless plays basically like Minecraft. After picking a type of world on which to start, you appear there with a basic harvesting tool and a big, voxel-based planet on which to make your mark. Your basic actions include walking, jumping, swimming, and using items from either of your two hands, for harvesting, crafting, and so on. The world really is a sandbox in which you can do whatever you choose, within the limits of the game.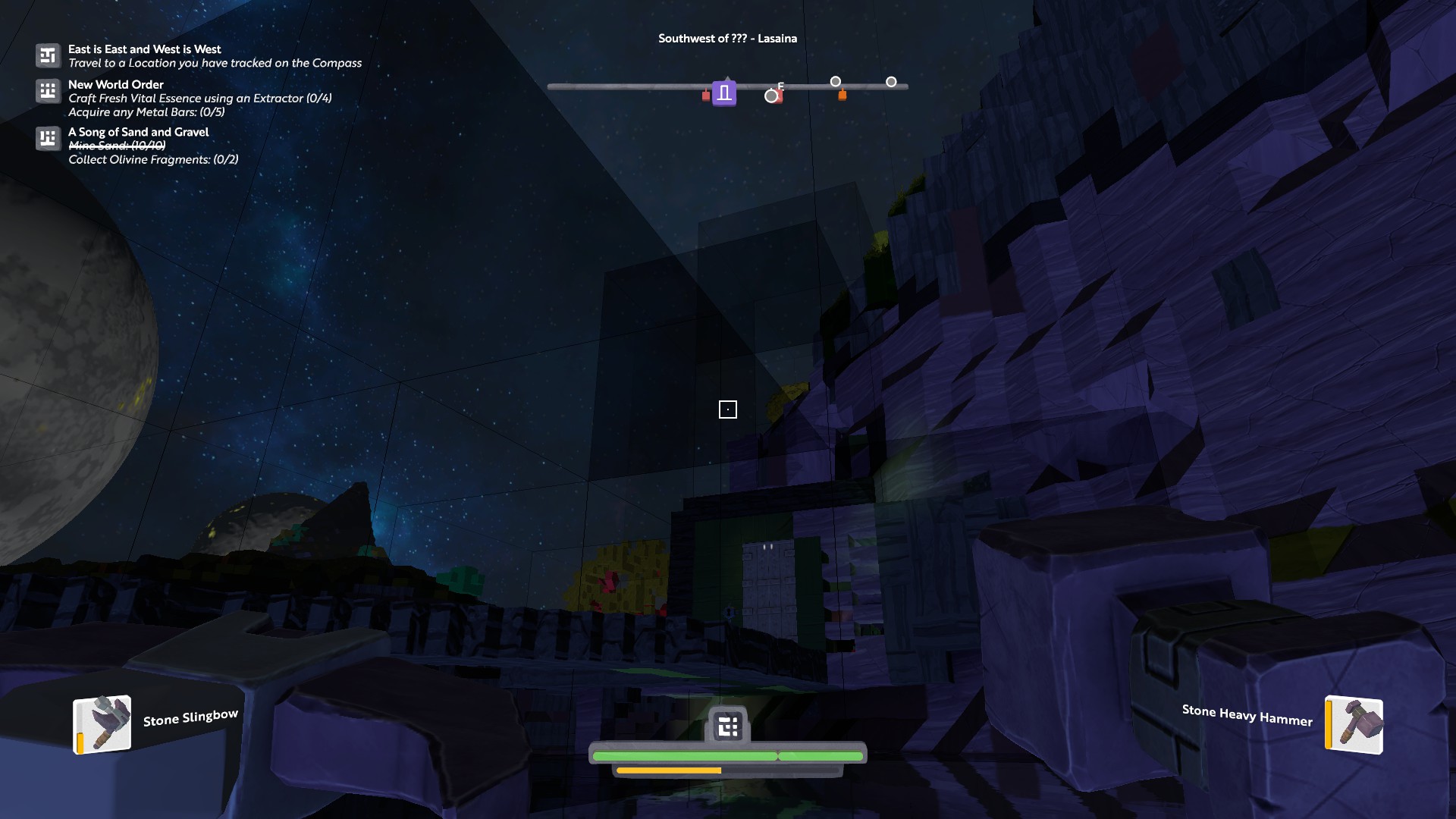 I tend to like a bit of direction in my sandboxes, especially when starting out, so I was relieved to see that Boundless has a very long list of quests available, leading you through the basics of the game at first and then suggesting paths to follow as your make your way in the world. You can ultimately ignore the quests and do what you like, of course. The core of the game is exploration, resource harvesting, and building 'stuff', but you can choose where to explore among the many planets that you can see in the night sky, what to build, and where to build it. You can choose to be a loner or join in with other friendly players in a settlement — and from what I've seen so far the online community is really friendly.
Almost anything you do requires resources, though, and this is one of the areas where Boundless falls down: resource harvesting is painfully slow. To build anything initially you'll need wood, stone, and plant matter. As you progress through the technology tree you'll start to need resources of increasing rarity and effort to find. That's all pretty standard for sandbox and survival-crafting games, but Boundless seems to require so much more grind than any other game I've played. Obviously the aim is to keep people busy while they play, but it just takes so long! This is a game aimed at creative people with a lot of free time on their hands; anyone else need not apply.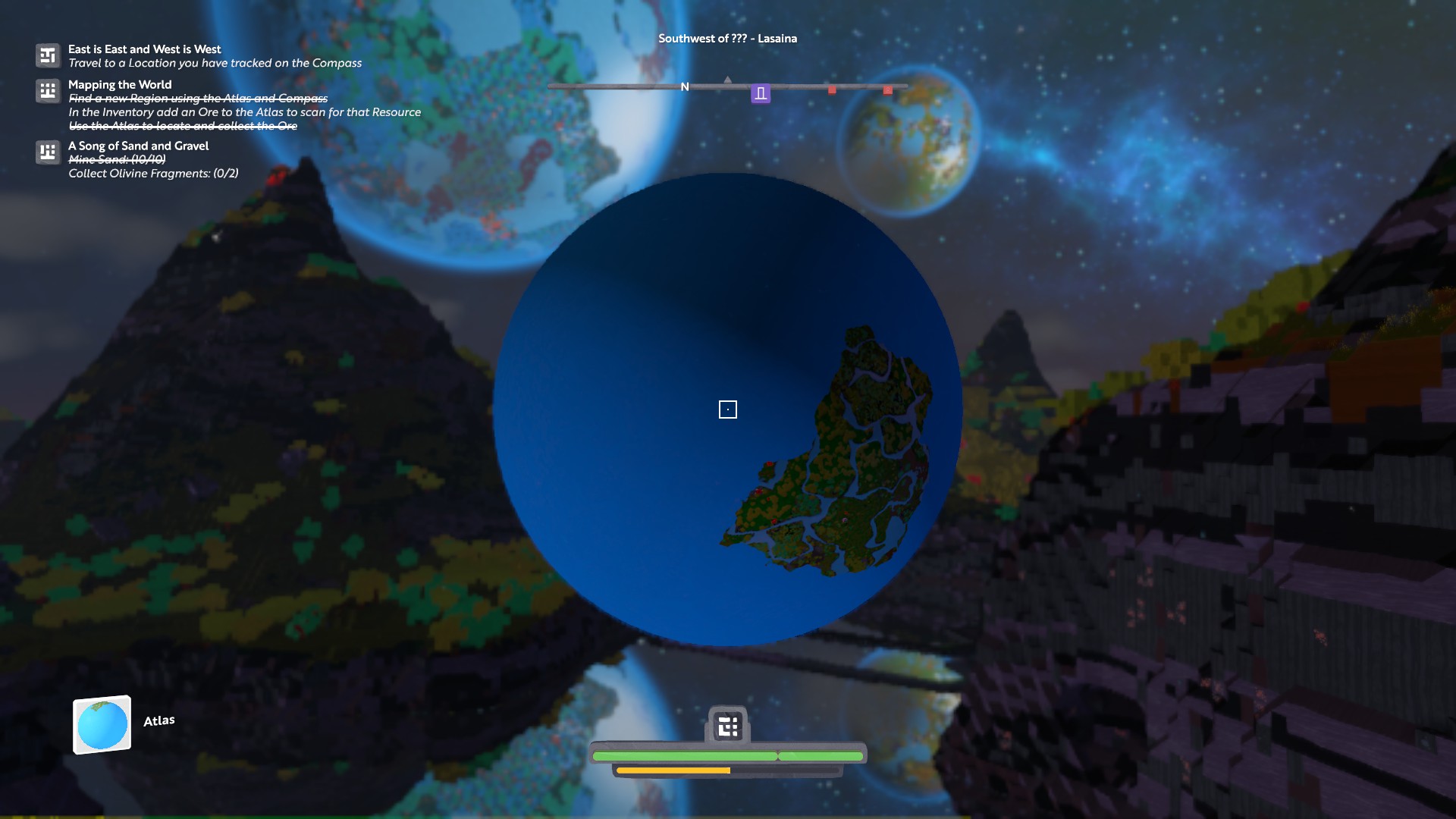 I've also found that Boundless is rather buggy and hard to get into for the starting player, especially one wanting some direction from the quests. These don't always give you all the information you need, but worse, they very often don't register when you've completed the tasks. I had one early quest where I had to plant a flower; it took over 20 attempts before the game finally registered it. And it goes on and on: creature-killing missions, crafting and building quests, and so on: I'd guess about half of them actually worked the first time. Most recently I ventured to a rugged planet, but only one of the three active quests I had actually registered the visit. Restarting helps sometimes, but not always.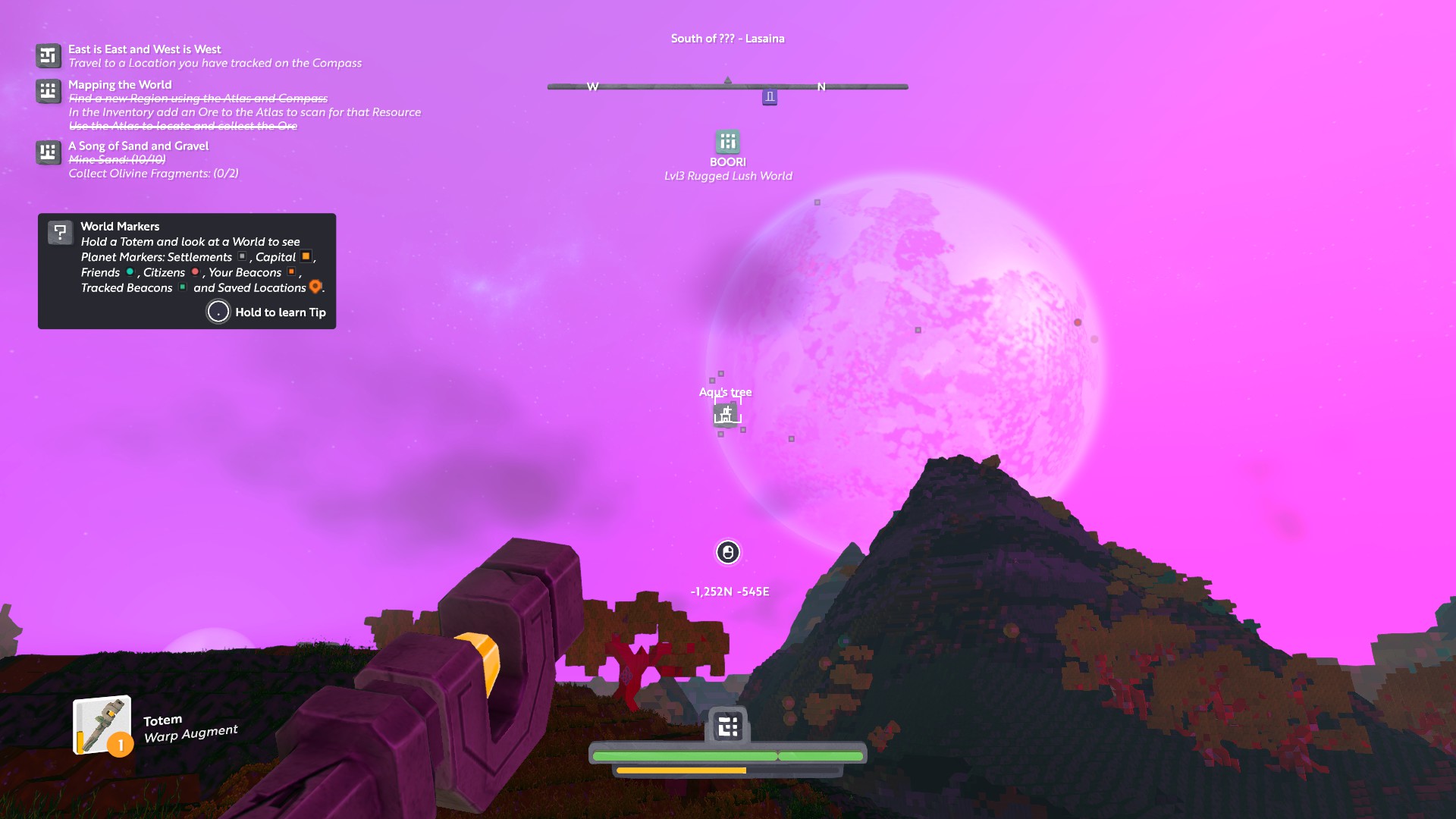 I've had a couple of network dropouts that took me back to the main menu, and one crash that may or may not have been related. My network connection is not the best, but this seems particularly bad considering I'm on planets in my region. The game seems otherwise stable, but plagued with minor issues. I'm not a fan of the lack of gravity for game world objects (e.g. cutting through a tree trunk and having the tree remain floating in the air), but that's a design decision rather than a bug. And I suppose it does make for some pretty fancy building possibilities. Water also doesn't seem to flow right, but that's often an issue in these sorts of games.
Finally, yes, the game does have a cash shop, and it is pay-to-win, at least a little bit; not all of the items in the cash shop are decorative. But it's not too bad, really. I'd much prefer it wasn't this way, but it is definitely possible to play the game without investing any money beyond the initial AAA purchase price.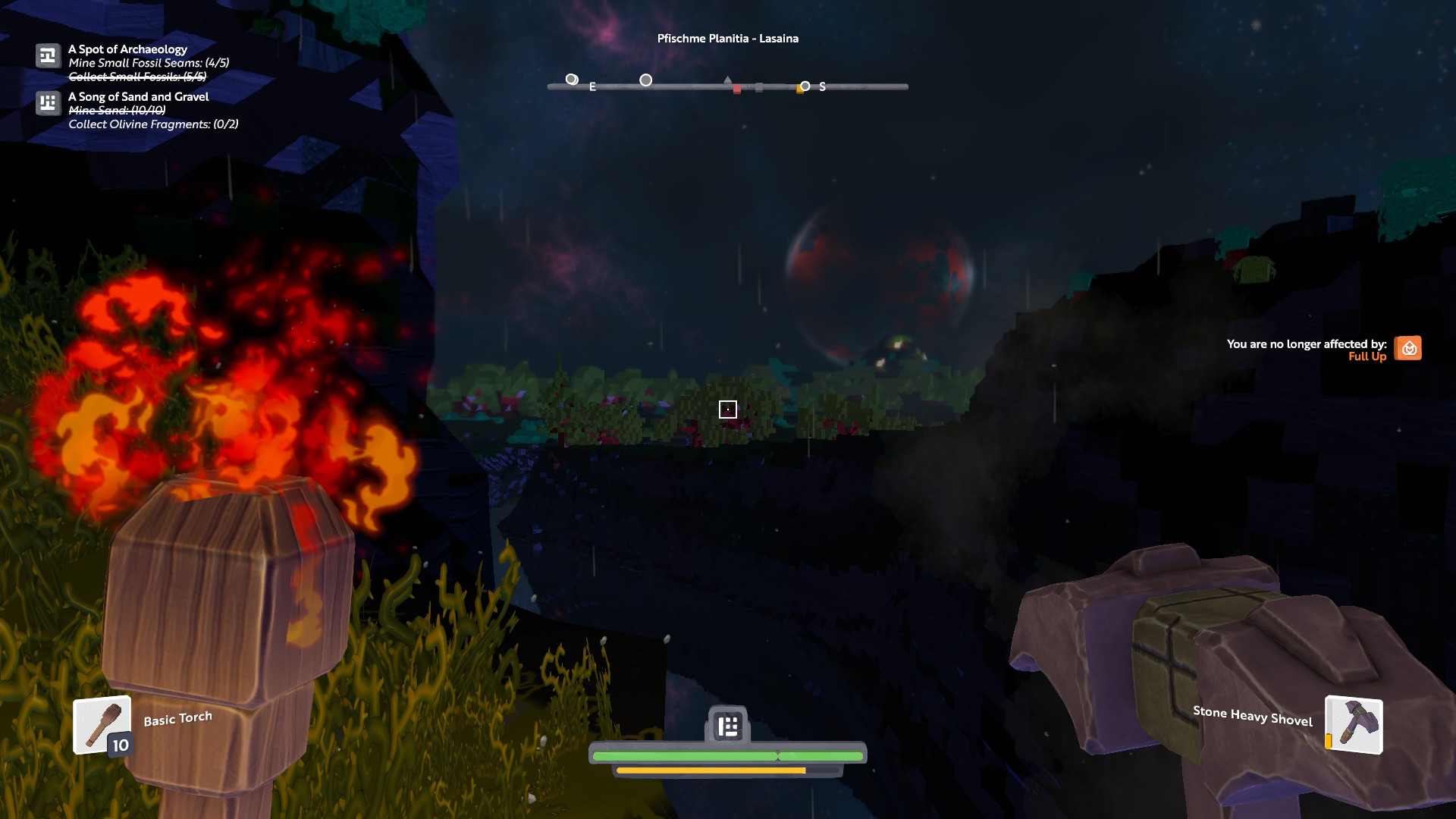 Verdict
For a full-release game from an AAA publisher Boundless has a lot of bugs, the most annoying of which are those related to quest progression. I guess it says something that, in spite of the extra-grindy resource loop, I was initially keen to play more of it, but perhaps it says even more that the last couple of sessions I've only lasted an hour or so before quitting in frustration at yet another quest that refuses to recognise that I've completed it.
Ultimately, Boundless seems to me to be a more focused and enjoyable Minecraft, with a slight pay-to-win ethos under the hood. I've barely touched the surface, but until the developers have fixed all the quests I'm just not that keen to play more. And that's pretty bad, given the asking price. If you're a fan of open world sandbox games, you like the blocky aesthetic, you have AAA dollars and plenty of time to spare, and you don't mind endless bugs in the progression system (or ignoring it entirely and making your own fun), Boundless should keep you busy for many, many hours. If none of those things apply to you, though, maybe you should look elsewhere, at least for the time being.