Looking for Football Manager but on other sports? Then you are at the right place!
Released:
Steam
Type: Singleplayer
Genre: Management, Strategy
Developer: Rebound CG
Publisher: Rebound CG
Release date: 7th Sept 2021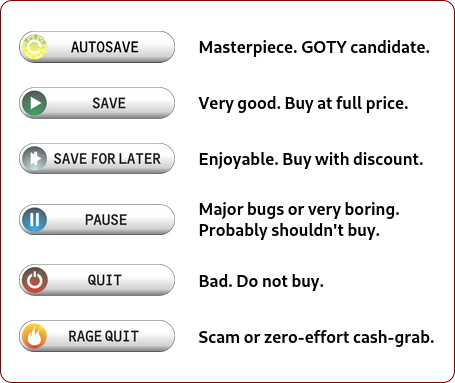 Intro
Tennis Manager 2021 is the newly released tennis simulation made by Rebound CG. It is the long-awaited Football Manager game for tennis fans. The game gives you the ability to part take in over 2000 tournaments, develop young prospects, manage the finances of your club and more!
Here is a gameplay section of Tennis Manager 2021!
Keep in mind that this game isn't that easy, you will need to spend some hours reading and learning what every option does.
Gameplay
To start off with a simple yet effective comparison. Yes, this is the tennis version of FM2020. You will basically control everything that a real-life manager has to control. Your jobs as a manager are many and obviously very important, developing your players is a priority but, keeping your current world-class player in check is equally important. The game will force you into finding a balance. Creating a schedule with tournaments will be challenging as well, as you do have to find the balance between training, tournaments and not overworking your players. Lastly, financial things were the ones I was most interested in. You can spend all of your hard-earned cash on new facilities and trainers or players.
As far as games go, things can be chaotic at first for a new player. At the beginning of each game, you will do a sneak-peak on your opponents. What do I mean by that? A report will be handed to you that accurately describes the playstyle of the opponent, his weaknesses and strengths, and his current form. For example, if your opponent is an attacking style player you will simply use the counterattack tactic for your own player. If your opponent has a weakness on serves you will attack his weakness, thereby demanding your player to serve with maximum intensity. I can guarantee you that you will win 8 out of 10 times for sure. Other factors like exhaustion, psychological, injuries and luck play a role. Before the match, you will have a face-to-face team talk with your player. You will have to choose correctly because if your player doesn't like one of your answers his emotion or confidence will fall.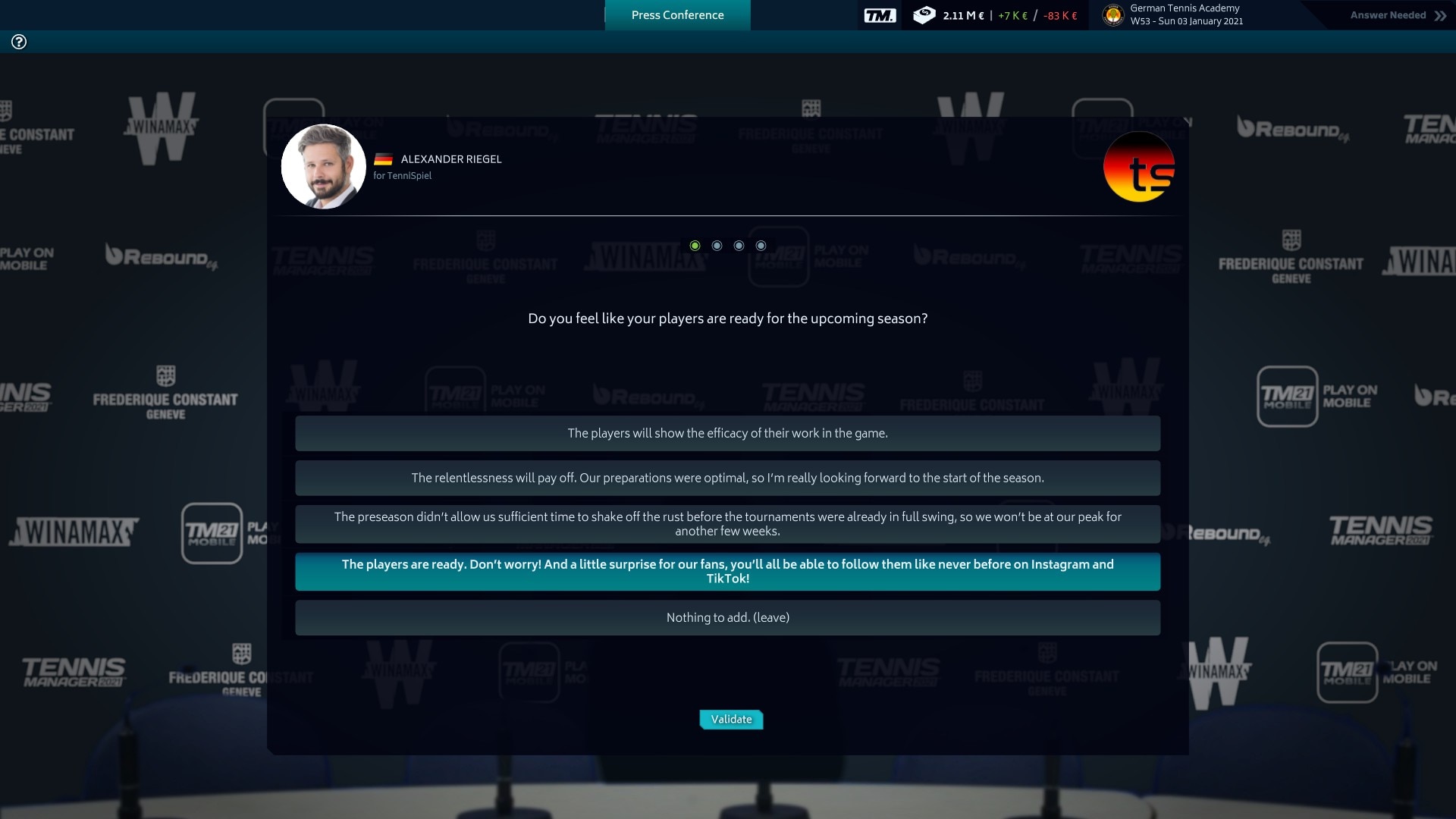 Finally, the big moment! You can watch the match at 3 different speeds. After 2 or 3 won rounds you can say something to your player, these are usually one-line phrases like "good job!" or "concentrate!", usually these callouts give a slight confidence boost or loss so be smart with your decisions. During the tennis break, a small screen with stats will be presented to you which helps a lot if you need to fix something on your game plan. When the match is over you will talk once again with your player to either congratulate him or support him if it's a loss.
To sum everything up, I actually really enjoyed the gameplay mechanics, the matches were sometimes inconsistent as I lost twice against a ranked 100+ player despite having a top 20 player in my squad without any issues on his part. Although that's a stretch I would suggest the developers take a look as far as match preparations go. Other than that it was a nearly flawless experience.
Graphics / Audio:
TM2021 makes use of the Unity game engine.
Graphics:
There isn't much to report on as 70% of the game happens in the Main Menu. Luckily there is the ability to watch the game. The animation isn't special, nor are the graphics as the entire pitch and environment look faded. But I do have to give credit that the game even offers to watch the game in real-time.
The Main Menu is pretty normal looking but it is a little easier to navigate through compared to FM2020.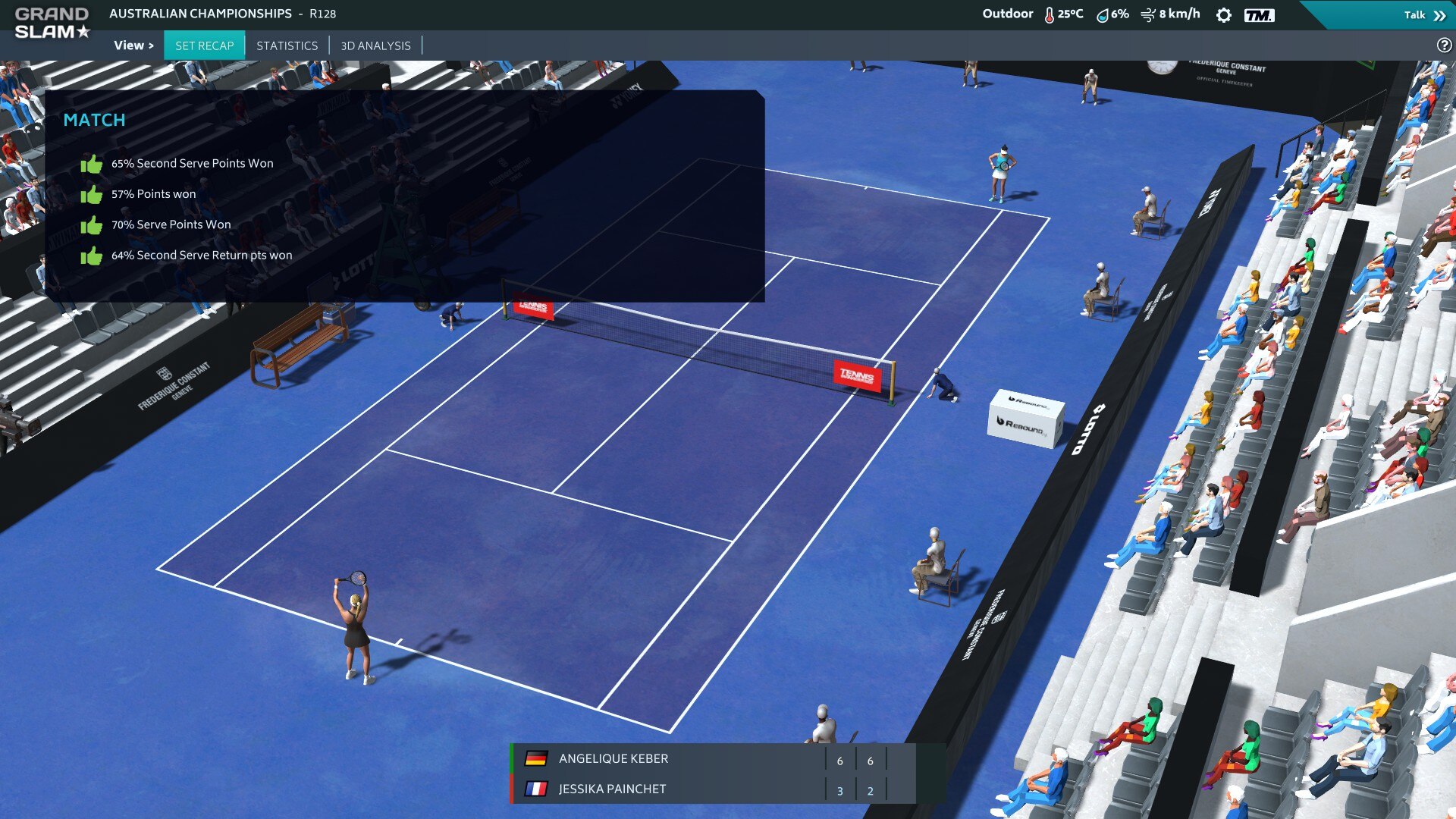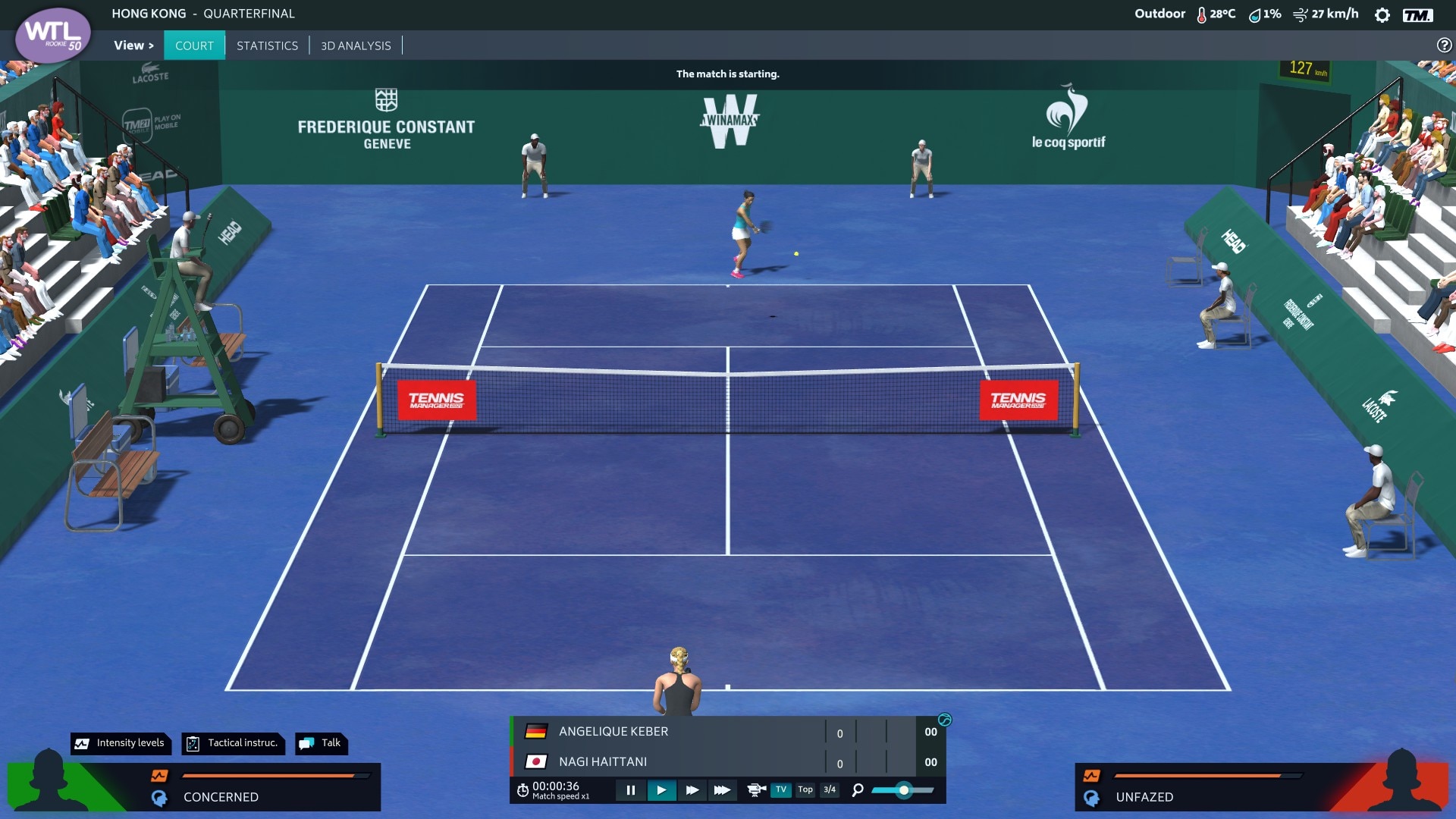 Audio / Soundtrack:
The only audio you hear is while playing a game. The sounds are pretty ok for what type of game this is.
I got nothing else to report on as that was the only occasion where audio was being played.
Performance:
In-Game:

AMD Ryzen 7 3700 X, 32GB Ram, Nvidia RTX 2070 Super:
The game was running with Max Settings at 1080p resolution while mostly hitting 144fps. (V-Sync)

In detail:

Average framerate: 143.7 FPS
Minimum framerate: 136.2 FPS
Maximum framerate: 144.2 FPS
In-Game:

AMD Ryzen 5 3500 U, 16GB Ram, Vega 8 2GB:
The game was running with Max Settings at 1080p resolution while mostly hitting 60fps. (V-Sync)

In detail:

Average framerate: 60.1 FPS
Minimum framerate: 59.9 FPS
Maximum framerate: 60.3 FPS
Bugs / Glitches / Crashes:
In around 10 hours of screaming at my player to hit the ball, I experienced no bugs, no glitches and only one crash. I still do not know why that crash occurred.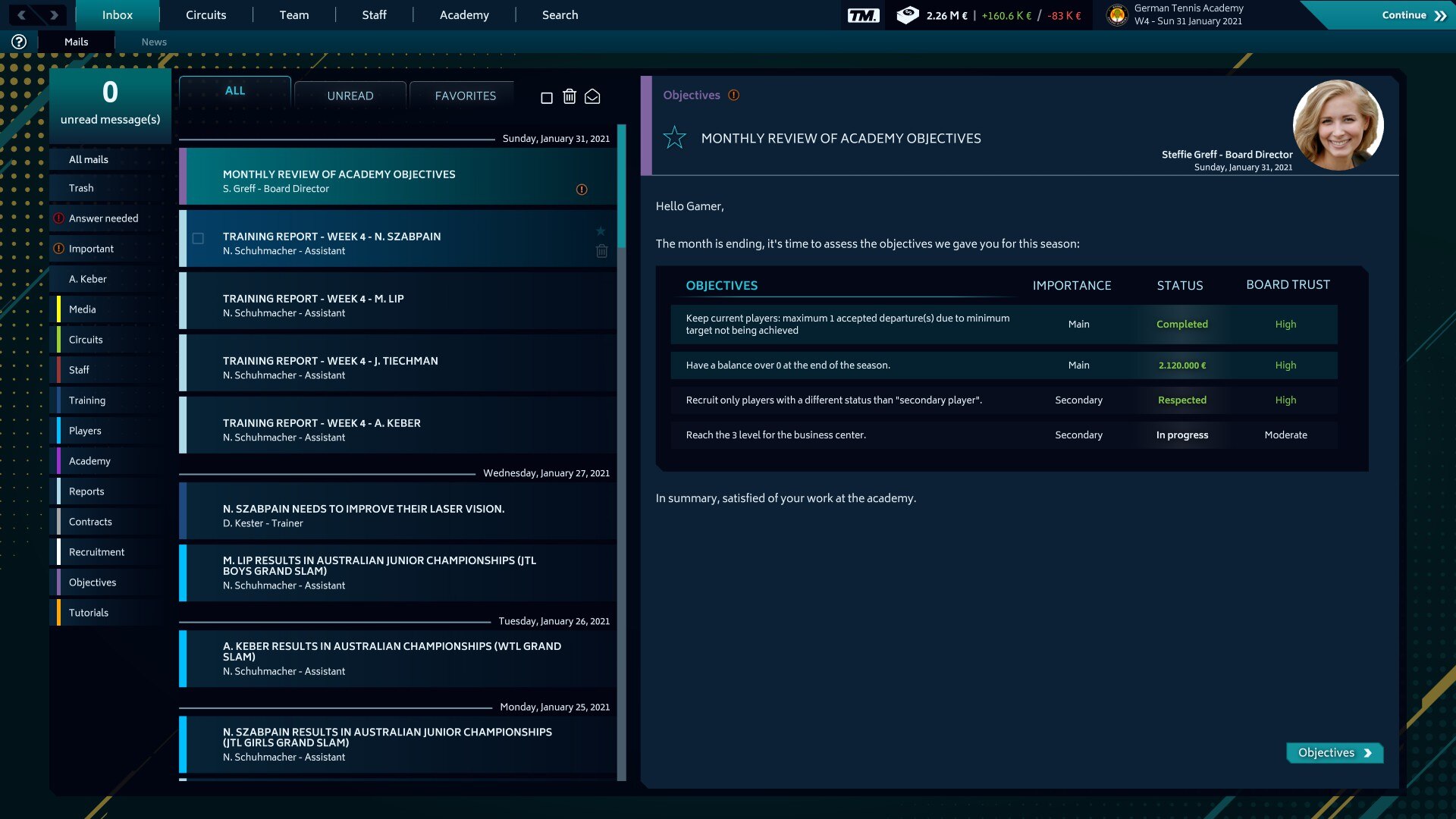 Verdict
Tennis Manager 2021 is the hardcore game for every tennis or management fan. It provides some really deep gameplay mechanics to spend quality time with. Keep in mind that you can easily play this game on a toaster. Sadly I will personally bump down the rating as 39,99 Euros is too much in my opinion. The game is an easy buy when 50% discounted.