RiMS Racing might be the best motorbike game I have played in a long time!
Released:
Steam
Type: Singleplayer, Multiplayer
Genre: Racing, Motorbike, Sports
Developer: Raceward Studio
Publisher: Nacon
Release date: 19 August 2021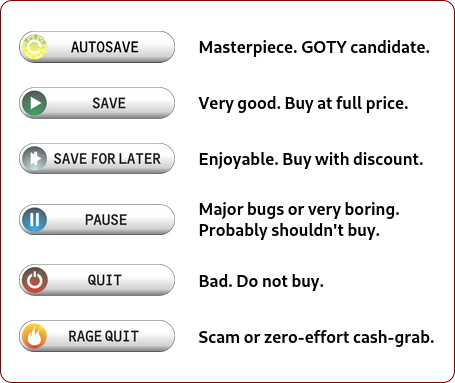 Intro:
RiMS Racing is a full-sim motorbike racing game. Its main goal is to give you the most realistic experience as far as physics, economy, research, and parts go. The game was made by the publishers of the WRC series as well as the TT Isle of Man & V-Rally games.
Here is some gameplay of a random career race in RiMS Racing!
This is easily the most realistic physics based motorbike game in my opinion.
Gameplay:
Driving mechanics
The entire premise of this game is to show off the hyper-realistic physics and driving mechanics. Well…I can happily confirm that this game is simply amazing as far as the full-sim mechanics go. The tire model is extremely detailed. After a couple of hard turns, you will slowly realize that you're losing grip and the bike becomes less and less stable. Fuel is a feature as well, more fuel equals more weight, and less fuel equals less weight. Keep in mind that we get the usual and highly important gas pedal management. That means that you can't just mindlessly slam on the brakes or the gas pedal. That will simply throw you off the bike especially if you play without any assists. Lastly, weather plays a huge role in this game. On a wet/ rainy track you will have to equip special tires for these situations because of the slippery track. Braking zones will be a lot longer as well. RiMS Racing is simply said the most realistic motorbike racing game nowadays.
Additional features
RiMS executed a plethora of features in a perfect manner which should be looked upon by bigger studios. The addition of the mounting of new parts adds a lot more knowledge to the game. You will learn to drive a bike (obviously in theory) as well as learn what each part does and how it works in correlation to the rest of the system. Simply said, RiMS has two games, the usual motorbike racing game as well as the car mechanic simulator stuff.
You can check the condition of your bike while racing. Not just the basic stuff, the game goes into detail about the condition of every part! This isn't a game-changer but it does give you a perfect idea of your bike's condition.
You can invest points into research and development which will unlock a lot more "power-ups". Think of the Facility upgrade system of DiRT 4. It is an identical system, just a lot better and a lot more rewarding.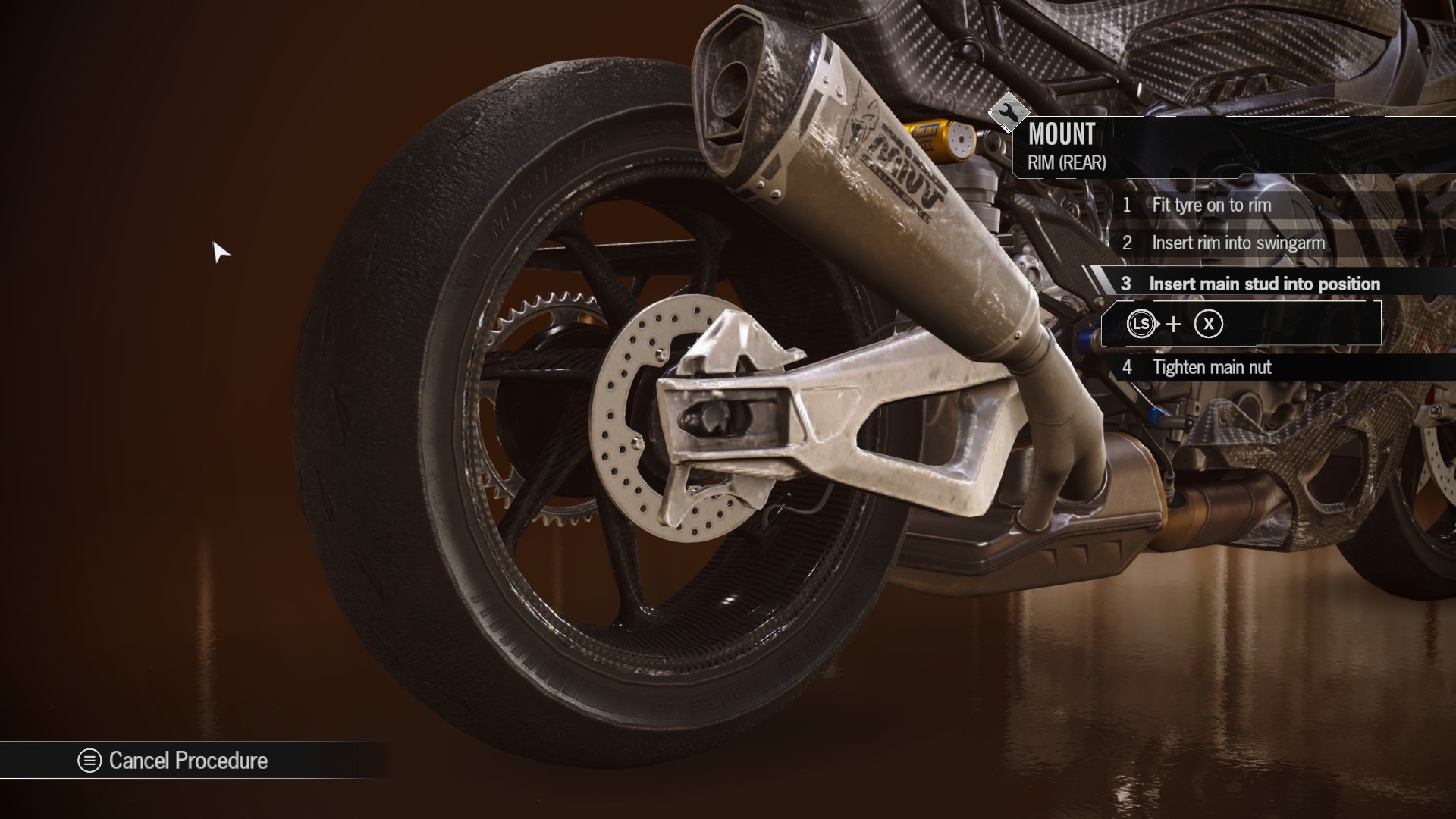 Some negative things
The rear brakes have an independent button which is amazing but they are way too easy to use. Slamming on the rear brakes will not lock up your brakes. That is weird as this is basically free extra braking force without any drawback.
The content just isn't enough. The game offers 8 bikes and 10 tracks. Over a 70 race season, this is going to feel repetitive. Sure the bikes are perfectly recreated as well as the tracks but the content is a huge aspect especially when you have to pay 50 Euros.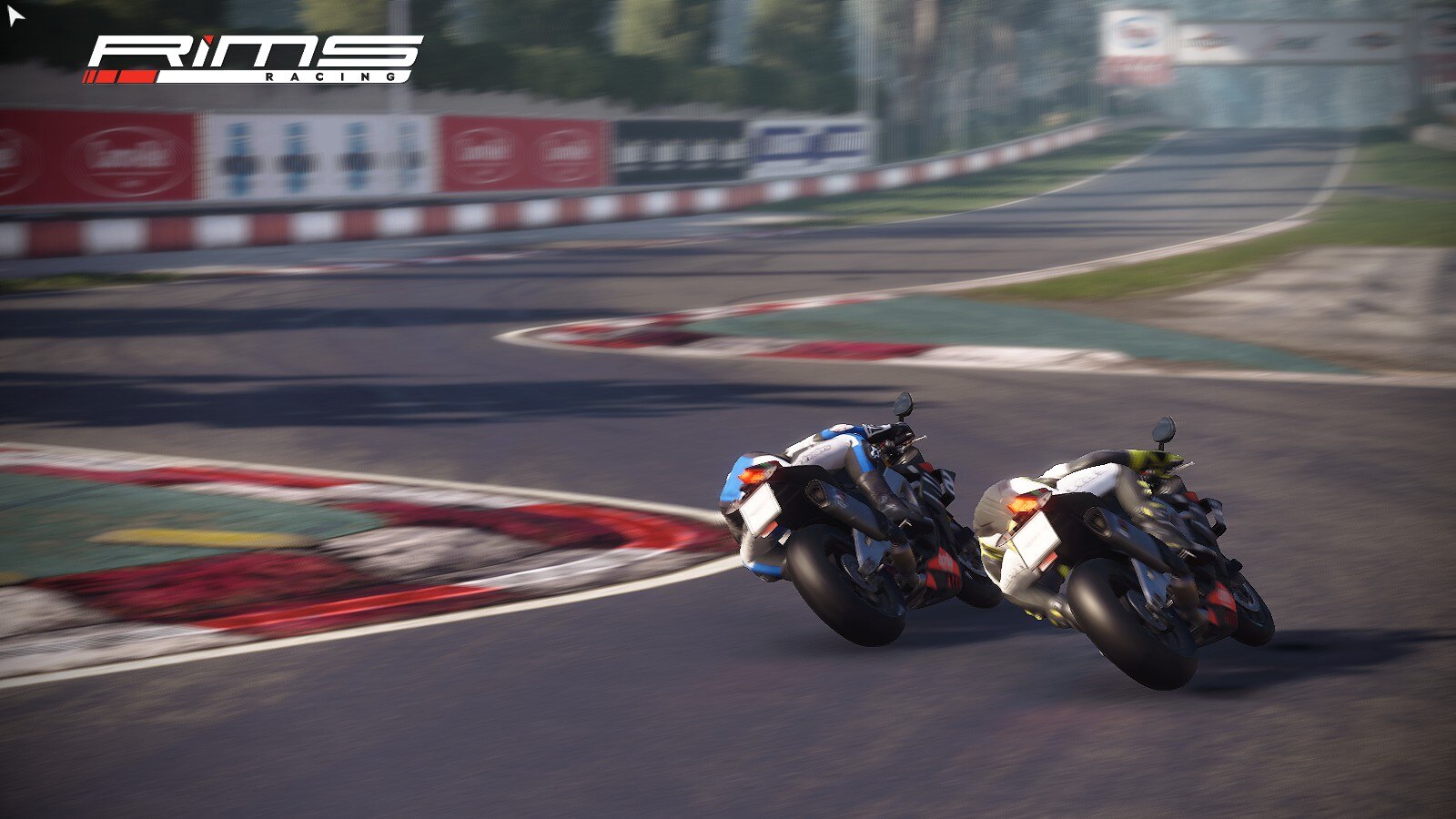 Online:
The online mode is sadly dead already. I haven't found any random lobby yet which is just disappointing as this game is amazing in the gameplay department.
Luckily, you will find some pretty good weekly online challenges. Leaderboards play a huge role in my opinion but that did not save the online mode to go dead within days.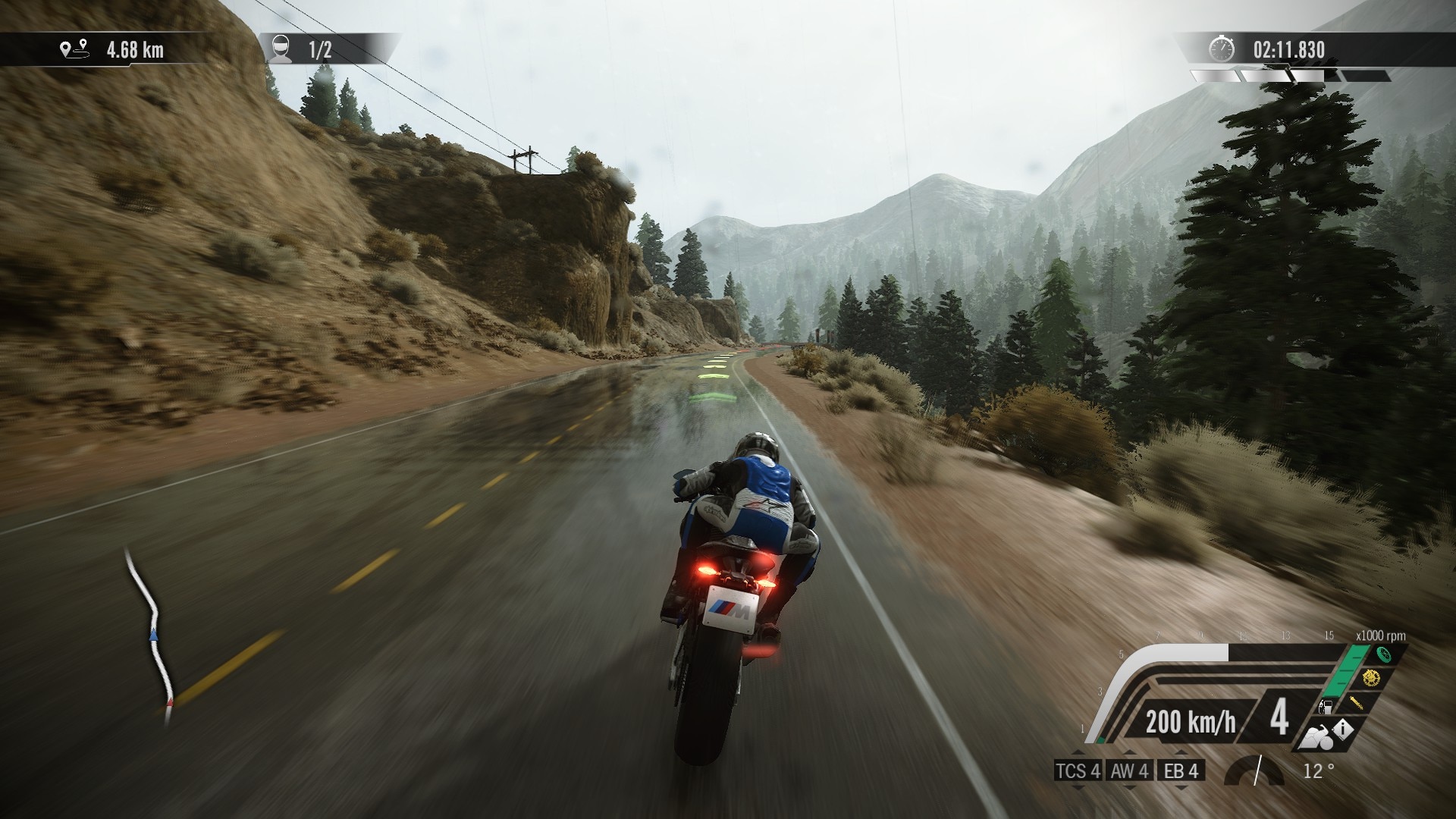 Graphics / Audio:
The game makes use of the KT engine which is used in the WRC game series.
Graphics
Visually this game is pretty inconsistent. Sometimes it looks absolutely lifelike with its prestigious onboard cameras and other times you get messy and vague textures. The damage model does not offer any deformation which shouldn't really be expected but I just wanted to mention it. After falling down multiple times you can see that the driver will have some torn areas on his racing suit. The bike will get some pretty deep scratches as well. Animations are a little slow but that is due to the realism as the drivers cannot instantly turn their bodies on every chicane. The game obviously looks above average but there is room for improvement.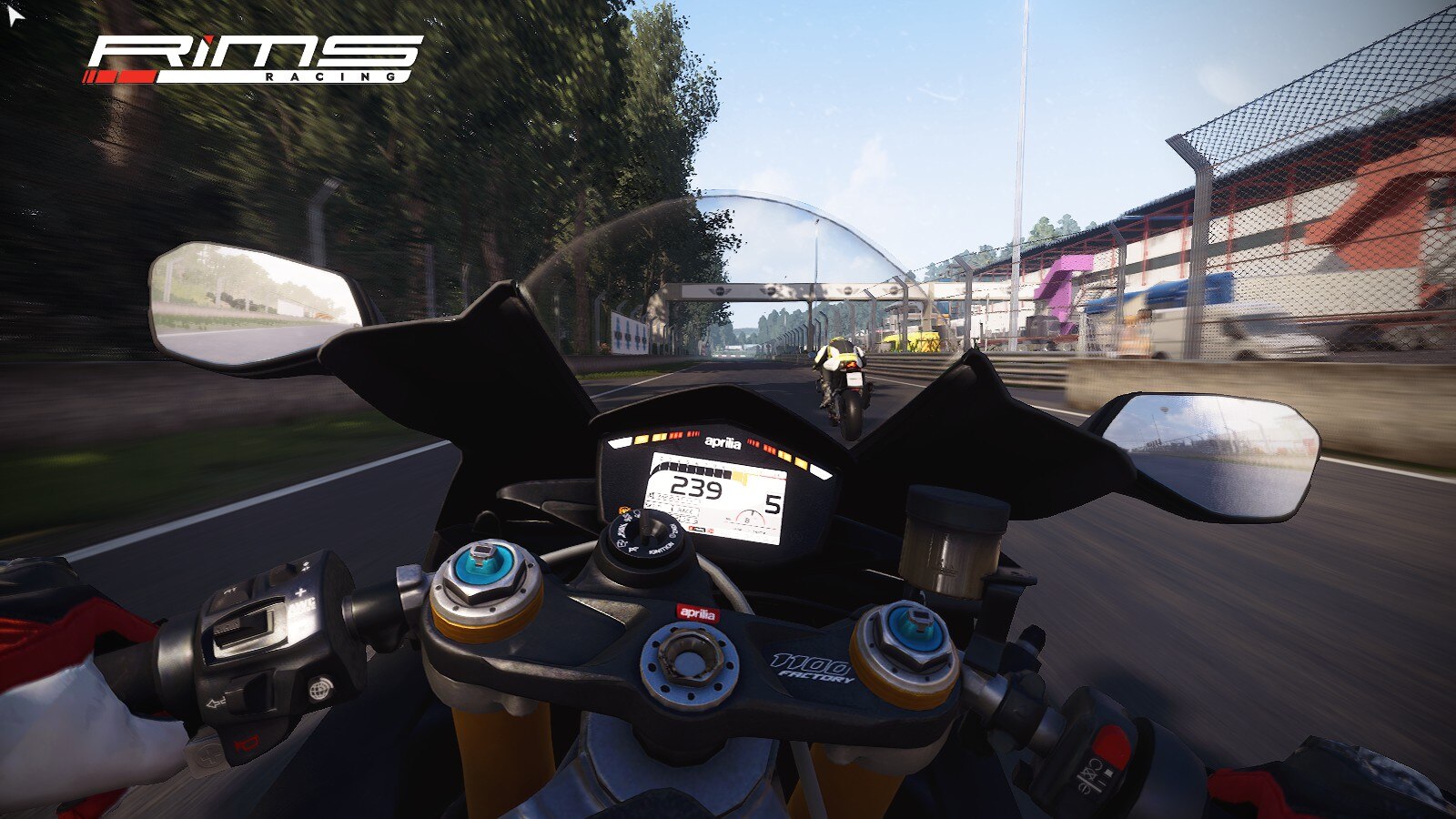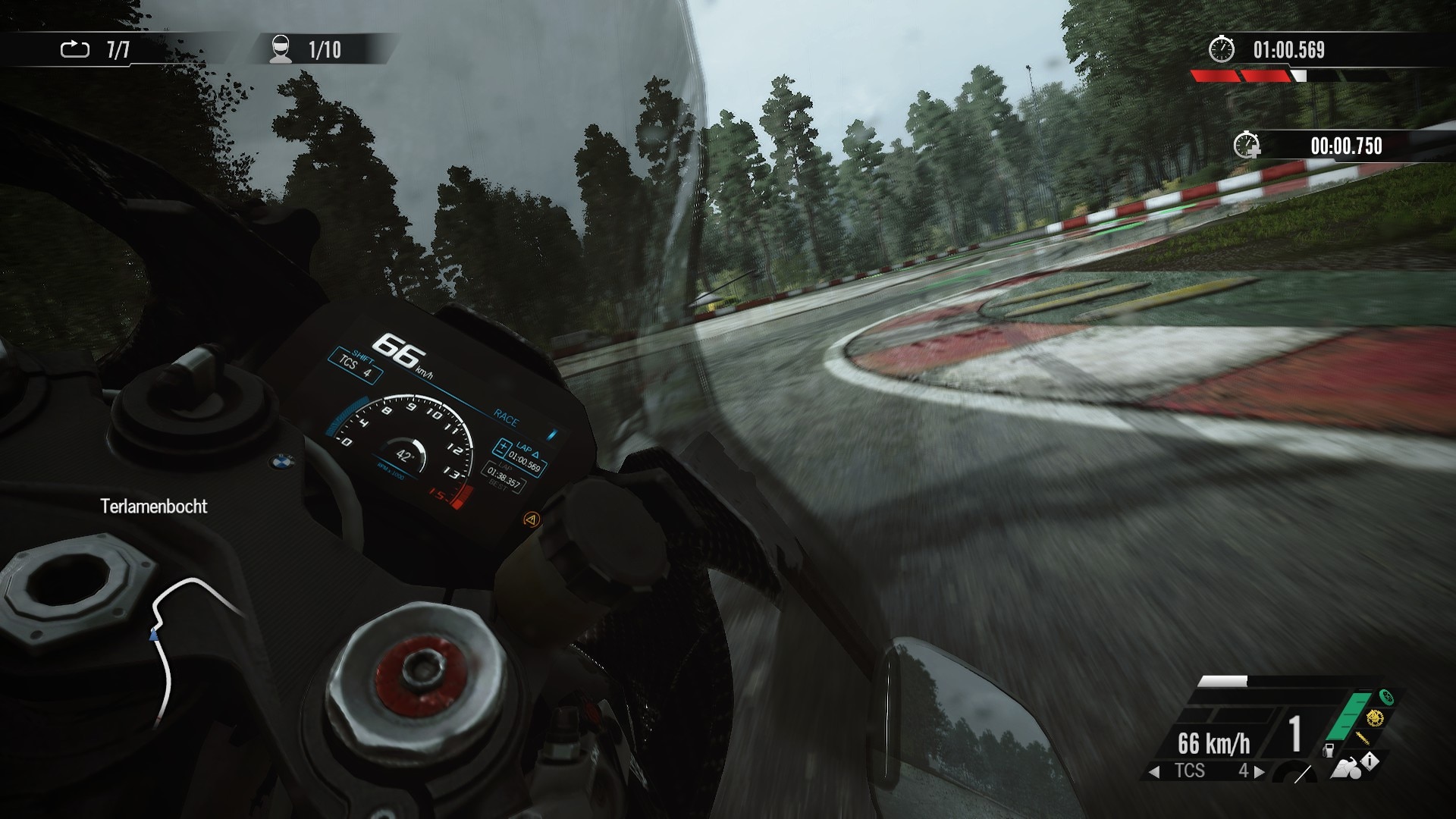 Audio / Soundtrack
The audio is actually surprisingly solid. The voice actors used are totally understandable. The motorbike sounds aren't 100% accurate but they are still pretty close to the real thing. I have heard a BMW s1000rr before and I feel like the sound is a high-pitched one which isn't totally accurate on this game. Other than that it is a very well-sounding game!
Performance:
In-Game

AMD Ryzen 7 3700 X, 32GB Ram, Nvidia RTX 2070 Super:
The game was running with Max Settings in 1080p resolution while hitting 60fps due to the FPS limit.

In detail

Average framerate: 58.7FPS
Minimum framerate: 55.1FPS
Maximum framerate: 60.6 FPS
Bugs / Glitches / Crashes:
In about 14 hours of driving onto other drivers, I experienced no bugs or glitches in this game. I had two crashes.
I tried running this game on an APU-based laptop ( Ryzen 5 3500U, 16GB RAM, Vega 8) but I was constantly getting visual glitches which made the game unplayable.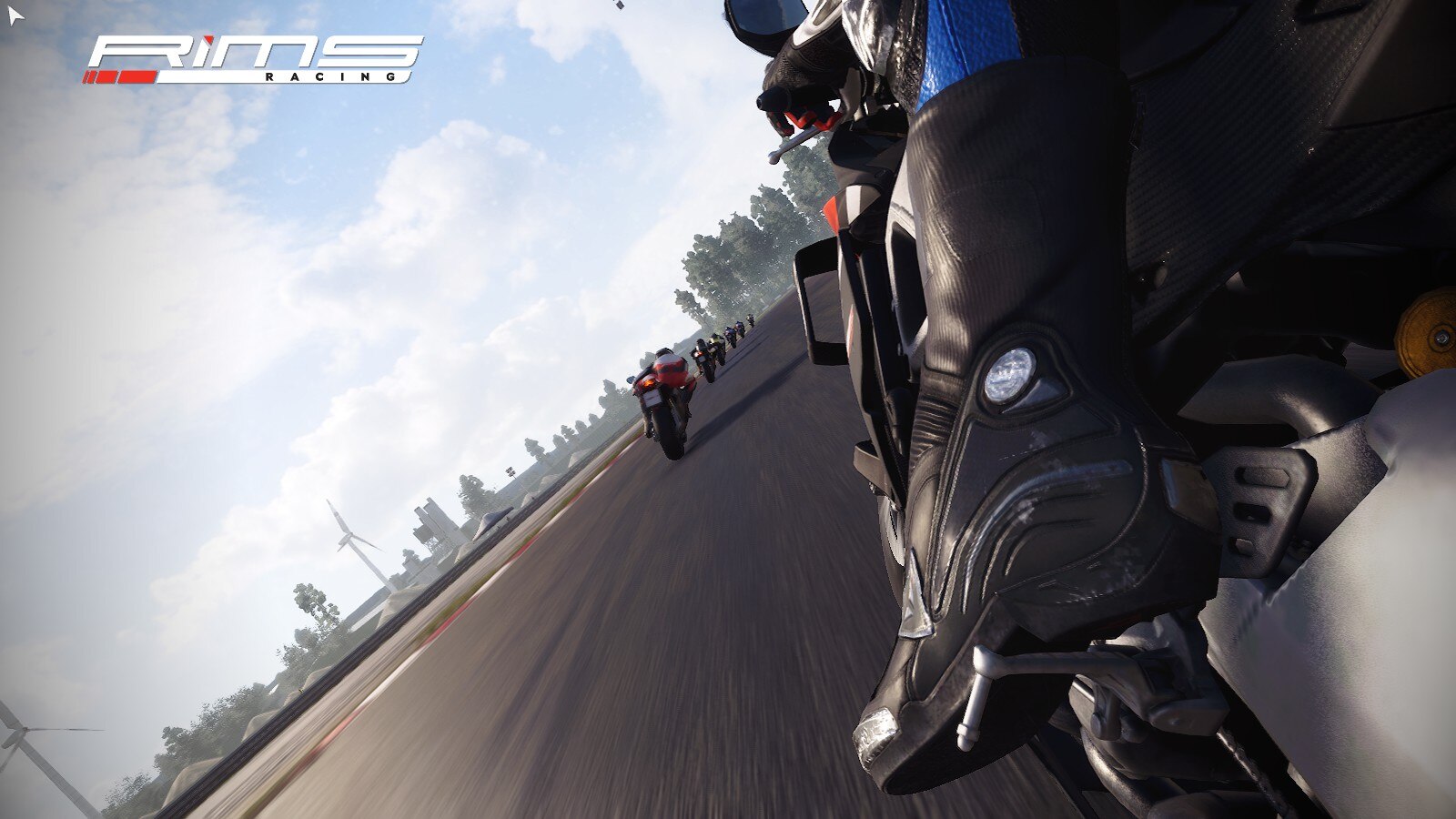 Verdict
RiMS Racing is a hardcore full-sim that added a lot of new features to the full-sim world. The gameplay is simply amazing, visuals, and the audio, in general, is very well-made. Sadly the lack of content brings this game rating down.