Turnip Boy Commits Tax Evasion follows the criminal adventures of an adorable produce hooligan. Spread anarchy and solve puzzles on the side to uncover all the secrets and twists of the colorful world you're stepping into.
Released:
Steam
Author: Hirundo
Type: Single-player
Genre: Adventure, Action
Puzzle
Developer:
Snoozy Kazoo
Publisher: Graffiti Games
Release date: 22 April, 2021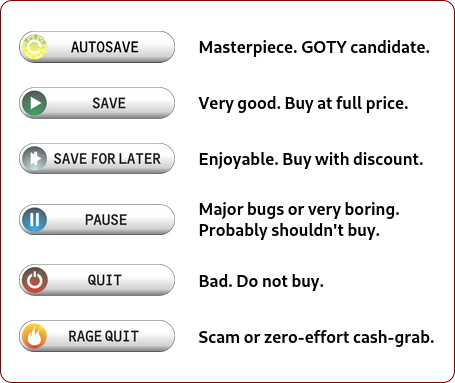 Pros:
Energetic and brash mood
A cute protagonist, customizable with hats
Accessible combat difficulties
A deep and unexpected story
Cons:
No quest log
A limited key binding
This tale begins when Turnip Boy "forgets" to pay his greenhouse taxes – the only thing he can do now is to be the mayor's errand veggie and work his way through his debt. It is imperative that he breaks as many hearts and rules as possible on his way, though. If someone asks this cheeky beet for help, they'd better expect a sprinkle of chaos in their life. Amazingly enough, that questionable help is still appreciated and rewarded, mostly with adorable hats.
In spite of the limited amount of dialogue, all the characters are given unique personalities. In their brief moments they don't fall into the usual flat archetypes, instead they show their concerns and, through the words they use, their attitude. The conversations are never boring!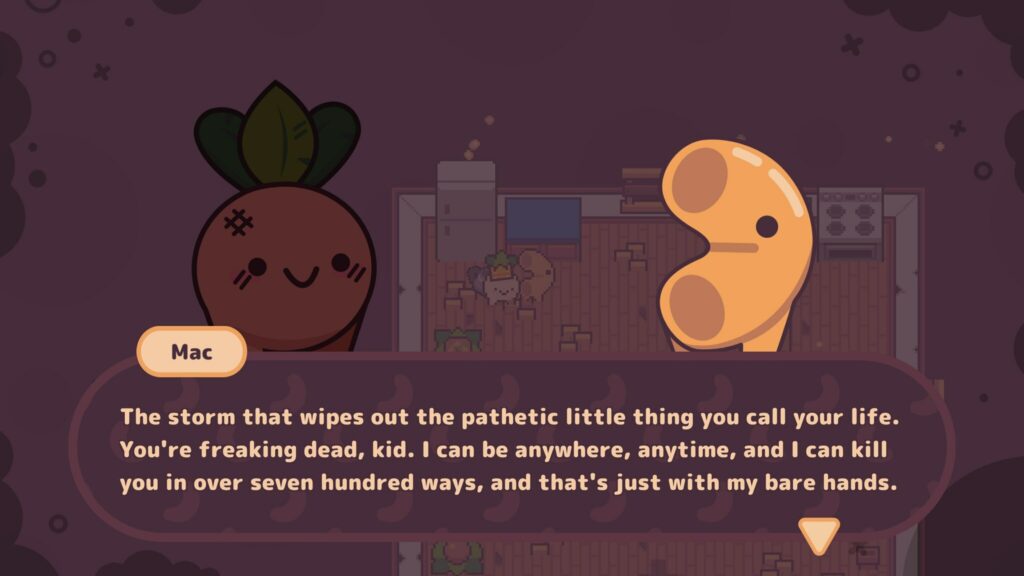 The sprites and environments are built with colorful pixels, presenting the game as a cheerful and bubbly adventure. And while it sure delivers in being energetic and humorous, the story will leave the player dumbfounded, as it reveals, layer by layer, the contrasting truths behind this lively and charming world. There is also a surprising variety in the soundtracks that accompany each zone with a fitting 8-bit-like tune.
The game is an action adventure, with an engaging storyline, side tasks, puzzles and combat. The latter two often combine, resulting in interesting and diverse boss battles.
Turnip Boy starts with no particular abilities, throughout the game he acquires gear that allows him to use different attacks and solve puzzles. Most items, two prime examples would be the watering can and the sword (both essential in the arena), have to be selected from the swap menu before they can be used.
On the map there are interactive elements in the form of explosive berries and watermelons (called "Movemelons"); both have to be watered prior use and are necessary to solving puzzles. Those berries can be kicked in any cardinal direction to destroy debris that obstructs passages or further parts of puzzles, or to deal damage to enemies. On the other hand, the watermelons grow into big blocks that fit perfectly with otherwise unsurpassable holes. Whenever an active element comes in contact with an enemy before being used, or Turnip boy is positioned on top of it when watering, it shatters, which can be frustrating. Later in the game a couple other mechanics that work on similar principles are introduced.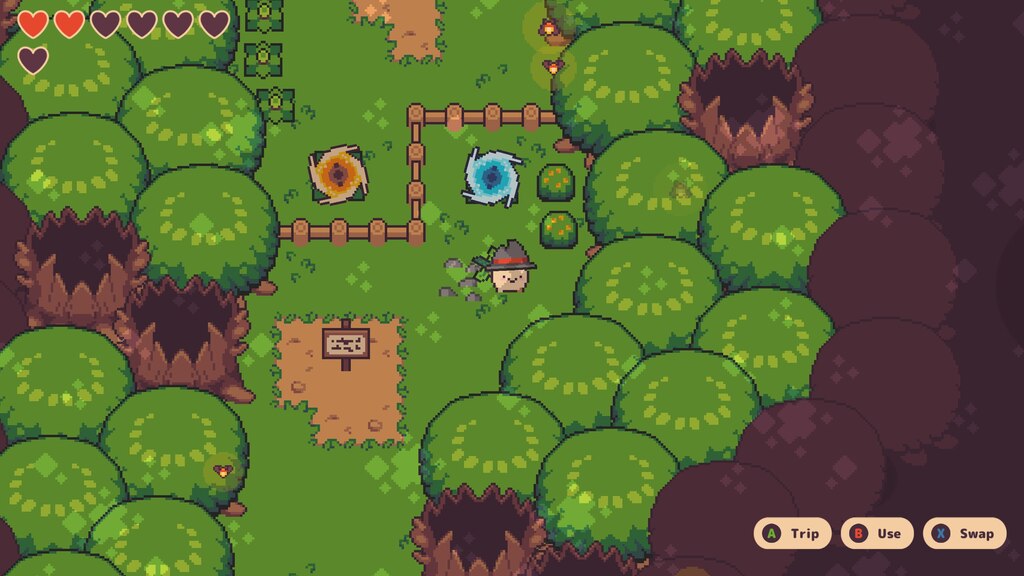 Some of the puzzles and boss fights compensate Turnip Boy with a heart fruit which, of course, translates into additional health points. During exploration any lost health is easily replenished, as destroying leaves or killing hungry creatures has a high chance to drop a heart. This is also applicable to the big battles, as most of them have regular enemies as support, which end up being as much of a hindrance as a useful resource. Additionally, the most efficient way to fight a boss is to use the puzzle elements present on the arena and blast it with berries. The sword works fine too, but even on the hardest "1x" difficulty I played on, the explosives deal massive damage.
Overall, there is just enough enemy variety from a visual point of view, but not so much in their behavior. There are many different sprites. However, only a few enemies have their own special abilities and attack patterns. The game makes it quite clear that the combat is just something extra and not its main focus; with some trial and error even a novice to the genre, such as myself, can finish all the challenges without lowering the difficulty. Dying doesn't punish the player in any way, as the most that can happen is having to walk back through a few rooms, now with full health.
What I found quite troublesome though, was the impossibility to rebind the keys in the way I would have wanted, since the main "enter" key is not bindable in the game. It would have also been a bit of a hassle, as a key that's already in use can't be bound to another function, without being first swapped for something else manually. In the end I decided to use my Xbox controller, something I do seldomly and reluctantly. This has influenced my precision and made the combat more difficult than it should have been.
Another unusual and not exactly user-friendly choice, was that of not including a mechanic that would help the player track their actual progress. Other than showing what documents have already been disregarded and the overall completion percentage, there is no indication about on-going tasks. The intention behind this became more clear once I finished the game and was provided with hints on where I had to backtrack in order to fully complete everything. However, once the storyline was over I had little to no motivation to continue playing.
It was undoubtedly an enjoyable experience, even if it was not what I expected from the initial, cute premise. The graphics and music are lovely in their simplicity and the world created within Turnip Boy Commits Tax Evasion is beaming with life in all of its facets.
While the story is engaging and well-written, most of its value lies in the actual discovery of what happened to its world. Overall, it is a pretty short adventure: about three hour long, and this makes the price quite steep. It is best to wait for sales before getting this title.