Steam:
Not Released
Type: Single-Player, Co-Op
Genre: ARPG, Action, Hack n' Slash
Developer: Eko Software
Publisher: Bigben Interactive
Release Date: 4 Jun, 2019
OVERVIEW
Disclaimer: this preview is related to Beta 2, which ran for a limited time and gave access to a restricted amount of content (albeit with more additions compared to Beta 1). I did not reach completion, nor was it possible. So, my writing on this is very subjective to change in the final product as the story, endgame combat, loot and skills were not accessible, among other modes and features.
Despite my short time with the beta, Chaosbane is shaping up to be a better ARPG experience than Inquisitor Martyr was, the previous RPG in the franchise (despite being related to Warhammer 40K and not to the fantasy Warhammer), which is a great thing. It feels much more like a classic ARPG (in a good way) over Inquisitor's top-down shooter feel.
The game overall plays quite well, the skills and mechanics are solid. The dialogue, however, is pretty box-standard and there's nothing worth writing home about in that regard. What I want to emphasize is that Chaosbane is not worth its asking price right now, given the fact that the price is extremely steep for a game of this genre as well the fact that it has a 70€ edition with a season pass included. There's no reason to get this right now over other ARPG's that are far more complete and are much cheaper.
That being said, definitely keep an eye out on Chaosbane as this has the potential to be quite a solid game, if the mid-endgame proves to be anything worth our time once the game is actually out.
GRAPHICS
Though hardly the main reason for buying this game, the art style is important in ARPGs in my opinion and Chaosbane manages to hold a very solid and atmospheric medieval feel. The graphics aren't stunning but they are pretty enough to make it a joy to traverse the environments. I'll also note that they are also quite clean, so players know exactly what is happening in combat. This is great given how often games of this genre get cluttered with a messy UI and text displays on top. Any horde based combat can ruin an ARPG in a matter of seconds if it is too confusing visually. Here, however, there is a great amount of clarity.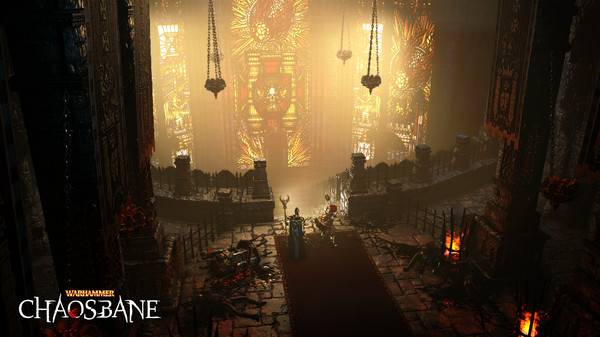 GAMEPLAY
The core gameplay of this game is just downright fun. There are four characters which represent their own class. I tried the new ones added in beta 2: the dwarf Bragi and the elf Elessa. Elessa, with her unique dodge ability, has a focus on mobility and can perform slow debuffs and poison effects with a nice synergy thanks to summoning and damage stacks. She was quite fun to play and it's a great addition to the game.
Bragi ends up being the classic Berserker, he uses a flail to move really fast across the battlefield and he can even attach it to an enemy in a horde to get right into the thick of it. With his AoE abilities paired with regen capabilities, he is really strong and feels like an ideal character for those who like being on the frontline. Due to how I play my ARPGs, he was my favorite of the two for solo play. Elessa would be my choice for co-op as I prefer a support role when with friends.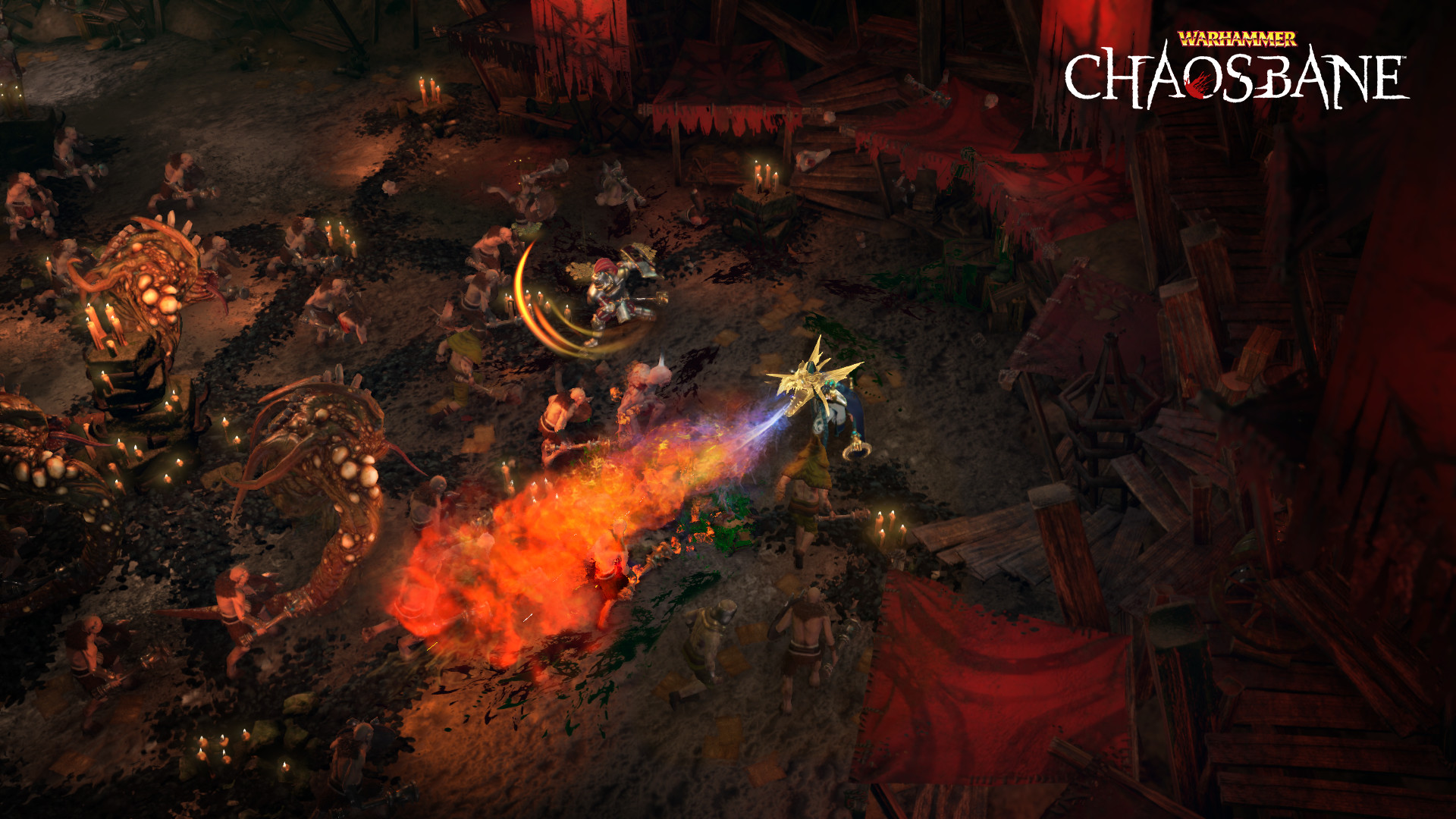 The combat is your classic affair of clicking/dragging the mouse to move and clicking enemies to obliterate them into a pretty, shiny red paste. The abilities feel great thanks to good sound cues when swinging an ax or firing an arrow, along with sounds popping when an enemy gets hit. I found the combat to be visceral and wonderfully fun. The abilities weren't all available in this Beta, so the endgame and the "builds" for the game are still not something I could try out. However, if this is anything to go by, from what I read of the locked abilities, the endgame sounds like it will be genuinely enjoyable.
AUDIO
The dialogue/voice acting as I said, isn't great. It's a very typical affair for ARPG's and, after all, the focus is the combat and the gameplay, not the story or the acting. It gets the job done and lets you go through the motions smoothly while you slaughter thousands of enemies in your way. The sound effects in combat are great, from weapon hits to blood spewing and screams of pain, it's just all-around a fine job in the audio effects department. Environment sounds and atmosphere can seem lacking, though, and there's been very little that I liked (or even noticed) compared to something like Torchlight 2, which I still find to have the best soundtrack of the genre.
I don't mean to compare the games at all, they play very differently and the classes themselves are basic proof of this, but the soundtrack could be better and more impactful.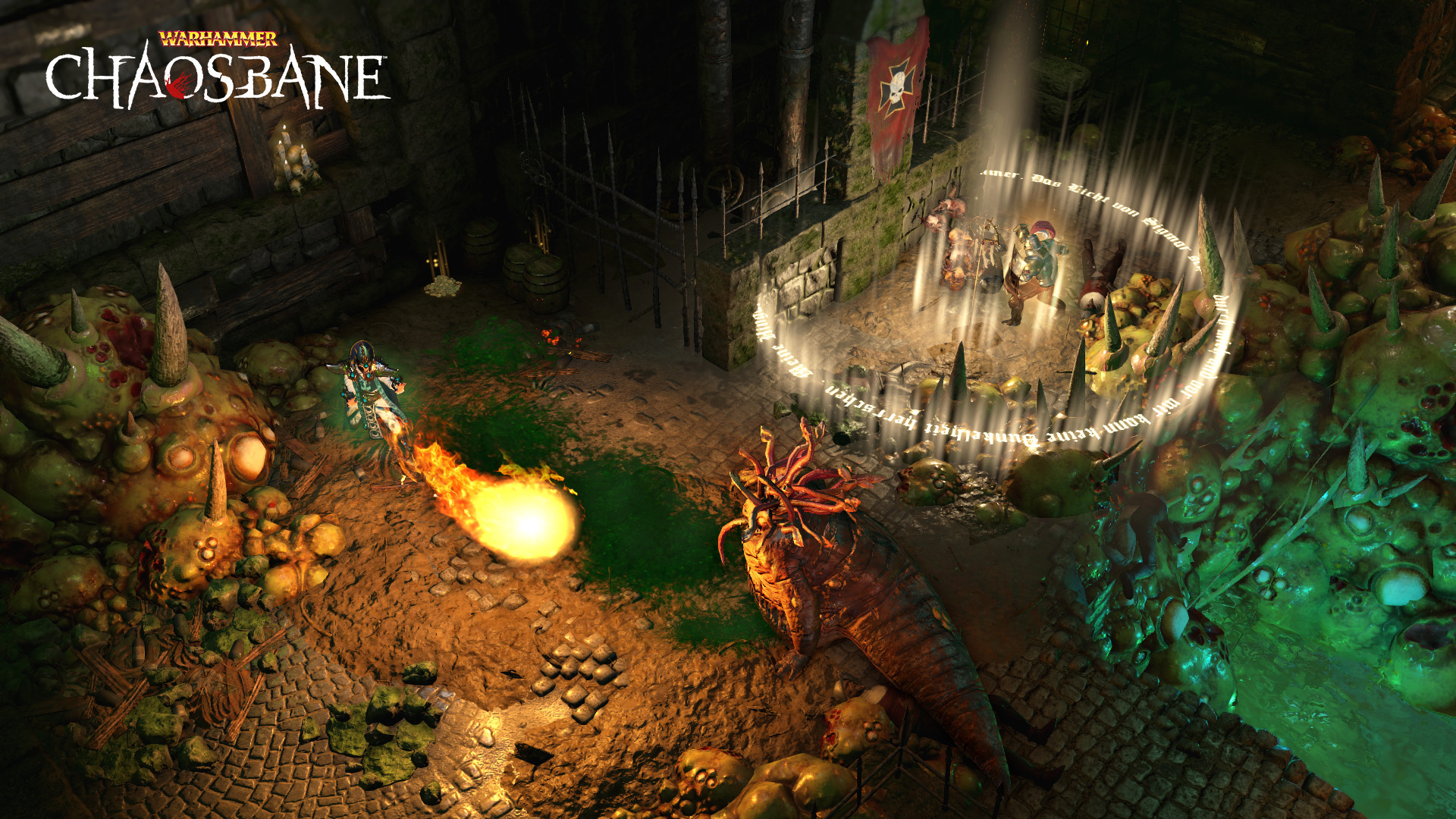 VERDICT
This is a pretty limited preview for what honestly is a pretty limited beta. Overall, I had a good time with Chaosbane, it ticked all the right boxes without messing anything up considerably. If, with frequent and adequate support from the developers using community feedback, this could be quite a gem in 2019. For now only time will tell, so I urge you to keep an eye on this if you remotely enjoy ARPG's (games like Torchlight 2, Diablo 3 or even Grim Dawn are good examples), but for now I'd hold off on a pre-order or day-1 buy: the price is too steep for a game we have no idea how long or deep/replayable it will finally be.