FIGHT!
PS4:
Released
Switch:
Released
Type: Single-player, Online Battles
Genre: Arcade, Fighter
Developer: SNK
Publisher: NISA
Release date: 07 Sept 2018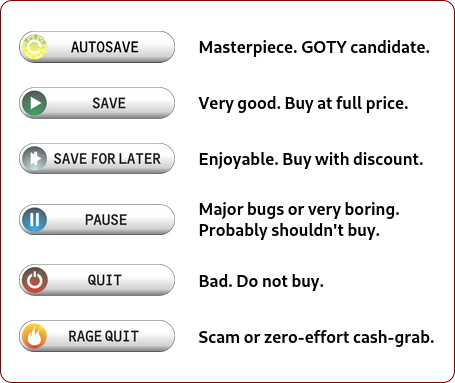 When SNK announced they were publishing a new fighting game, I was all ears.  I love fighters, even if I pretty much stink at them and have the reflexes of a marshmallow.  When I looked closer and realized it was an all-girl cast of characters that leaned heavily on the jiggly side of things with lots of pink bubblegum popping cuteness thrown in, I wasn't sure what to expect.  I was thinking maybe it would be like Skullgirls with over the top combos, animations, and all new backstories. I made it a point not to look up anything as I wanted to play blind going in. What I found was a game consisting of female characters from King of Fighters, Fatal Fury, and a few others I am not really all that familiar with.  Of course, Terry Bogard is there too as a character, though it – ahem – seems he has had a massive change of gender.  Well, if anything Terry knows how to rock those denim hot shorts.  It's like a family reunion of sorts, ready for the tag team mania to begin. On top of that, they were all dressed in some of the skimpiest costumes I've ever seen in a fighter, and you'll find out why later on.
First Gameplay
I began with the tutorials ( yes, there is a full blown tutorial! ) to get a sense of the moves and combos.  To my surprise, it was very simplified. We are talking 1-button combos in conjuction with the left joystick, just a single jump/air dash move, and of course a special finishing blow required to win the match.  I was somewhat confused, thinking this must be a very laid back game or something. Perhaps aimed at casual gamers? I mean, this is SNK, it can't be that easy.  Also, why use an all-star female cast for fans when you are aiming at casuals?  I persisted onwards to get a larger picture of what the game had in store for me.
Next up, I tried the offline battles.  At first, it seemed like the game was just too easy.  I was burning through matches left and right, the action was middling, animations less stylized than I expected, and there wasn't much effort on my part.  I'm just playing on the default setting of "CPU 3", and I'm not all that great yet I'm literally the king of fighters playing this. There were no unlockable backstories I was hoping for and the action did not have quite the level of violence and active backgrounds I expected.  I did enjoy the aspect of switching players, I had done this before in Tekken Tag Tournament 2, and it's a great way to deplete the SP of your fighter and switch to one that has a full SP bar right after.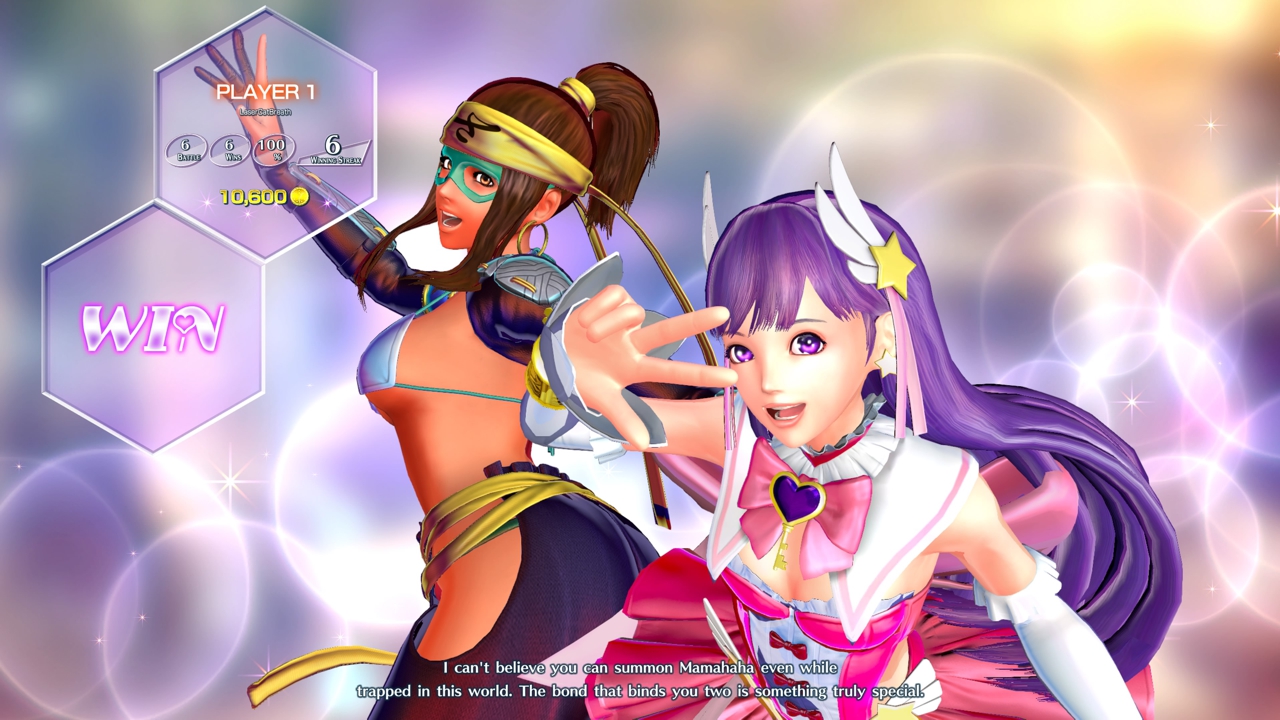 Story mode seemed like the next way to go, and I was anxious to see what it would uncover.  I played the Tekken 7 story mode recently and enjoyed the hell out of it, so here I was hoping for some awesome character storylines to fight through.  The problem was, it was nothing like that. What I got was a creepy Sandman-like character named Kukri, who I just discovered is a new character in King of Fighters XIV.  He recently kidnapped all these girls, changed their costumes into sexy little numbers and spews out some tongue-in-cheek silly dialogue about having his own personal fetish realized with their entrapment.  It's up to your two girls, you can pick whoever you like, to fight through some battles until you get to him.
Now, I want to say something here. On the normal difficulty, I blew right through those six story battles in a matter of minutes, lengthened only by the cut-scenes.  I got to the boss fight with Kukri, and had my ass handed to me on a platter. It took me several attempts before I finally beat him and he was a damned good boss, moving and attacking so quick I barely had time to work up an attack.  I'd say on par with Kazumi from Tekken 7's story mode. Yet, he was the *only* boss. I got my endings for Athena and Zarina and it was just some art stills with music.  You can even just purchase the endings for 500 in-game currency ( I had plenty from collecting money off my losses against Kukri ) to see the others. I was really disappointed at this point.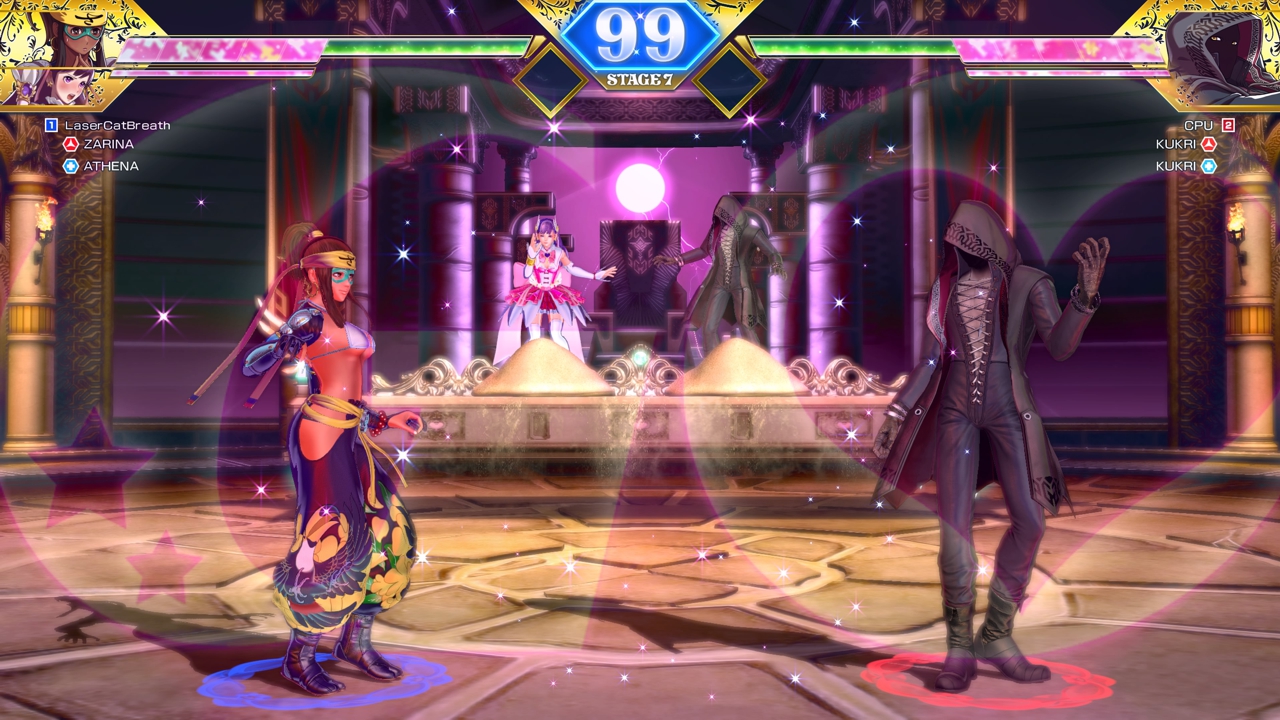 Still, I really wasn't sure how decent the game mechanics were until I faced Kukri in story mode and it all clicked at once for me after just a few bouts with him knocking me out. The core move list is adequate, but when playing against a very quick enemy that can offensively dash or defensively dash like him, things get really interesting as the game becomes very defensive with a chance to throw in some ultra-quick offense moves made before the enemy can react.  I loved it, and I could truly see the potential this game has when good players face off against each other. However, I have to say it is also quite button mashy, so even if you haven't a clue what you are doing you can still possibly win a match, just not against Kukri. You need some strategy and land some good blows to knock him out.
By now I was unsure about how to review this game.  I obviously see the potential after beating Kukri, who is not a playable character, but the default settings on the game are way too easy.  For me to see what the true breadth of the game offers, I had to either find some damned good players to spar with or crank up the difficulty. Since this was played on a pre-release copy and the multiplayer is not really populated, I set the CPU to 5 ( highest setting ) and gave it a whirl.  Holy hell, that was not a good idea. The speed with which the CPU played against me was even harder than Kukri, I barely had a chance to get a blow in as the opponents would strike the split second before I had a chance to recover. I obviously need to practice my fall recover moves.  I lost *all* the fights I played against with the CPU on 5, so I put it on 4 next. Here, I was able to cope yet it was not at all easy. I could still win, but it took quite a bit more to do so and I don't think any button mashers could win on this setting. Yet, for me, this was the setting I would leave the game on if I wanted to really learn how to play.  You get a much stronger sense of the speed, tactics, special moves, and use of the simplified controls. I finally knew what SNK was trying to achieve here and it all made sense.  This game is a middle ground for both button-mashers to have some fun and for better players to have some fun with the simplified tactics.  On top of that, there is the final blow required with a "Dream Finish" and if evaded correctly, you could turn a light match into a tense sudden death fight down to the last twitch move.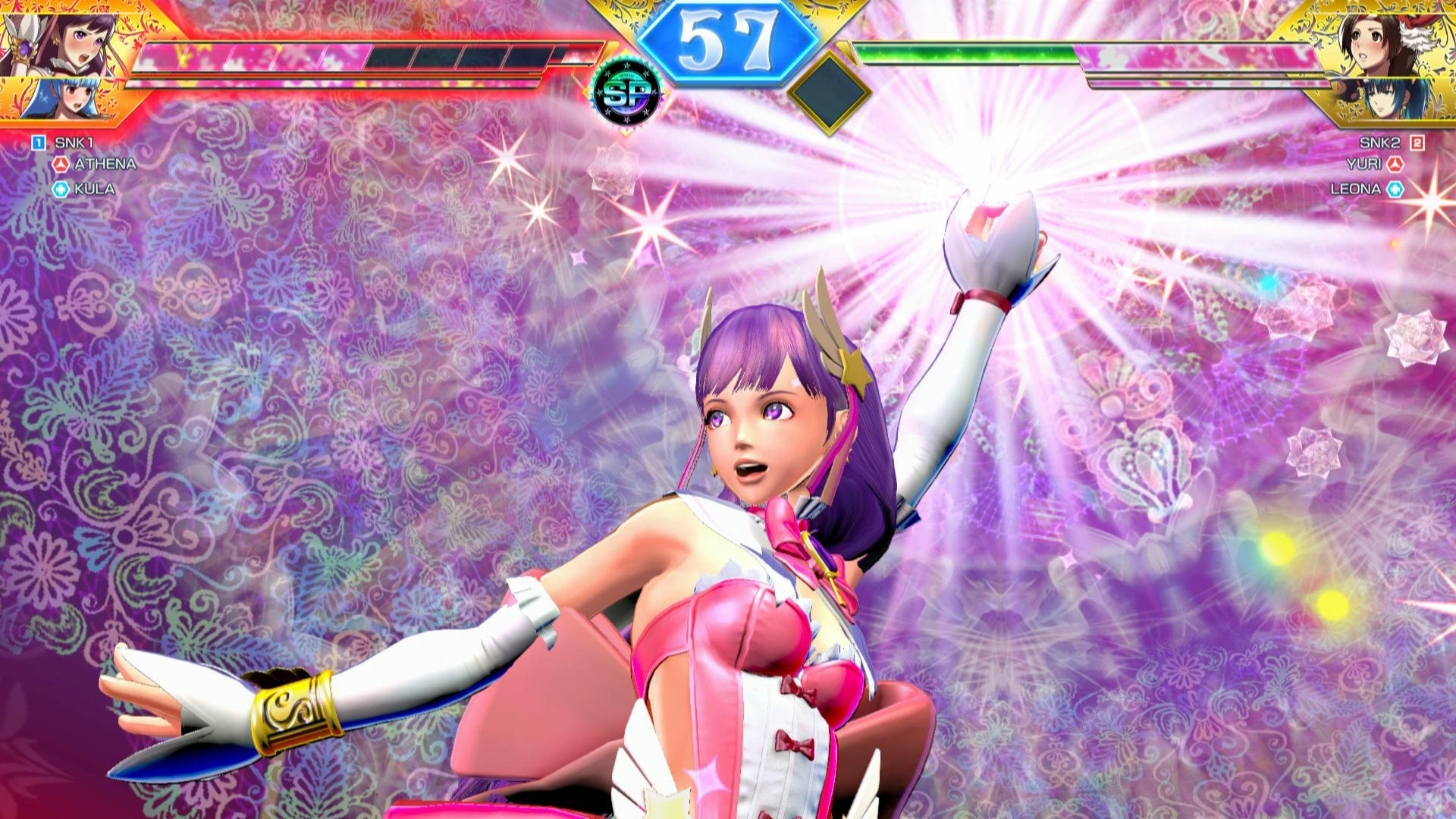 Mechanics
Beyond all the bouncing boobs and skimpy outfits, SNK Heroines: Tag Team Frenzy is actually a rather interesting fighter game when played well. Let me reiterate, when played well.  When button mashed it gets boring fast.  I say this not because of the incredibly easy way to pull off special moves with a single button, but because of that "Dream Finish" move to knock someone out.  You don't simply just hit someone until they are dead, you have to pay attention to an audio cue or look at the opponent's health meter to know when to pull off your final blow.  Even then, the opponent could back away just enough at the right moment and have time to evade the move. Blocking a Dream Finish can also be done, but it does not guarantee you will survive, as that also depends on your health level. It is this one move that changes things for the game and keeps it interesting.  However, I can also see how this move can be spammed to finish bouts quickly. I've never been a fan of monster special moves that destroy an opponent in seconds, but at least this move can be defended in more than one way.
With the simplified controls, you actually get a leaner and faster gameplay.  It's a little weird with a limited moveset, but you still have some fundamental basics to work with.  For instance, there is the roll that allows you to be invulnerable while you are rolling, but at the end of it you can get smacked if you aren't careful.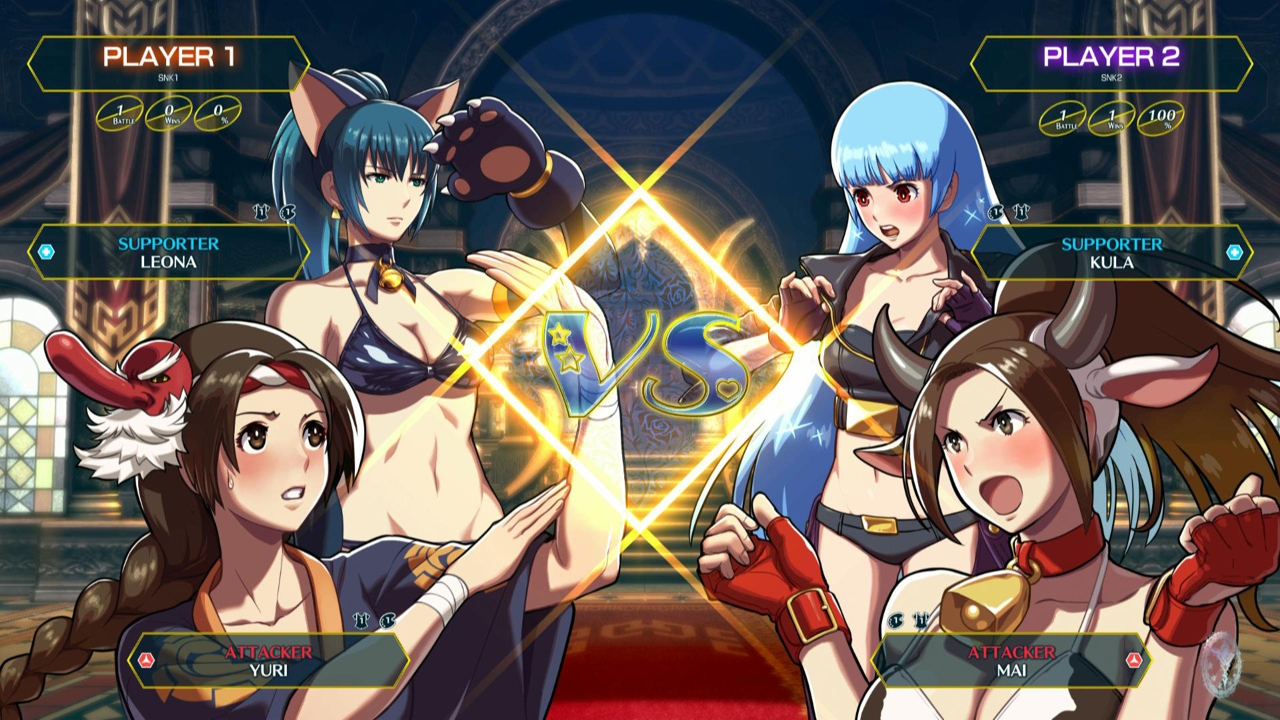 There is a blocking button with L1 and you can't get hurt at all when you use it, but you can't use it forever either or it turns red and you risk being hurt.  I would block with the button and roll frequently against fast opponents and it was really a much quicker moving game because of it, allowing a sort of high-action movement like a ninja, avoiding combos and punches while positioning myself in a place to get a better attack.
Combos use just the "O" button and your left joystick, and I wasn't thrilled with it to be honest because it really doesn't do a ton of damage by itself.  It also uses up your special strength and without that, you can't do a "Dream Finish" blow. So, I only used this after I had hit someone 2-3 times in order to get a hit multiplier, then immediately switched to my supporting partner who had a full SP meter.
Your supporting partner will do useful things like throw some extra life in the battle or offer some traps that you can throw in yourself by clicking the right joystick with a sideways motion.  These traps need to be timed just right and preferably not just dropped on the floor straight down or you risk injuring yourself with them. It's a really nice added feature and I think it feels a lot like the weapons from Mario Kart.  It evens out the playing ground quite a bit, as someone who was low on health could suddenly get a huge boost or a trap could stun someone and give you a chance for a final blow.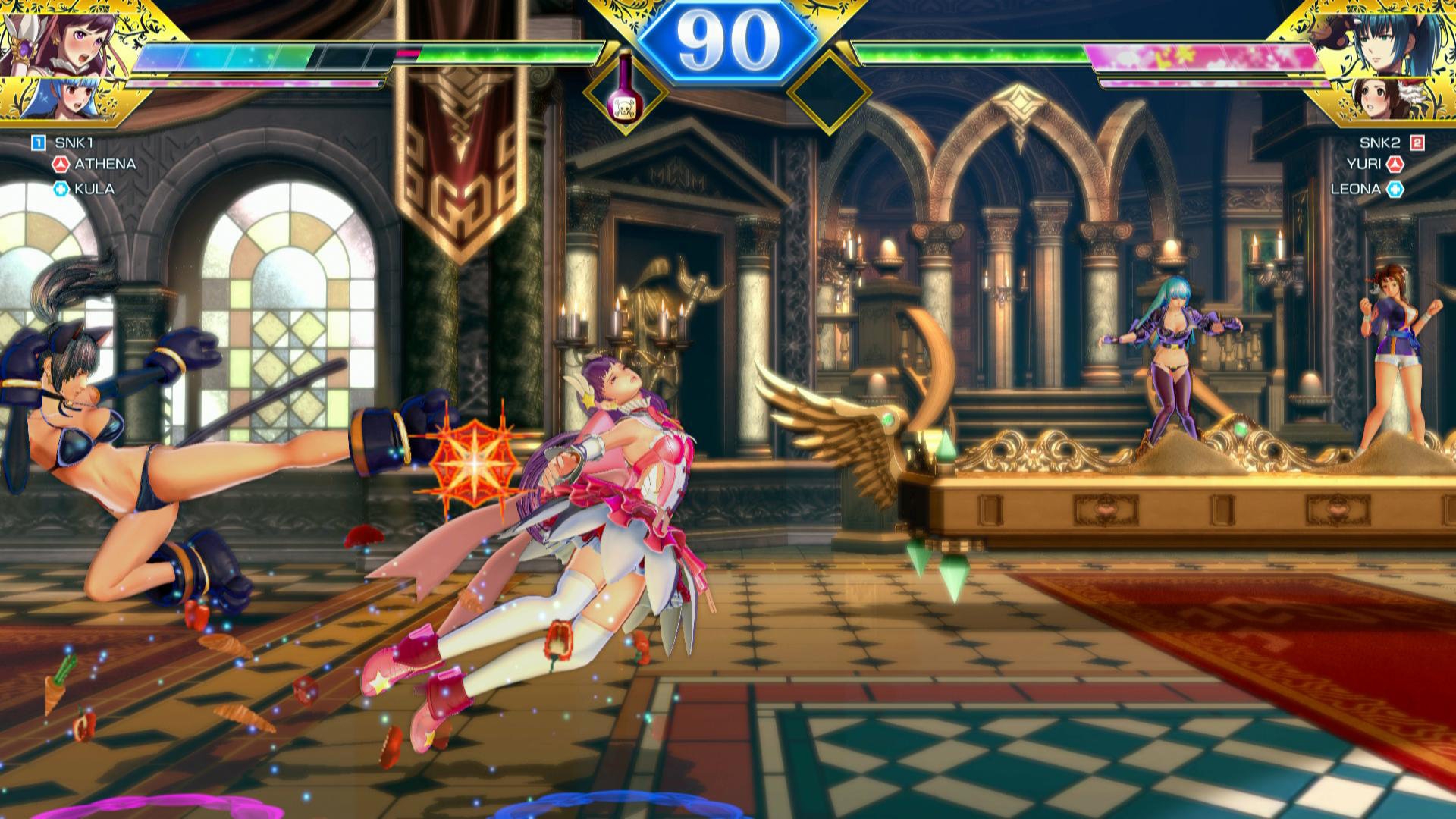 Presentation
Here, I have to say the game is not going to wow you with amazing graphics.  The character models are wonderfully well done, but it looks like the graphics from a generation ago.  You won't see anything even close to Tekken 7 or Injustice 2 here. It's sort of a 2.5D as the girls appear 3D, but move in a 2D area when in battle.  The backgrounds are downright bland, something that is sorely underwhelming as there aren't even any animations in them as far as I can tell. Even Street Fighter 2 had people cheering in the pixelated backgrounds.  We need some creepy minions back there or something. All we have are our support fighters cheering us on and while it is nice, the background just feels dead and it doesn't help the game at all.
There are some good customization options regarding the outfits, and I think maybe that is where some of the attention went to instead of the backgrounds.  So, grab some cat whiskers and heart sunglasses, it's time to pick out something to wear. You get in-game currency from the fights you play in, so spend it all, don't be bashful.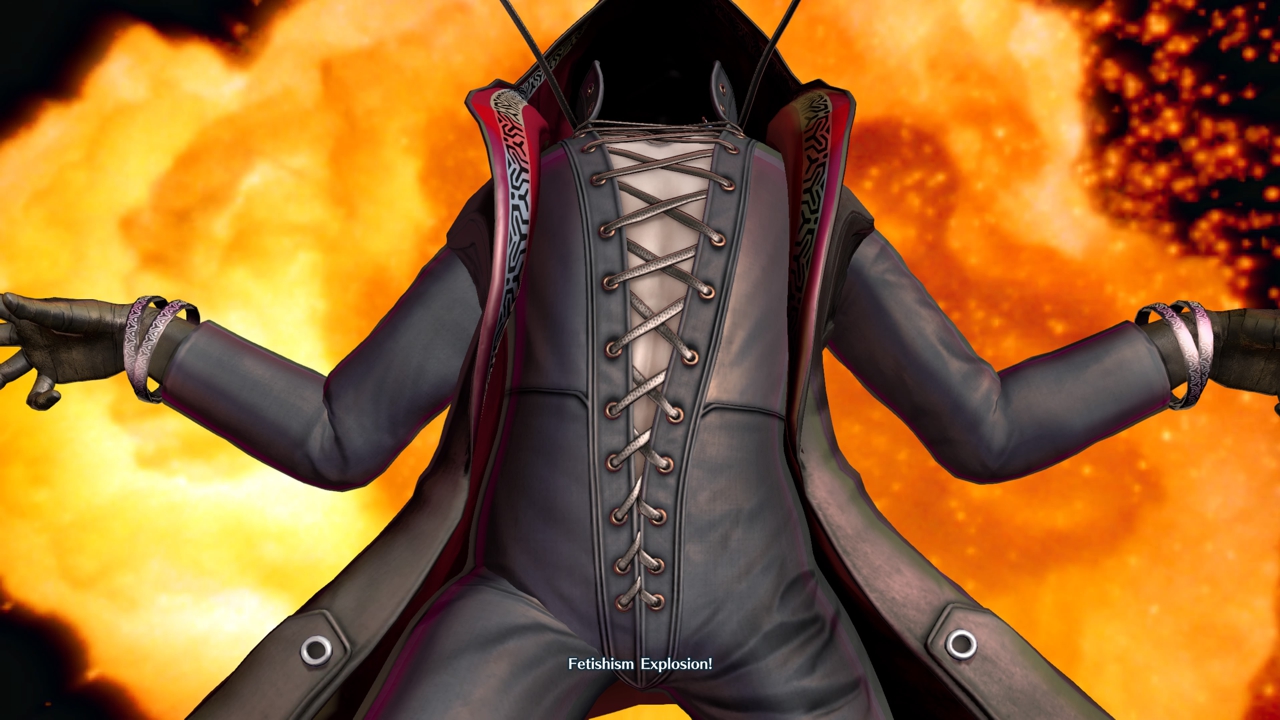 The visual effects when a character hits an opponent in most fighters is often something along the lines of neon sparks or bright flashes of light.  That is not so with SNK Heroines.  Instead, you get explosions of teddy bears, bunny rabbits, and baby chicks.  Athena's special combos resulted in some damned nice looking deserts flying out of her like strawberry shortcakes and I think some jello and flan.  Athena, goddess of nom-noms!  It's sort of ridiculous and lightheartedly funny.  The game does not take itself too seriously and that's part of its charm.
Now, on to the costumes.  Wow.  Cosplayers are gonna go nuts for some of these and I have to say I would not advise playing this in front of your grandma.  Expect all the boob physics you can handle and lots and lots of skin.  I won't lie, when I was playing Mai and Leona for the first time I could barely keep my eyes on the fighting.  We can blame Kukri all we want, but I bet you'll be changing their outfits in the Customization menu yourself as well.  It is what it looks like on the cover, girls fighting in very sexy outfits and that's 100% what you get when you play in case you were somehow unsure of that.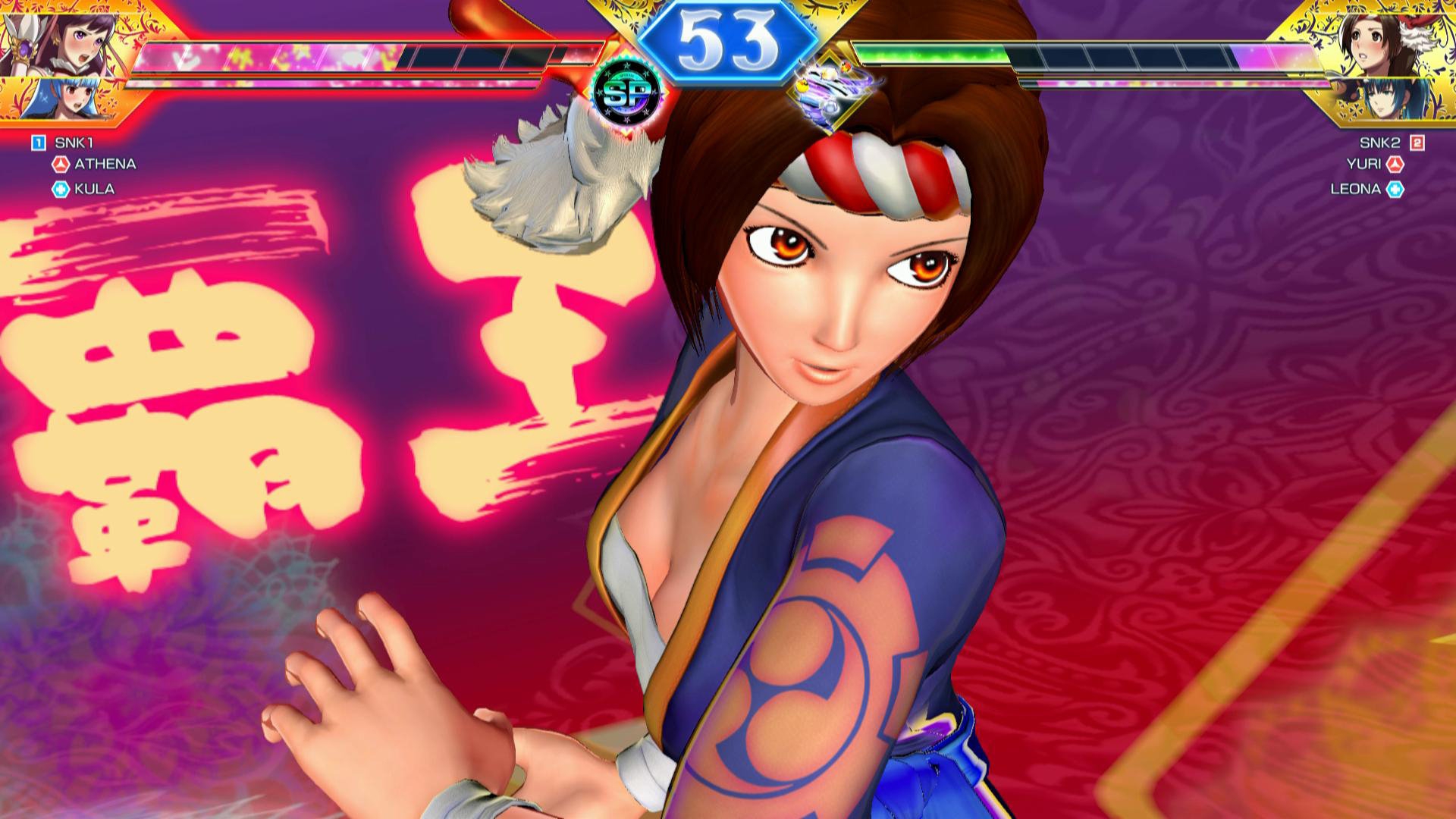 Verdict
Should you buy this game right now?  For this game to have an impact at all, it will need some good players to kick the crap out of other good players and start a small movement going.  There will be some folks who will buy based on their fan commitment to SNK and I also think there will be some folks really turned off by Terry Bogard suddenly being a woman.  I don't have an issue with it myself and don't get the reaction to that, but to each their own I suppose.
Casual gamers will likely be able to button mash and potentially match up against some decent players due to the Dream Finish required to end a match.  I'm not sure how it will play out to be a sort of Mario Kart of fighters where the leader could lose at any moment, but it is by far the most interesting game-changing mechanic that I've come across this year.  Here is the thing, when played well, and keep in mind I am basing this off playing the CPU at 4 and 5 rather than the normal 3 setting, the game is fun as hell.  Those controls are so lean and quick, the action moves all over the floor and it comes off like a bad-ass fighter because you are concentrating solely on the movement and actions of the opponent rather than the combos you can pull off.  THAT is fun.  For the asking price of $49.99 on PS4 and Nintendo Switch,  I think it's a bit steep personally.  I would say $30 is a more approachable price point.  Keep in mind some of that $50 price tag is entirely based on fans who will buy it regardless.  The Diamond Dream Edition is absolutely amazing looking with a ton of swag like a tank top, Fatal Cutie Cap, artbook, and more.  I'm a bit torn on the rating, but I am giving it a Save for Later because even though the game isn't as cool looking and deep as Tekken 7 or even Injustice 2, the stripped down ( pun intended ) controls and finishing blows can be a blast to play with once you see the beauty in it.