Barbearian is an enjoyable and frantic hack-and-slash romp. You'll need reflexes, determination, and a good sense of humour.
Steam:
Released
Type: Single-player
Genre: Action, Hack-n-Slash
Developer:
Kimmo Lahtinen
Publisher:
Kimmo Lahtinen
Release date: 15 Aug, 2018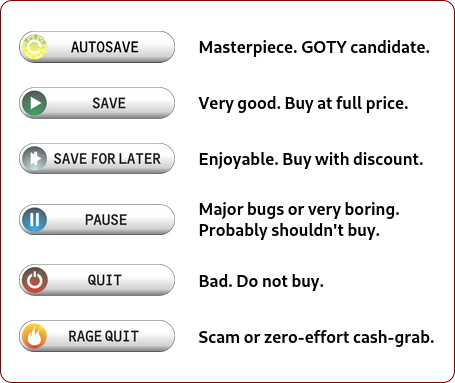 Introduction
Barbearian is a weird fantasy hack-and-slash action game from indie developer, Kimmo Lahtinen.
The game puts you in control of a human barbarian wearing a bearskin. Some powerful force has sucked you out of your presumably violent life and dropped you into a weird sort of pan-dimensional game show with the aim of evaluating the species. With little explanation you're forced to hack your way through thousands of enemies across (apparently) over 100 levels, unlocking various minions, weapons, and power ups along the way.
After you complete the first training level you're dropped into a sort of lobby area, where you meet a weird pelican/penguin-looking professor with a worrying sense of humour. He acts as a sort of guide and score keeper, explaining some of the finer points of the game and also providing interesting and amusing statistics on your gameplay.
I'll go my own way here and jump to something that should probably be in the verdict: this game is wonderfully well made, particularly when you consider it's from a solo developer on a custom-made game engine. Anyway, on with the rest of the review.
Presentation
Barbearian looks and sounds really good!
The game is played from a three-quarter top-down view, with 2D sprites and objects inhabiting the three-dimensional play area. Sprites mostly look really good, with some colourful characters showing plenty of personality. Animations are great, and special effects look excellent. There's a really nice feel to the combat physics, too, with powerful weapons and attacks often throwing enemies around impressively. It really adds to the appeal of the game. Water deserves mention, too; it doesn't play a part in the gameplay, but it looks really nice.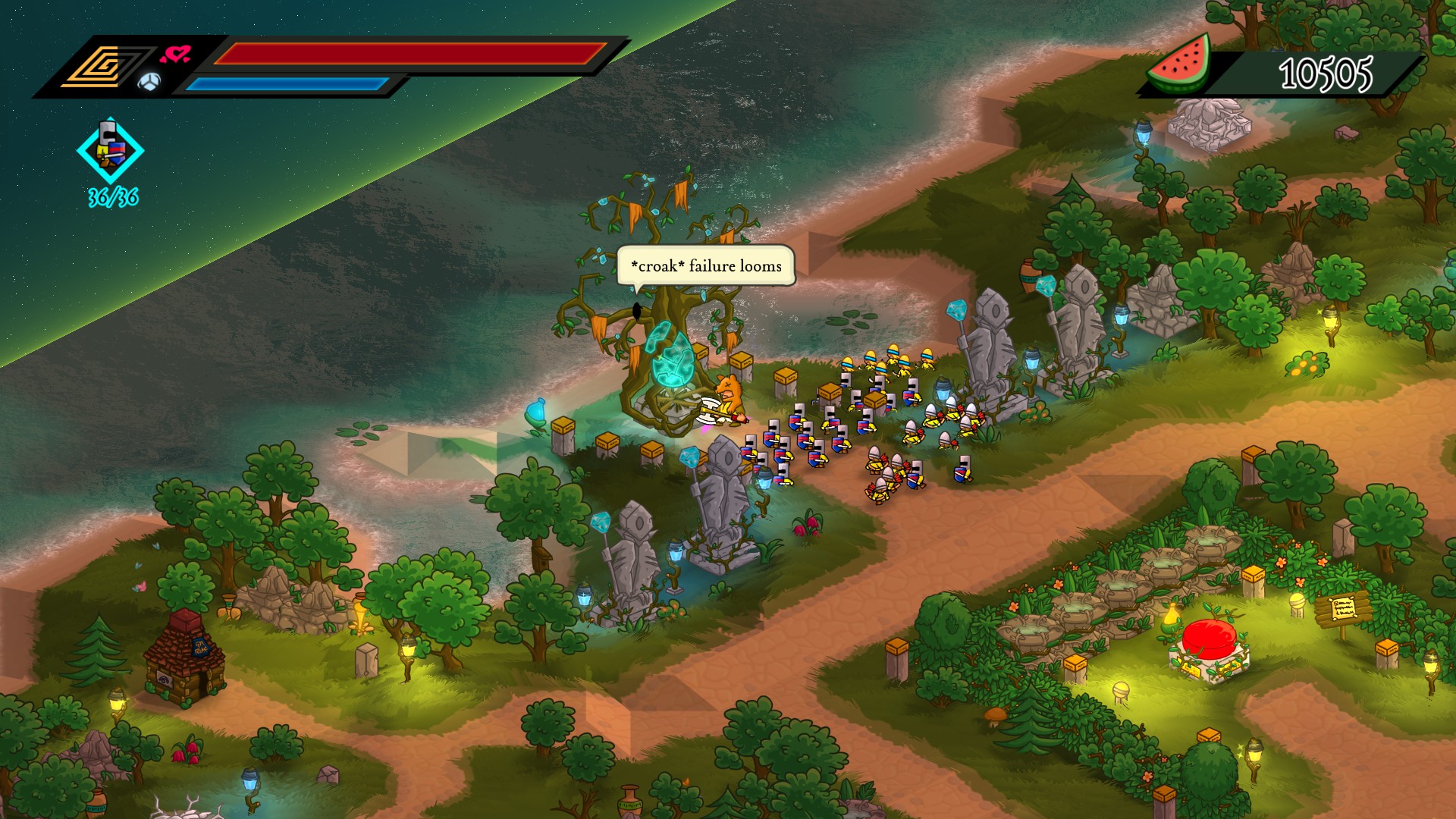 The UI is easy to use and understand. There are all the usual options — including full controller support and remappable controls for keyboard as well — but of note is the Accessibility menu. This not only allows you to increase zoom, font size, etc, but it also lets you alter the game's difficulty in a few different ways, as well as turn on autofire on the attack and respawn buttons. This last feature is a blessing: my right thumb and wrist were really starting to suffer after the first few hours of controller play. Then I found this. Ahhh, bliss!
Music is all electronic synth-type sounds and reminds me of nothing more than music from the old days of the Amiga. It's well produced, though potentially a little loud compared to the sound effects with the default volume settings (easily adjusted), and though it's not hack-and-slash like in the least, it does somehow fit the game well. I think maybe it's just a little bit frantic, matching the game's action. Sound effects sound good and do the job well.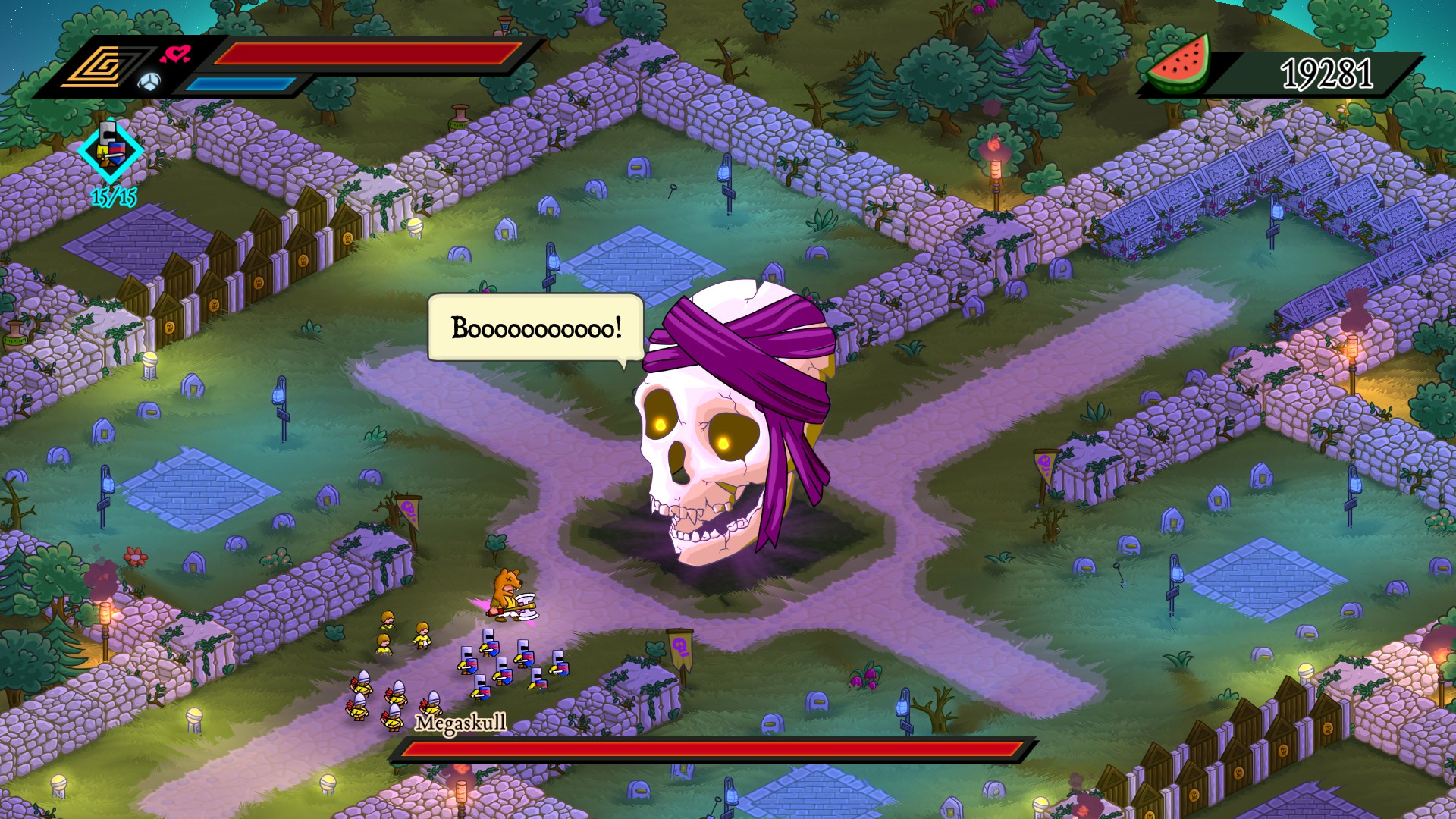 As I mentioned, the game engine was custom-built by the developer and it apparently runs pretty well on a potato. I've been playing in full HD with all the bells and whistles on my GTX1070 with no slowdown during combat at all, even with my 40-odd current minions and hundreds of enemies on screen. I have seen some brief pauses when my character first appears on a level, but they're only a minor distraction. The game runs very, very well.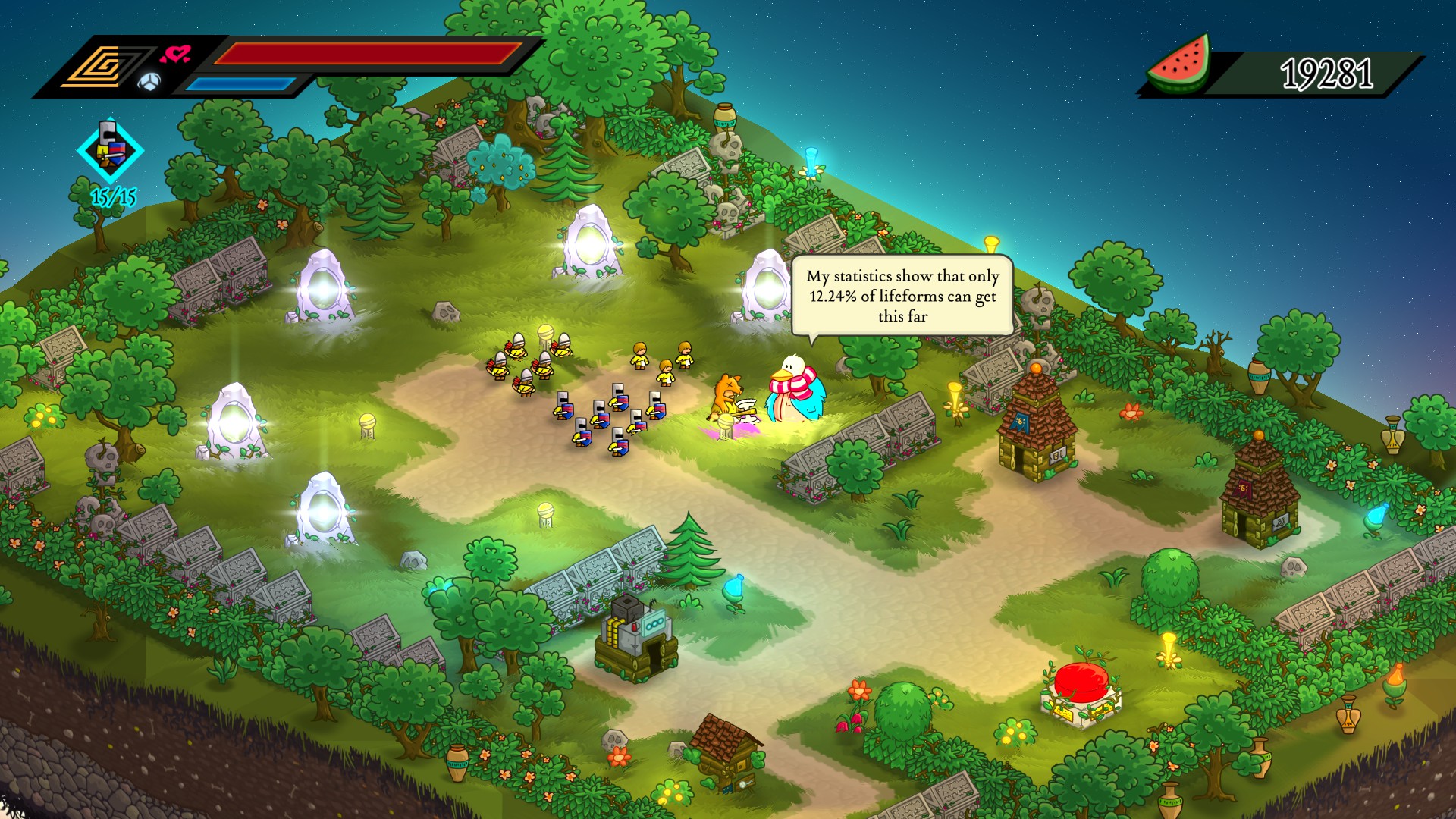 Gameplay
Barbearian's basic gameplay is very simple: you enter a level and have to wipe out all the 'captains' on it, usually dispensing overhead chops from your axe on most or all of the lesser enemies along the way. You can move, attack, dash, and shoot, if you unlock a weapon at one of the shops and pick it up on the level. Each area is divided into five levels and each level has three stages, each of which has at least one captain and also a human prisoner trapped in a self-destructing container of goo. If you rescue a prisoner before his prison explodes then he follows you around as a minion, and can be upgraded to specialise in melee or missile attacks.
Though it's simple, it's also very challenging, and gradually offers more choices as you play and unlock things. Parts of it actually become quite tactical, especially the boss fights, as you try to find the right time to spawn minions and decide whether to leave them to fight the enemy plebs while you take on the high-value targets, or vice versa. Each approach has benefits and drawbacks, and sometimes you simply don't have a choice, with hundreds of enemies swarming and shooting you from all sides!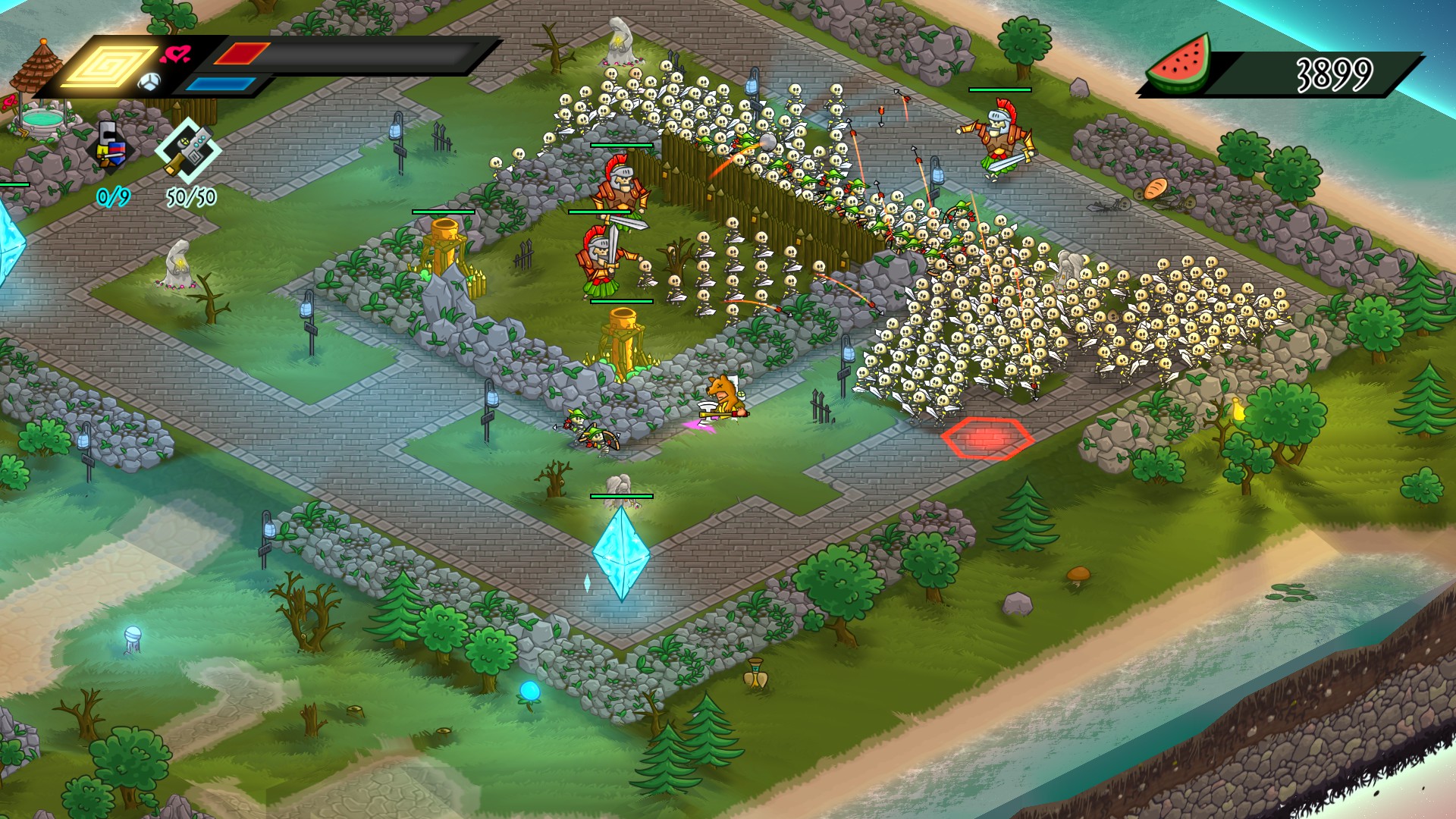 Unlocks are achieved through spending of fruit loot, which you pick up as you play from smashed objects and fallen enemies. As different areas are revealed, new shops become available, unlocking special weapon pickups, minion upgrades, and other benefits such as increased maximum health or spirit energy (for respawning minions). Progression is fairly tightly controlled, but that's definitely not a bad thing. You can only move on to new areas once you've defeated the boss of earlier areas, and this also limits which weapons are unlocked and how powerful you can be before progressing.
I believe most of the intermediate (non-boss) levels are at least partially procedurally generated. Many of them look similar, but I've noticed when attempting a level for a second or third try, it is never quite the same. Perhaps it's only the enemy distribution or layout that changes. Whatever the case, it's welcome variation, and stops the game from becoming stagnant when you die. Adding to the variation is the Master Class area, where you can attempt to complete challenges for the special weapons once you've unlocked them. These are pretty cool, as the game prevents you from attacking, charging, or using minions, leaving you with only movement and repeating challenge-weapon pickups.
Dying is a fact of life in the game; it will happen, and happen often! But don't fret; when you die you lose a portion of your collected loot and are dropped back into the lobby area outside the level on which you died, so you can try again straight away if you like. You also get to meet the weird fellow in the Tube Room; I think he's my favourite!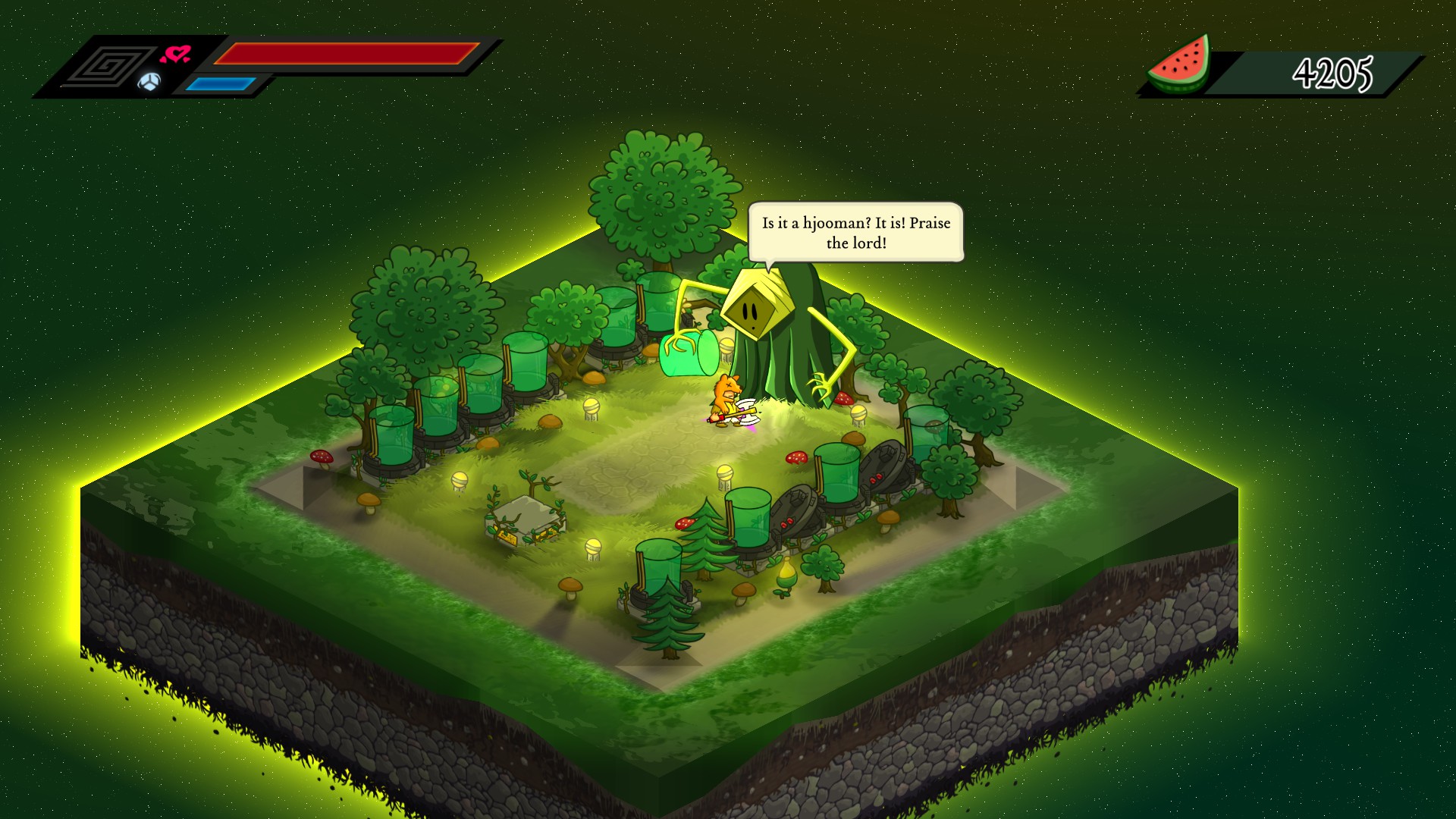 There are a few minor issues that mar the otherwise excellent gameplay. First, collectibles disappear, and rather quickly at that. I find this really annoying; I'd much rather be able to focus on the hacking and slashing and leave the picking up for when I'm taking a breather, but the short lifetimes on all of the collectible objects, including loot, makes this impossible. Second, it's very easy to accidentally hit the health wells that are dotted around, inadvertently spending your hard-earned loot on a full heal that you may not need. And third, there's no way to 'lock' a weapon so that you don't lose it by picking up another one; I have my favourite weapon and want to be able to lock it in when I find it. These are only very minor issues, though; the game is certainly very playable regardless.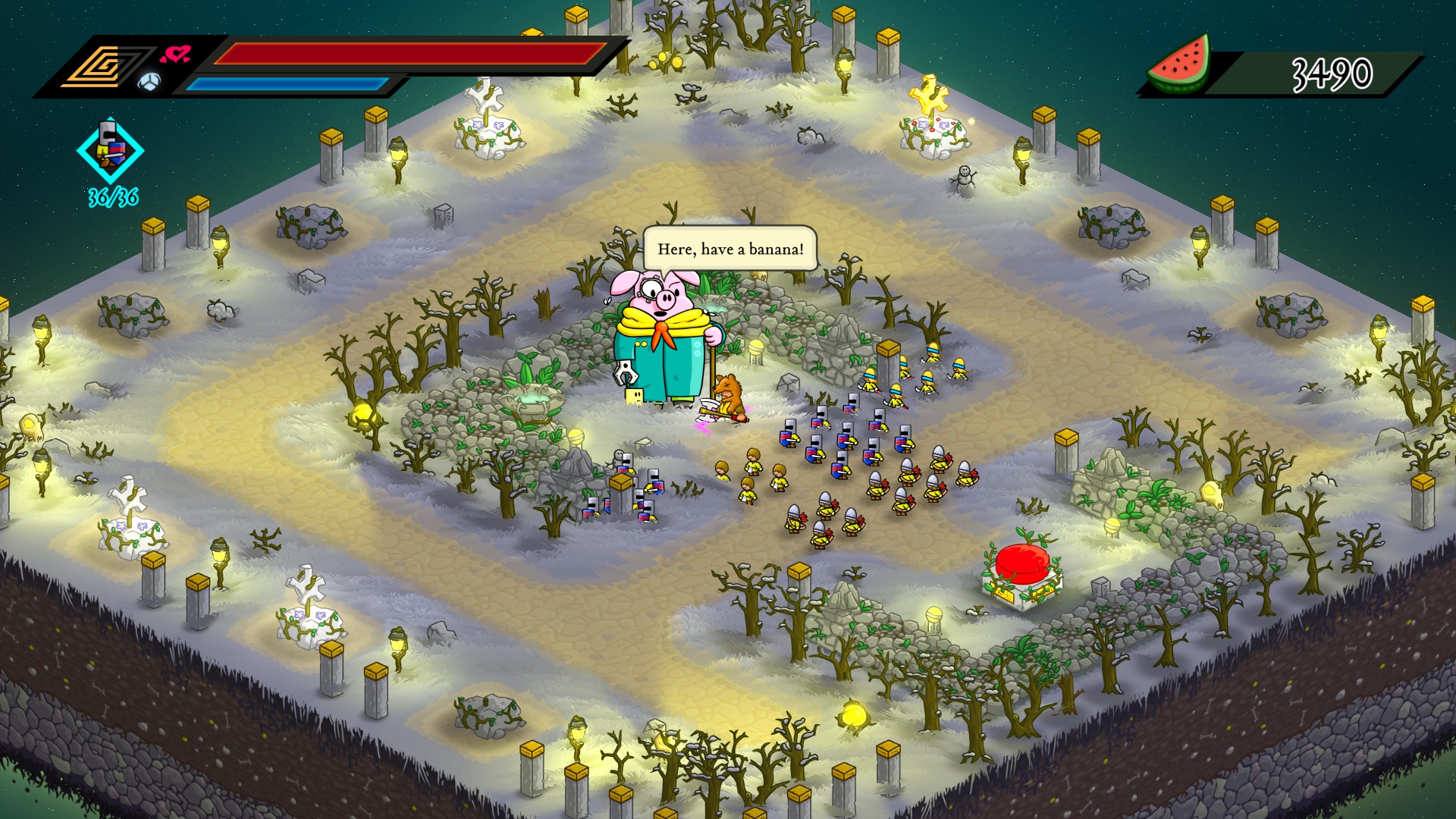 Verdict
Barbearian is deceptive. When you begin playing you'd be forgiven for thinking that there's not much to it. But as you play and unlock weapons, levels, and new enemies, and build up your minions, you discover there's actually rather a lot to do. And even though it's basically the same thing over and over again, there's enough progression and variation that it rarely seems boring.
I confess I haven't yet finished Barbearian. I've played my main save for a handful of hours, unlocked 35% of the achievements, and apparently completed a touch under 50%. I'm still enjoying it thoroughly and have no qualms whatsoever about recommending it. If you have a hack-and-slash itch then scratch it with Barbearian. It's really, really good.