Lost with no memory of where he is or how he got there, lead Eyas – a boy in a cat suit – on a quest to get home. But how do you know which way to go when you can't tell which is up and which is down?
Author: WadeStar
Steam: Released
Developer: Happy Square Productions
Publisher: Rising Star Games
Genre:  Platform Adventure
Release date: 21 Jul, 2016
Type: Single-player
That's the introduction to this game. The Land of Eyas is essentially a puzzle platform game. I'll be looking at it primarily from a casual gamer standpoint. Not that I'm actually a casual gamer, but when it comes to platform games, I might as well be.

Let's start first with the nitty-gritty. This is the stuff that any action game and any platform game has to get right or it's already a non-starter.
How's the response? I played with a keyboard. I think platformers are best done with a control pad, but if a game has good keyboard response, chances are it has got good response period. Eyas had good response. I'm comparing this to the rather fussy issues I had when playing Rogue Legacy. I did find the jumping to be a bit "floaty" feeling. As opposed to the "hard" jump of the classic NES Super Mario Bros—if anyone has even played that in the last decade. The sprinting and jumping had the typical response time challenges that I see common in many platformers though, regardless of who is playing them, so I'd say it's as it's supposed to be. The type of platforming you'll do in this game necessitates the type of jump physics that are in the game. Prepare for multiple retries. Thankfully, longer levels have check points.
How's the performance? I had no frame rate drops on my mid-tier gaming PC. That said, I didn't get to test on any of the levels that had spinning saw blades, etc. But even so, I've seen FPS drops in games on my PC that were less action oriented. So I call this a success as well.
Now that we've got the non-starters cleared, how is the game itself? Well, you'll not find anything revolutionary here. It's an action puzzle platform game. That's what you're going to get. You're also going to get really beautiful artwork. And that's what drew me to this game. The boy in the cat suit (Eyas) is cleverly reminiscent of the boy in the white pajamas from Where the Wild Things Are. It's a savvy decision on the part of the art director. I instantly gravitate to it. The rest of the artwork is crisp, ornate, evocative, and disarming—which is good when your game is a puzzle game and likely to provoke frustration (that's the nature of the beast). Anything to keep me wanting to look at the game is unequivocally good. I'd almost like to say that artwork is the third rail of platform games these days. Without artwork, what is your platformer bringing to the table that the platformers before it have not already? That Land of Eyas is unapologetically beautiful.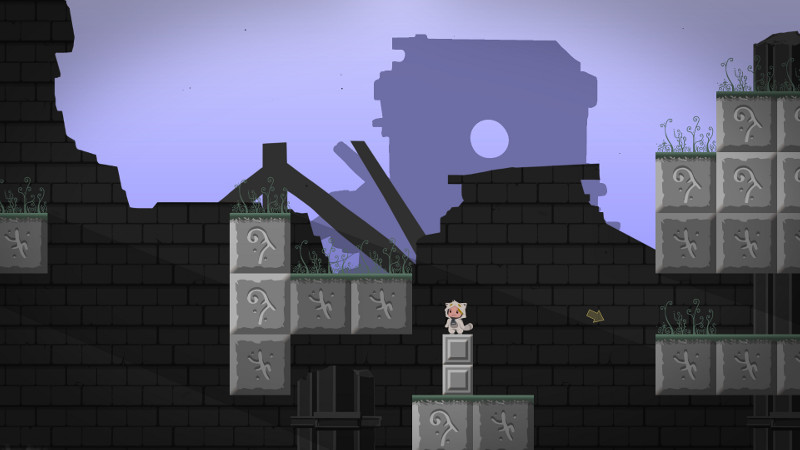 This leads me to the next important aspect of the game: its gimmick. The gimmick is that the force of gravity reverses at the midline of each level. Later levels shake this up further, but this is the core conceit. It looks like a water line. You cross it. Suddenly you find yourself falling up instead of down. It's not bad as far as gimmicks go, but it's nothing we haven't seen before. Does it need to be? What is important is that it adds just enough flexibility to the game that it can present you with some unusual puzzles. So really, I shouldn't call it a gimmick. That implies that it brings nothing to the table. But it does. It makes you have to look carefully at what's on your screen to decipher the solution to each level. So really, it's a game mechanic and it works in favor of the game. Hopefully enough that you find the puzzles in this game to be ones you haven't seen before. For a casual gamer, I think it succeeds very well.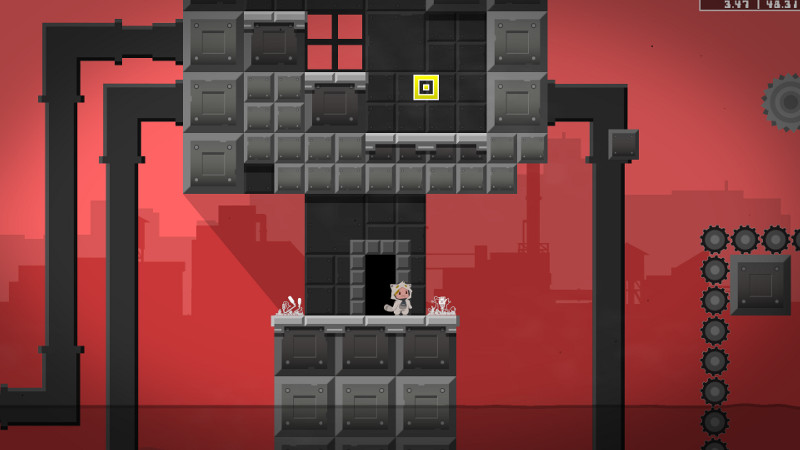 The story? Well, there's not a lot of story to interest me initially. You're a lost boy talking to a talking tree (yes, I meant to write it that way). You're looking for "Mother" (Isaac anyone?). I won't say that I was drawn in instantly or anything. Perhaps as you progress you'll be more invested in the character(s). I wasn't. But frankly, I don't play games any more to read a story, certainly not platformers. Play this game for the puzzles. You won't be disappointed.
Am I going to get 100's of hours out of this game? No. It's not a grand strategy game, is it? But what I will get is enjoyment for my time and a sense of accomplishment in nice bite-size brain packets. I need a nice low-stakes diversion from time to time and Eyas provides that. It even opens multiple levels to choose from so if you get stuck on one, you can solve another and give your brain a rest. This allows you to progress the game until you're ready for a fresh look at that one level you couldn't solve yesterday. Again, a very savvy development decision. It circumvents the banging-my-head-against-a-wall feeling many other linear platformers have.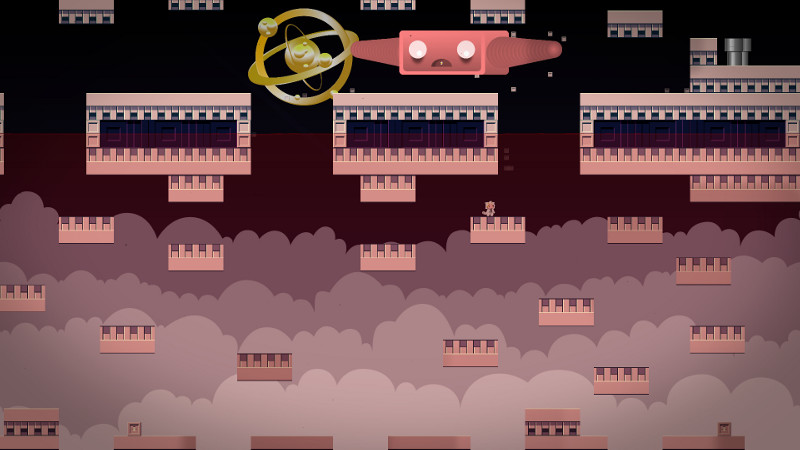 Do I have any criticisms of the game? Is there anything I did not like? Yes. I did get frustrated at times by the deadliness of spikes. Rubbing the side of a crystal doesn't strike me as an offense that should be punishable by death. I'm not play 1001 Spikes, after all. Yes, that's a real game. The little "hop" you make at the apex of a moving block was inconsistently implemented and therefore annoying. When you're riding the elevator block, you want to jump at its highest point. This is not possible though because you "hop" when it gets to that highest point… except in cases when you don't. Which is it? I want consistency here (you can witness this in my gameplay videos if it isn't clear). The blocks that you can pick up and carry were a great introduction, but there was a 1 pixel exploit I found where a block was essentially hanging in the air. Not sure I want to complain about that one though considering how hard it was to get that block up there in the first place. None of these things stopped me from enjoying the game, though. I'm a rather fickle gamer, also. So it's a solid testimony to the game's strengths that I didn't give up on its weaknesses.
In the end, I easily recommend this game to someone who wants something fun to do with their brain on a Sunday afternoon.
RATING: 70/100