Steam: Released
Developer: Dreamsite Games
Publisher: Dreamsite Games
Genre: Tycoon
Release date: 20th October 2015
Type: Single–player
How much fun I had with tycoon days back in the days when I was a kid and games were made every few years, not like today. I remember games like Airline Tycoon, Pizza Tycoon and many more tycoon games. Since this modern gaming era started, there is almost no new tycoon games, even if they get out, they are very bad. I am glad that I can at least play one good tycoon game from time to time.
To be honest I don't remember I've ever tried similar game or even remember someone trying to make a similar game. I know I have played Tabloid Tycoon, you can say they are similar games. Here you run your own tabloid and here you run your own TV channel.  As I said already you are an owner or director of the TV Channel. You choose everything, from your name, channel's name and the theme of the channel. Since I love horror movies the most, I mostly choose horror as a theme of my channel. That doesn't mean that you will not be able to put other movies, series or shows on your channel, but you get some little bonus for each horror content you put and broadcast on your channel.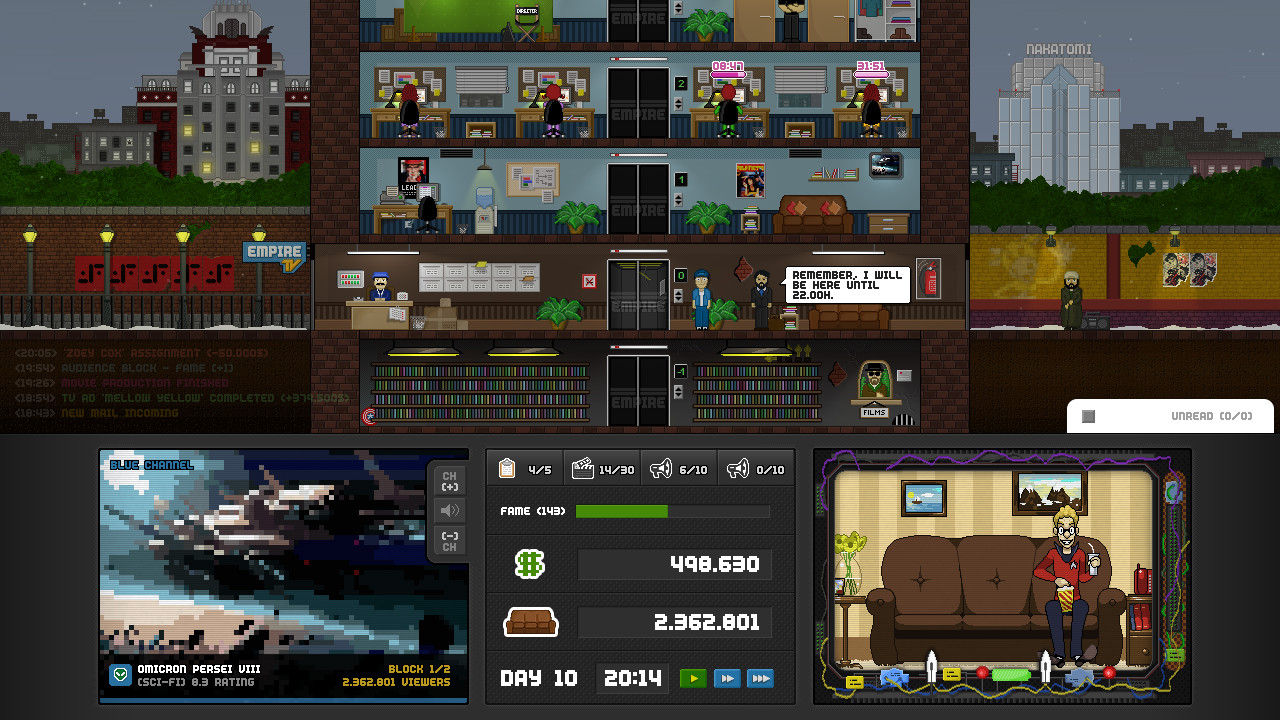 How much hours of fun will you have in this game is basically up to you. There are three game modes: arcade, endless and custom. In arcade mode, first channel that gets to the 300 fame points in 30 days is the winner. Each hour from the first hour of broadcasting (15:00) you get at least one fame point, if your movie or something else is in the second place by the views you will get 2 fame points, but if your movie, series or show was the most watched in one hour for example between 18-19 or 22-23 you will get three fame points. What I have noticed is that it's very easy to be on the first place in first few days, but later AI opponents gets smarter even on the easiest difficulty. There are few factors that affects your views, but I will talk about that later. I think there shouldn't be any extra explanations about the endless mode. If you get bored with the arcade and endless mode you can always set up your custom game. In custom mode, there are a lot of conditions or parameters to choose from. First category is victory condition. Here you can also choose endless, fame, audience or a bankruptcy. Second category is the audience groups. In this category you can choose how many audience groups you want in the game (minimal is four), you can either increase or decrease the ability to ban certain groups and modify few more audience parameters. Last two categories are economy and other options. There you can set the initial budgets, TV Ads penalties, recharge of the movie freshness and many more. As you can see there are a lot of parameters from which you can create your own game. I think everyone will find something for themself and will have a lot of fun in the custom games.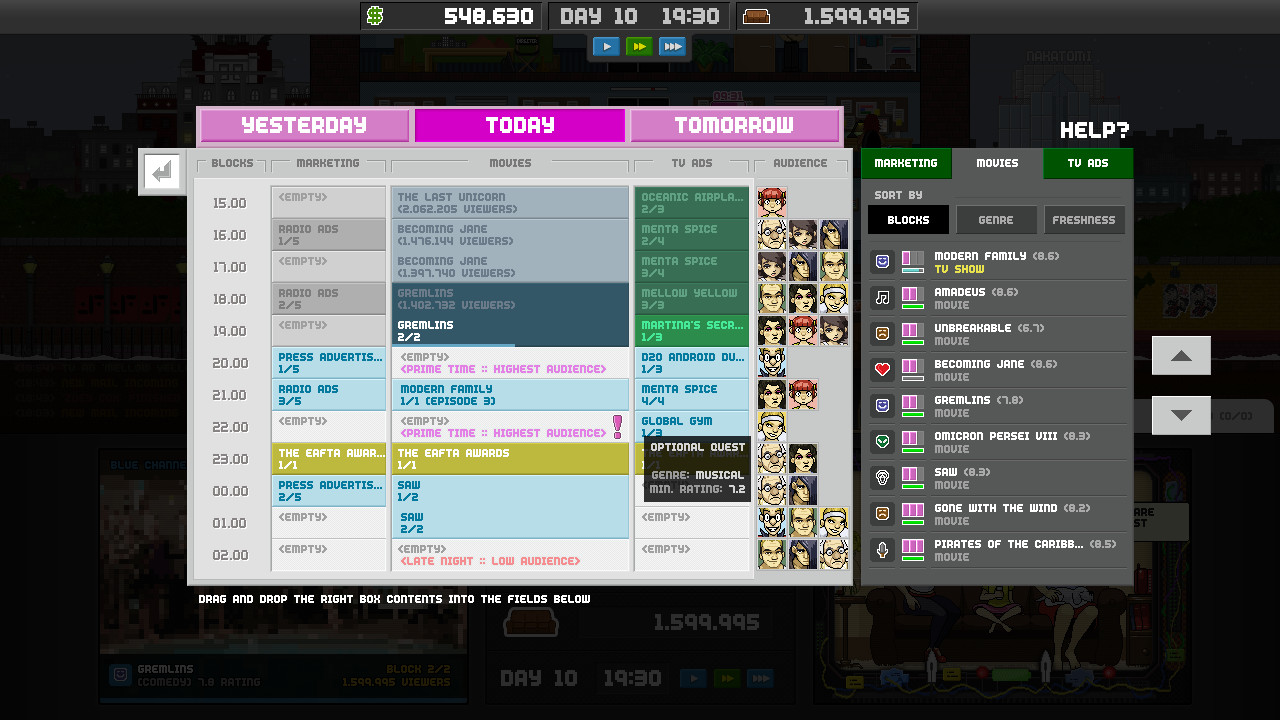 The worst thing I can say about this game is the design, but when I say the worst it really isn't the worst. The game doesn't really have so much bad things or sides, it is a really good game, but design really pokes me in the eye. It's a minimalistic design, everything seems so small and narrow. I have that feeling when you are stucked and you can't move. Beside that, the choice of the font is bad. Sometimes my eyes hurts me or they are very sore and dry. Most of the times I need to read something few times, because of the font and whole design of the game. All in all I really can't say that design of the game is superb, but it certainly isn't the worst. Hopefully they will make a little bit more eye pleasing design in their next game.
The Empire TV Tycoon gameplay is fun and it can be addictive, like almost any tycoon game. From three games modes, I would say that arcade game mode is the main mode. In order to reach 300 fame points in 30 days, you must be careful, smart and creative. Each tv channel has three floors. On one floor you can find your office, above it's your worker office and the third floor is your studio. In the basement you can find movie library and on the entrance floor you can find a seller of illegal movies, just back in the alley. On the top floor you can loan money from loan sharks I assume. The day starts at 14:00 afternoon and you should always make a programme for first few hours, also TV ads and news. This is your main thing or focus, because if you have a really good programme you will win easily. Even though this game looks simple and easy it certainly isn't like that. First few days are fairly easy, but as you advance and assuming you earned a lot of money. You need to invest it wisely, because later AI's will buy much better movies, tv ads, just everything. If you don't follow them or dictate the tempo you will have hard times. In order to help yourself you need to upgrade your TV broadcasting, movie library (to get better rated movies) and many other things. Also you have an option to buy illegal movies, but be careful to not be caught by police, because fines are big and even fine will maybe result in-game over. I think that every second day, there is an award show in which you can compete with your own movie. Petty that there is only one award show called Sundance Awards. Producing movies and competing is strictly optional, but if your movie is good, you can get few fame points from awards. Also you can broadcast your movie on the channel.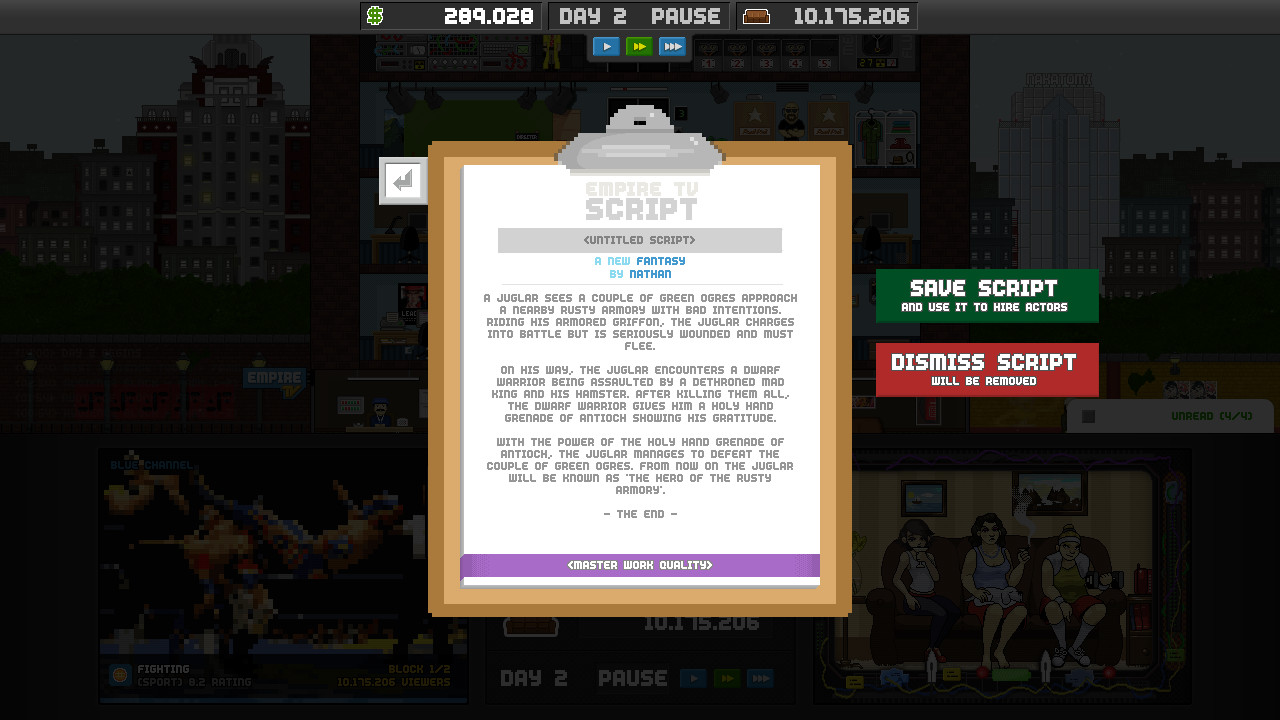 I am glad that I was able to try and play a tycoon game after a long time and hopefully we will see other developers trying to make a decent tycoon game. Empire TV Tycoon is a very good game and depending on you, it can be addictive. If you have read my previous reviews, you know that I always complained when the game didn't have the multiplayer. This game doesn't have multiplayer, but I really don't see a point of having it, because generally it's much better and more fun to play tycoon games alone in a single-player mode than in multiplayer, but then again I wonder how would be like to play Empire TV Tycoon in multiplayer with friends or just with random people. As I said in the text above, the only thing I don't like is the design of the game, but since I really don't care so much about design and graphics in games generally I will not take this as a bad thing. I recommend this game to everyone, maybe not only to very casual players, because it's not the most easiest game. For €10 you will get a lot of fun and addiction.
RATING: 80/100
Also take a look at this two gameplay videos we have uploaded on our youtube channel and feel free to subscribe, like and share: