Terroir is an indie strategy game where you have to manage your own vineyard. It's a good choice if you like wine, vineyards, or just … you know, strategy games.
What is happening in the game:
As mentioned above, you have to produce your own wine in Terroir. From growing the plants, picking the grapes, storing them in the barrels, filling up the bottles, getting the tastings done and selling the wine afterwards, this game has got it all covered.
Pros:
Intriguing Gameplay | I have to say that when I first started playing I didn't understand a lot (see the Tutorial paragraph at the Cons section), but over time the game started showing its charm and it almost made me love wine! As a faithful teetotaler, however, my only contact with alcohol remains within video games. Anyway, the game offers a fun way to produce some high-quality digital wine and do everything real vineyards have to do. There is a slight problem, however – it's only fun for a while.
Graphics | If you haven't noticed yet, this game looks really really good. Minimalist land tiles, low-poly clouds (and trees and other stuff) … everything is really eye-catching and makes you want to play more. I especially loved looking at the foliage as it grew with the passing months.
Good-Looking UI | The UI is very intuitive and it's very clear what different buttons mean. I talk about the main menu a lot in my reviews, mostly because I think that first impressions are quite important when you try out a game. This game really nails all the menus, not just the main one.
Performance | This game is running very smoothly on my computer, which is definitely a plus. I can't say that I'm surprised, given that the art is quite minimalist, but it's nice to see a game which doesn't think that it's the only thing running on the machine.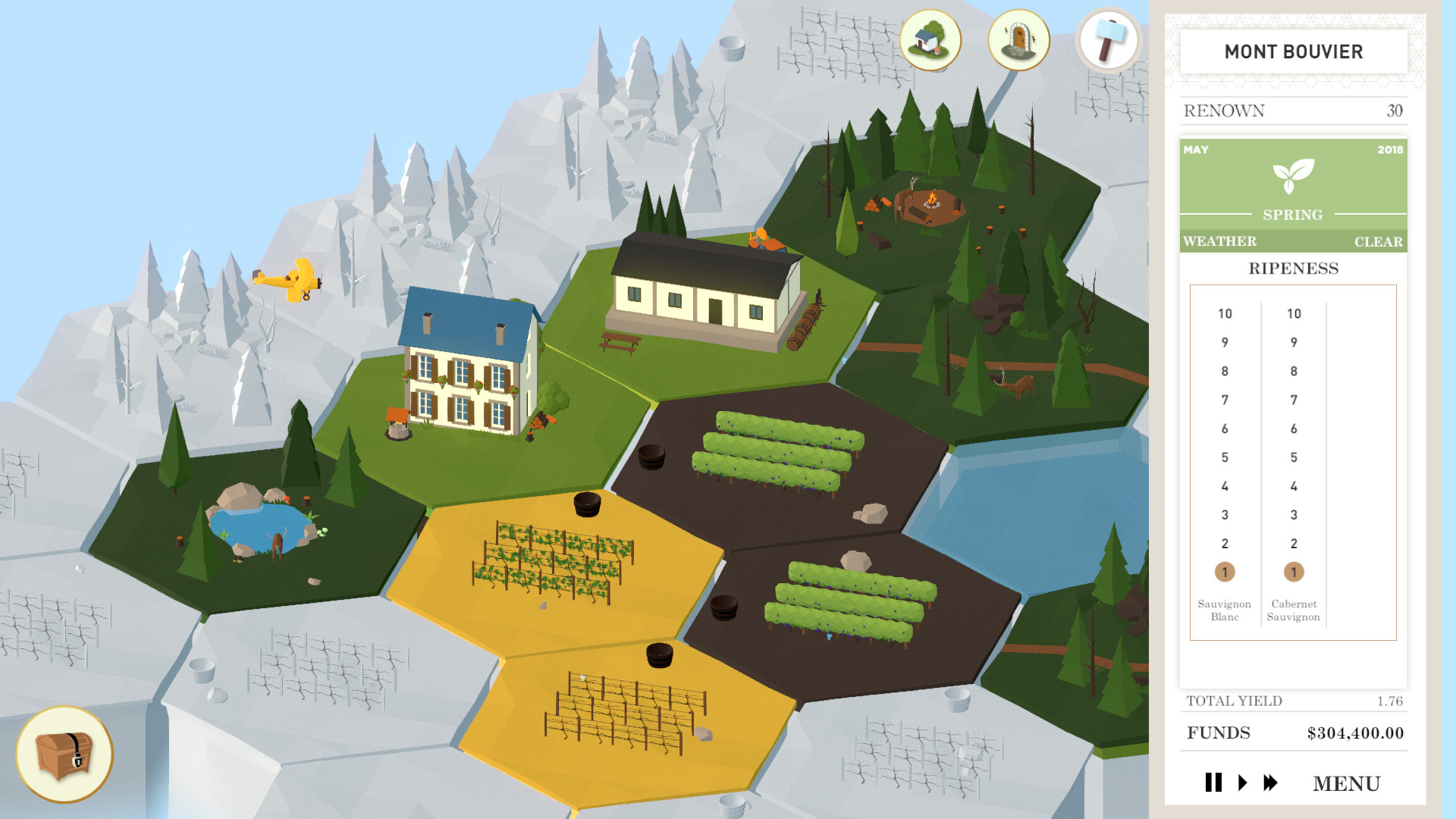 Cons:
Lack of Content | Sadly, there is not much to do in this game at this moment. I know that the game is still in Early Access, but I can't look past the fact that you get to experience most of the content within the first few hours of playing. You don't get much choice when you're picking different barrels, bottles and so on. I also think that this game, in its current state, isn't really challenging enough. Once you figure out what to do, there isn't anything that forces you to discover the mechanics in more detail. When you discover all the content, repeating the same process over and over is the only thing left, but you can read more about that a bit lower.
Tutorial | Currently, the tutorial button leads you to a webpage with a few YouTube videos. Although those videos aren't too bad, I still feel like it would be a lot better to include an interactive tutorial that leads the player through the basic mechanics while actually playing the game. I know that most things are explained in the videos, but it's still much easier if you don't have to Alt+Tab between YouTube and the game or have to rewatch the videos. Teaching the player while he or she experiences the basics of the game is by far the most enjoyable type of tutorial I know.
Repetitiveness | As I already said above, the game gets repetitive quite fast. Once you learn all the mechanics and unlock all the features, grinding for money and wine is the only gameplay left. Even that is enjoyable for, let's say, an hour, but after that, you'll find yourself bored. Sadly, as much as I like the gameplay, I just can't make myself play the game anymore until more features are added to the game.
Randomness | I made a few batches of wine and after I got the official tastings done, the ratings were incredibly different. Now, I usually wouldn't care much about that, but the problem is that I followed the exact same procedure for all batches. Some wines got two stars and ratings stating that the wine is quite bad, while 15 minutes later, I was praised for the best wine in the world with a perfect 5/5 score. Now, there might be some secret mechanic behind this that I just don't understand, but for now, this is quite an annoying little "feature".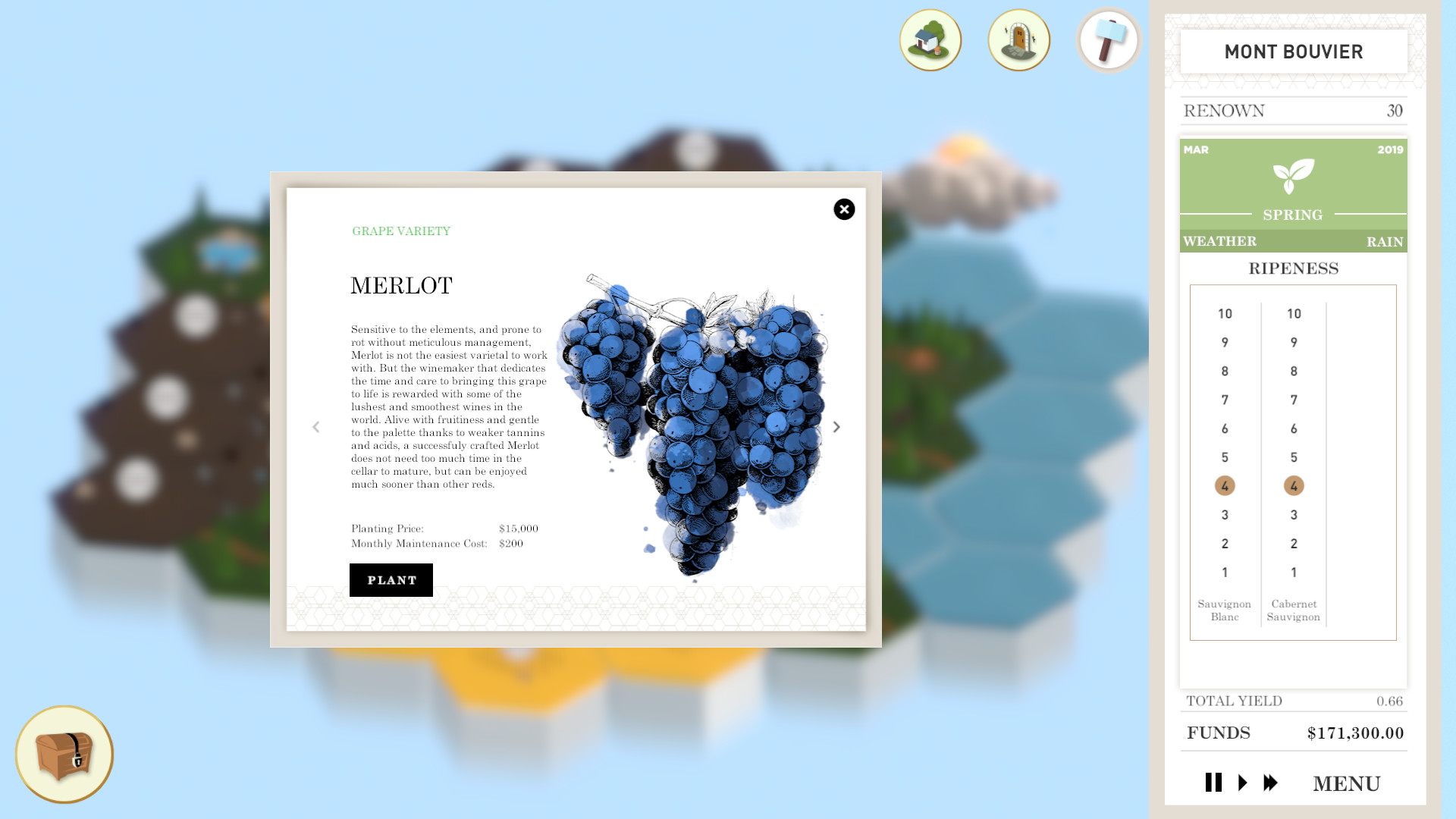 The final verdict:
Terroir is definitely a fun little game, but it really suffers because of its Early Access state. There is very little content present as of now and this is quite noticeable after you've spent a few hours playing with your own vineyard. There, however, are no major bugs (at least not any that I know of), the graphics are awesome and there is definitely a lot of potential for future content updates. If you play more than a few hours, the game will get repetitive, but I think this will get better as time goes on and more patches are released.
Since this is an Early Access game, I can certainly recommend it. If you have a thing for management and strategy games, definitely keep an eye on this one. The updates are frequent so I believe that this game will get better and better.
With love,
BirdCute