The Falconers: Moonlight places the gamer in early colonial New Zealand as a horror-hunter named Cassie, whose role is to protect colonial citizens from the supernatural.
Author: Millerbertinho
Steam: Released
Type: Single-player
Genre: Visual Novel, Adventure
Developer: Bionic Penguin
Publisher: Sekai Project
Release date: 18 April, 2017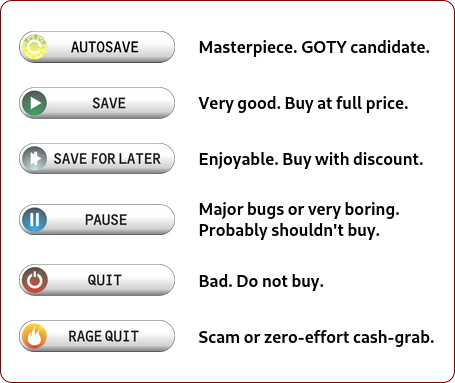 What is it all about?
The Falconers: Moonlight places gamers in the colonial period of New Zealand, with the first colonial citizens building small towns for themselves. The new world is here, and they are fully embracing it, along with its troubles. In the town of Moonlight, citizens have been disappearing under interesting circumstances. An accident at the local mine kills dozens of hard-working men, forcing the town leader, Captain Moonlight, to contact the Order of the Falcon to investigate the mysterious deaths.
The setting by itself would be enough to entice many book readers: a colonial-era town in New Zealand tainted by mysterious disappearances, with the possibility of using rich local background and events of the era to solve the mystery. Furthermore, this is a very interesting time to explore, because it just isn't used as much in gaming as other periods. A different setting for professional monster hunters investigating mysteries and uncovering compromising drama would be enough to trigger the creativity and imagination of readers.
It's unfortunate, then, that the game isn't doing very well, according to SteamCharts, which lists an average of 0.8 players since the game's release in April 2017. It is sad to see this, as the game is truly a hidden gem among Steam's vast library. It is an example of a Visual Novel done right, with impeccable artwork and a fantastic soundtrack that helps readers be aware of what's happening around them, building up to sudden tragedy or making the importance of a scene known.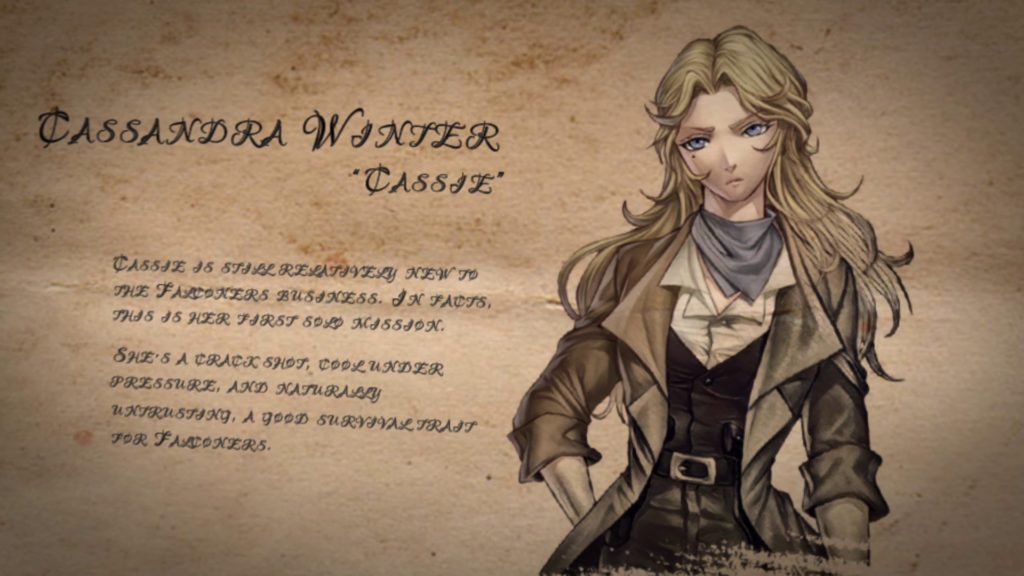 The Falconers: Moonlight stands out from the crowd due to not only having interesting lore, but managing to present it when necessary, while not drowning people in unknown exotic references. It makes reading pleasant and not something along the lines of "Oh my, what is this again? I forgot and cannot understand whats happening!". The lore stays interesting without delving into high magical fantasy like some VNs, revealing just enough to create a compelling background to justify the actions of its characters, while leaving the reader to decide who's right and who's wrong.
Book lovers might feel frustration after browsing the Steam Store's Visual Novels for interesting books with compelling writing and artwork, only to find an enormous number of Japanese romance simulators. While these are not inherently bad, they often aren't up to a reader's expectations, and may not meet one's desire for an afternoon treat of plot twists, memorable characters, and tales.
What about its plot? Is it good?
The game does a relatively good job at explaining itself: a world not very different from ours where the 19th Empires were beginning their expansion onto the New World, but supernatural insectoids called "Cullers" try to halt the colonists from setting up. The fact that New Zealand is still mostly fresh from human touch, with enough untamed land for wildlife to grow without intervention, does not help.
To deal with such a problem, the European empires hire monster hunters, professional ones, called Falconers. Falconers have extensive knowledge of how to dispatch those to oblivion. Whenever there are multiple disappearances in a colony, or the townsfolk turning on each other, a Culler is likely to be involved, forcing local authorities to call upon their help — for a small 'contribution' to the Order of the Falcon.
Many games fail when trying to create a new IP due to overcomplicated or generic lore, which may be unattractive to players looking for something different. Yes, green-skinned tall monsters, also known as Orcs, are fine as antagonistic monsters but, please, those are so overused by now it's good to see something fresh. A monster hunter that is after a different and fresh boogieman. Falconers: Moonlight's cullers are more than it seems, too. After some close inspection, one can assume they represent the locals resisting the colonial rule, defending their territory from foreign invasion, and even though that sounds a bit 'conspiratorial' for a game, it's good to remember Falconers: Moonlight is a Visual Novel — not very different from what conventional books try to achieve. Plus, such an assumption is corroborated with how 'civilisation' is written with quotation marks on the game's description, which is likely a critique to the idea that European colonists brought civilisation or 'better culture' to the native folks.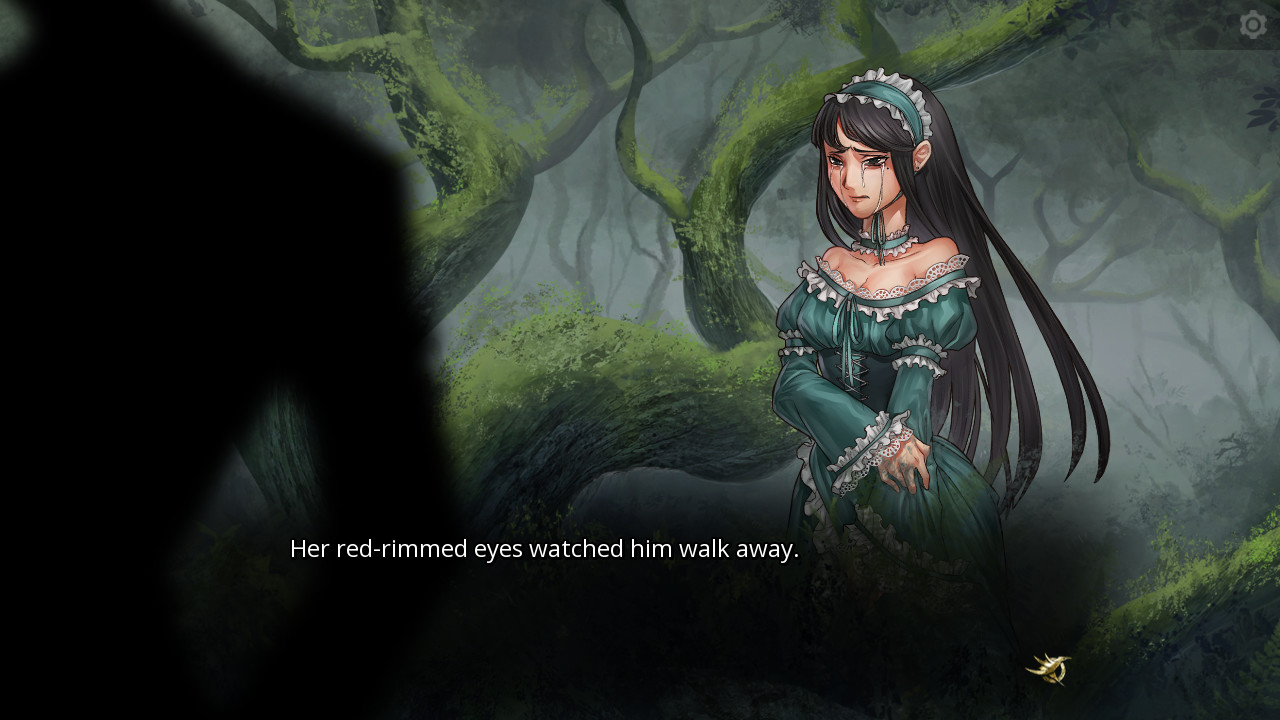 In Falconers: Moonlight, readers get to play as Cassie, a member of the Order of the Falcon who just managed to graduate as a full monster hunter. Cassie is very anxious to be on her first solo mission on the town of moonlight, after a series of disappearances — and a terrible accident — have been brought to the attention of the Order by the town's equivalent of a mayor, Captain Moonlight. It is no coincidence Mr. Moonlight has the very same name as the town, and readers will learn more about the background of Mr. Moonlight as the game progresses. Cassie eventually manages to gather enough clues to delve into the woods where the most recent disappearance occurred — the daughter of the local carpenter. The first glimpses of the action promised in the game's description will be present, along immersive soundtrack, but, for the sake of spoilers, let's keep that a mystery.
What is found is way more terrifying than a conventional human-killing insectoid bent on destruction — a sentient one. And not only that, but a sentient insectoid posing as a real person, living among the townsfolk, creating and seeding chaos just for the sake of it. Such a creature is not called a mere Culler, but something else — a Seeder. Those are the most dangerous creature that may trouble a settlement. They stalk victims and inhabitants for weeks, months or even a year, learning how it behaves, so it may apply such knowledge into making them disappear and take their spot in society. Common folk may notice a single difference. A Falconer is no common folk, though.
The actual experience starts now. Everything before such a meeting in the forest is merely an introduction. Cassie, who lacks any previous experience on solo missions, finds herself fighting one of the worst culler outbreaks she has ever seen, and it's up to her fix it. Falconers: Moonlight then introduces players to an interactive detective game where information must be gathered from the main characters. Seeders are not perfect monsters, with possible gaps in their history and alibi. By talking to everyone, Cassie can then discover possible gaps and mistakes by the Seede and also learn the background of the main characters.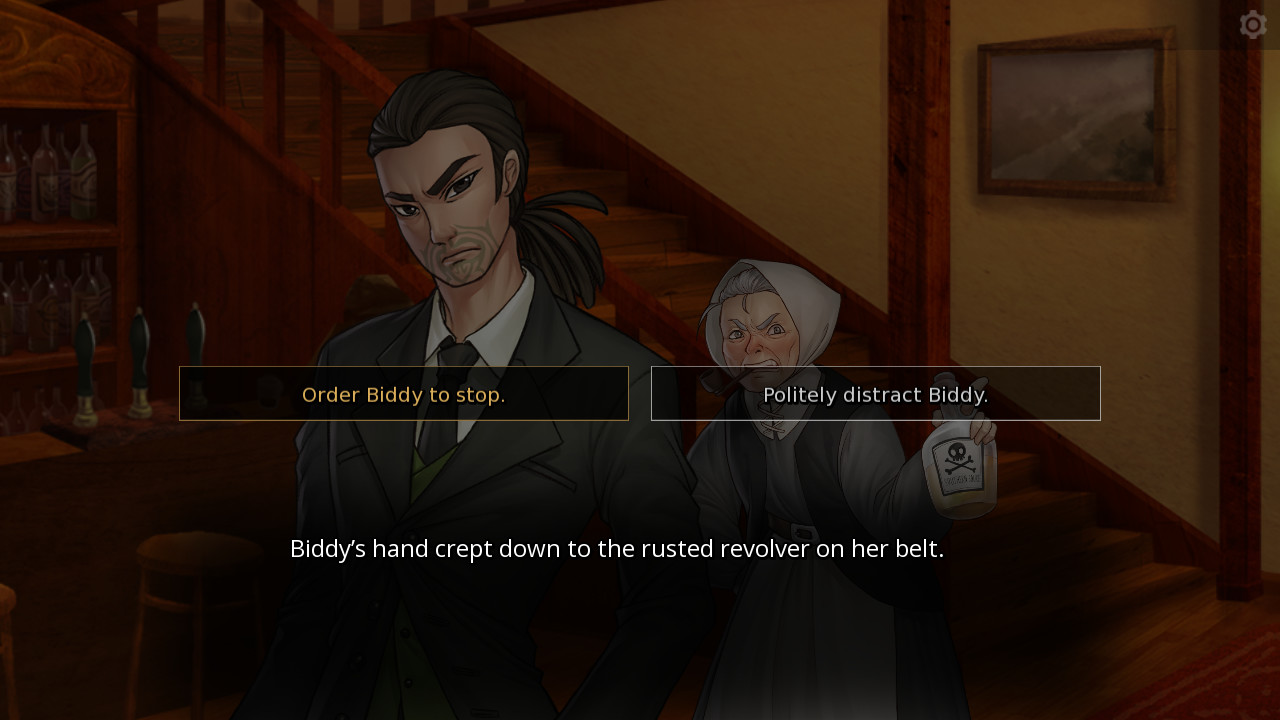 What about the characters?
It is difficult to write about characters in a spoiler-free way, so only their main characteristics will be described in the best way possible.
Wiremu, a gambler Māori that has witnessed his fair share of war and destruction by the colonist troops, lives from town to town tricking people with his gambling skills.
Biddy, a grumpy retired gold miner in her late 60/70s that is addicted to alcohol and swears to have been scammed by Captain Moonlight. Biddy has a distinctive speech pattern.
Captain Moonlight, the closest to a mayor the town has, and one of it's oldest residents, Moonlight gave his own name to the town. Moonlight is very patient and tolerates Biddy incessant complaining.
Mary "Sunlight" Sunncliffe, the young owner of the local inn, known for her prettiness and friendly manners. Assists Cassie in her visit to Moonlight.
Cassandra "Cassie" Winter, a member of the Order of the Falconers, responsible for keeping Colonists safe, currently investigating Moonlight in her first solo mission. Protagonist of "The Falconers: Moonlight".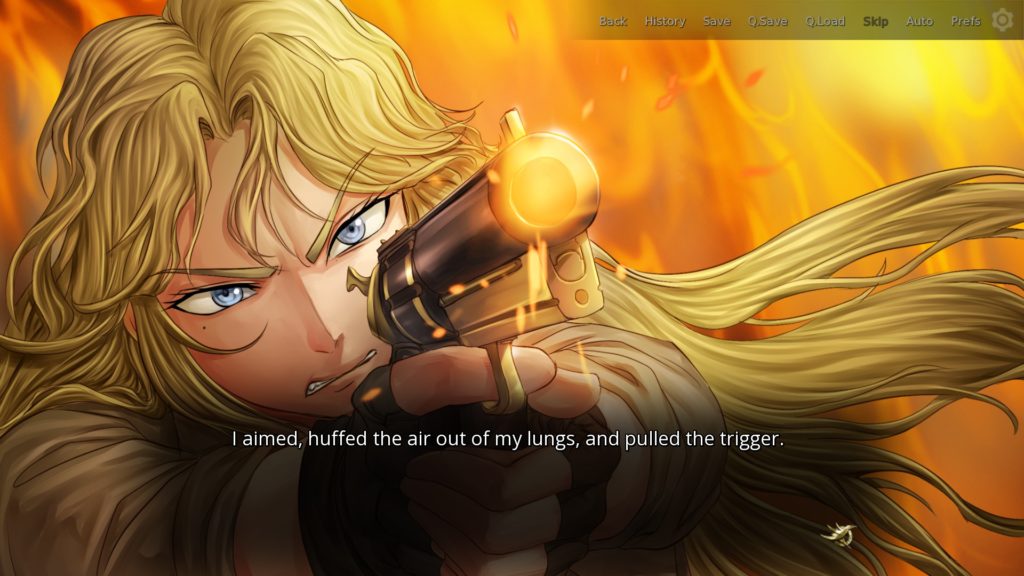 What about the artwork? Is it any good?
The artwork is definitely impeccable, with moving high quality images during action scenes, the game manages to break the idea that "Visual Novels aren't great for action" with it's impressive artwork followed by great sound effects that help create the immersion of an actual fight happening or an event that has the protagonist in a tense situation.
The amount of care dedicated to making impressive images for the Visual Novel really shines through, improving an already great story. Details are well-done, such as animated gun lights once a bullet is shot, for example. Those small details help create immersion. It is tempting to showcase some good examples but doing so would result in major spoilers considering the length of the visual novel.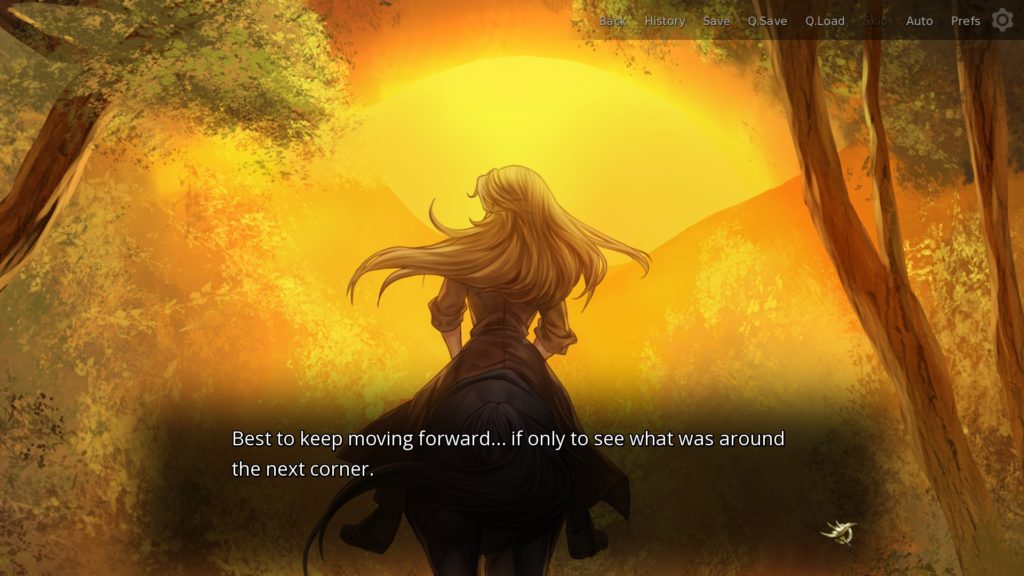 Overall, Is it worth my time?
The Falconers: Moonlight is definitely worth it for what's offered: A well-written and detailed visual novel that manages to showcase both action and suspense using impressive artwork and stunning soundtracks. The Falconers: Moonlight is a solid game in it's genre with no significant negative points to justify anything else other than "Save".