Steam: Early Access
Genre: Adventure, Casual, RPG, Simulation
Developer: Digdog Studio
Publisher: Digdog Studio
Release Date: 26 Feb, 2017
Type: Single-player
Overview
Weapon Shop Fantasy is a shop management game with some RPG elements. In this game you will have to manage all the aspects of a running Weapon Shop: pay wages to your workers, craft always new weapons, expand storage, even go bankrupt. The story tells of a pacific vampire living in his isolated castle, until a vampire hunter went there and destroyed the place, so he had to flee and seek help from his vampire friend, who borrowed him money and a weapon shop in order to make enough money to repay the debt, rebuild the castle and possibly get rid of the vampire hunter.
Gameplay Analysis
The gameplay of Weapon Shop Fantasy is apparently very simple. It is divided in two main areas, the first being the Shop itself, while the second is the Adventure Section.
In the Shop, you will be able to place new machinery and upgrade the existing one, change the decorations, assign employees to machinery, manage the storage, sell weapons and items you craft, manage skills and equipment of your employees to suit them best either for Adventuring or working at the shop, command the various machines to craft an ever-expanding list of items (providing someone is there to work), browse Main and Sub quests, see if you meet the completion requirements (often producing certain items or reaching a certain amount of gold is the requirement), and then turn the quests in for a reward.
The other part of the game is the Adventuring section, where you will see the employees you sent out to gather materials and see how they are doing. Out in the world, your minions will fight monsters and harvest natural resources, only to bring them back to the Shop when full or a Retreat is ordered. You will be able to equip them with better gear crafted from your very shop or found while adventuring! If an employee dies, he will not *really* die but instead will lose all his loot and return to the Shop empty handed, and this will happen pretty often since monster encounters are random and sometimes you will face stuff far above your level. Luckily, even when defeated, your heroes will gain Attribute Points depending on their gear and talents, meaning their statistics will improve, such are more strength, dexterity, vitality and so on.
Basically the gameplay is focused on the cycle of loot materials -> process materials -> craft items -> equip heroes/sell items/turn in quests -> repeat, but the randomness of the Adventures and the constant flow of new quests awarding recipes, maps for new adventures, and items, keeps things fresh enough not to get boring. I've to say, the game's very start in the first hour is VERY slow and tedious, but it gets much better once you get more employees, maps and unlock the HOLY auto-crafting of anti-carpal-tunnel-syndrome!
All of this is done via a very basic User Interface which i have to say could have been made far more practical, because right as it is now is very clunky and mechanical to browse, it simply has not been designed with efficiency in mind, you will many times need to click many buttons and menus to do just a few things, and on the long run this might become really annoying.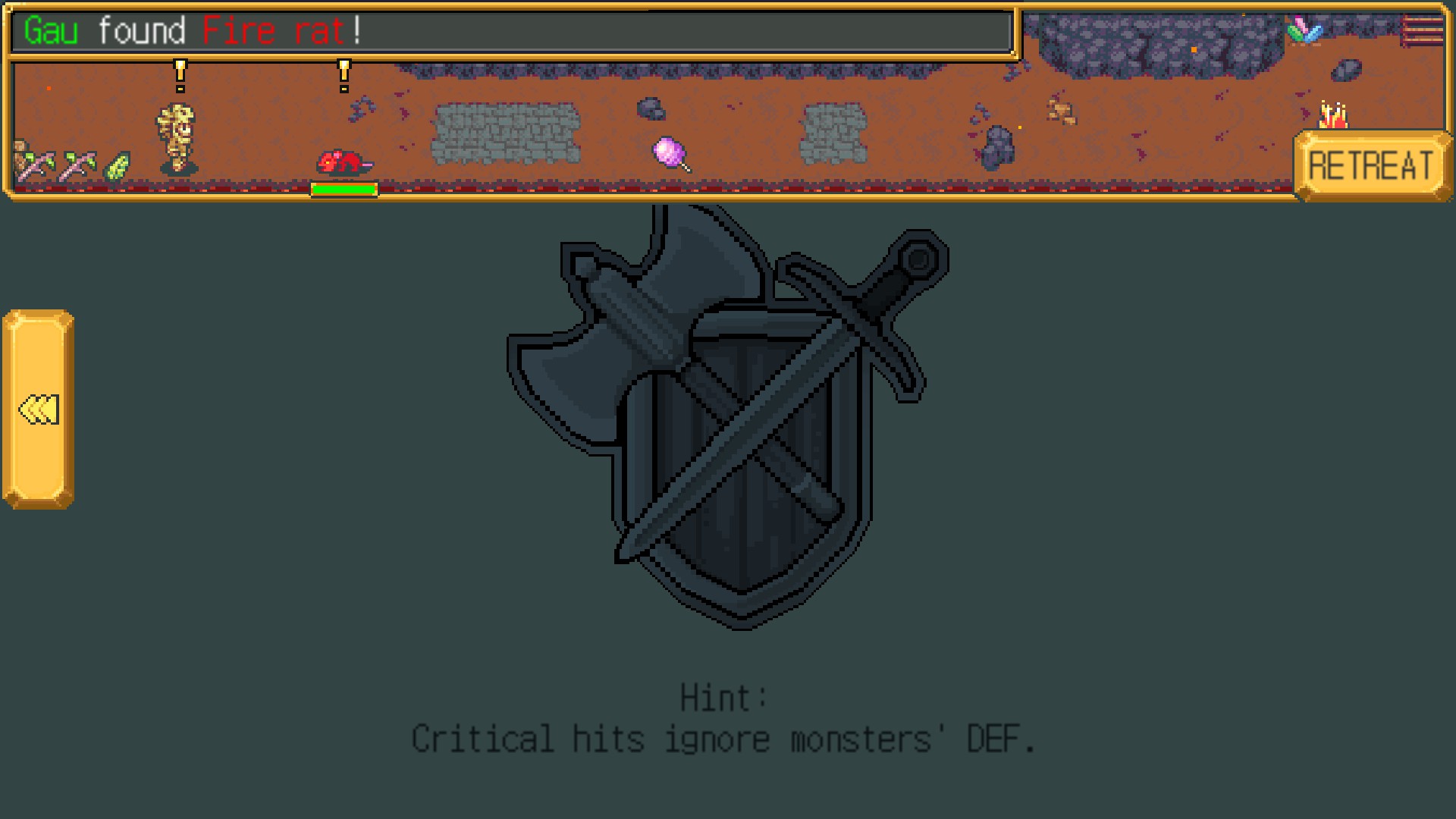 Technical Analysis
Performance wise, a game like this could run even on half baked potato, so it's superfluous to add anything else.
Visually, weapon Shop Fantasy uses a pixel 2D graphics that frankly did not impress very much. The art is barely sufficient, not at all one of the best around, animations are very basic and with few frames, environments go the same road. It is a sufficient graphical makeup for this genre, but could have been done much better.
Speaking of Sound Design, also here we are on sufficient levels, nothing impressive nor terrible, effects are those you would expect from [insert generic fantasy game name here].
Won't even mention Artificial Intelligence (I just did, damn), because enemies use a very simple turn attack script and nothing else special, could hardly be defined intelligence! (not a bad thing anyway, not for this kind of game)
Stability-wise, the game is fine, didn't notice crashes or anything else.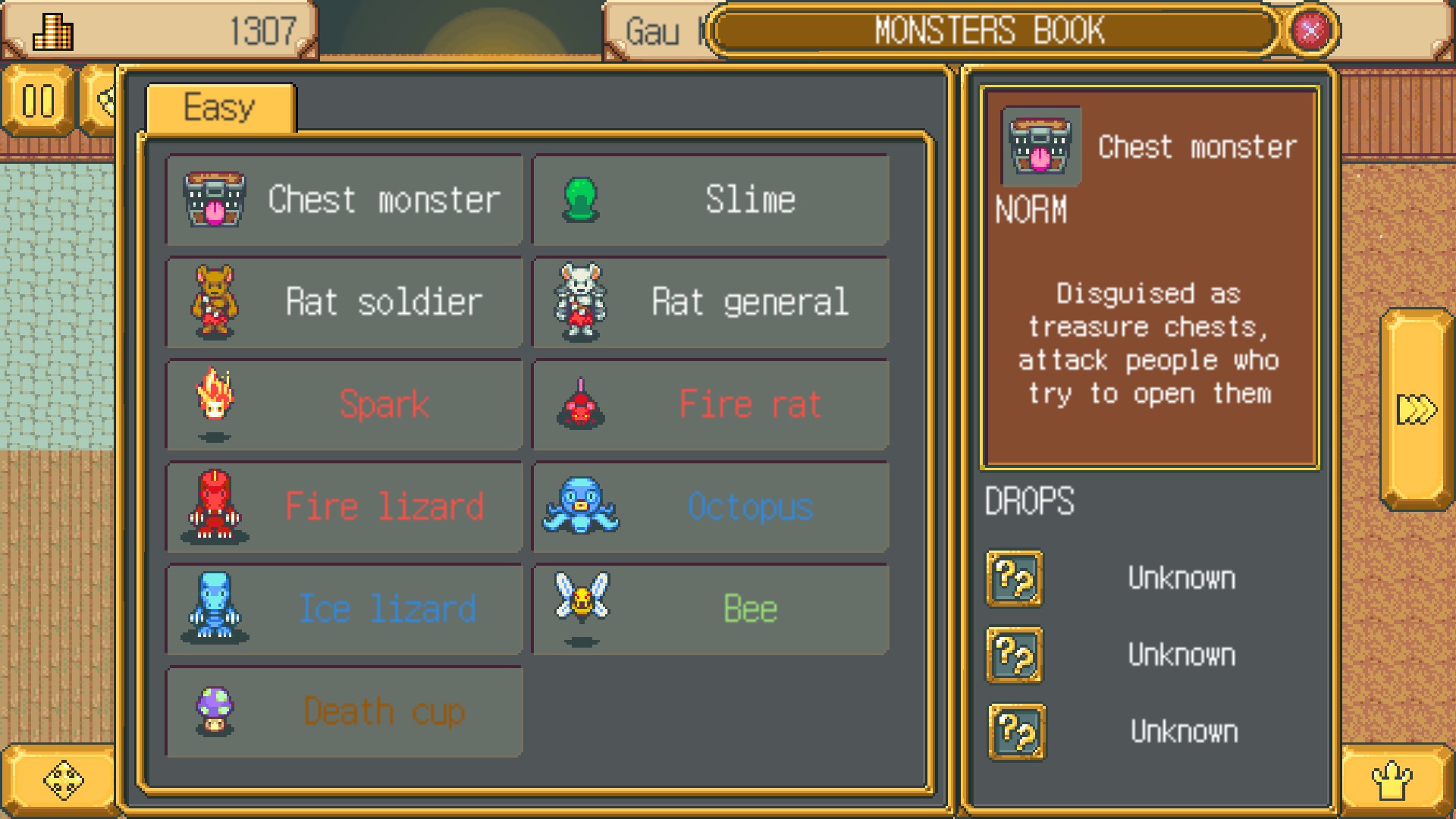 Conclusion
Weapon Shop fantasy is an overall decent management game, will hook the fans of the genre for many hours, suggested to the lovers of steady but slow progression and/or hardcore grinding. This is NOT an RPG, it has RPG elements such as stats, levels etc, and should not be considered an RPG at all.