Status: Released
Developer: Metalhead Software
Publisher: Metalhead Software
Genre: Indie, Simulation ,Baseball
Release Date: 21.8.2015
2015 is a sad year for baseball in PC gaming world. Why? Well there is no more 2K baseball simulation series and the only real baseball simulation is released for consoles only. There is one baseball "simulation" called RBI Baseball, but that game sucks. I have tried it and I don't recommend it.
Luckily we have Super Mega Baseball: Extra Innings for PC to save a day. Game with unusual mix of styles, but in the end, that whole mix works great together. If you go to the game's Steam page and read the description, everything that is written there can be found in the game. Developers Metalhead Softwares tried their best and hard work paid off. We have a real baseball simulation for PC and its great that we didn't need to wait so much (I am still waiting for EA to release NFL and NHL for PC). The game is even recommended by Feminist Frequency curator on the Steam, that must be a huge plus, I guess!?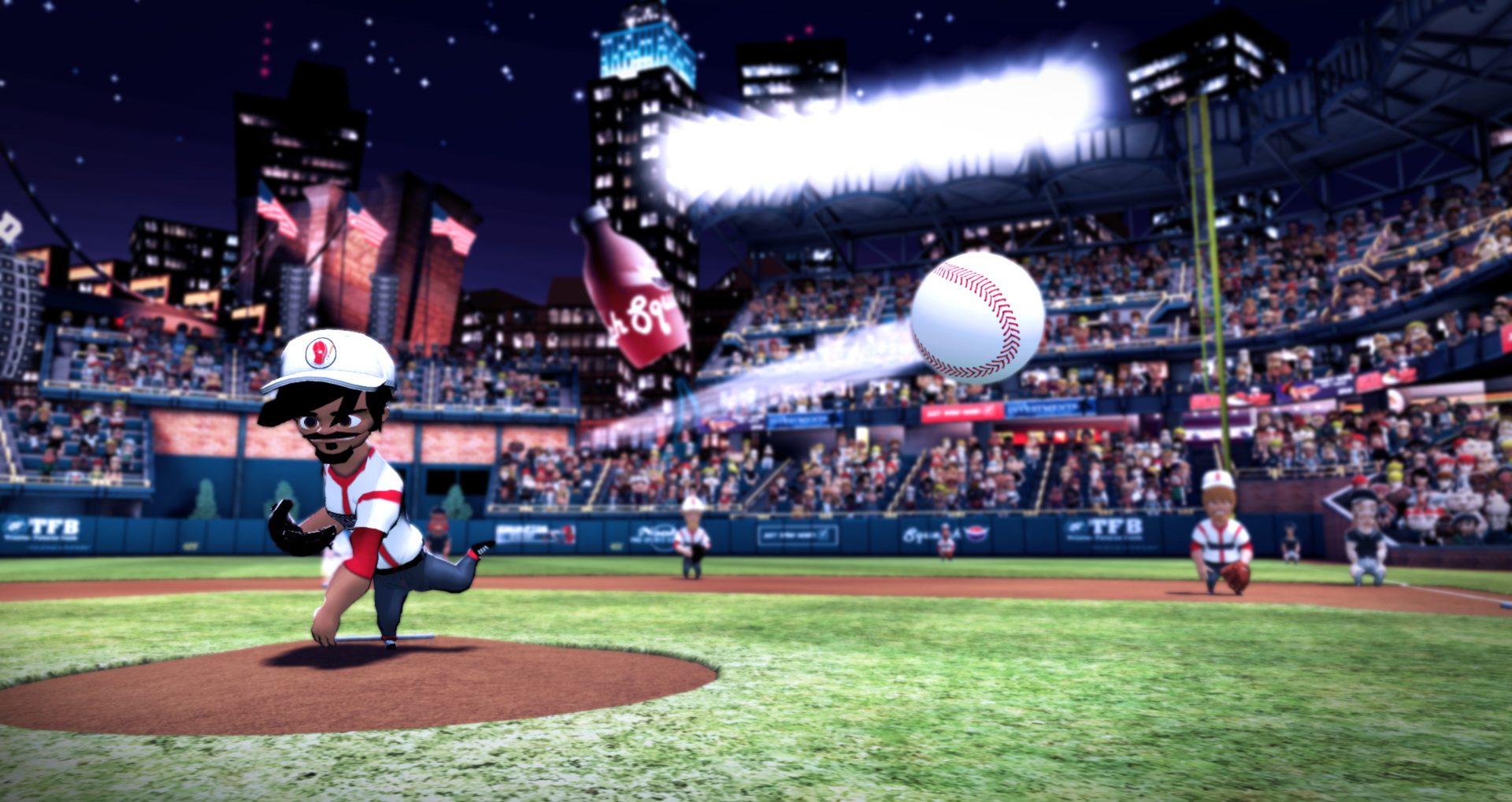 Super Mega Baseball brings you baseball simulation in comical, humoristic and cartoonish style. This is how I describe the game: ARMA meets Serious Sam. On one side you have a real military combat simulation game and on other side you have a completely arcade game. Is the mash-up between ARMA and Serious Sam possible? I don't know, but developers of Super Mega Baseball certainly succeeded to combine simulation and arcade style in one.
Whats in offer? It's real pity that game only have two modes: Exhibition and Season. There is a local multiplayer, but who plays games at home with friends or a friend that is living next to you? I mean common, every game that has potential of having online multiplayer, should have a online multiplayer, too bad Super Mega Baseball doesn't have online multiplayer, because game would be super fun in multiplayer. Season mode isn't maybe so detail and deep as in some other sport simulation games, but it has the basics that will keep you playing. You can play short, medium or full season. There are 12 teams, divided in two divisions. Each team have a special ability. I noticed that special ability right after I have already choosen my team, but to be honest I don't think that special team ability makes big difference in the game. If you are not satisfied with the team, you can always customize either entire team or single player. You can change the name of players, change their look, basically you can make New York Mets in this game or any other team from MLB.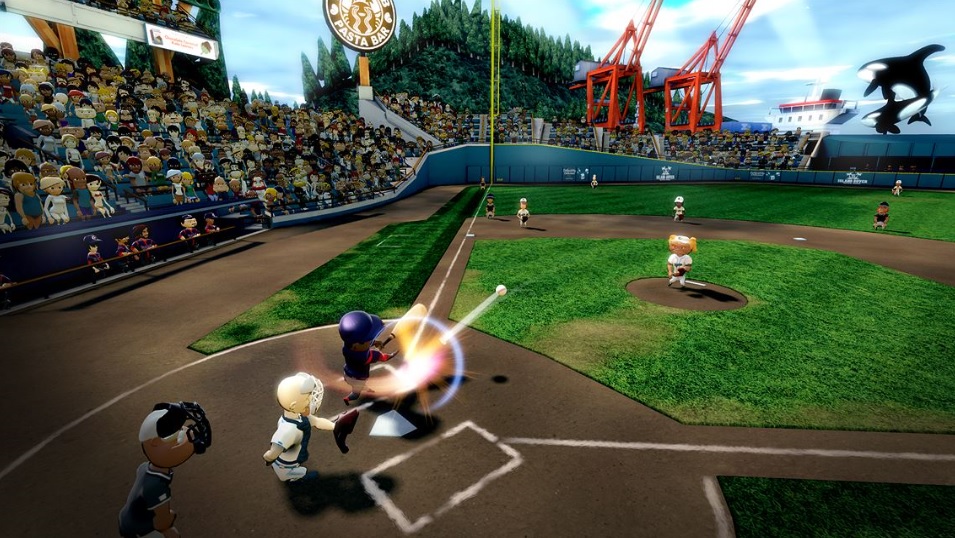 Super Mega Baseball is probably one of the best games I have tried this year, if someone wants to argue with that, then I am going to say that Super Mega Baseball is one of the best sport games I have tried and you can't argue that. Game with such a good, fun and smooth gameplay, without any real and big problems. Game physics works great and its one of the best. It's interesting to see how they managed to implement humouristic and comical style in the game. Funny players names, custom teams, colorful design and everything looks like one big cartoon. Characters with big heads/bodies and small legs, funny animations of players when they are struck out, funny referee voiceover and many more. This game is so much serioes and fun at the same time. As I said, they've done a great job of combining styles and doing the simulation and arcade in one.
Do you remember Austin Powers movies and his mojo? Well mojo is back and its in this game. Mojo or morale is probably after the game physics the most important aspect of the gameplay. Your pitcher can be full of stamina (that's important too, not so as mojo), but if his mojo is low or very low, then you want to consider substituting him, because otherwise, opponent team will score a lot of points. This isn't just an aspect of the gameplay, this is my tip to you. No matter how bad are your other pitchers, substitute him, because its mission impossible to strikeout someone when your "mojo" is very low, especially if stamina is very low too, then you are in big troubles. In other sport simulations you are probably used on to be in full control of your team in the match: from controlling the players, formation, tactics ect. Super Mega Baseball is like a semi-automatic game. For example, when the ball is high in the air and the catcher needs to position himself, the game position player for you. You don't have the full control over the players, beside the basics of the game. You can't just pick the player with mouse or key and control him, run with him or do something. AI does it for you and I like it, because we humans aren't perfect and most of the time we make mistakes. AI in this game is superb. One thing that I don't like is that I can't dive or jump to reach the base before the ball comes, I don't know why that's not possible for base runner to do, if the catcher can jump and dive. Thats pretty opposite, isn't it?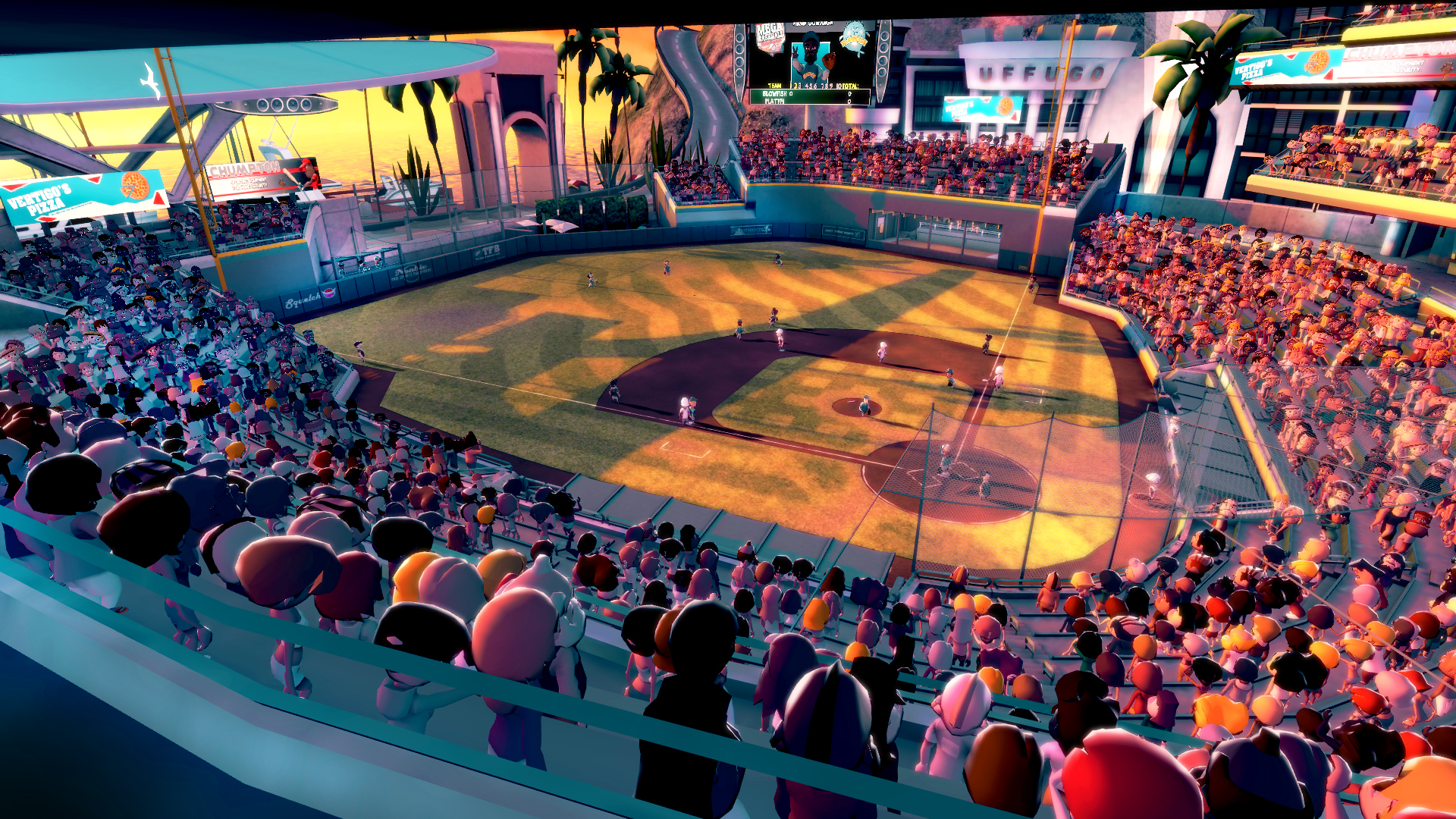 Sometimes games can't hit that right difficulty that fits everyone, but that's not the case in Super Mega Baseball. This game uses different difficulty system called Ego. Default Ego is 15, but that's too easy, casual style. Everytime you increase ego, AI of opponent team is smarter, which means it will be harder to win in the game. Another tip from is to play few short exhibitions matches before you go and play season match on new Ego level. Choosing the right difficulty is always a hard job to do.
In each match you collect starpoints and you can set new high scores. After the each season match, game calculates starpoints and you will level up if you have enough starpoints. For each level up you get one contract and few new staff/coaches to hire. Each coach has a different type of modifiers. For example with one modifier, you can speed up your player or increase his power, velocity or any other ability. The performance in match matters, even if you are loosing and if you didn't set the right ego for your skills, then you will not collect enough starpoints and you will lose chance to advance as a player, as a team and chance to increase abilities of your players.
Is there something bad about this game or something that would irritate people? Personally, I don't think so, at least I am not irritated or something, I enjoy playing Super Mega Baseball a lot. It's bad maybe that you don't have full control over the players. Controls in this game are very friendly and very responsive. Scheme of controls is made smartly, I must say. The unexperienced people will maybe have little problems with the controls, but after two or three matches you will get used on it. I don't like that game isn't fully "translated" for PC, because you will see XBOX buttons in the game and that can confuse you. I didn't tried to play with controller, but playing with mouse/keyboard combination is brilliant and you can't make mistake in choosing between controller or mouse/keyboard.
Super Mega Baseball: Extra Innings game isn't just for the fans of baseball, anyone can try this game, because it's serious and fun, it's hardcore and casual. If this is your first time playing baseball game, you will not have any big problems with this game. You can learn rules and controls easily and when you enter the world of baseball you are going to love it. If you were dedicated fan and player of 2K baseball simulation series, you should try this game, because this is a real simulation of baseball, putting aside that game looks funny, cartoonish or childish, You'll get a lot hours of fun and with price of $20, you must get this game.
PROS:
mix of styles
real simulation
great physics
hardcore and casual
difficulty system: EGO
CONS:
no multiplayer
only two game modes
RATING: 90/100