Annwn takes a classic game from the 1980s and brings it screaming into 2019. Dive into the spooky Otherworld in this gripping re-imagining of The Sentinel.
Title:
Annwn: the Otherworld
Genre: Indie, Strategy
Developer:
Quantum Soup Studios
Publisher:
Quantum Soup Studios
Release Date: 31 March, 2019


Explore the surreal archipelago of the Celtic otherworld Annwn (ann-oon), evading the sweeping gaze of the Watchmen. Hurl your soul from one totem to another in search of answers. Manipulate the environment to progress, but beware of disrupting the balance of light and darkness…
Annwn is an abstract stealth strategy game about making decisions under pressure, played across a series of bleak and lonely procedural islands.
You are a disembodied soul, able to dissolve and recreate elements of this mist-shrouded archipelago. Absorb the energy of trees and rocks, and use it to create totems which you can possess…anywhere that you can see the floor. Pump more energy into a totem to raise it higher before transferring your soul to it. Ascend the hills but watch out for the slowly revolving Watcher, who will try to redistribute your precious energy across the landscape. Find clues to the fate of your lost love hidden around the landscape before ascending to absorb the Watcher itself and move on.
Introduction
Annwn is a modern take on the classic 8/16 bit game The Sentinel. The original title was programmed by the legendary Geoff Crammond and released in 1986 on a variety of home computer systems such as the ZX Spectrum, Commodore 64, BBC Micro Atari ST and Amiga. Back in the day, I had just made the transition from the humble "Speccy" to Jack Tramiel's Atari ST. The game was a showpiece for the system in my eyes. A 3D landscape puzzler which took full use of my new machines graphical capabilities. It was also one of the first games that I played which made good use of the mouse as a control device. All the previous games I played up to this point had joystick and keyboard as the primary control schemes.
I could wax lyrical about the genius of the initial game design for days. Back in the eighties, 3D was hard to render given the CPU power available at the time. By using a fixed viewpoint and using a teleport system as a means of navigating the environment, the concept was not only a masterstroke but also a key gameplay system. It was also mandatory as a fully traversable terrain was a huge resource hog, especially on the popular 8 bit systems. The low poly aesthetic has aged well, and it remains iconic and beautifully pure.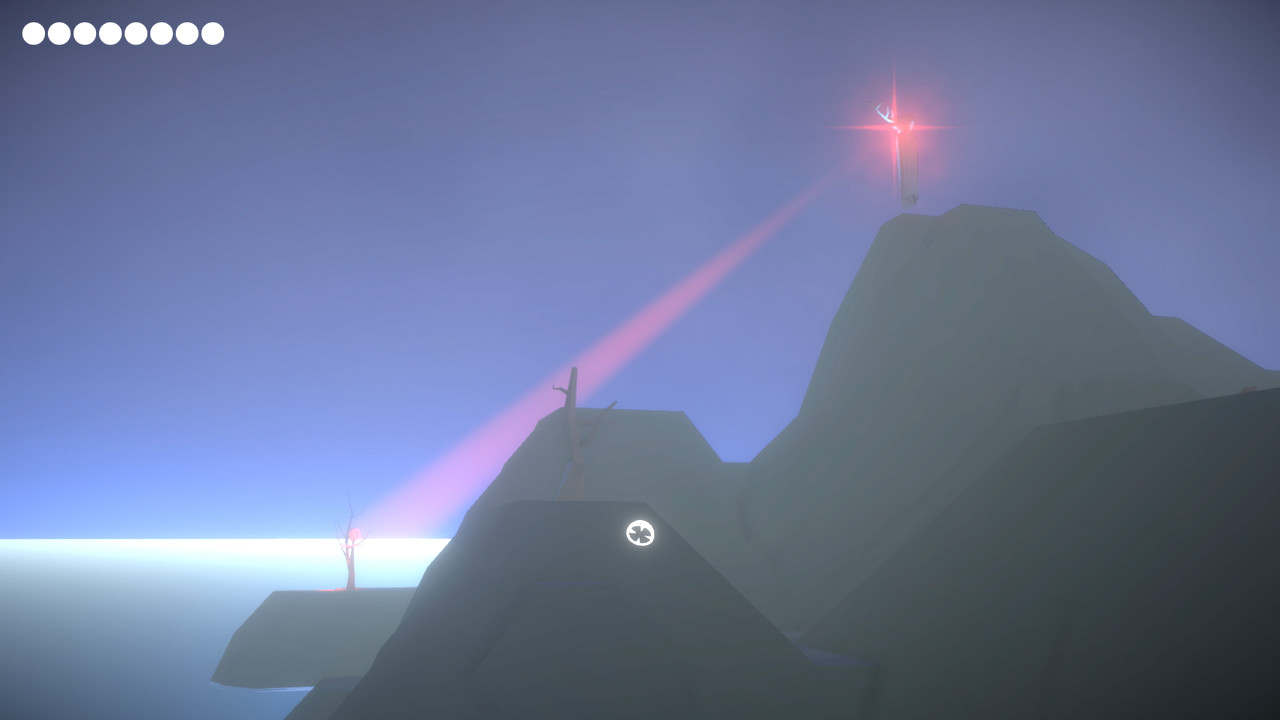 The classic gameplay is an interesting design to describe. Some wags refer to it as a resource management puzzler others as an abstract stealth game. Annwn is all of these genres and more. My take is simplistic but hopefully illuminating for folks new to the title.
Each gameplay session takes place on a 3D island. On the highest point of this craggy promontory stands The Watcher. Your goal is to navigate and climb to a position where you can absorb the said foe. You start off at a random fixed position almost at sea level. By absorbing surrounding trees and wolves you gain energy/souls. This enables you to create totems and rock platforms which you can teleport to, thus allowing you to maneuver about the space without actually taking a physical step. Whilst this is happening the Watcher slowly rotates his gaze like a Celtic "Eye of Sauron". This is visualized as a blue cone of volumetric light which sweeps the terrain. If you dilly dally and get caught in this gaze then his stare will turn red and your energy reserves will slowly be absorbed by this evil foe. In essence, the game is strategic stealth exercise, a case of cat and mouse in an abstract 3D world. By keeping one step ahead with good positional reasoning, you can quickly ascend the geology and conquer your enemy.
The core of the game is deeply compelling and addictive. Now with the aid of modern computer hardware, what was once a slow and methodical game gets a whole lot faster and more of an arcade experience. Quick thinking and even quicker mouse skills will have to be embraced in order to be successful.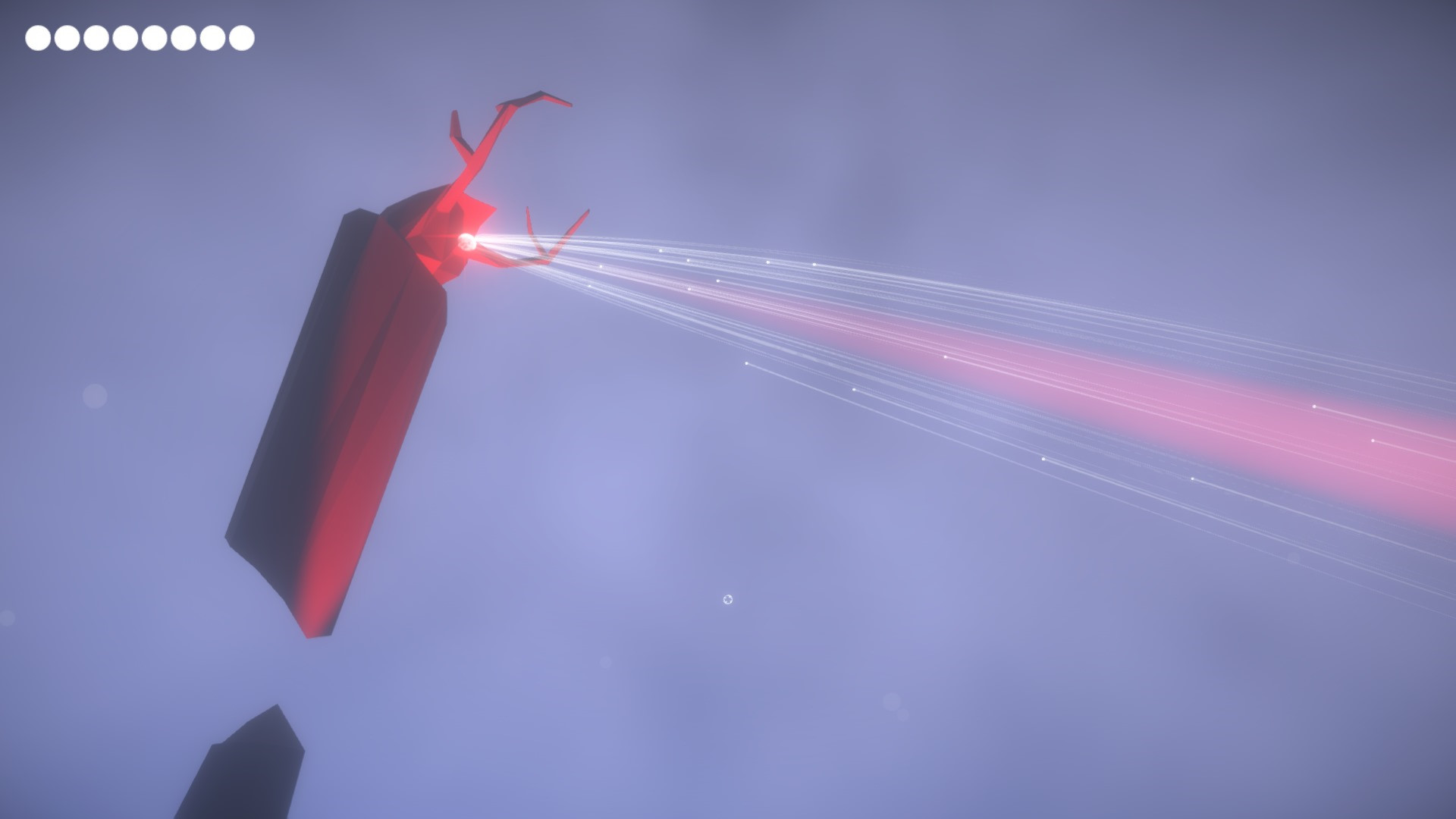 Content
A progression system has been added to the original game soup. This takes the energy you farm in the game and gives it a currency for unlocking better powers. These souls can be spent to upgrade your overall energy capacity, absorption speed and teleport speed. The last two powers are vital to overcoming the more difficult later levels where speed is absolutely crucial.
The campaign takes the form of an interconnected island archipelago. As you vanquish each island more paths open up. Each island is procedurally created and has different forms. This may be flat "Christmas Isle" type land masses or imposing mountainous atolls. Different weather conditions add further variations to the mix. Thunderstorms, snow flurries and moonlit nights are cooly implemented. Another new concept is a rising water level on some islands. This doubles down on the sense of urgency. Quick thinking is a prerequisite on these challenging scenarios.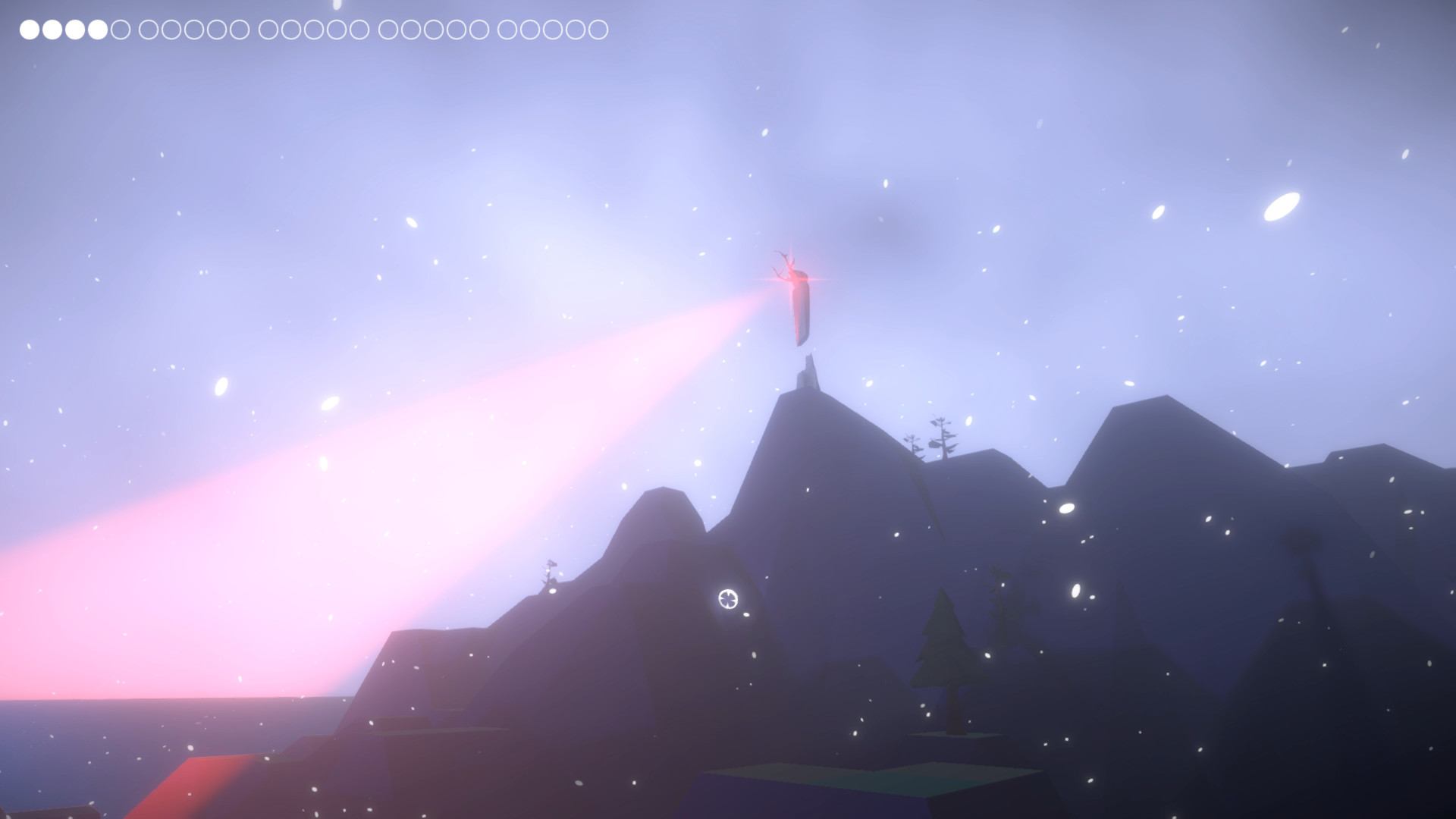 The difficulty soon ramps up as harder levels can have two watchers that scour the landscape. This makes your early steps telling. One wrong move could lead you to premature death. Fortunately, each new island is previewed in the campaign view. A rotating diorama gives you time to ponder your opening moves. The checkerboarding texture on the flat plains is perhaps a telling reminder that this game is akin to a fast-paced game of chess, albeit in otherworldly three dimension theatre.
Quality of Life Features
The current build doesn't support Steam cloud saves, so bear that in mind if you have multiple PC systems. A recent blog post by the developer has identified this issue and has been announced that a future update will add this option for Steam users.
Given the classic low poly aesthetic, the game doesn't need a powerhouse PC to run. I've tested the release version on both my potato gaming rig and ancient laptop. They have no trouble running the game at a smooth and consistent framerate.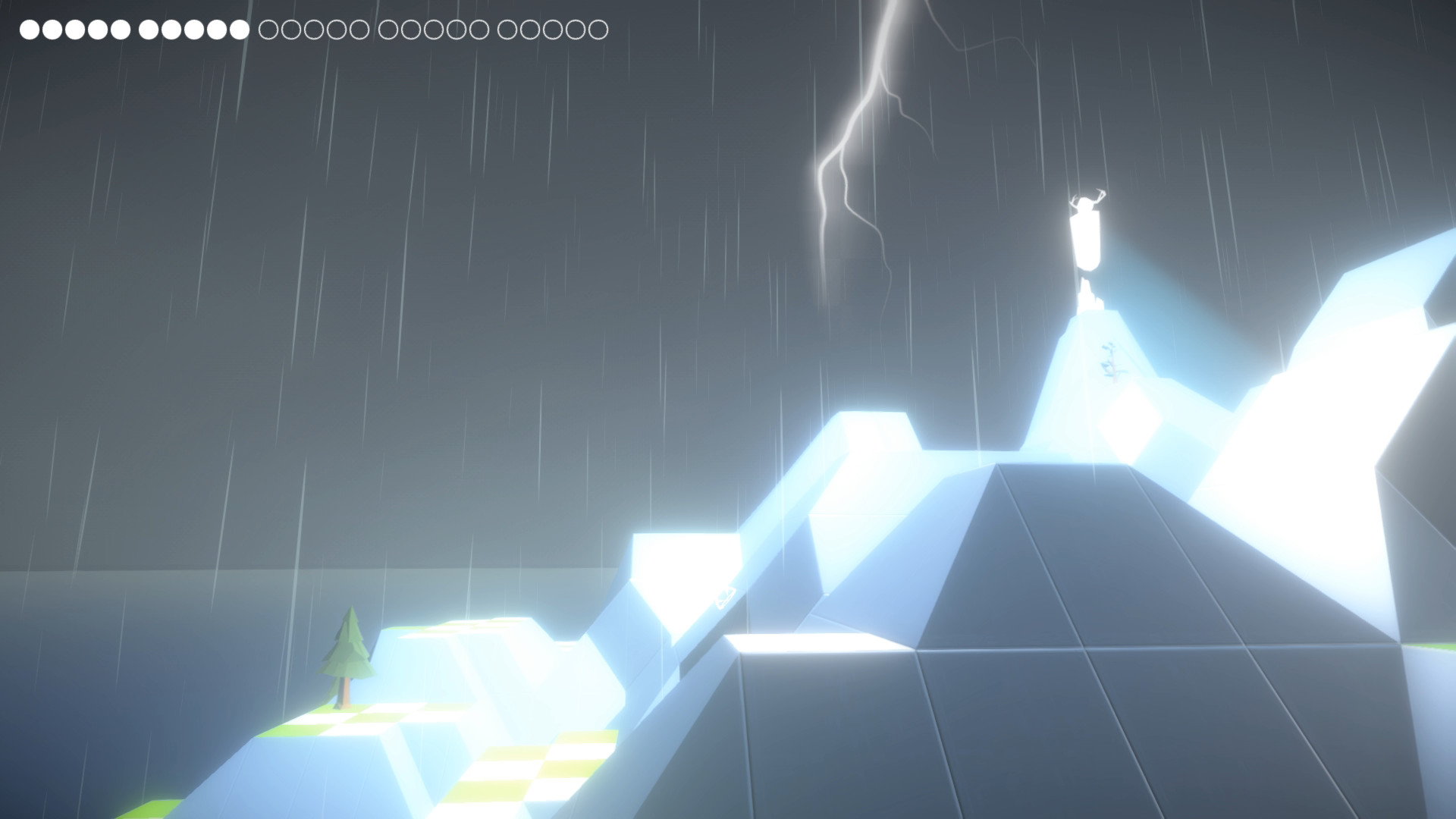 Graphics
Annwn's aesthetic has remained true to the original vision but with a little bit of a Welsh twist. Obviously inspired by the awesome scenery of Snowdonia. The colour palette uses grey to illustrate the sedimentary and metamorphic rock landscape. Green checkerboarding adds an arable farming veneer. Environment and time of day FX add to the diversity of the island overall look and feel.
The Unity engine's fantastic light rendering is highlighted in each scene. It is a great use of post-processing. Bloom, particle systems and volumetric fog play a great part in breathing life into the game world. By careful restraint of the colour palette adopted, the developer has achieved an awesome sense of place. The whole atmosphere of the title has an otherworldly mystic vibe.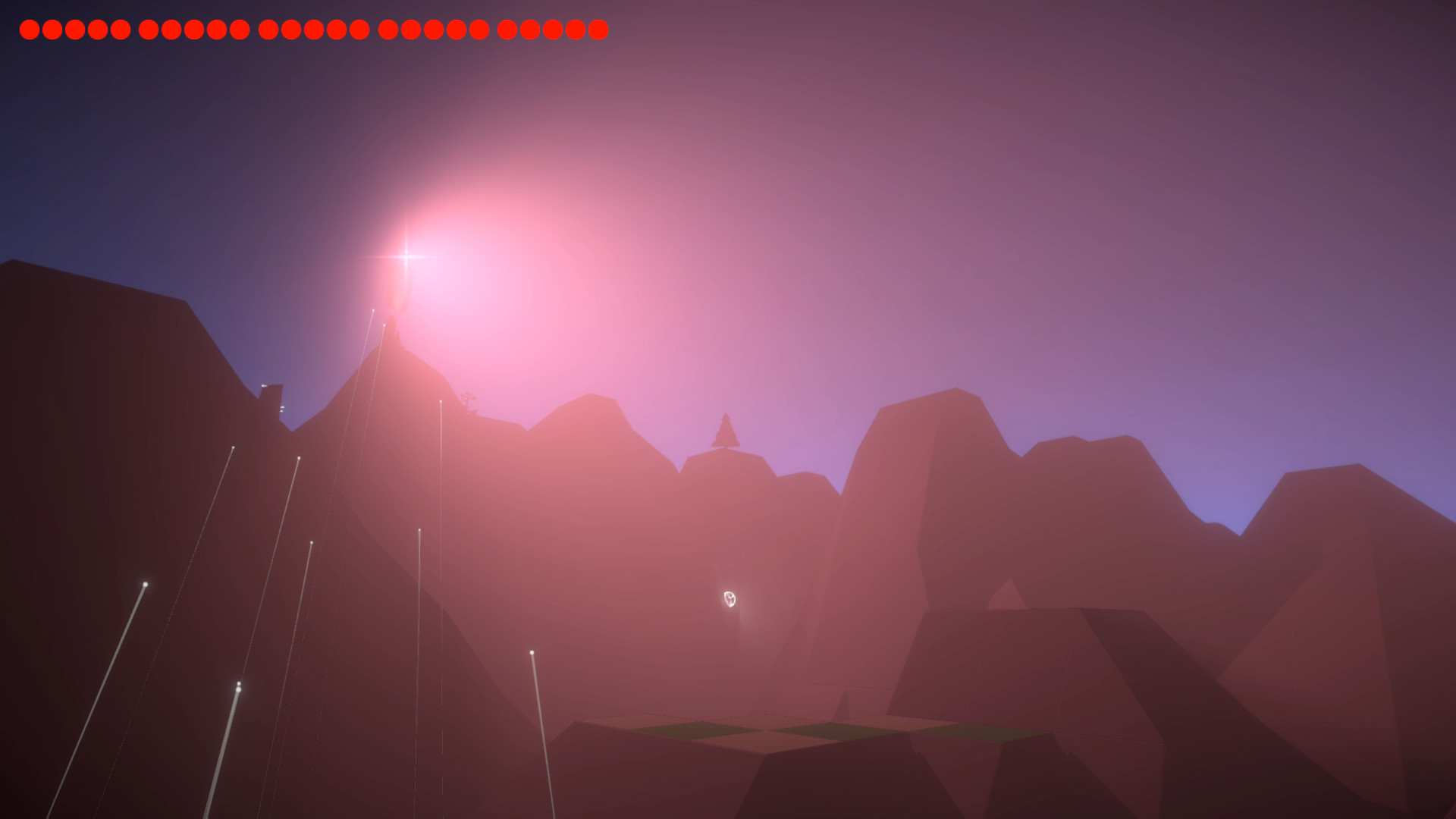 Sound
The sonicscape has a suitably Celtic feel. Strident string arrangements interplay with growling horn parts. Metronomic key phrases add a hypnotic element to the proceedings. These musical flourishes are interspersed with quieter ambient passages. Haunting choral pads and drones add a spooky atmosphere. Spot FX such a crow calls and lightning cracks add drama to the mix. There's nothing truly memorable about the soundtrack. It is workmanlike and fits the subject matter perfectly.
Verdict
The one misstep for me is the "bolting on" of a narrative. This takes the form of memory stones which, when uncovered and absorbed, present the player with a small story text snippet with a choice of two replies. These are then collected and added to a journal of sorts. The whole premise is at odds with the rest of the game. Personally, I would have replaced this content with something more in keeping with the overall Welsh Mythos. Audio snippets of Welsh language poetry such as the "Four Branches of the Mabinogi" would have had much more resonance to me. These would have celebrated the rich culture of Wales which may be new to many gamers.
Annwn is an impressive update of a classic game. The key facets of the original have been implemented successfully and given a modern twist. The compelling addictive gameplay has been captured superbly. The additions of environmental FX and a progression system have given the title a new lease of life. It's great to see this old school masterpiece available again to a new audience.
If my random thoughts on this game have piqued your interest then why not try the free demo available on both Steam and Itch.io digital stores. Please click on the links below to pick your webshop of choice.