Like a solid logic puzzler? I do. So when I happened upon Pictopix, a Nonogram title with built Steam Workshop support, I had to check it out. Here are my thoughts.
Title:
Pictopix
Type: Single-player
Genre: Casual, Strategy, Puzzler
Developer:
Tomlab Games
Publisher:
Tomlab Games
Release Date: 5 Jan, 2017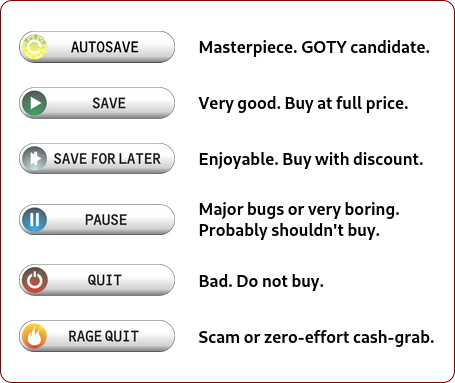 Pictopix is a puzzle game where you use logic to colour squares on grids in order to reveal pictures.
Easy to learn and very addictive, the game starts with small grids and ends with much bigger grids.
With over 200 coloured puzzles, a shuffle mode and a puzzle editor, Pictopix will bring you hours of fun!
The game is similar to Picross, Nonograms, Hanjie, Pic-a-Pix, Paint by Numbers and Griddlers.
Gameplay Video
Introduction
Pictopix was created by Thomas Leroy. A "one man band" developer, based in Valenciennes, France. The title was first released on the Steam storefront back in January of last year. Since its initial release, it has had many, many updates, which is a testament to the devs commitment and dedication, in bringing the best "Picross" game to the PC platform.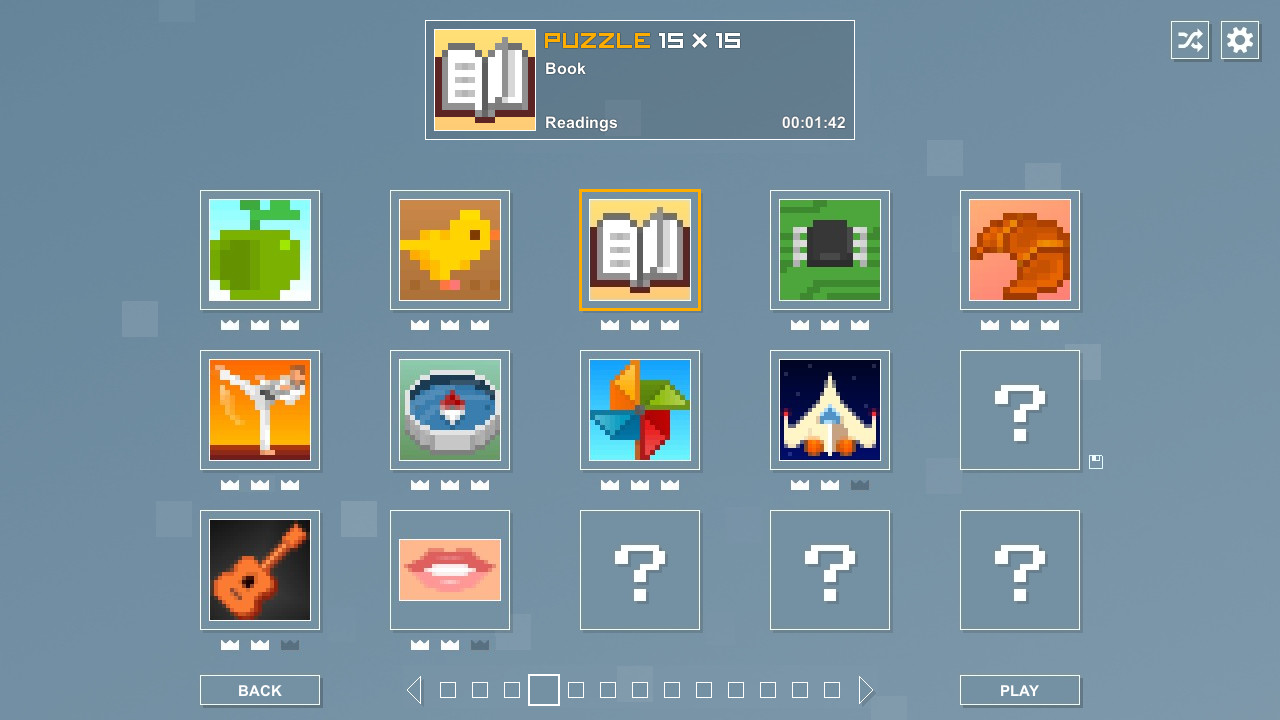 Gameplay
Aaah the logic puzzler. The red-headed stepchild of games. Utterly uncool to the "hardcore gamer". The genre only fit for soccer moms and gaming grannies. I've been a fan of this kind of games since Tetris on the original Gameboy. That was a perfect fit for the hardware. A go anywhere time sink with bags of replayability. Simple in concept but hard to master.
One of my other favourite titles from that era was Mario Picross. This was my first introduction to Nonograms. A bargain bin purchase I picked up mainly due to the Mario packaging. Little did I know that beneath the cutesy aesthetic hid a deep and highly addictive logic game.
For folk unfamiliar with the game concept, to solve a puzzle, the player must fill in spaces in a grid of various sizes to create a picture. The player is also able to mark spaces with a cross, to signify that they are not meant to be filled in. The numbers on the top and left side of the grid guide the correct spaces to fill; when a row or column in the grid has a single number in it, that means the row or column has that number of continuous spaces in it, while if a row or column in the grid has more than a single number, that means that there are those amounts of fillable spaces, but separated by an undetermined amount of blank spaces.The player must use these numerical hints to fill in the grid both vertically and horizontally. It's like the numerical equivalent of a crossword puzzle.
Contents
Out of the box, there are over 200 puzzles included in the base game. Starting with the newbie friendly 5×5 grids and slowly ramping up to the brain-melting level 40×30 behemoths. That's enough content for many many hours of noggin stretching fun. But the puzzles don't stop, they just keep on truckin' with the aid of fully integrated Steam Workshop support. This adds a further mind-boggling 1400 of the blighters.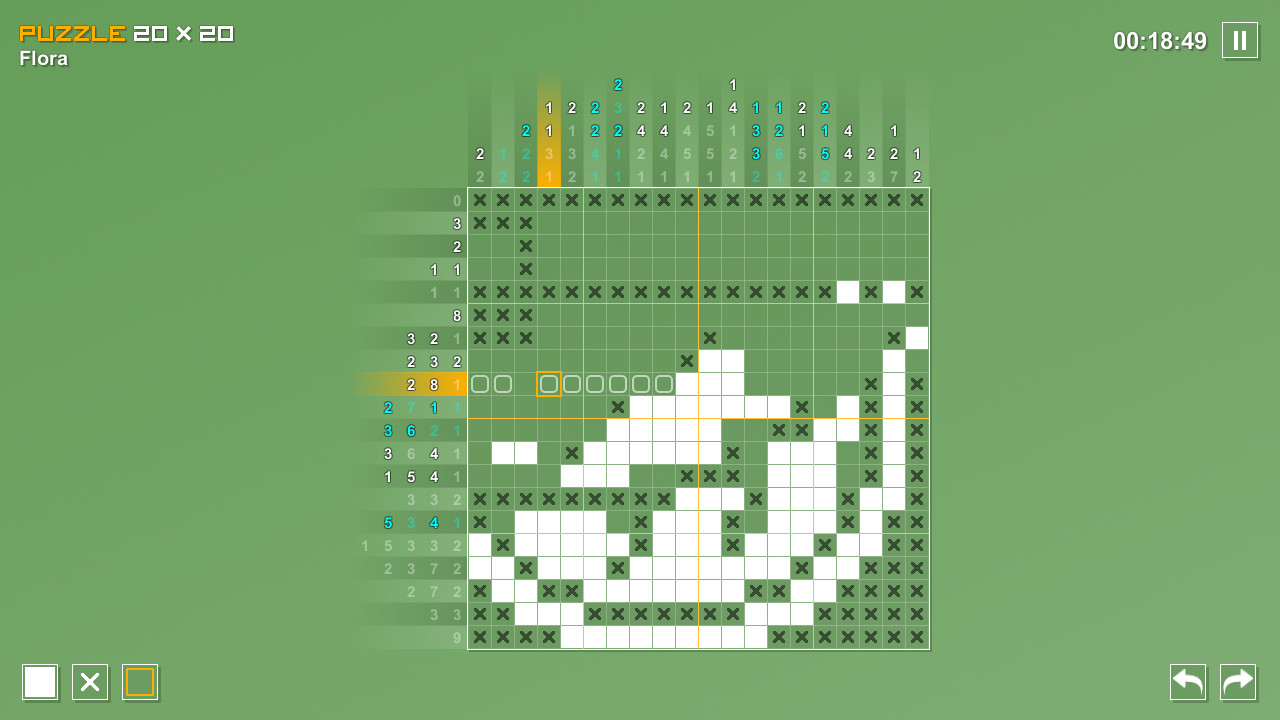 Quality of Life features
Whatever the puzzler is, the first and foremost requirement should be the intuitive control system. Unwieldy and obtuse keyboard layout and non-configurable button arrangements are a no-no. I'm glad to report that Pictopix has none of these issues. All the user interfaces work flawlessly. If you do want to customize any button, key or mouse binding then the control options menu allows you to tweak any of the settings. The default skin or color is a pale aquamarine but if this isn't to your taste you can recolour the whole GUI with a range of calming tones and shades to suit your mood.
Steam Workshop support allows the gamer to play, create and share puzzles. The built-in Workshop browser allows you to search for puzzles using a whole gamut of options. These can be via author, theme, complexity and date. The editor for creating your own puzzles is like a mini Paint Shop Pro, with customise palette, fill tools and the ability to import PNG files if you are not the best Picasso when it comes to pixel art.
Graphics
Minimal and unfussy user interfaces are hard to pull off. Going too far and stripping out all the usual graphic fluff can leave things bare bones and hard to navigate the environment. Pictopix strikes just the right balance in terms of the font used and colour schemes. It's a clean functional design that has echoes of Jupiter Corporation and classic Nintendo puzzle layouts. This is not some sweeping statement. I've played many a puzzler, on numerous platforms and systems.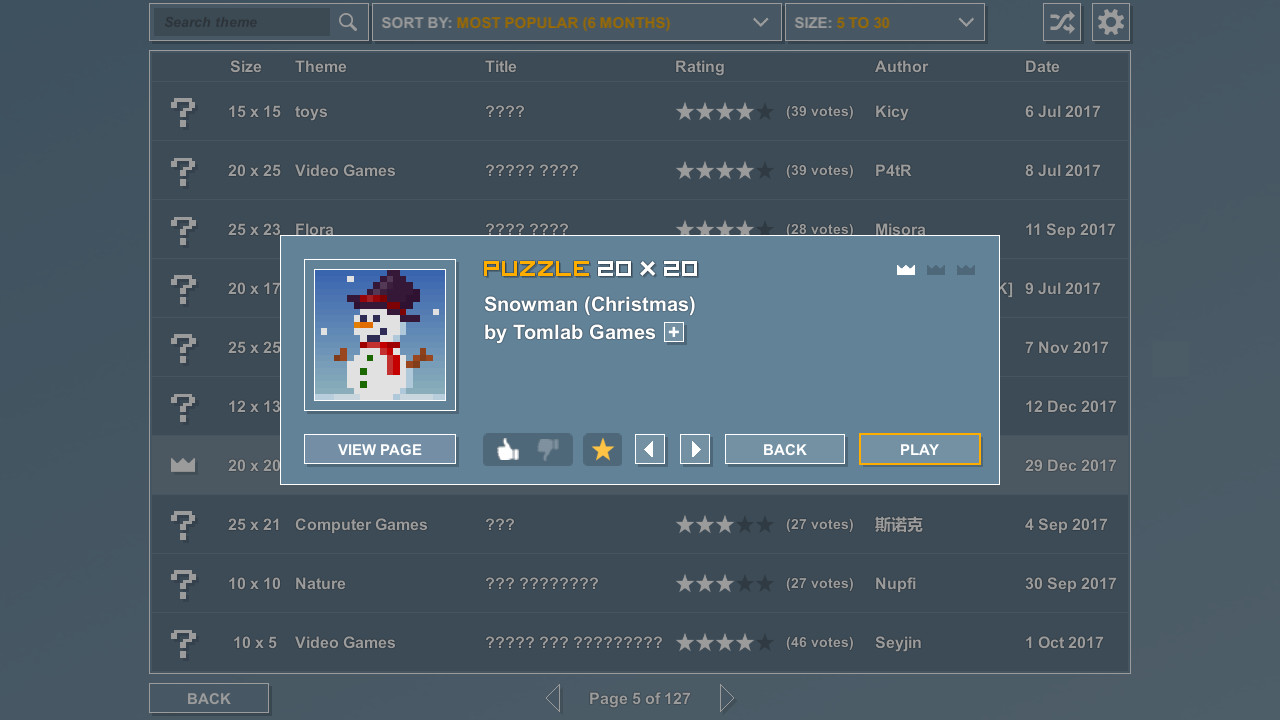 Sound
The prerequisite for any puzzler soundtrack is that it shouldn't interfere with the thought process demanded when trying to solve any puzzle. No bombastic or irritating tunes should be a given. Nintendo nailed this with all their DS Touch generation games and so does this title. So smooth jazz and bossa nova muzak are the order of the day. These pleasant and completely bland ditties wash over you like a Prozac haze. They leave no melody traces and just plain fit beautifully within the overall aesthetic of calm and contemplation.
Pictopix has all the classic spot FX. Filling in square produces a satisfying bubble pop. adding crosses makes a pencil eraser rub sound. On completion of a puzzle a pleasing marimba motif plays. All these sounds and tunes give the player an instant audio feedback, underpinning a reassuring polish to the title.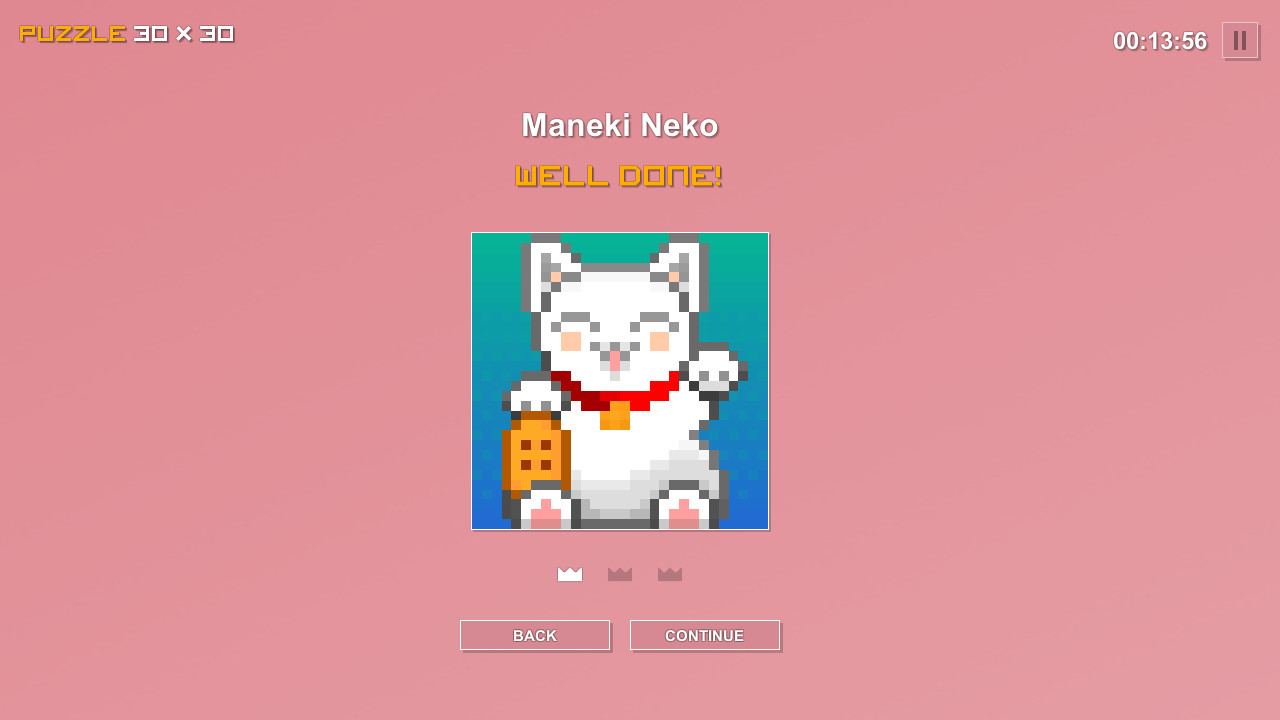 Verdict
Thomas has managed to produce a game of beauty and simplicity. The key components of any quality puzzler are the attention to detail, minimal yet slick graphic user interface and amount of content offered to the player. Pictopix delivers on all these points and then some. The top tier implementation of Steam Workshop burnt right into the game's DNA has to be applauded. This offers logic puzzle fans literally hundreds of hours of gaming goodness. This game is a benchmark in both design and execution. It is damn near peerless puzzle perfection.