Do you like cats? Do you like bouncing cats? Do you like bouncing cat puzzlers? Then read on.
Steam:
Released
Type: Single-player
Genre: Action, Casual, Puzzle
Developer:
Rainware
Publisher:
Rainware
Release Date: 22 May, 2017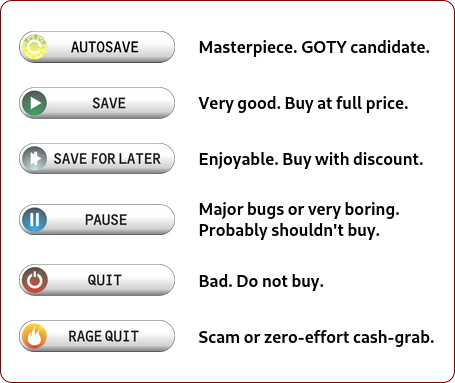 Bruno is a very lazy and fat cat. He wants to bring more action and joy into his life.  He absolutely loves to bounce other flat fat cats around the living room.
Bruno wants to bring more fun and joy into his life by getting in contact with other cats. This is not always as easy as it sounds, it takes skill and patience. Sometimes there is a couch or seat in his way, in other rooms are shelves or fish tanks.
Solve over 200 different levels in this adventure with many different setups and unique objects.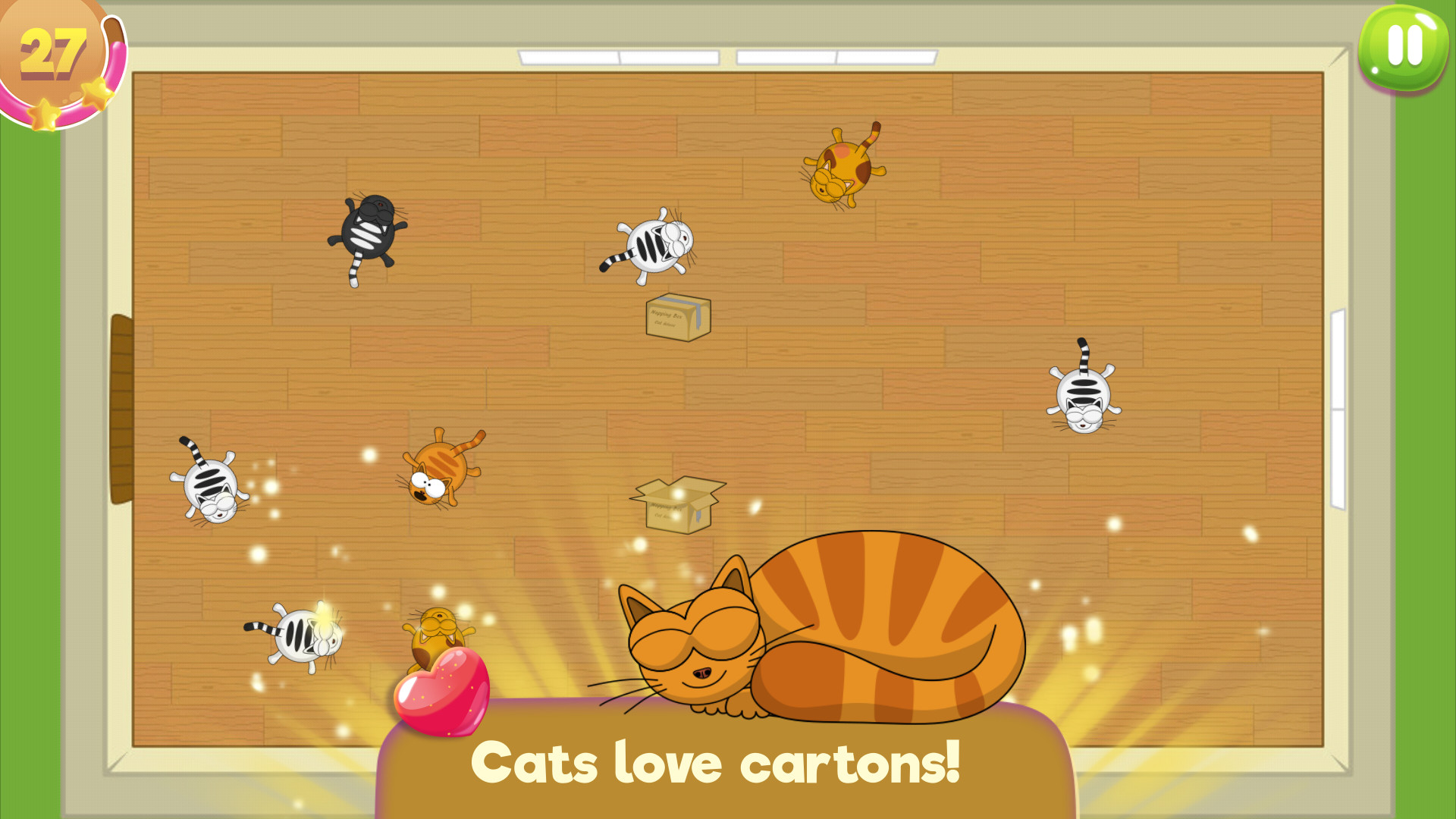 Introduction
Flatfatcat is light-hearted physics-based puzzle game by Indie developer Rainware. The company was founded by Thorben Rackow, who resides in Stade, a city within Lower Saxony, Northern Germany. His studio has been developing games for multiple platforms over the past couple of years.
Flatfatcat is a direct port of the mobile game released last May on Android and Ios. Rummaging through the file structure the development system looks like a Java-based game.
Content
The menu and level design are the basic level progression system as used by countless casual games such as Angry Birds or Where's My Water. Each level has a rating of up to 3 stars and a high score. You can replay any level in order to best your score and brag about it on Facebook!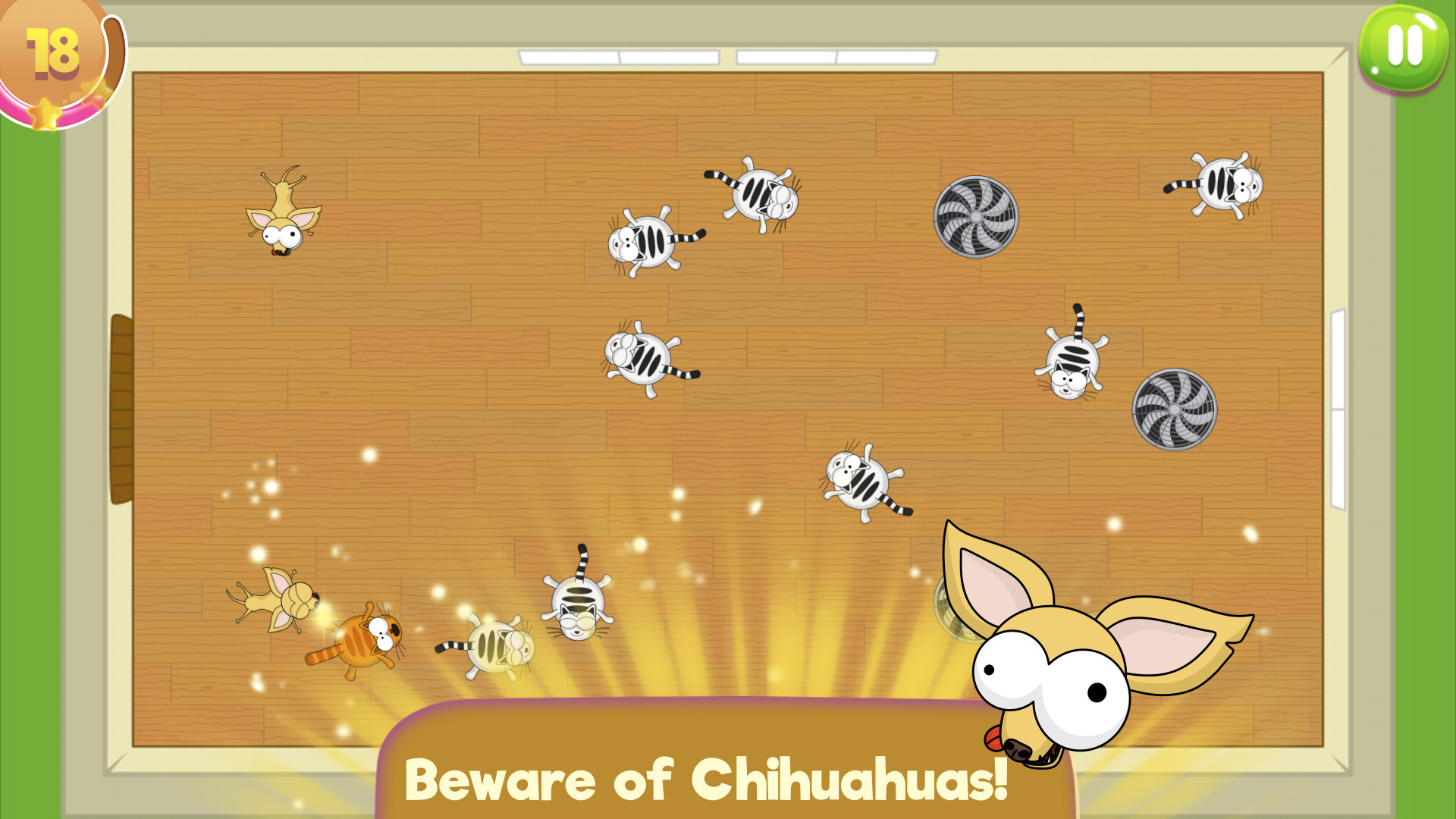 Gameplay
Flatfatcat is basically a pool trick shot simulator with a cartoon skin overlay. Instead of the blue (or green) Billiard table, Bruno the cat bounces around his owners living room. Each level has a unique challenge to complete. The premise is very straightforward. If you match two of same colored cats they will disappear. Your goal is to solve all pairs of cats within the given moves. At the point all cats except Bruno disappear, the level is cleared and if you have any moves left you go on to Supercat Mode, the playfield is filled with numerous cats. Stars and bonus points are rewarded for completing extra combos.
The starting puzzles are very easy, as the lounge is open and free from clutter, as you progress through the levels, various furniture items are added such as plushies, chairs, pot plants and bookcases. Later on, paint pots and fans are added to further mix up the gameplay. According to the press blurb the game has over 200 puzzles to complete. Which is a fair amount of content for an average indie puzzler, given the dev team size and budget.
I'm a big fan of pool and snooker games. Been play 'em since the '80s. Flatfatcat is a daft take on the whole trickshot premise. Its light-hearted approach is underpinned by decent physics-based gameplay. The puzzle designs are good and ramp up the complexity slowly as you progress through the levels.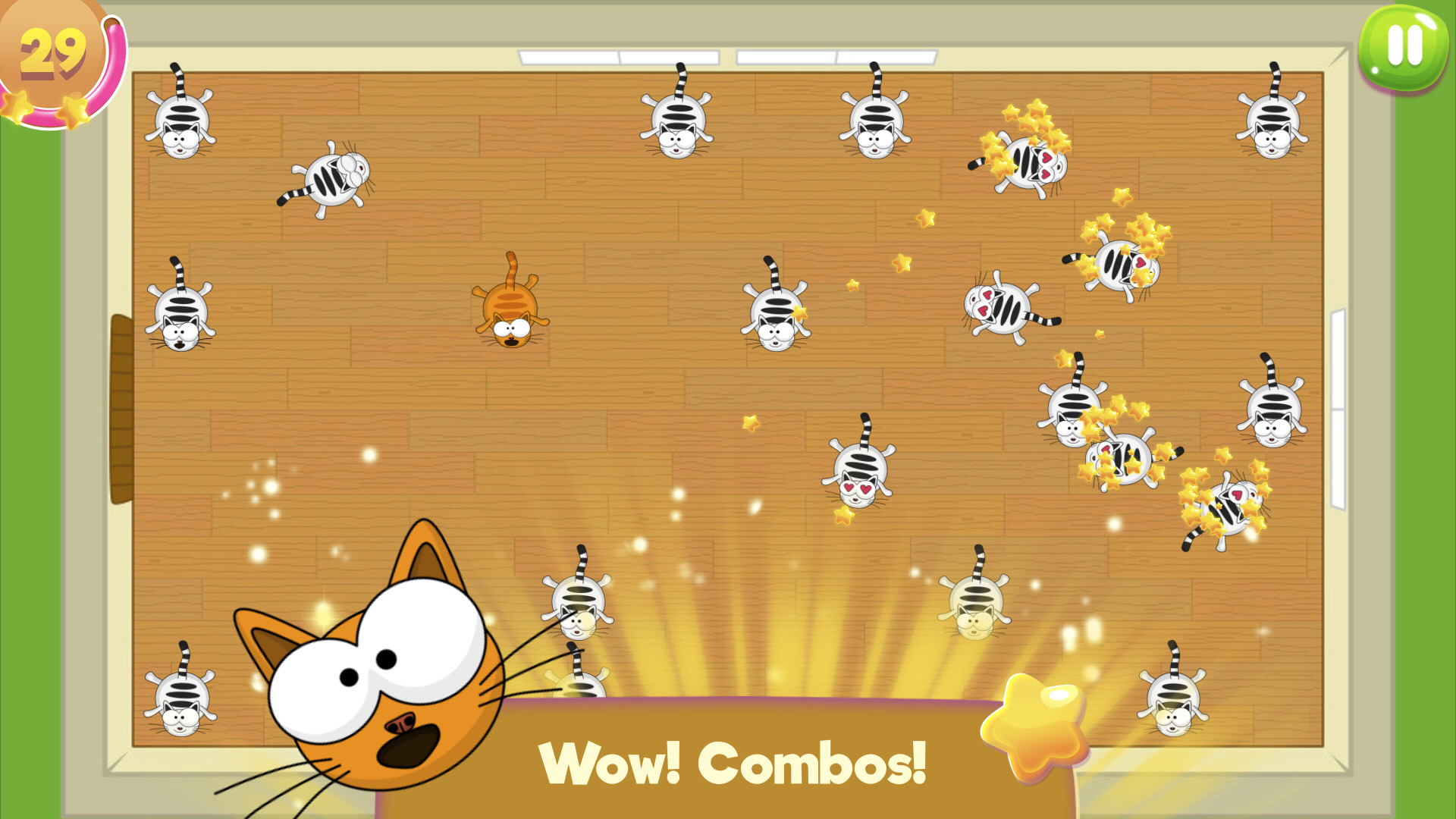 Quality of Life Features
The PC options for this title are barebones to say the least. The mobile origins have not been replaced with any kind of PC update. There are toggles for music, sound and full screen. That's it. No provision has been made for gamepad or keyboard. The whole game is mouse driven. This has been used as a substitute for the touchscreen found on phones, tablets. There's even a remove ads tab?? Why this has not been removed before the game was released on the steam store is beyond me!!
Graphics
According to the steam store, the game was given a graphical upgrade back in December. I would have hated to see the original UI artwork. The menu and level select screens components are massive and have obviously been designed for the small screens of mobile devices. That being said. The overall aesthetic is pleasant and whimsical. Bruno is basically a Garfield look-a-like. So if you like fat cats and a silly cartoon style, the game art is rather appealing.
Sound
The soundtrack is the usual throwaway stock library mobile game tackle. Full of light piano and glockenspiel based dittys, none of them memorable or offensive. Basic bubblegum muzak that seems to just fill the gap of what would be ghostly silence. Spot FX are cartoony plinky, plonks and bell chimes. Yet again the usual fare for this kind of puzzler. Solid, they serve a purpose and nothing more.
Rant
I don't normally call out developers, but I have to make a stand on this title. I'm not a PC snob and enjoy the odd basic puzzlers, even if it has legacy roots in the mobile space. There are some glaring things left over from the phone versions of this title. Facebook. I don't use the darn thing and don't want it in my PC game. The Facebook icon and integration is omnipresent in this product. I find it offensive. I don't want to inform all and sundry about my high score on a daft game.
Another first for me was after completing a set number of levels, I was bounced completed out the game, my browser kicked in and was presented with the Steam store page and asked to review the game in the App Store!!!! No game tells me when and where to review them ever. This was nearly an uninstall event. But I'll give the developer the benefit of the doubt and hopefully, this feature will be removed in a future update or patch.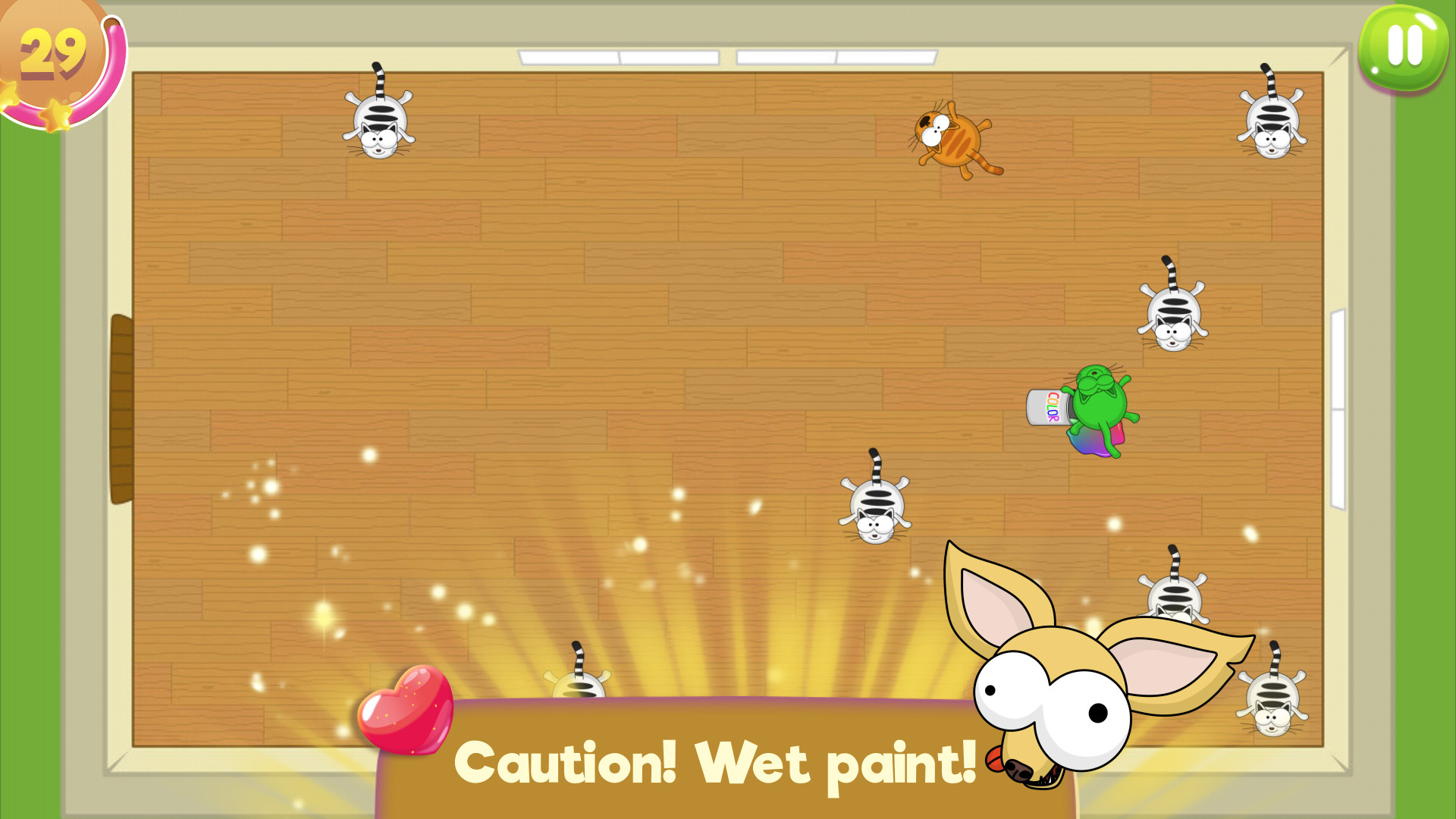 Conclusion
Flatfatcat is a cutesy puzzler with a good measure of content. 200 puzzlers should keep most folks happy for a few hours of gameplay. Recently the title has been given a price cut, but I still feel it's a tad expensive. The game also needs some UI issues clearing up. It's basic bargain bucket fare. For fans of physics-based gameplay its a solid but unremarkable product. Worth picking up in a charity bundle or steam sale.