Hexlide is a casual puzzle game, visually similar to Hexcells. Although it's quite enjoyable, it doesn't take a lot of time to beat it.
Steam:
Released
Type: Single-player
Genre: Casual, Puzzle
Developer:
Tooth Decay Entertainment
Publisher:
Tooth Decay Entertainment
Release date: 29 Sep, 2017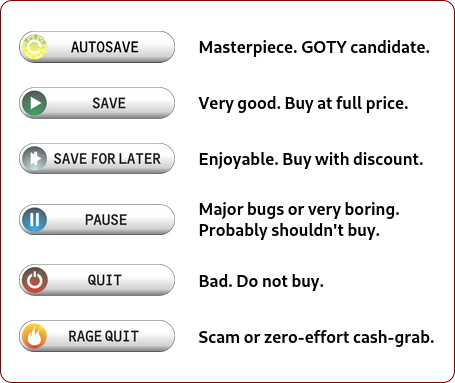 Short description
Hexlide is a puzzle game where each level starts out with a hexagonal grid. The grid consists mostly of grey tiles, some of which have a colored border. There are also some completely colored tiles and your goal is to move those to the bordered tiles of the same color in a limited amount of moves.
Hexlide initially caught my eye because I am a big fan of the Hexcells games. Although Hexlide doesn't have a similar gameplay to Hexcells, visually it looks very similar because of the hexagon shapes and the simple art style.
The main menu doesn't complicate matters too much.  When you open the game, you're two clicks away from starting the first level and this is when the main rules are explained. They aren't very complicated and you can more or less just start playing without having to pay much attention.
There are 36 levels in all, which seemed like a lot to me at first, but it later turned out that it doesn't take much time to finish all of them. Most levels are very similar to each other and nothing apart from the second color, which makes the game a tiny bit more difficult, is introduced. This is one of the main problems of the game: once you get used to the concept, it doesn't really get any more difficult and it honestly wasn't exactly brain-power-demanding in the first place.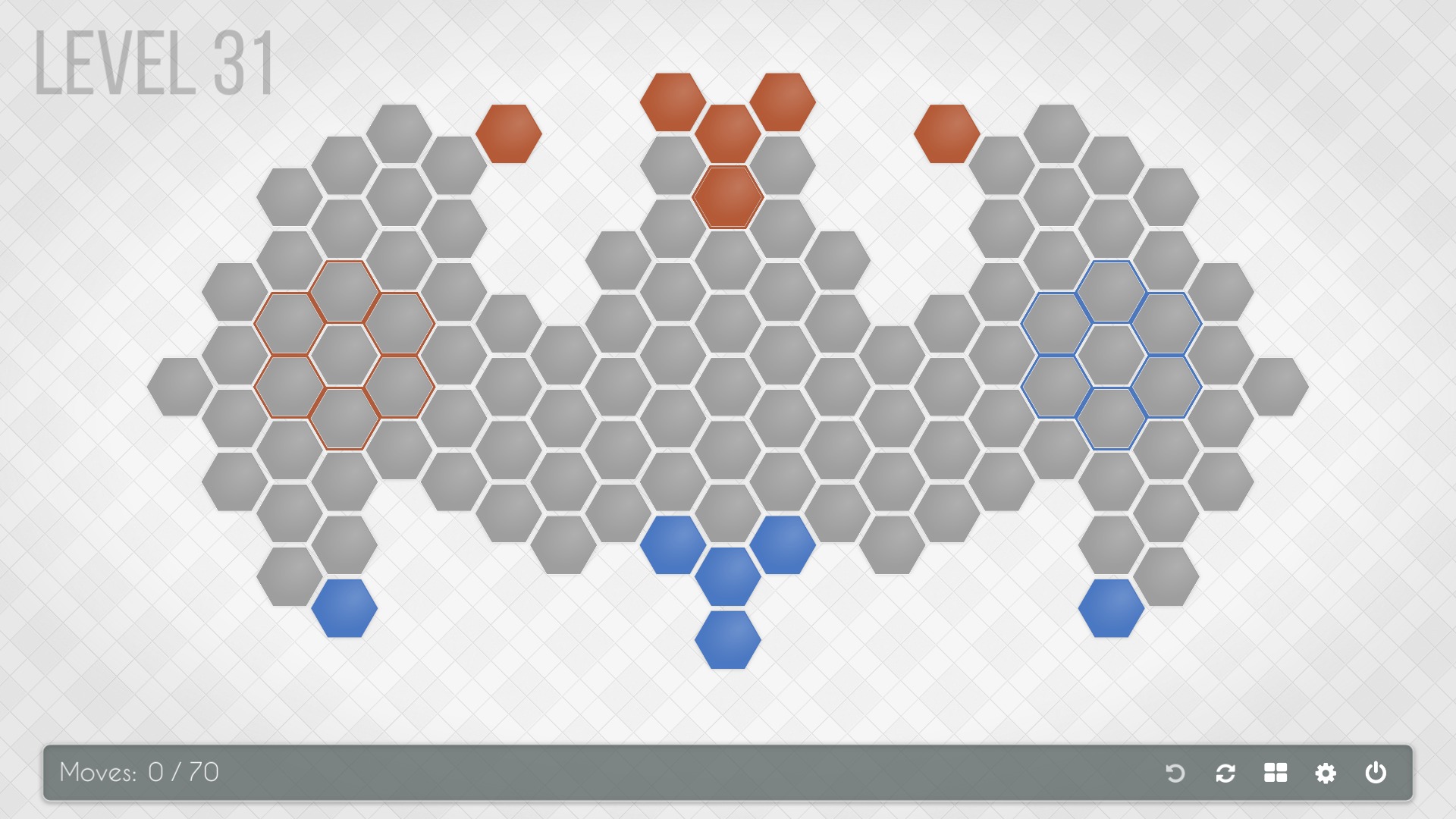 I finished all 36 levels in about one hour. Although I had a nice time playing the game, I wish there was something more to it. Sometimes I felt like I was starting the next levels just to finish the game instead of wanting to crack the puzzles. I believe the biggest problem with this game is that it gives you way too many moves to complete the level. Although using fewer moves gives you a higher score, I can't say that I've ever been tempted to replay the level just to achieve a higher score. Having fewer moves available would force the player to think a lot more in order to not lose on a level. During the entire hour I was playing, I didn't run out of moves even once and the possibility of almost running out of them occurred only twice.
After completing each level, you get to see its leaderboards. There are two tabs on the screen: the global leaderboard and the one only showing you your Steam friends. I can't say that the second one was of any use since the game is relatively unknown which is why I don't have any friends playing this game, but I found the global one to be a nice addition to the game. Should a very competitive player ever play Hexlide, having a lower score than other people might convince them to play the level again and try to perform better.
The soundtrack is quite pleasant to listen to. It features a calm melody played on a piano, which doesn't distract you from the puzzle, but still keeps your ears occupied and focused on the game. There isn't much more to say about it – overall, I just feel quite positive about it.
This time, I'd also like to mention the excellent Settings menu. There are a bunch of options for music and display related stuff, more than you can usually find in puzzle games.
You can get two Steam Achievements in Hexlide, one for completing the first level and the other one for completing all of them. It wouldn't hurt to include a few more of them, maybe if the user manages to beat a certain level with a small enough amount of moves? Something like that wouldn't hurt in order to keep the player a bit more occupied.
There aren't any Steam Trading Cards available, which is a shame. Steam Cloud saving also isn't present, but I can't say I expected an hour-long game to have that, anyway.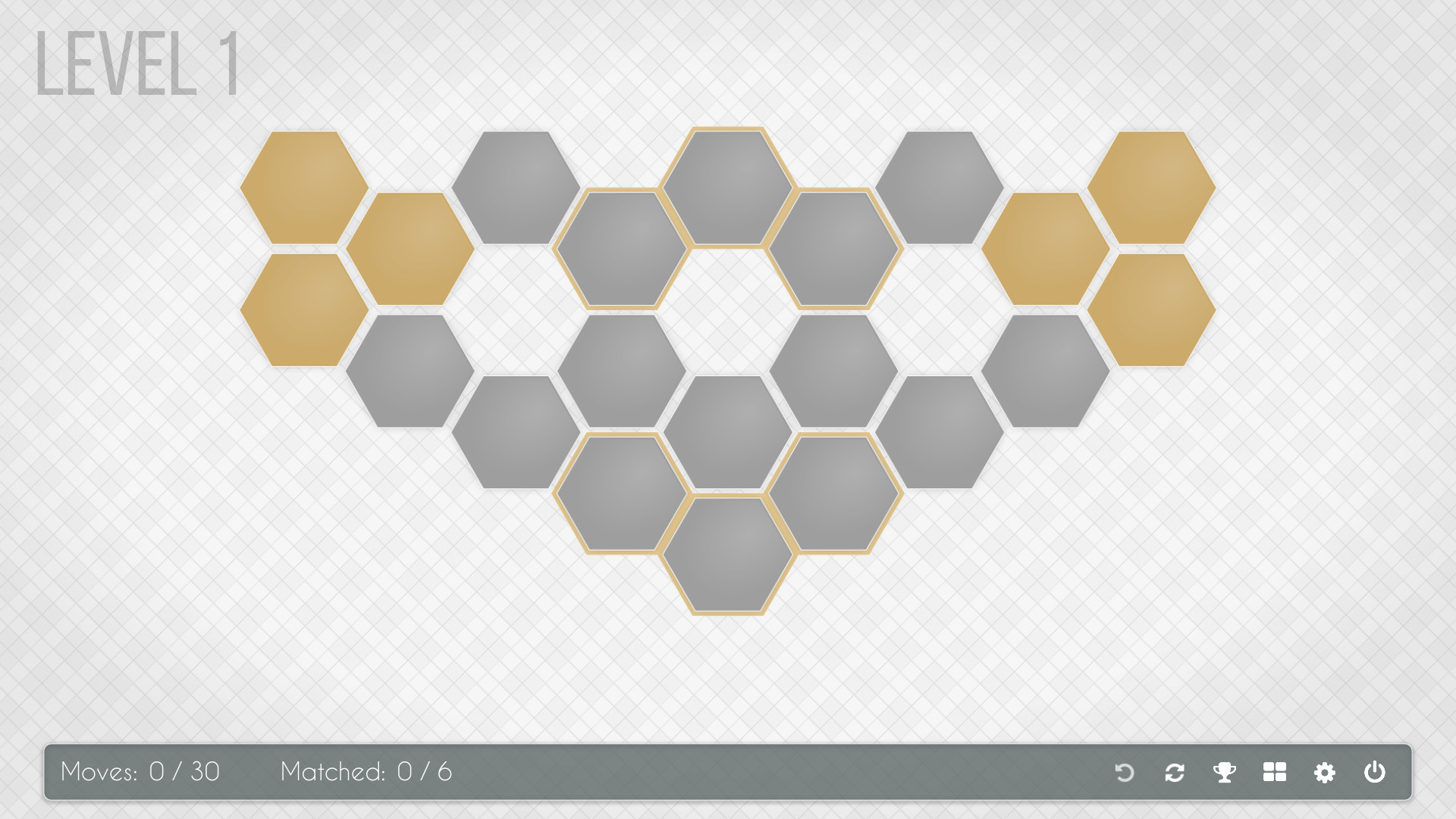 Verdict
I enjoyed the entire time I was playing this game, but I do feel like the developer is quite courageous for setting the price at $5. For only an hour of gameplay, this definitely seems a bit much. If you're a puzzle fan, you might feel like this game it a bit too easy – it just lets you beat most levels without ever making you feel challenged or puzzled, which is something most players expect to get from a game of this genre.
I do recommend this game, but definitely not at this price. Consider buying it if you see it discounted and only if you don't mind playing puzzle games that are a bit easier, otherwise you might feel like you wasted your time.
With love,
BirdCute