The store page description goes on about dancing so I was expecting a music/rhythm game but it's not that at all. Essentially it's moving left/right to keep your balance, which doesn't sound very appealing but actually there's a lot of skill and challenge to it. I'm finding it quite addictive.
Steam: Released
Developer: Digital Melody
Publisher: Forever Entertainment S.A
Genre: Dance
Release date: 16th of December, 2016
Type: Single-player, Both Local and Online Multi-player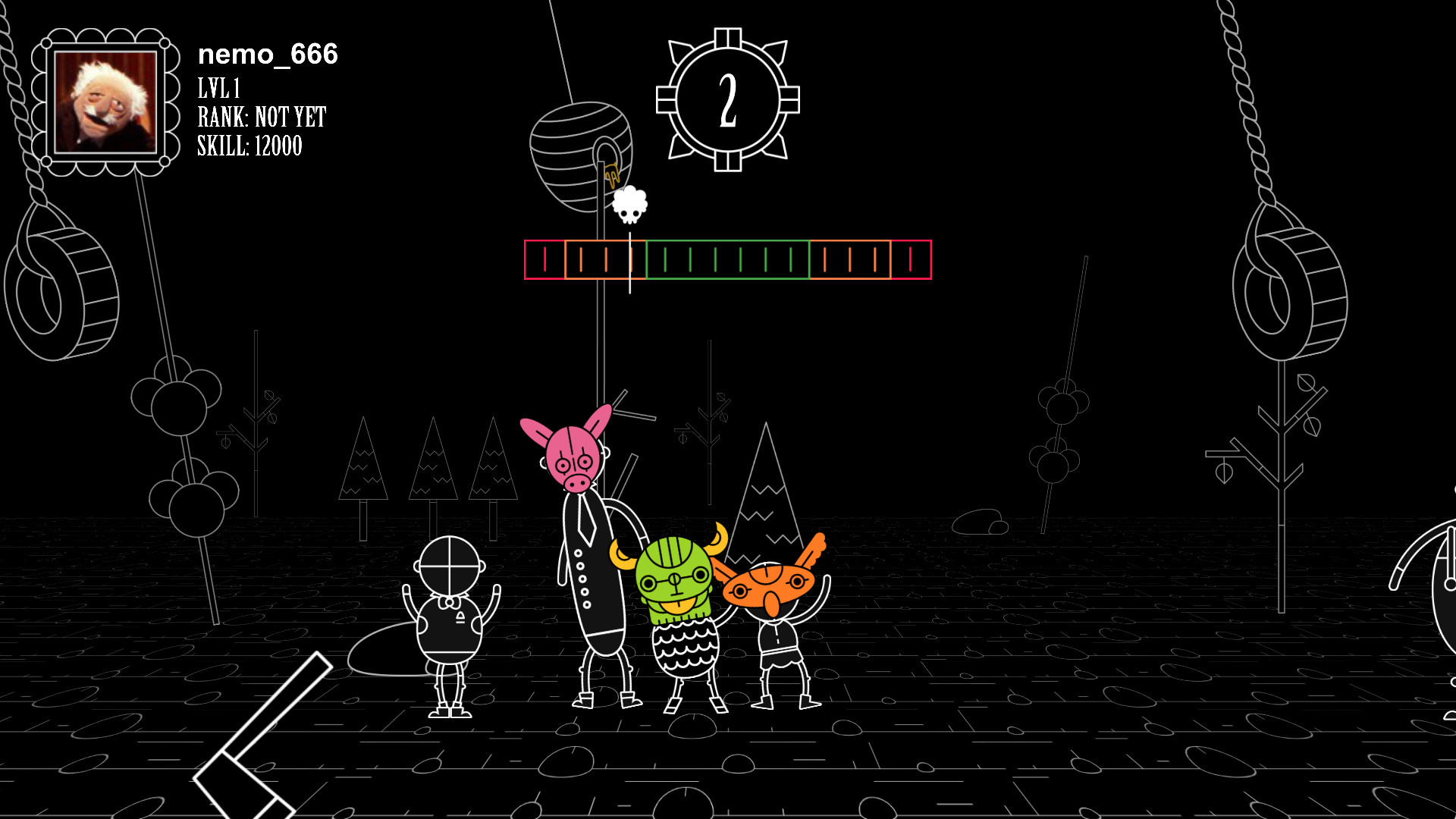 Gameplay
There's no tutorial or instructions whatsoever, you just jump in and pick it up as you go along. At first I thought it was a dancing game so I was just standing there dancing (and losing) like a lemon for a while until I realised what to do. I'll explain, so you don't have to embarrass yourself like I did.
You start each round with just your character and two other characters to the left and right. You shuffle along one way or the other and join hands, then another arrives to replace the one you just picked up, so you always have one character on each side to join the chain. As the chain grows it becomes more difficult to stay upright. If you fall over you lose the round. You're constantly adjusting left and right to maintain balance and stay upright. The chain will start drifting harder and harder if you get too many peeps on one end of the chain so you have to choose carefully which way to go. Some characters are larger than others and exert a stronger pull. Others have special masks which activate effects like 'disco shake', 'bend' (the platform tilts), upside down (that one is tricky) and a few others. These effects last only for a short time until you pick up the next person.
After you've collected a certain number of peeps a doorway appears to the next area. I won't call them levels because they don't make any difference to the gameplay, it's just different artwork/themes. You lose a couple of people from the chain as you go through the door which gives you a moment's respite but it soon ramps up again. Anyway, the difficulty lies not in the level designs but purely in the length of the chain and the effects activated when you pick up the special characters.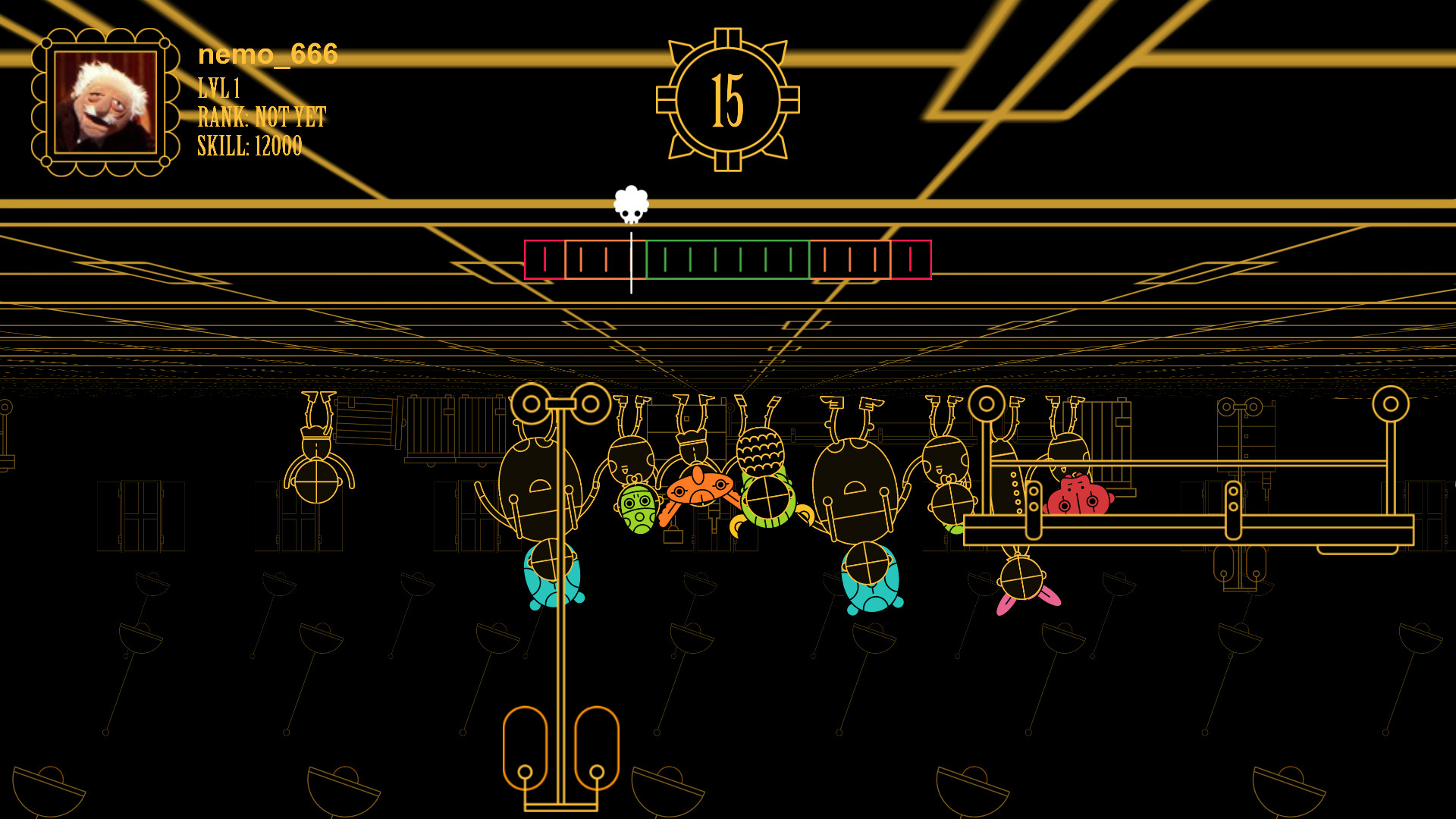 Single-Player
You can build your character from level 1 through to level 12 (maximum). Each level has its own mask and becomes more stable than the last. You can choose whichever one you want before a match, so if you want an extra challenge you can choose the level 1 (most unstable) mask. It takes only 3-4 hours of gameplay to max out your character and get most of the game's achievements along the way. You can do this entirely in single-player mode but once you're maxed out then the only remaining single-player challenge is to keep trying to increase the length of your longest chain and this soon gets old, which brings me on to…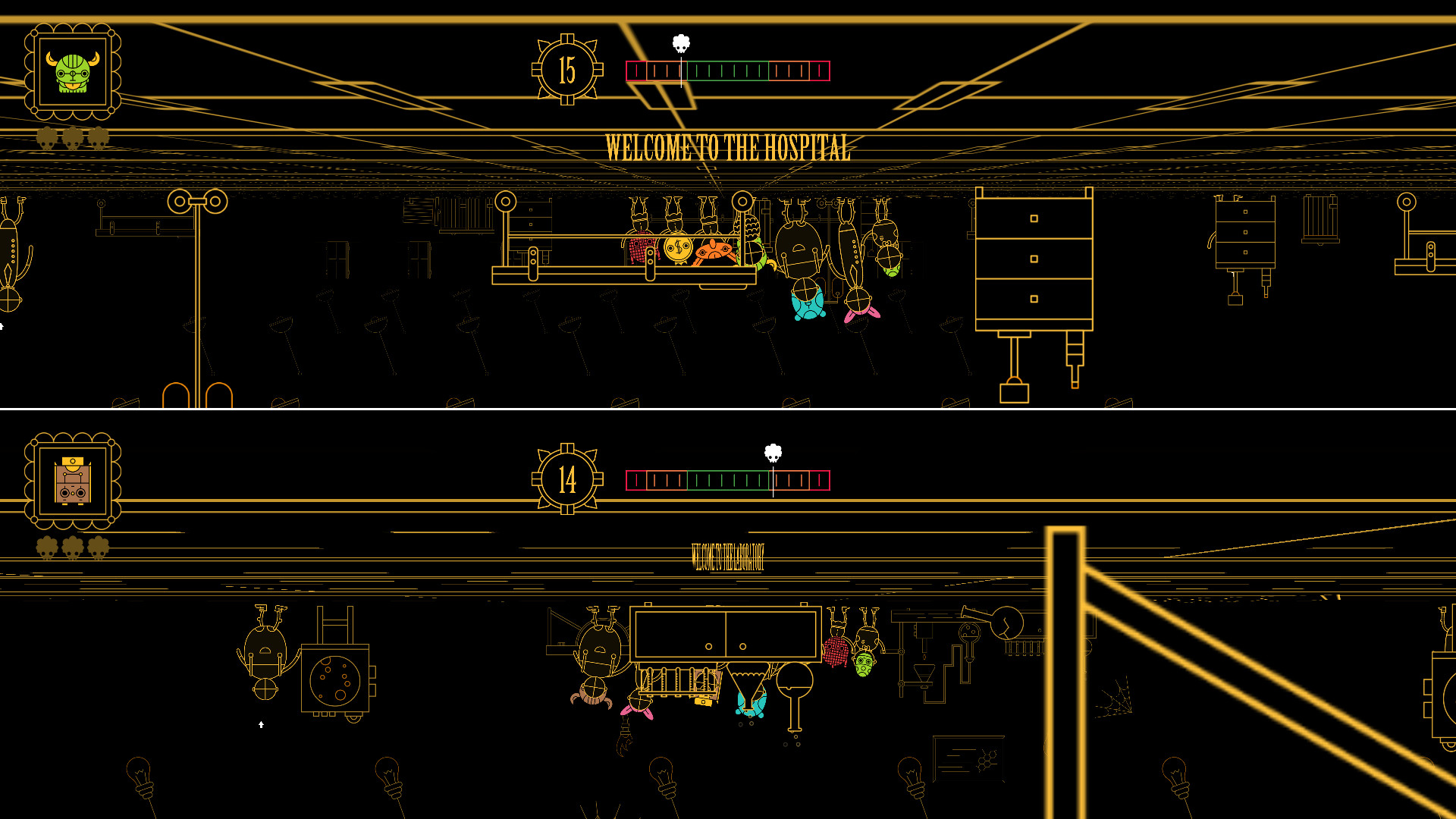 Multiplayer
The online system of this game is expertly implemented. It's simple to use, it automatically imports your Steam name/avatar and there were no glitches or lag at all when I played with another human.
As with any multiplayer game though, its success depends on how popular the game is and how active the community. The devs have done all they can to make this a great multiplayer game, not least by charging a measly $1 for it. You can either create a lobby and wait for players or you can search for an open lobby. I've tried both methods but the only human I've so far managed to play against was a friend. A match always consists of 4 players in split-screen and any empty slots are filled by bots, so I wait for a while but then my patience runs out and I give in and play against 3 bots. I can't help thinking that others are doing the same thing, so there could be enough humans online for a match but they're not aware of each other.
Multiplayer is where the skill points and rankings are. It's a series of rounds with the first player to make a chain of 25. The first to win 3 rounds is the match winner and gets skill points and rank gains. As I said, I've mostly only been able to play against bots and they are frustratingly good players. Even if I'm doing well and staying alive, they always seem to be faster than me and make 25 before I can. I've only managed to win a handful of rounds and never a match. If only there were more humans.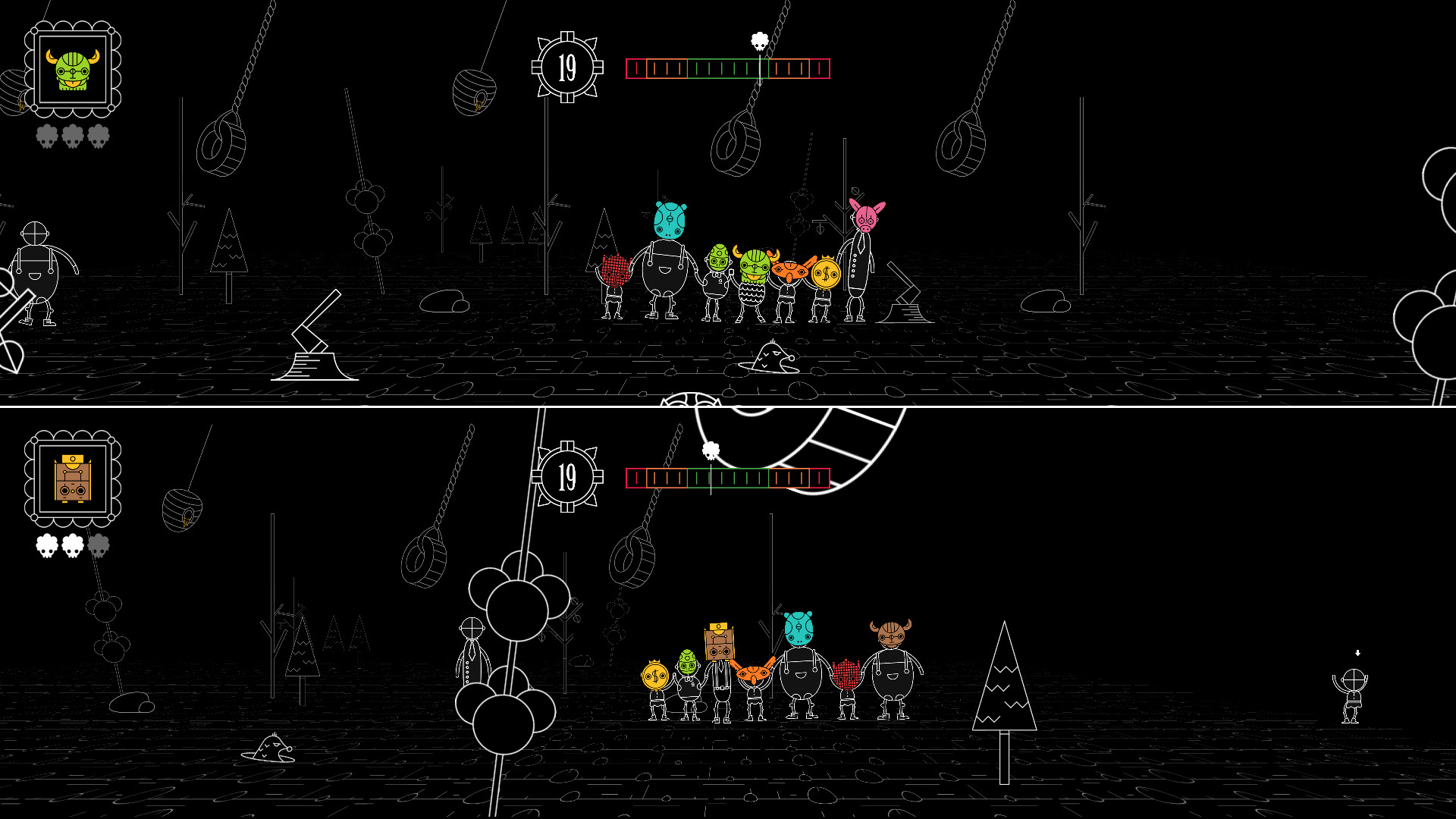 Sound & Vision
The screenshots on the store page don't do it justice. In-game it really works, with crisp line-art, nice use of colours and different themed areas: Hell, Underwater, Harbour, Forest etc. Most of the time you're concentrating too hard to admire it – if you lose concentration for a split second you're dead meat! – but now and then you glimpse cool things out of the corner of your eye like R2D2 and flying devils.
Music is fantastic and very catchy, I never get tired of it. The tempo gets faster and faster the longer your chain gets, letting you know how well you're doing and adding to the adrenalin flow.
Performance
Fully cross-platform. Absolutely rock solid with not one single glitch or anything out of place, which is unusual for any game let alone a $1 offering. All the menus and settings are super slick and simple to use. Couldn't be improved.
Steam
It has aaaaaalllllll the things! The list is too long, just check the store page.
Value
This should not be a $1 game. It's worth at least $5 or even $10. I think they've made it $1 to give multiplayer the best chance of success, and you should absolutely take advantage of that right now!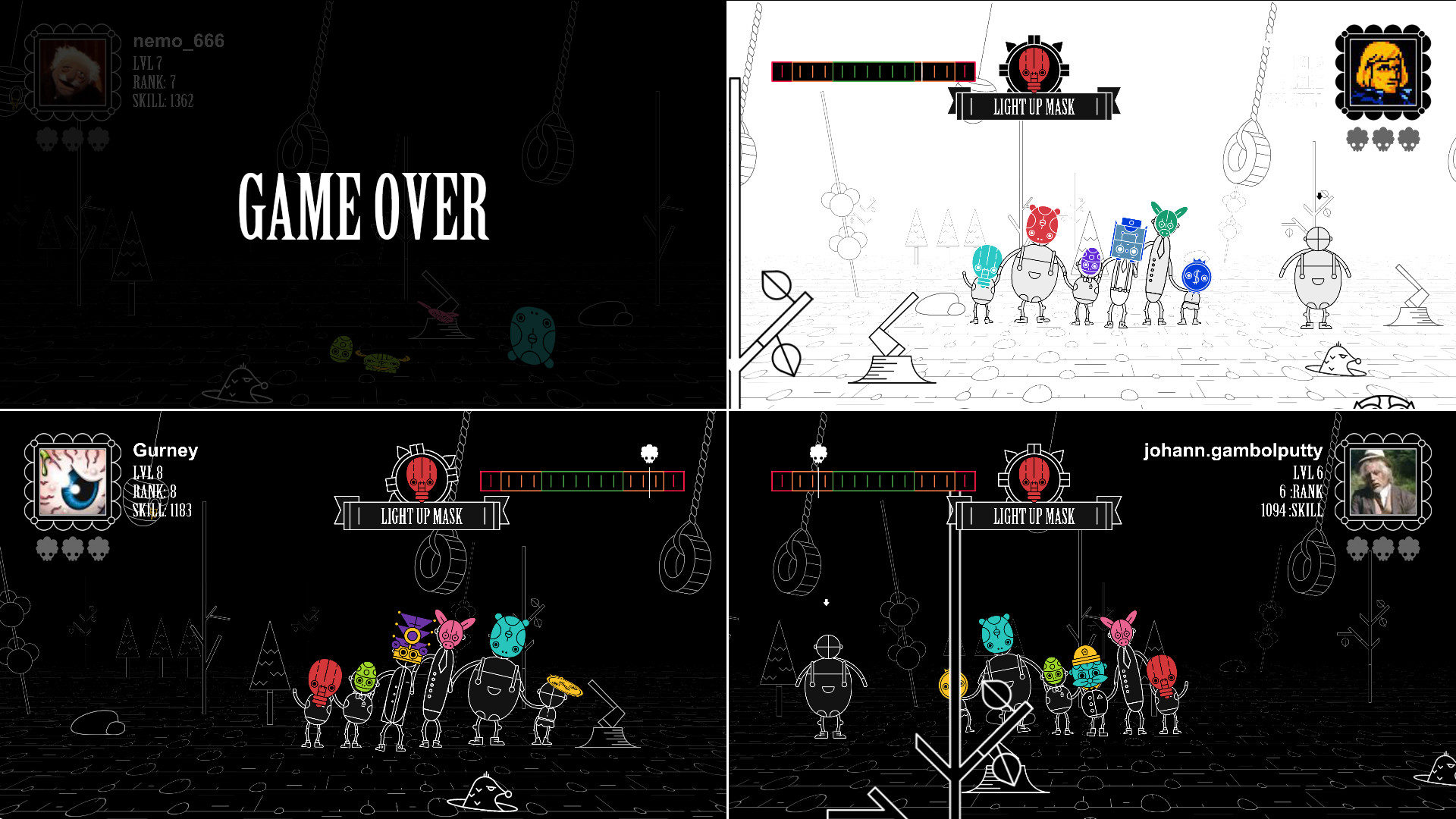 Verdict
The game mechanics here are simple but it's a highly-polished, challenging and exciting game once you get some experience and start competing online. The price is criminally low and it's a no-brainer must-buy! If nothing else, the sheer length of this review should tell you that it has more depth than first appearances might suggest.
As you might have guessed by now, I'm a big fan of Masky. The only problem is that not enough humans are playing it yet and the bots are hard as nails.
RATING: 87/100