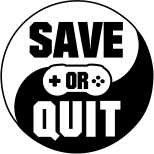 Mar
25
Vikings, and Jotuns, and Trolls! Oh, my!

Jan
28
It is often said hard work and perseverance will one day pay off… on the other hand it could be you might just be working yourself right out of a job.

Sep
18
Labyrinth of Refrain: Coven of Dusk allows you to dungeon crawl with an entire custom-made army. Sweet.

Jul
22
Bang Bang. Gal*Gun 2 sets out to make cupid's bow look like a ten cent water pistol.

Nov
04
After such a difficult time with the Wii U console, Mario is back with Super Mario Odyssey.  Is it a game changer for the Nintendo Switch?

Oct
05
 Take my arm and I'll take your eyes!

Aug
30
Phantom Trigger tells the story of Stan. I think. And that's kind of the problem.

Mar
07
Switch is a hard-as-nails puzzle platformer. Let me repeat, it is HARD!!