Bomber Crew wants you! Enlist in the USAAF DLC on PC
As it approaches the one year anniversary since Bomber Crew's launch, Runner Duck Games are thrilled to announce that the game's second DLC, USAAF DLC, has landed!
The latest DLC includes a new campaign featuring nine crew members, the iconic American Bomber, new enemies, which attack from the skies and sea, as well as plenty of aviator sunglasses!
USAAF DLC has launched on PC and will come to consoles in 2019. The DLC can be purchased as part of the Season Pass, which you can find more information about in the press release below.
Developed by Runner Duck Games and published by Curve Digital, Bomber Crew is a strategic simulation game, where picking the right crew and keeping your bomber in tip top shape is the difference between completing your mission or losing it all!
Command the skies in a brand new Theatre Of War
Let your star-spangled banner fly, Patriots – Bomber Crew's USAAF DLC wants you (yes, you!) to join the USAAF on PC (consoles 2019).
This DLC pack offers the biggest and best planes you have ever seen. So big! Very large! Extremely American! Salute the skies and fly your flag, along with the iconic American Bomber – a nine-crew member beast – across an all-new, never before seen Theatre of War.
Get ready to face new threats both in the air and from the sea as you guide your crew to victory and make Uncle Sam proud. Do your part for liberty. For freedom. For military and global dominance.
"After the hugely successful release of Bomber Crew, it became clear that players were hungry for more content – most notably for the chance to captain the most iconic American Bomber of World War 2!" said Dave Miller, Co-owner of Runner Duck. "We got straight to work, building a brand new detailed Bomber bristling with gun turrets and ready for an expanded crew of 9 heroic yanks. We're proud to present the USAAF DLC for Bomber Crew! It's ended up containing far more content that we first imagined, but we believe the extra work was necessary to do justice to this incredible aircraft and the brave crews of the USAAF."
"Bomber Crew has been a huge fan favourite since it's release, and we can't wait for them to get their hands on exactly what they've been asking for, for a long time" said George Morgan, Product Manager for Curve Digital. "We've all been listening to feedback and requests, and the iconic American bomber has been a huge desire for so long. We can't wait to see what players do with more crew, more gun turrets and more aviator glasses than ever before!"
Enlist now by purchasing the Season Pass, priced at £9.99/€9.99/$9.99, for access to all the announced and released DLC. The Season Pass offers a significant saving to purchasing all DLC separately. Buy in bulk, get savings – it's the American way.
Bomber Crew: USAAF DLC is coming to Xbox One, PlayStation®4 and Nintendo Switch in 2019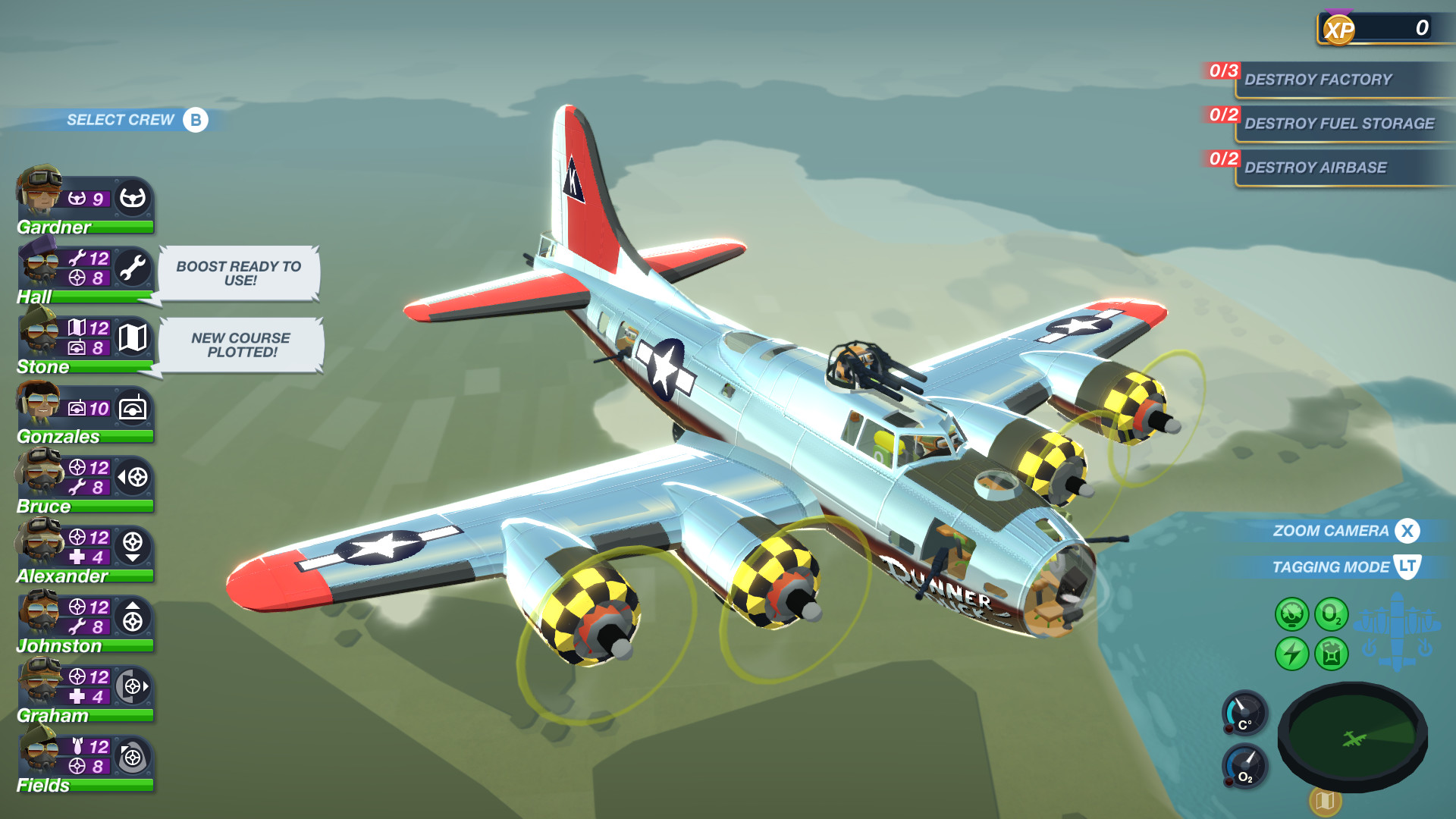 About Curve Digital
Curve Digital is one of the world's leading publishers of games on PC and consoles. Since 2013, the company has been working with some of the world's best game developers to help bring their games to the broadest possible global audience, from indie hits like Dear Esther to the likes of the multi-million-selling Human: Fall Flat. In 2017 Curve Digital was recognised by the celebrated Develop Industry Excellence Awards as 'Publishing Hero' an in 2018 was crowned the 'Indie Games Publisher of the Year' at the MCV Awards. Most recently, the company was shortlisted for the 'Publishing Hero' at the 2018 Develop Industry Excellence Awards.
About Runner Duck Games
Runner Duck Games is a two-person indie studio founded in 2016 by artist Dave Miller and programmer Jon Wingrove following an extensive stint at Relentless Software. Throughout their careers the pair have worked on a series of both indie and AAA franchises across mobile and console including Buzz! and DiRT 2. Runner Duck Games is based in Brighton, UK.