An excellent 3D puzzle game that's also a great representative of the Steampunk subgenre.
Author: UN0W3N
Steam: Released
Developer: Anticto
Publisher: Anticto
Genre: Adventure Puzzle
Release Date: 19th of February, 2016
Type: Single-player
General Impression
'Tis here game. I like it. Steampunk subgenre on Steam is certainly not as visible as cyberpunk. Being a fan of both, I knew it was only a matter of time until a dev team would show proper attention to detail and affection for faux Victorian Age machinery. And I was right. That time has come and Steamroll is unlike any puzzle game I've played in recent memory. Anticto impressed me. This is their first Steam project.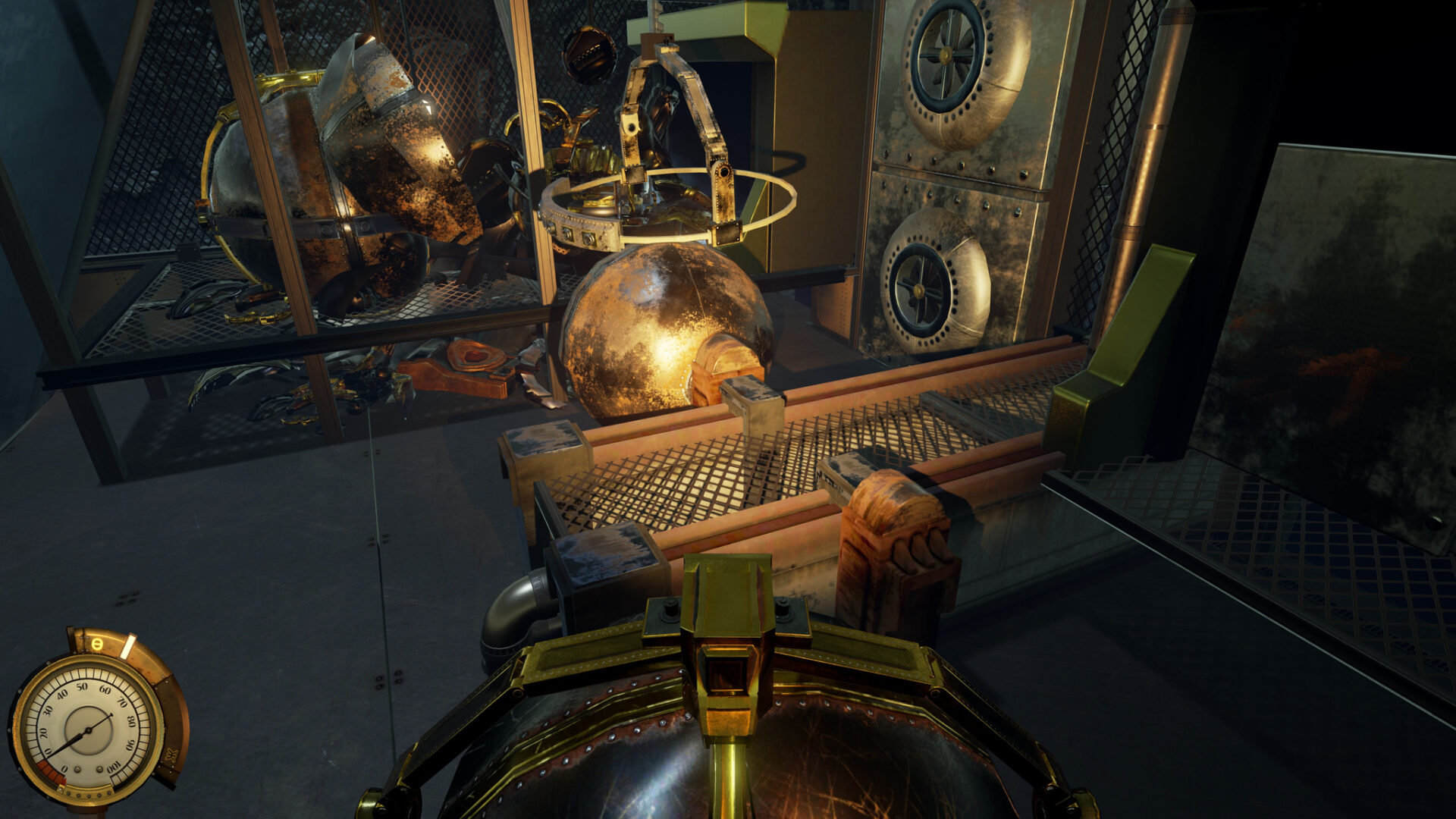 Unity Engine shows versatility once again, provided it reaches capable hands. Steamroll is hard to pin down to the puzzle genre alone since besides physics-based puzzles (minigolf-like, if you will) it strives to be a story-driven experience and for the majority of its gameplay it succeeds in this. A well written plot that's sprinkled with comic relief and constant engineering jokes. Let no one claim ever again that engineers are humorless. You roleplay as a rookie operator of a SCARABEUS Mining Mod.18 which is, to put it in simplified terms, a mechanical sphere used by miners to work in Steamroll's hazardous environments. Dev team really made an extra effort in drawing up all those diagrams detailing the exact measurements, effects and mechanical aspects of your new job, as if you were handed over a user's manual for your new Sphere.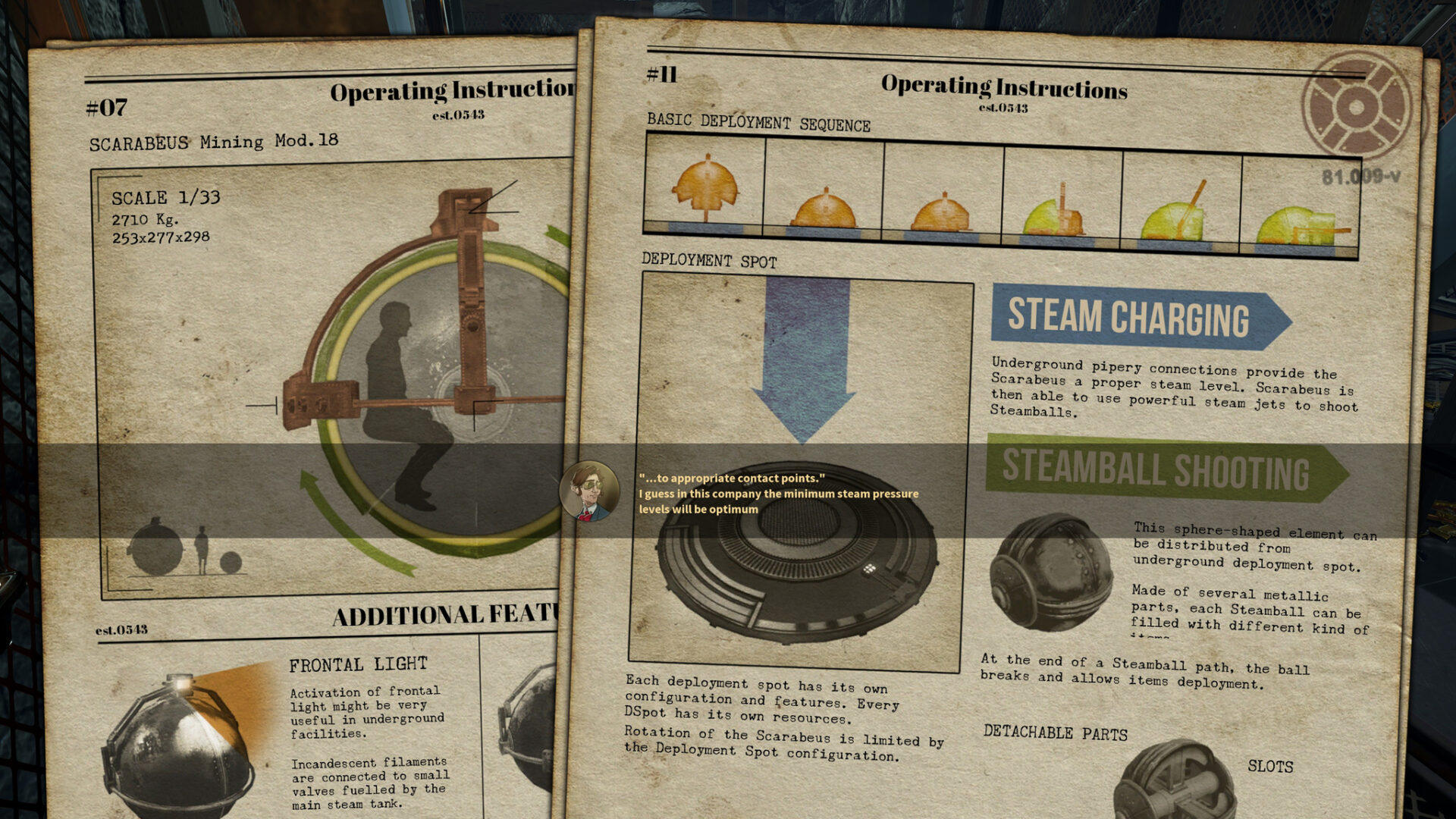 It wouldn't be called "Steampunk" without proper use of steam power, right? The game's User Interface is straightforward but nicely simulated with a pressure dial on the left side of the screen and another dial on the right, with a steamball selector for ammo or walls and ramps. What's that all about? Well you didn't think you would mine by smashing your state-of-the-art metal scarab head-on into whatever's standing between you and the end of each level, did you? Our trusty steampunk sphere has two operating modes. One involves rolling along while in transit and the other mode is an anchored position from which you can shift into a steamball launcher. These balls serve as the main puzzle solver since you'll have to make clever use of them, by bouncing walls and other structures, in order to hit a switch or remove debris. It varies by situation and you are fortunate enough that these steamballs are quite versatile. They can be equipped with anything from mobile walls and ramps to even good ol' explosives. Because nothing spells "mining" more than blowing rocks up! And other things, including yourself, if you're not careful.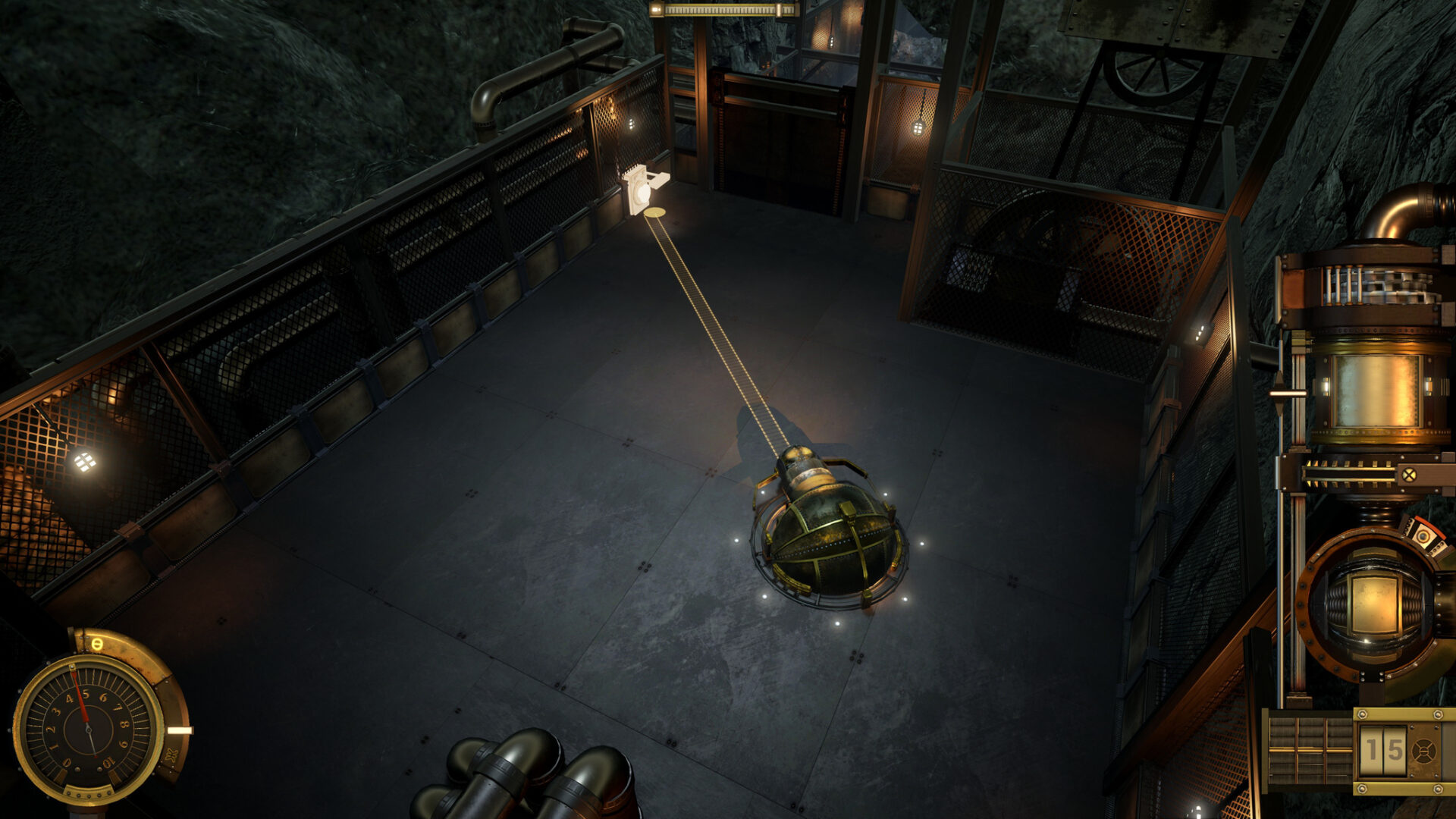 Plenty of ways to fail a level since deathtraps are at every miscalculated turn. You see, the SCARABEUS, being a steam-powered huge rolling sphere and all, you can't really dash in a straight line by your heart's desires. You will have to bounce off walls and ledges if you are to move from point A to B. Takes some time getting used to this, but I call it part of the experience. The game is never unforgivingly difficult and you always have a prediction line, clearly estimating the path of your launched steamballs. As with most video games, the key to success is a mix of patience and quick reflexes perhaps if you're into speedruns. I like to take my sweet time and explore the surroundings, collecting screenshots and all that jazz. You know, the regular stuff.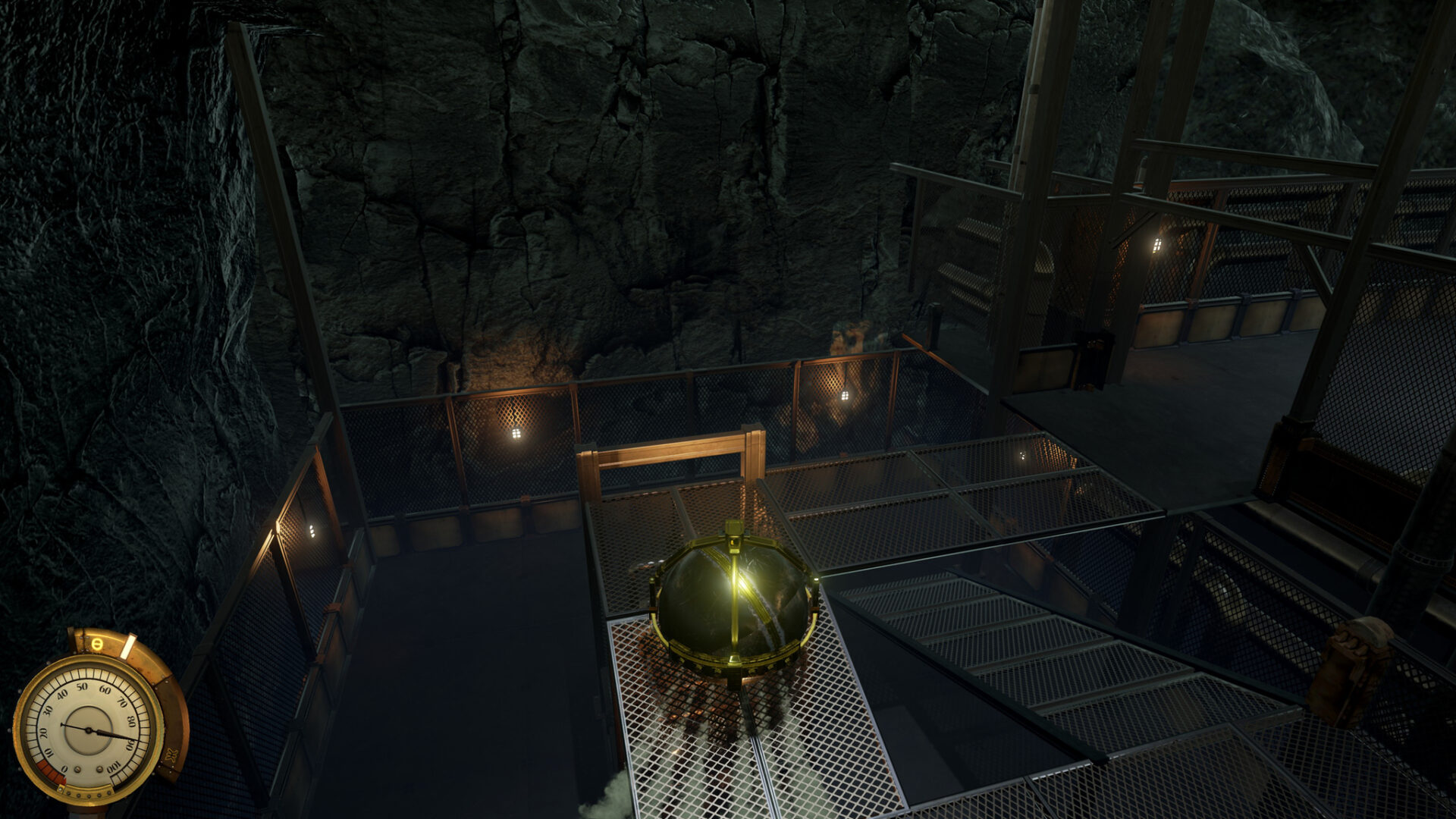 Steamroll isn't overpriced at all, given the state in which it presents itself along with the inclusion of both Cards and "Cheevos". In fact, it was bundled recently and it shall be found in such offers in the future as well. Quality titles such as Steamroll tend to appear every now and then in well-priced deals, just to draw attention to it while you neglect the run-of-the-mill titles bundled along. Surprisingly few cons to this title. I had to be nitpicky just to choose two weak points. Only 18 (relatively short, once you get the hang of it) levels so far. More would really be welcome, Anticto. Full Steam Ahead!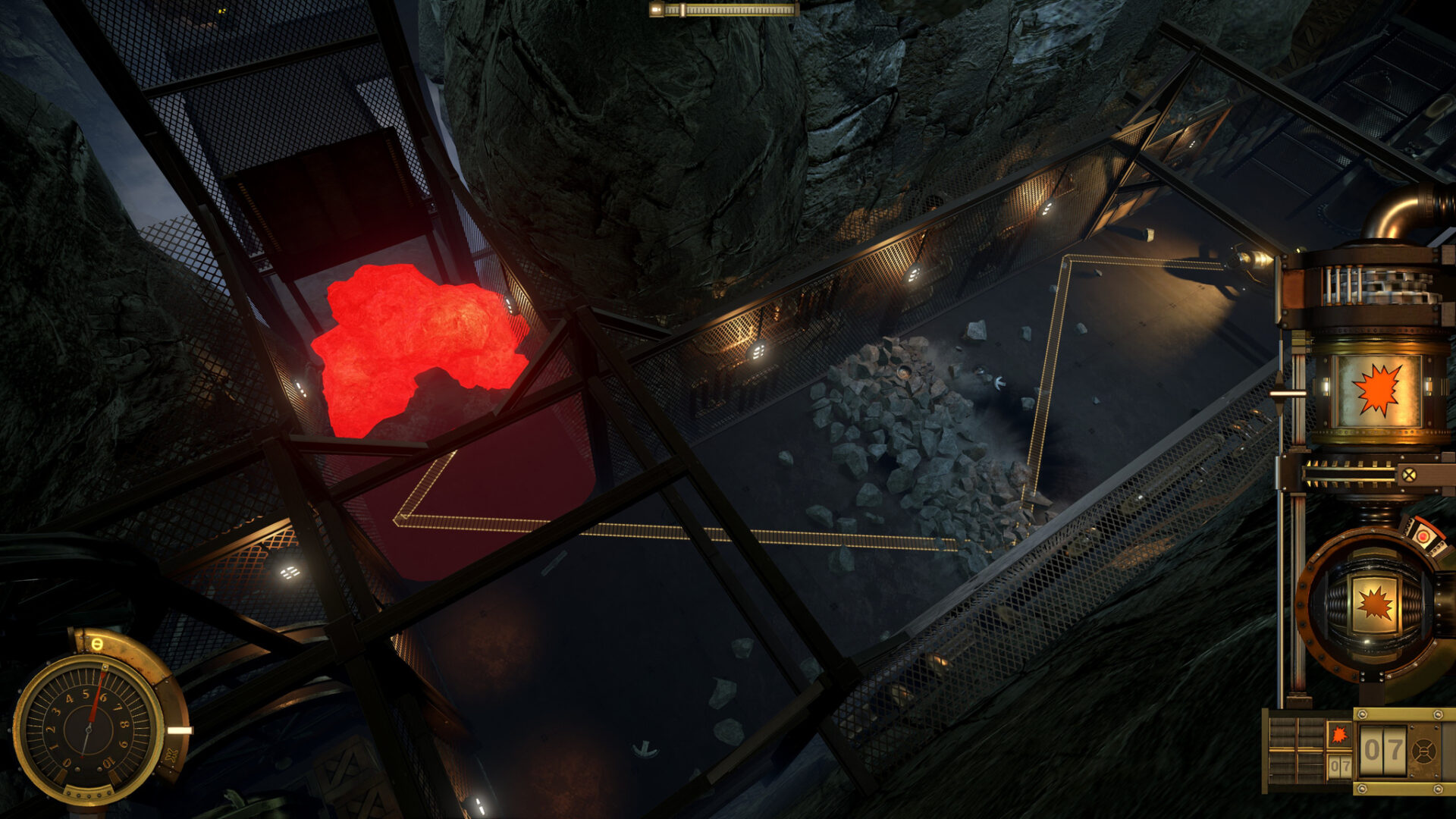 Strong Points
+ Beautiful visual style.
+ Interesting mix of steampunk elements and clever puzzles.
+ Steam Achievements & Trading Cards.
Weak Points
– Lacks in the sound department.
– Not a lot of replay value.
VERDICT: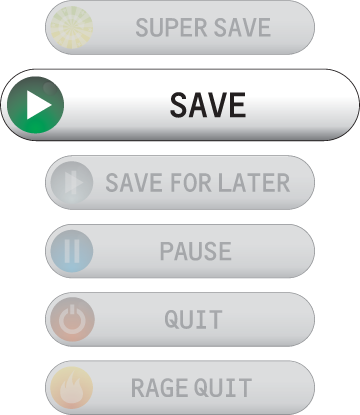 (click on the image to see the rating explanation)
All the screenshots you see above, have been taken by me in-game through the Steam Overlay.