A deadly single player puzzle adventure that tells the rather peculiar story of a dastardly deity, a rhyming space hen and a game show that saved the world.
Steam: Released
Type: Single-player
Genre: Adventure
Developer: Freekstorm
Publisher: Freekstorm
Release Date: 26 Jul, 2017
The game tells the story of an immortal trickster and his deadly galactic game show. (Think The Running Man meets Portal and you won't be too far out.) What originally started out in 2010 as Freekstorm's small indie gaming project turned into a full length PC adventure (10+ hours of gameplay plus map editor) and they are finally launching on Steam today. If you like peculiar stories with a philosophical twist then it might appeal.
Description
You have been selected to appear on the biggest and best show in the galaxy: The Obliteration Game. Controlling three talented contestants, you must pit your wits against Doctor Kvorak himself, an immortal trickster who will challenge you every step of the way. If you win, your success will be celebrated throughout the galaxy. Such skill, such fortune, such heroism! But all is not what it seems, for if you lose then you risk the very annihilation of your world.
Doctor Kvorak's Obliteration Game is a deadly puzzle adventure for Windows PC, with full VR support (HTC Vive, Oculus Rift/Touch). The game appeals to players of all ages and features a full VR map-editor integrated with Steam Workshop.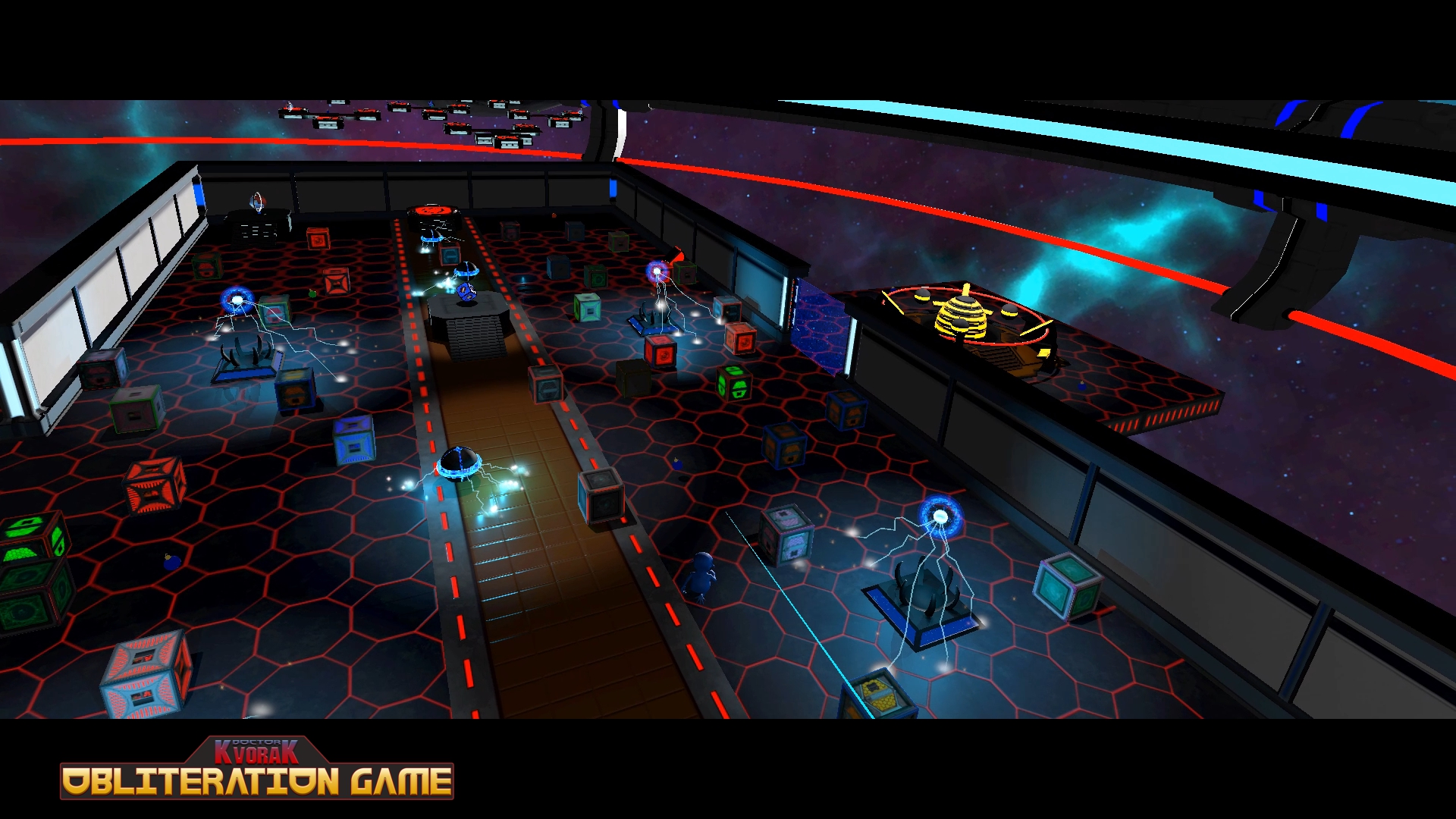 Features
Play the ultimate game in the galaxy – defeat dangerous traps, solve complex puzzles, rescue your friends and save your world from certain doom
Control three individual characters, each with their own special power, who must work together to outwit the evil Doctor and win fabulous prizes
Collect weird and wonderful artefacts to unlock skins for your contestants
Follow a fully crafted story told over fifteen challenging game zones, with unique dynamic camera view allowing you to play from many different perspectives
Explore the fascinating story of an omnipotent being's inner journey through his own enormous ego and solve the mysteries of life itself
Create and share your own maps using the comprehensive level editor, fully integrated into the Steam Workshop (PC Desktop and HTC Vive)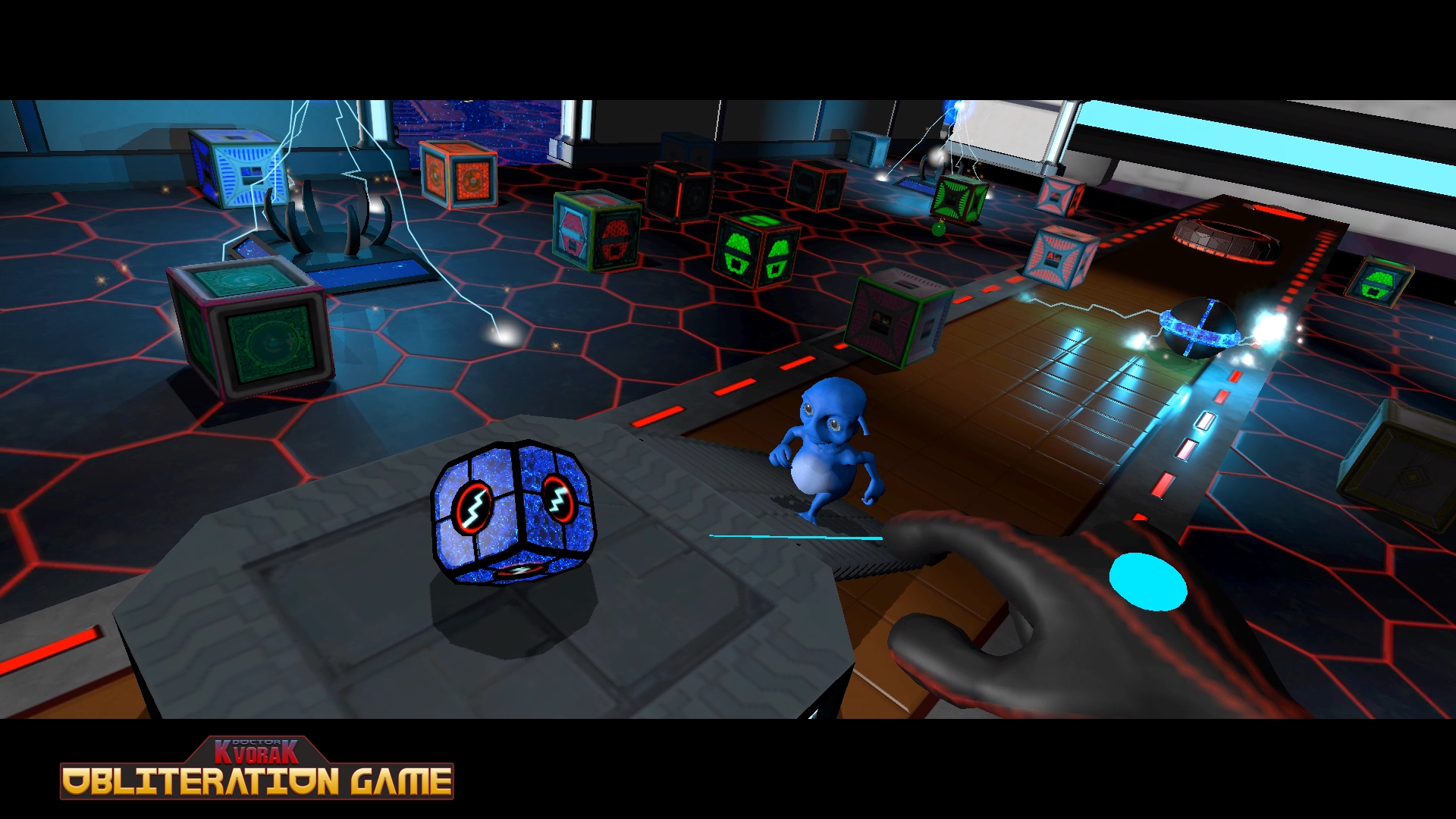 History
Freekstorm is a family studio of British indie game developers, based in Cambridgeshire, U.K. and founded by Richard and Lin Bang in 2008.
After successfully creating a short animated film Doctor Kvorak Destroyer of Worlds for an international film festival, they realised that they were rather attached to their dastardly green friend and decided to continue his adventures in the form of a game. They have been working on Doctor Kvorak's Obliteration Game ever since, along with the help and support of their three talented kids who all play active roles in developing the game. In true indie-style, all aspects of the game are developed by the family in-house, including characters, assets, gameplay and audio.
The Future
The final release of Doctor Kvorak's Obliteration Game is released today on PC, with full support for the HTC Vive and Oculus Rift/Touch. They hope to release the game on other platforms later in the year. Basically if Unity supports the platform, then Doctor Kvorak wants his game on it. He is omnipotent, after all.