Beating a path to release in North America on 15th October (PS4/Switch)
Released: PS4 /
Switch
Type: Single-player
Genre: Beat 'Em Up
Developer: TAITO Corporation
Publisher: ININ Games
Release date: 15 Oct, 2019
ININ Games, a publishing label of United Games Entertainment GmbH, is pleased to announce The Ninja Saviors – Return of the Warriors, Taito's iconic and classic beat 'em up arcade hit is only two weeks away from North and South America release. Already highly acclaimed in Europe from its earlier release, the long wait for American gamers is nearly over. The Ninja Saviors – Return of the Warriors will be released digitally on PSN and eShop for 19.99 USD.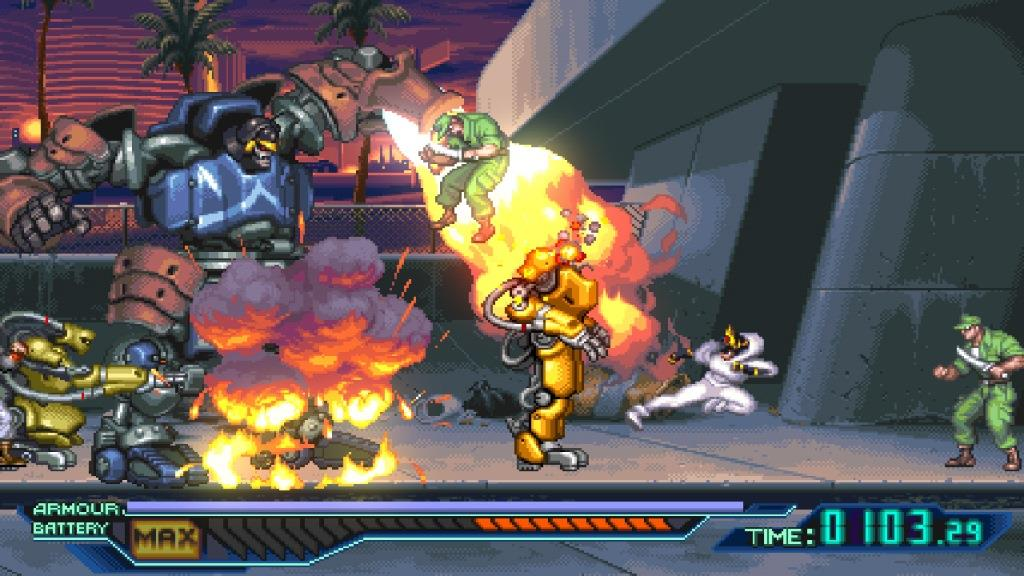 There will also be a special day 1 physical edition available in stores for both, Sony PlayStation 4 and Nintendo Switch for 29.99 USD. The first print physical release will come with a printed manual, stickers, as well as a poster. In addition, there will be a special compensation gift for the delayed launch in the form of two-character cards depicting the new characters Raiden and Yaksha. The cards will be exclusive to North America.
TENGO PROJECT, the original development team, has elevated THE NINJA SAVIORS – Return of the Warriors to new heights with a re-mastered reboot, plus even better audio and visuals with the 16-bit pixel art of the classic SNES version being retained, but significantly revised, along with cool new animations.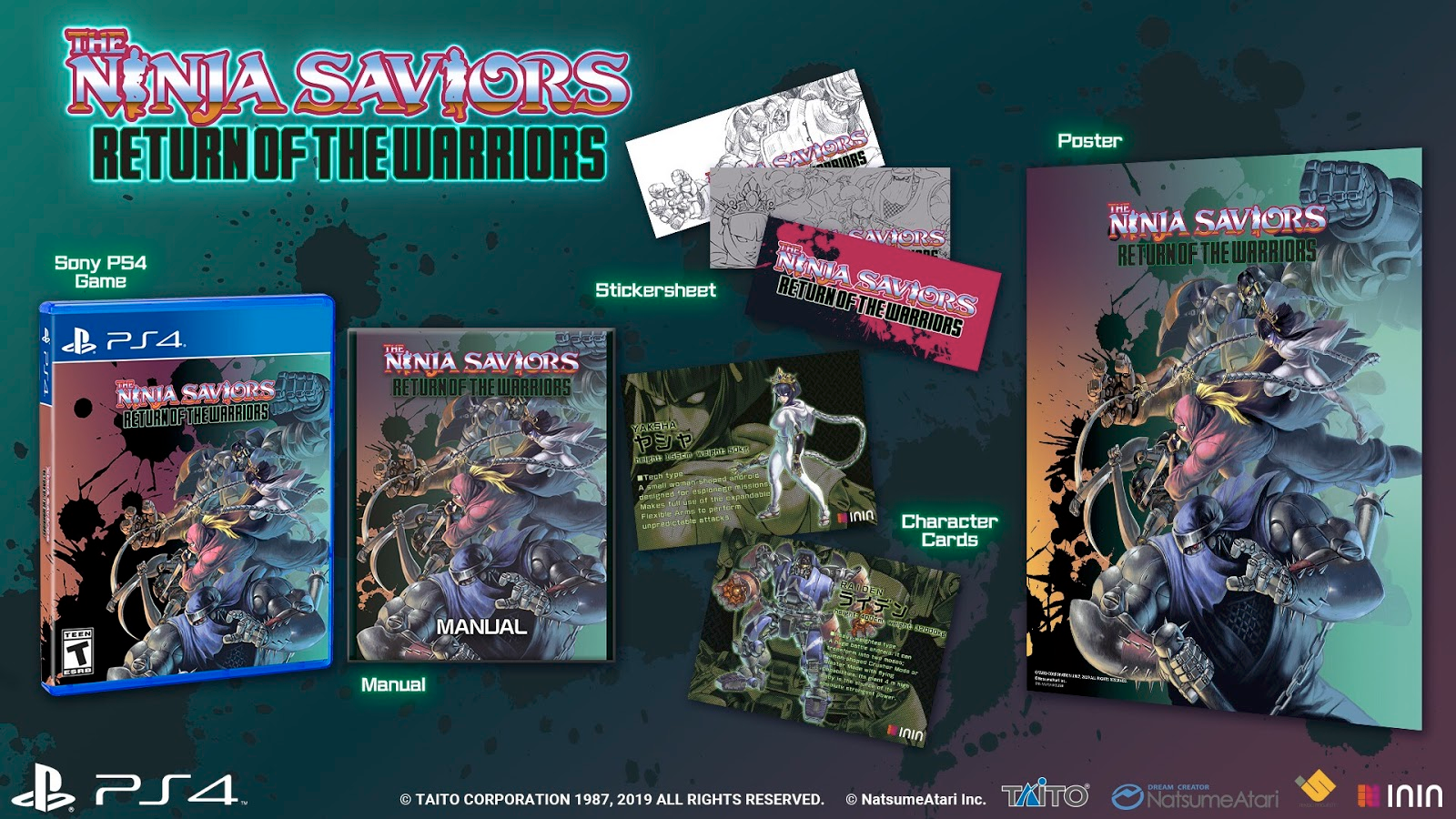 In THE NINJA SAVIORS – Return of the Warriors, players assume the role of one of five android ninjas to take on the tyrant Banglar, and his henchmen, with a variety of individual moves in a dystopian future. Along with two completely new characters, the fully revised side-scrolling arcade brawler also finally offers fans the eagerly awaited two-player co-op mode and an online ranking system so that you can measure yourself against fighters from all over the world. In a total of eight levels, players will brawl their way through waves of enemy hordes, either alone or in pairs.
The legend continues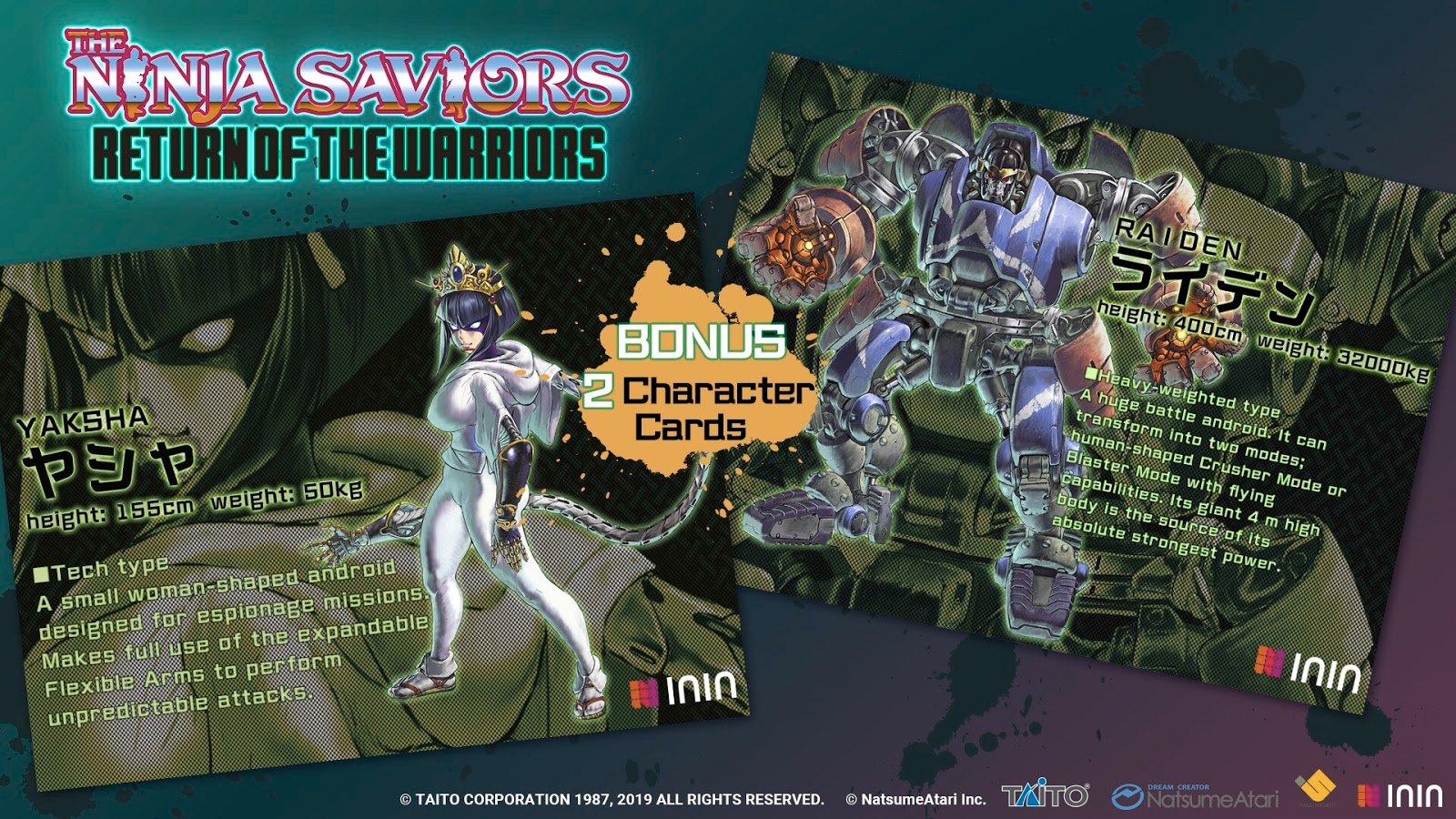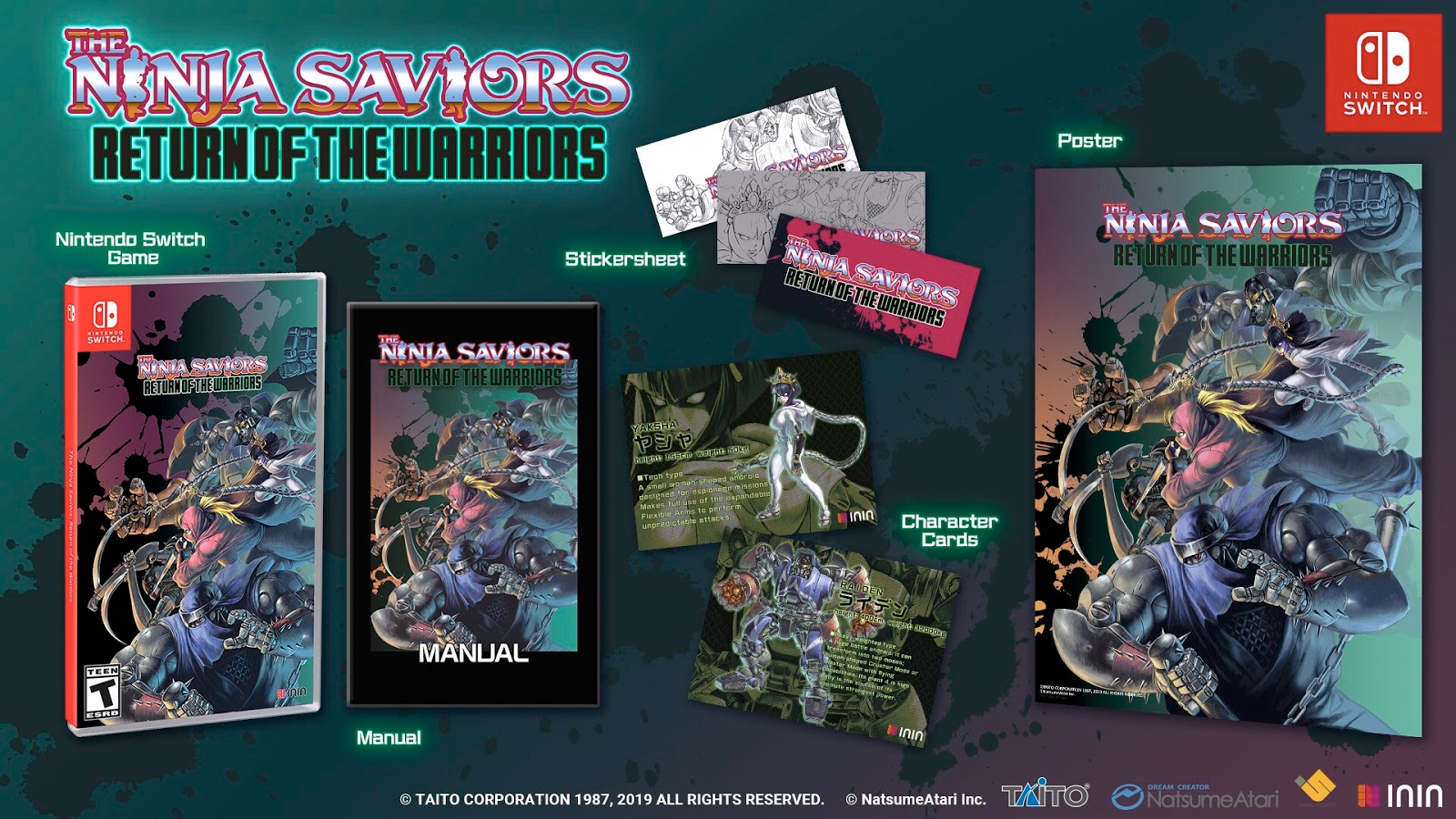 About ININ Games
ININ Games, the new publishing label of United Games GmbH, focuses on the classic digital and physical marketing of high-quality retro, indie and arcade titles. Along with undisputed classics, numerous other milestones of gaming culture are in the planning and will be announced in the coming months. More information about ININ.
About TAITO Corporation
TAITO Corporation (TAITO) is a wholly-owned subsidiary of Square Enix Holdings Co., Ltd. With headquarters in Tokyo, Japan, TAITO operates core businesses such as game arcade operations, coin-operated game machines, and mobile phone content services. A seminal part of gaming history, TAITO caused a worldwide sensation with its arcade legend, SPACE INVADERS, and developed such fan favorites as PUZZLE BOBBLE (BUST-A-MOVE) and ARKANOID. Today, TAITO continues to thrill game lovers of all generations by offering both classic and new family-oriented titles on the latest gaming platforms. TAITO delivers a wide range of entertainment experiences with the goal of providing consumers with fresh surprises and new discoveries. More information on TAITO.