All the fun of Horizon Chase Turbo with a sentimental feel and plenty of extra content to keep you busy.
Released:
Steam
Type: Singleplayer
Genre: Racing, Retro, Arcade
Developer: AQUIRIS
Publisher: AQUIRIS
Release date: 20 Oct, 2021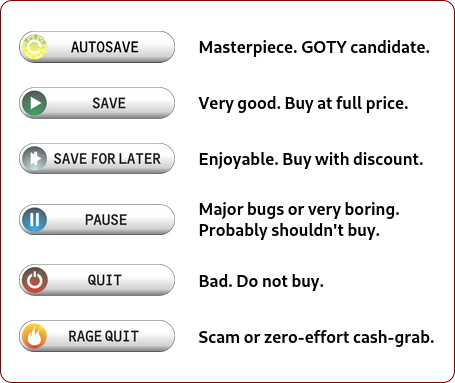 Intro
Senna Forever is the second DLC for Horizon Chase Turbo.
Become a legend, and trace the career, and experience some of the highlights, of renowned formula one driver Ayrton Senna.
Work within the teams and use the cars that Senna famously drove, competing in championships and reliving some memorable moments in career mode.
Try and emulate Senna's success by aiming for special achievements.
🕹️Gameplay🕹️
Senna Forever has two modes – Career and Championship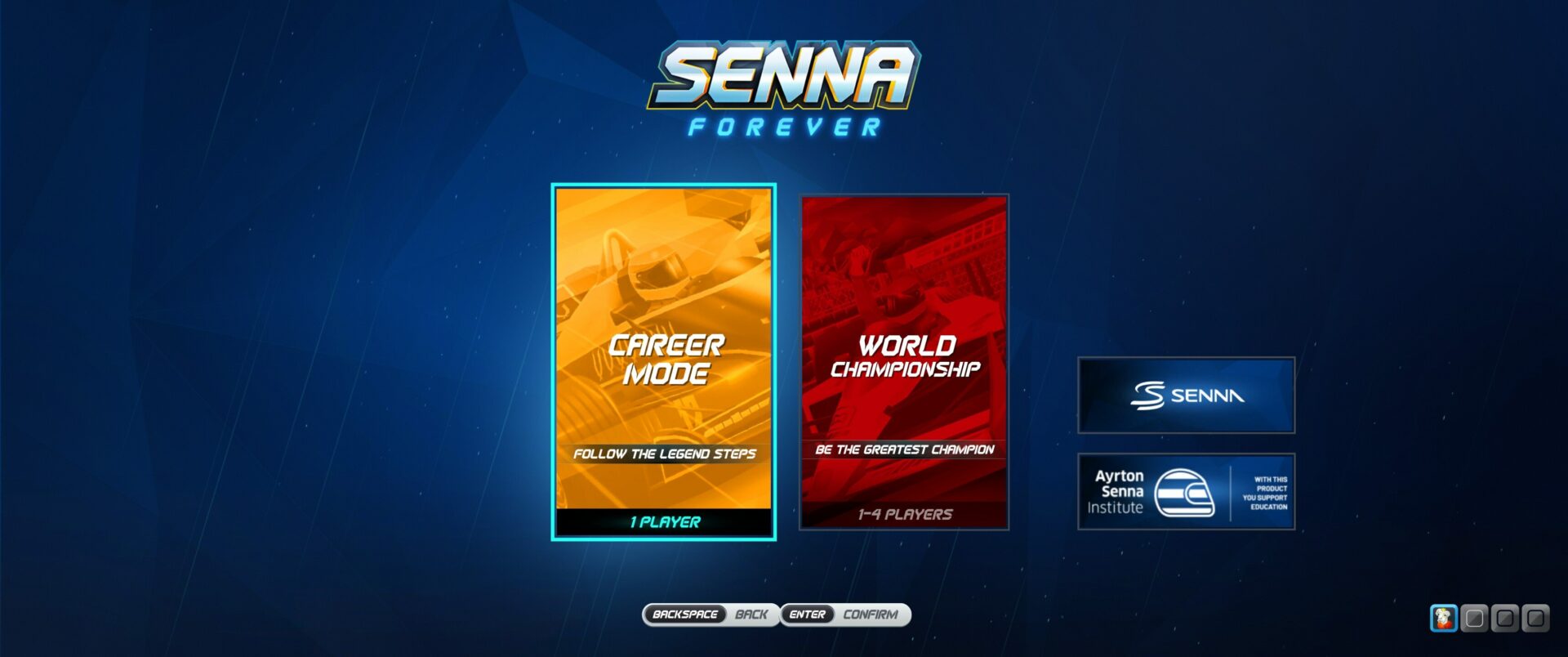 Career
In career mode there are five chapters chronicling the career of Senna from his early days at Toleman, to his advancement with Lotus, and finally his championship winning seasons with Mclaren.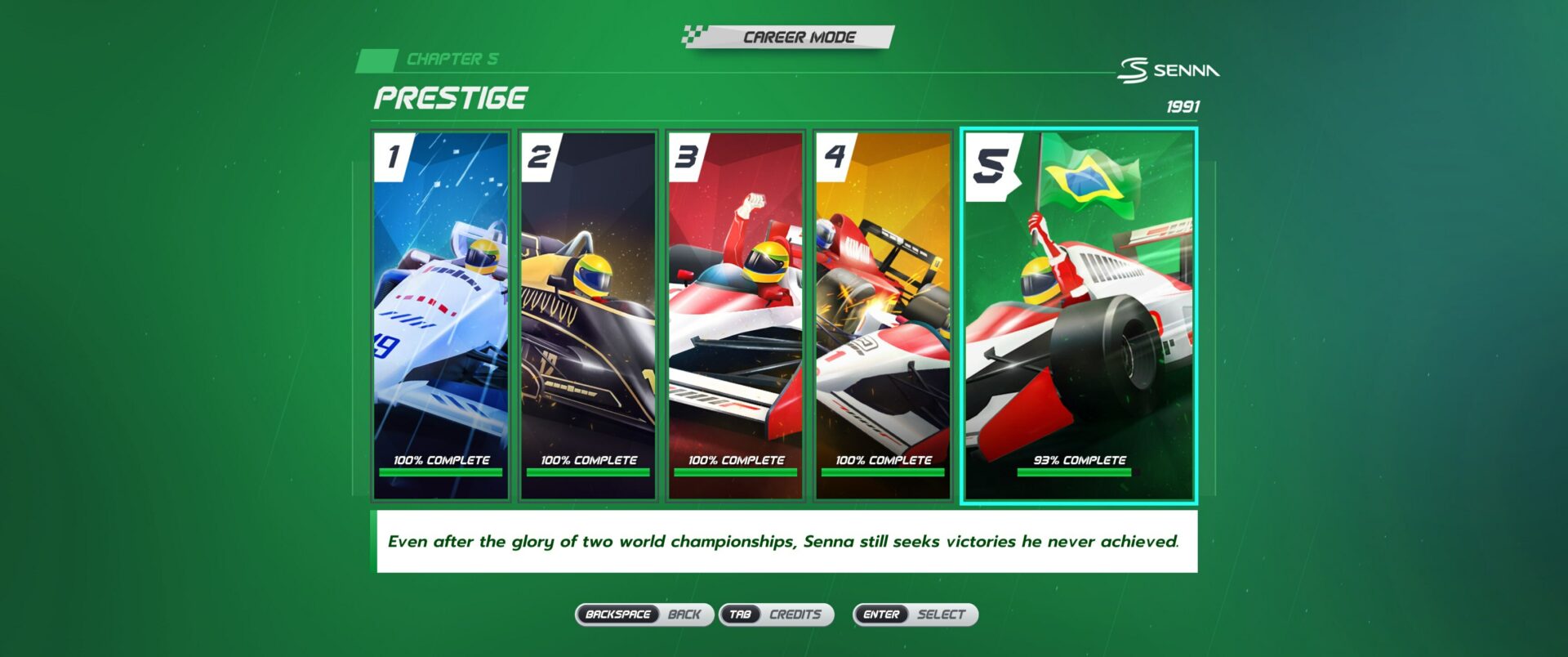 Each chapter is dedicated to a memorable moment in that season, with a small cutscene and brief explanation at the end.
There are six different cars to race with over forty races, and Senna marks to earn. Senna marks are extra challenges to aim for, like earn first place, collect all coins and use three nitros on lap three, for example. Earning all Senna marks on each of the five chapters earns you a special achievement and there are separate achievements for winning certain races with certain criteria.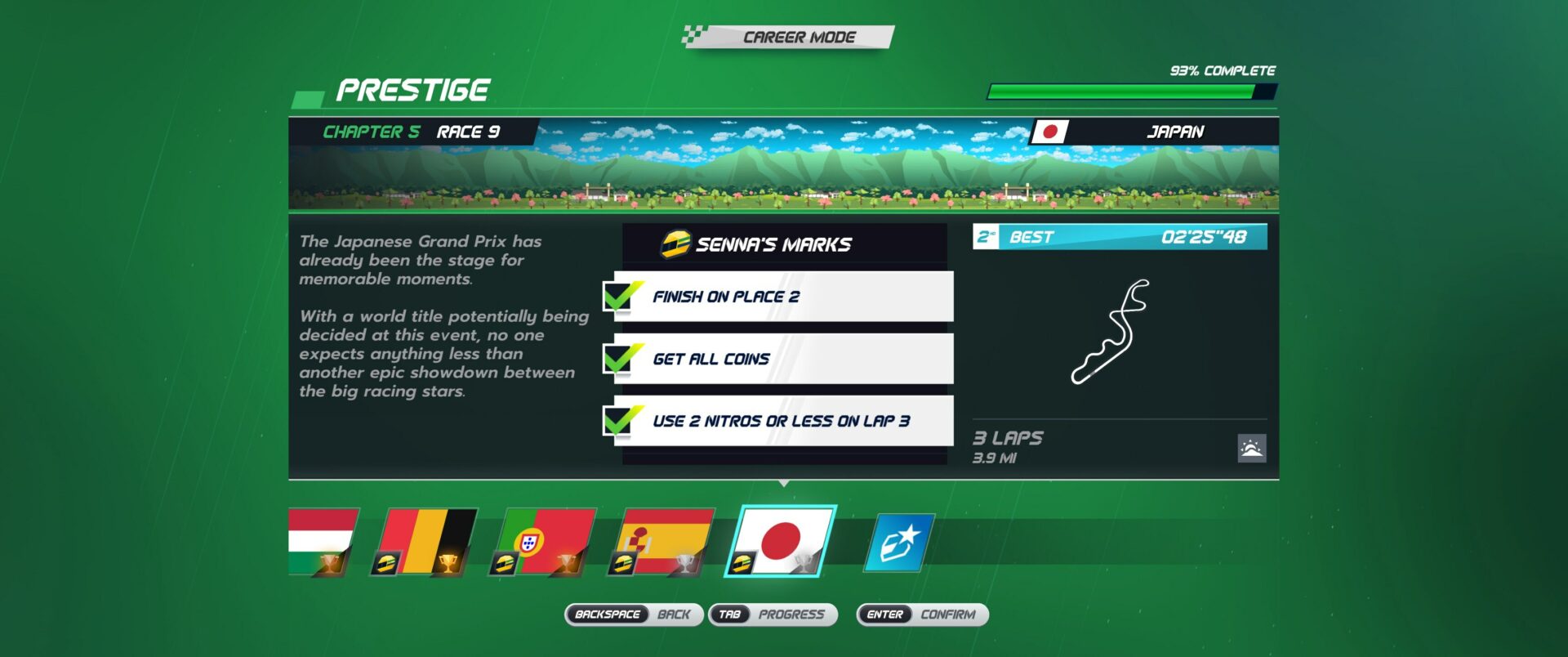 There are three Senna marks per race but they can be completed in any order and at any time, so you can restart the race and previous collected ones will remain.
Championship
In championship mode you can try and conquer your own tri-championship, emulating Senna's successful winning seasons of '88, '90 and '91.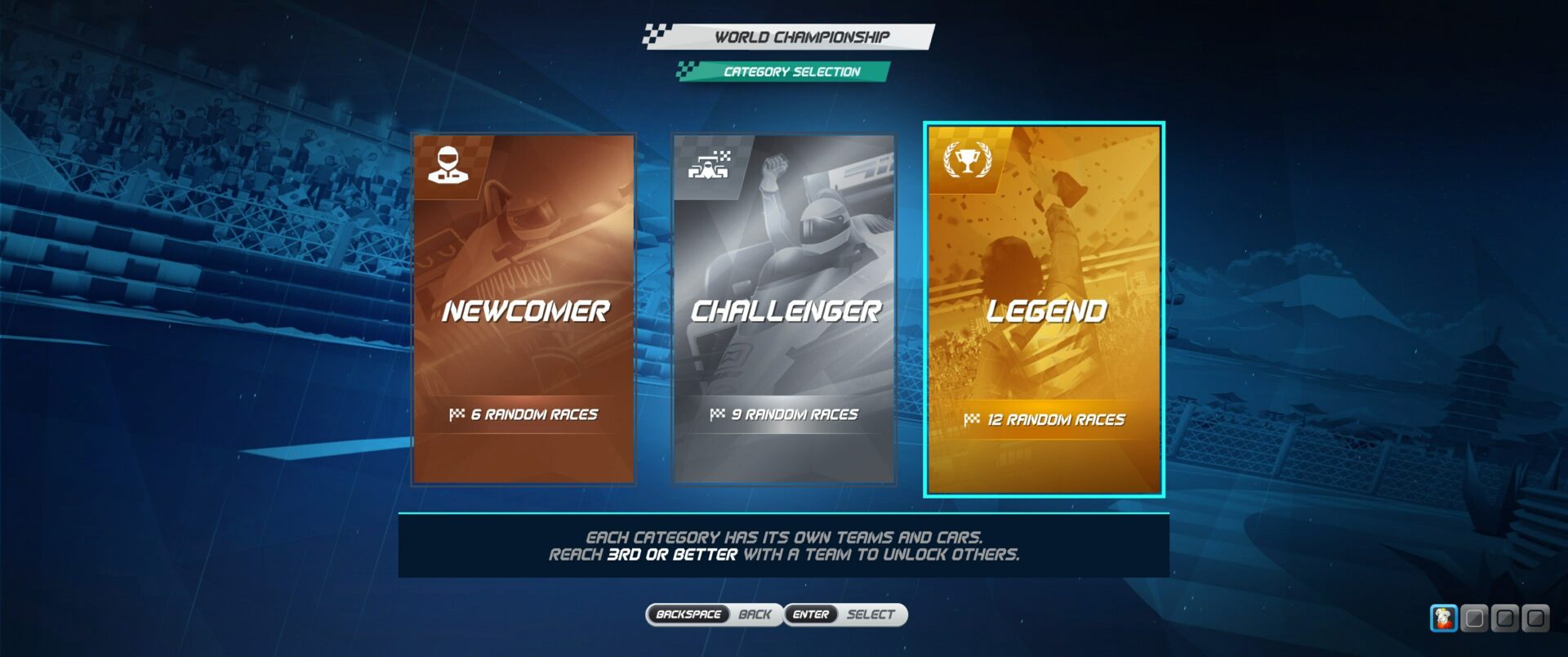 There are three difficulty levels starting with Newcomer, where you race six random tracks; Challenger, where you race nine random tracks; and Legend, where you must compete in twelve random races.
There is no restarting the race if you perform badly (well maybe the first race). You must be consistently in the top three to stand any chance of winning the championship outright.
Winning a championship in a certain car unlocks that car for other championship levels.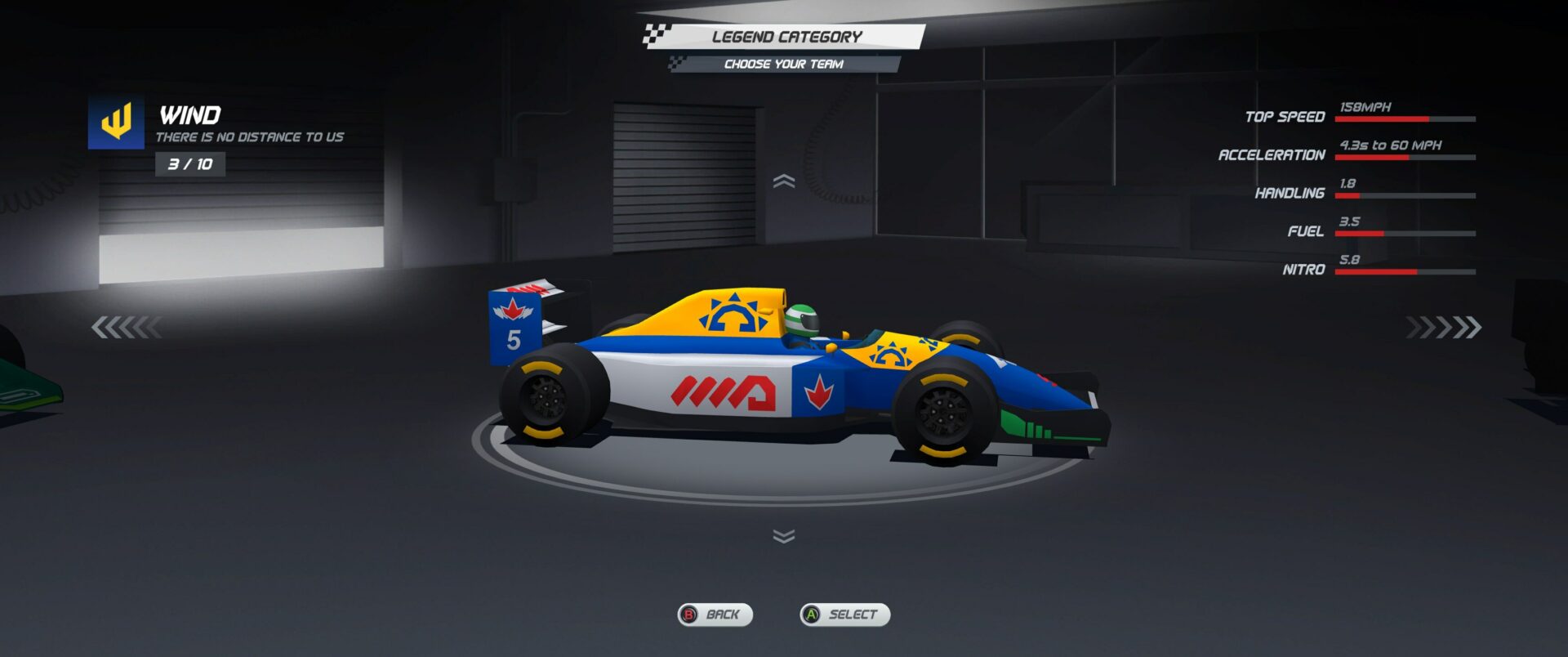 There are eighteen different teams and thirty-four playable cars to unlock and play, along with fifteen race circuits based on real life venues.
For the first time you can race in cockpit view and again there is the option to race against three others in local play.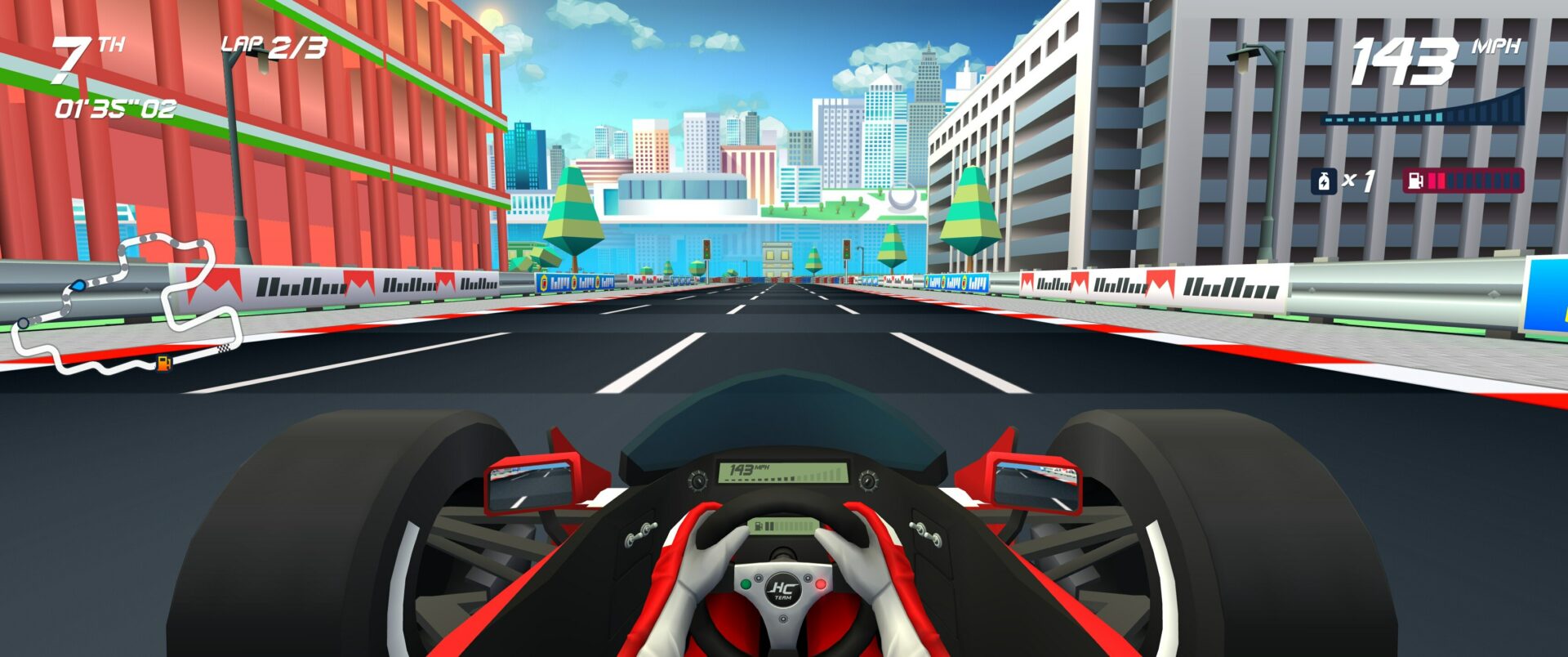 Just like Horizon Chase, there are coins to collect, but in Senna collecting all of the coins on the track gives you an instant speed boost, much like a free nitro.
Collecting gas is essential, especially on long tracks and there is only one nitro on each course which disappears after it is gathered.
Tactics
Before the race starts you are presented with the track overview including the distance and shape of the circuit. It is your choice whether to equip your car with enhanced tyres , which give you extra grip on courses with tight bends; advanced aerodynamics, which allows higher speeds for those circuits with large straights; and special fuel , which gives you a larger tank of fuel and one extra nitro boost, perfect for longer tracks.
Determining the best strategy can be the difference between winning and losing, although you can always restart the race and choose a different tactic if that one is not working for you.
Special Mention
The game is dedicated to The Ayrton Senna Institute, which is dedicated to expanding opportunities for Brazilian children and youth through education, but it is not clear whether any proceeds go towards this foundation.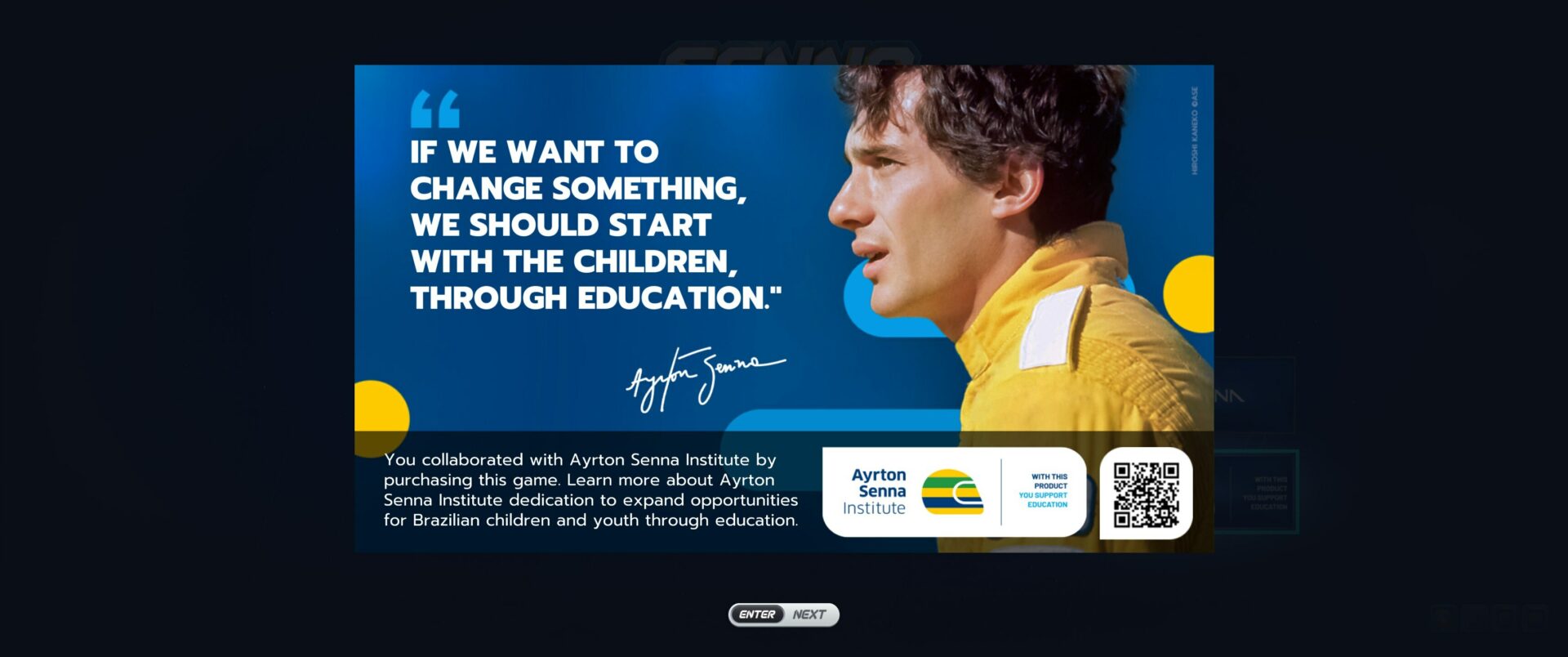 There is also a short but heartfelt bio of Senna emphasizing what an influential person he was to the Brazilian people. The developers, who are Brazilian themselves, do a good job in highlighting what a special and unique character he was.
📺Graphics📺
The retro feel is transferred from Horizon Chase Turbo straight on to the circuits of Senna Forever. Each country's circuit has a distinct feel with the nationality's flags being waved and being a close replica of the real-life track.
Scenery is charming and interesting, mimicking the country's heritage, and the cars look just like Formula One cars. Nice.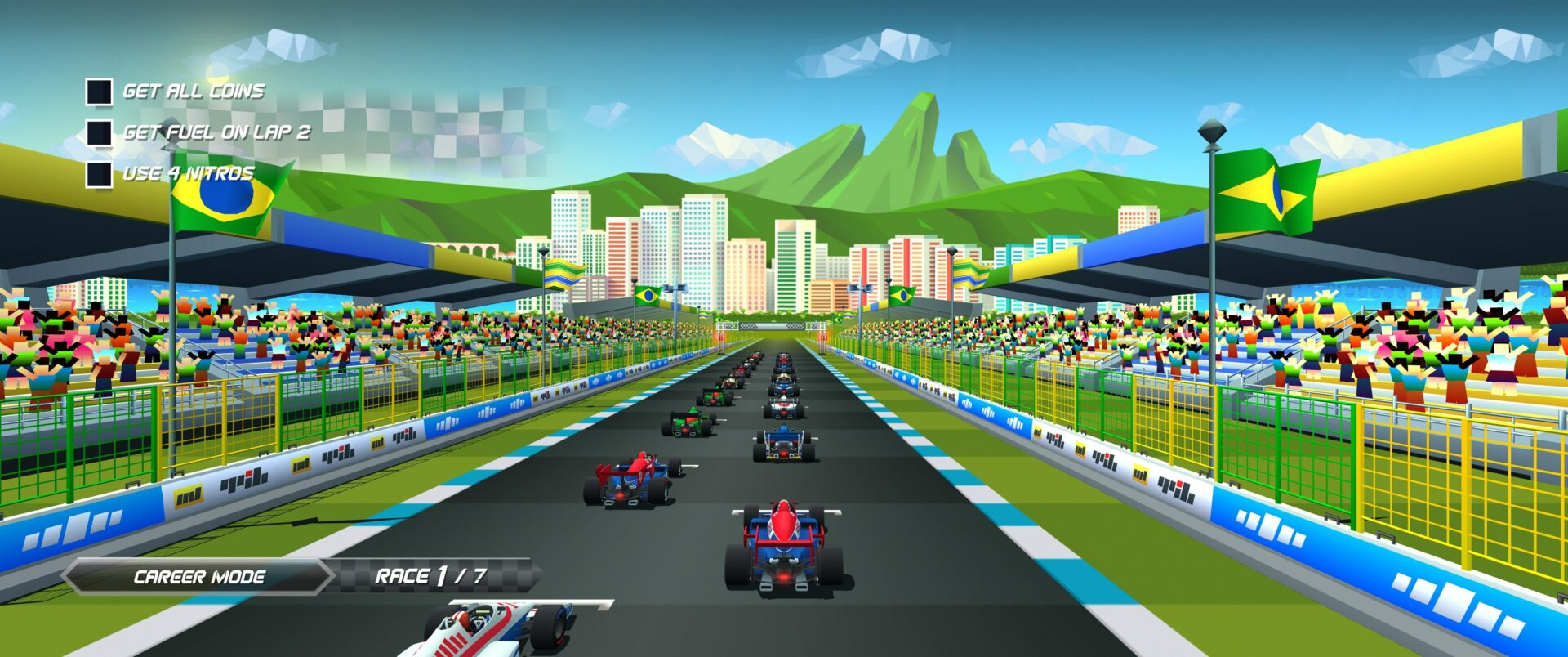 The cut scenes are brief but nicely drawn and everything is bold and colourful.
🎵Sound🎵
I believe the soundtrack is the same as Horizon Chase Turbo, which was excellent, but there is some very brief voice acting when winning championships. Something like, "Senna has done it again!" It's said like a commentator would speak and completely fits into the scene and has a nice vibe.
🤔Overall Impressions🤔
I was a big fan of Horizon Chase Turbo and Senna Forever does not disappoint either.
It contains all of the fun but with the added appeal of racing on the Formula One circuit.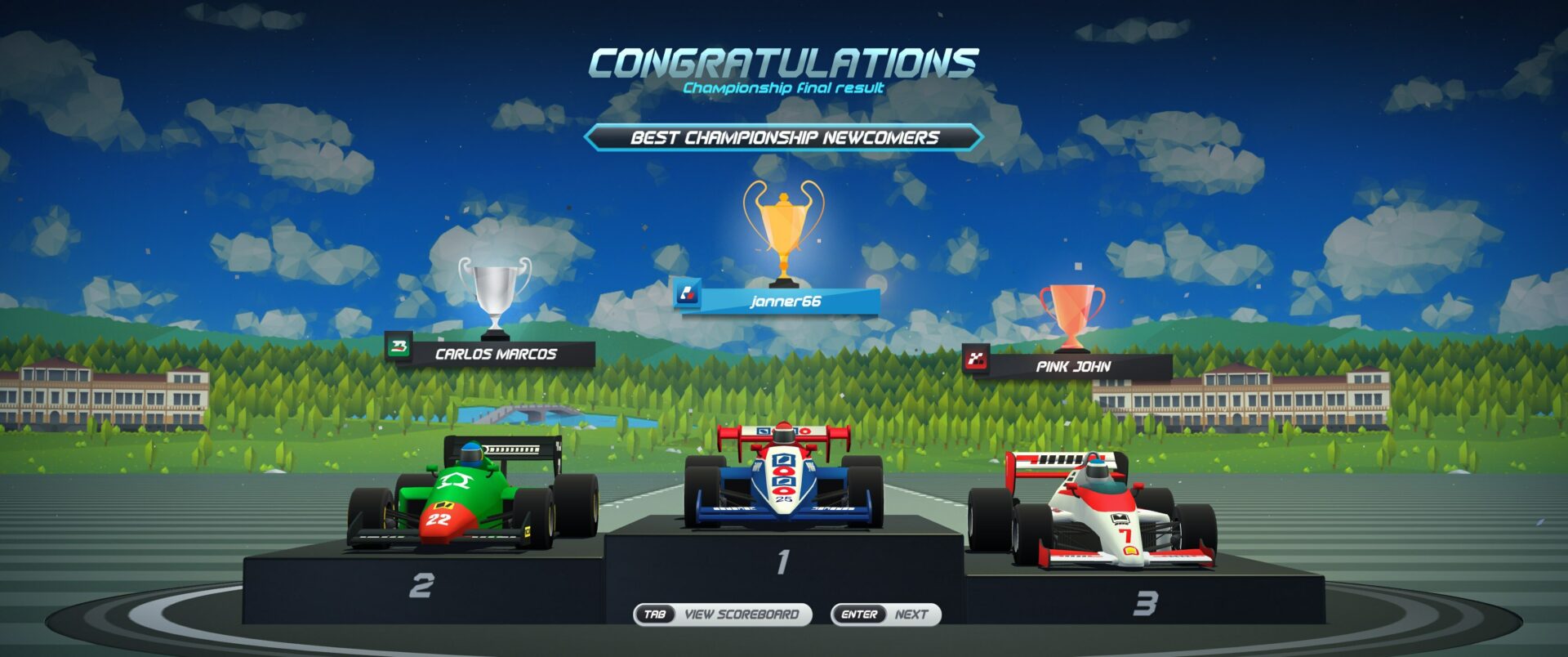 I loved the ardent and heartfelt homage to Senna's career, and the respect and idolization the developer's and the people of Brazil had for the great man. It came across in abundance, with the mention of his institute, his bio, and the cut scenes rewarded after winning events. It added an extra spice to an already thoroughly enjoyable experience.
The racing is a little different to Horizon Chase. I felt it was less hectic and more measured. The tracks on HC were designed by the developers whilst the tracks on Senna Forever emulate the tracks on the Formula One circuit; Perhaps this is why it seemed a bit more sensible. The racing still contains break neck speed and intensity, especially working your way through a crowded back field of cars, but I felt more in control, which felt more rewarding.
Your racing tactics do play a substantial part in success or failure. Often, battling with opponents and jockeying for track position can mean you miss fuel dumps, and if you haven't got the extended fuel tactic in place you will run out of fuel and retire. Having better handling on fast, twisty tracks noticeably helps, and having extra speed on long straights pays dividends. There are also decisions to make on track like when to use your allotted amount of nitros and when to collect the only extra nitro available. These decisions will be crucial, and learning the track also helps in making the right decisions. For example don't use the nitro on the last straight of the British Grand Prix as there is a nasty chicane straight afterwards. I would like to say I learnt from my mistakes but I kept doing it! Track design has a nasty way of biting you on the bum.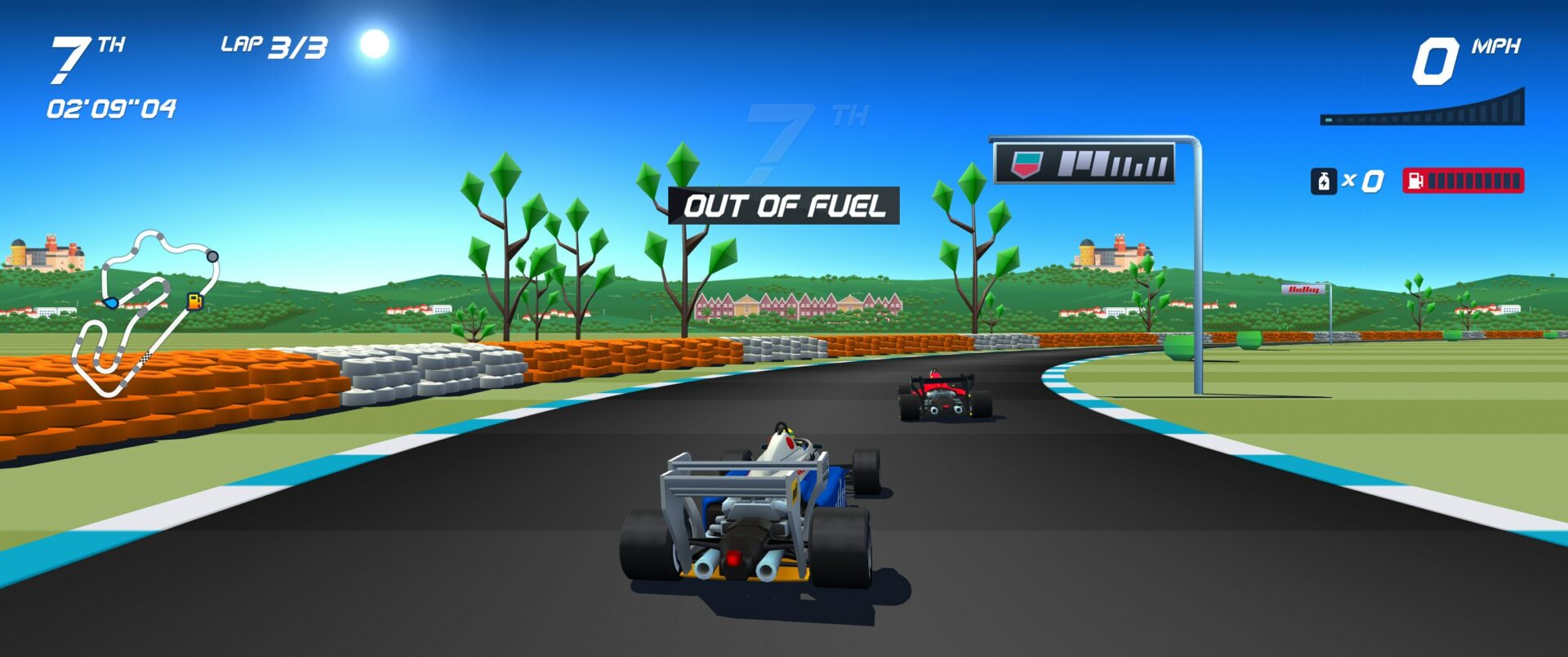 The difficulty level is perfect again, offering a challenging but gratifying experience. You will repeat many races trying to get that illusive Senna Mark and there are a lot of meaningful achievements to aim for. Races are always very close, as the lead cars seem to match your ability, making choosing the right tactics before the race and during the race very important. There's no better feeling than grabbing the nitro on the last lap of the finishing straight and whizzing past the leader to victory!
I found the new cockpit view to be difficult to gauge corners but I'm the same in any racing game. It's a nice addition for those that want it.
Verdict
Horizon Chase Turbo Senna Forever is much of the same in regards to gameplay but there are enough subtle differences for it to feel different to the main game.

If you like F1 or Senna then you will enjoy emulating his greatest moments and continues to be an immense amount of fun.