Dirt 5 is a fun arcade racing game that can easily please the needs of every gamer, who loves pleasant non-hardcore arcade racing.
Author: HardyGuardy
Released:
Steam
Type: Single-player, Multiplayer
Genre: Arcade Racing
Developer: Codemasters
Publisher: Codemasters
Release date: 5 Nov, 2020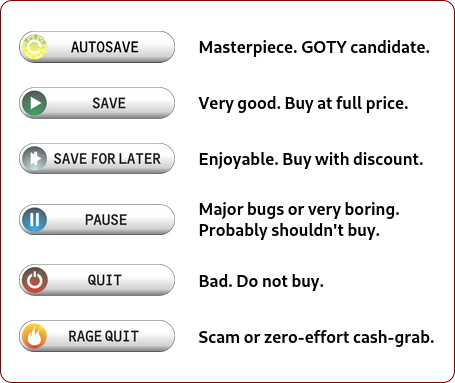 Intro
Dirt 5 was one of those games I wanted to play before other big AAA releases this autumn. It's been two years since we had a really good arcade racing game Forza Horizon 4 and we all needed something new in this genre. And after seeing a trailer for this game and a few gameplay videos, I realized that I was extremely interested in this title. Was it worth waiting for this game or did I just have high expectations for this game? Let's try to figure out!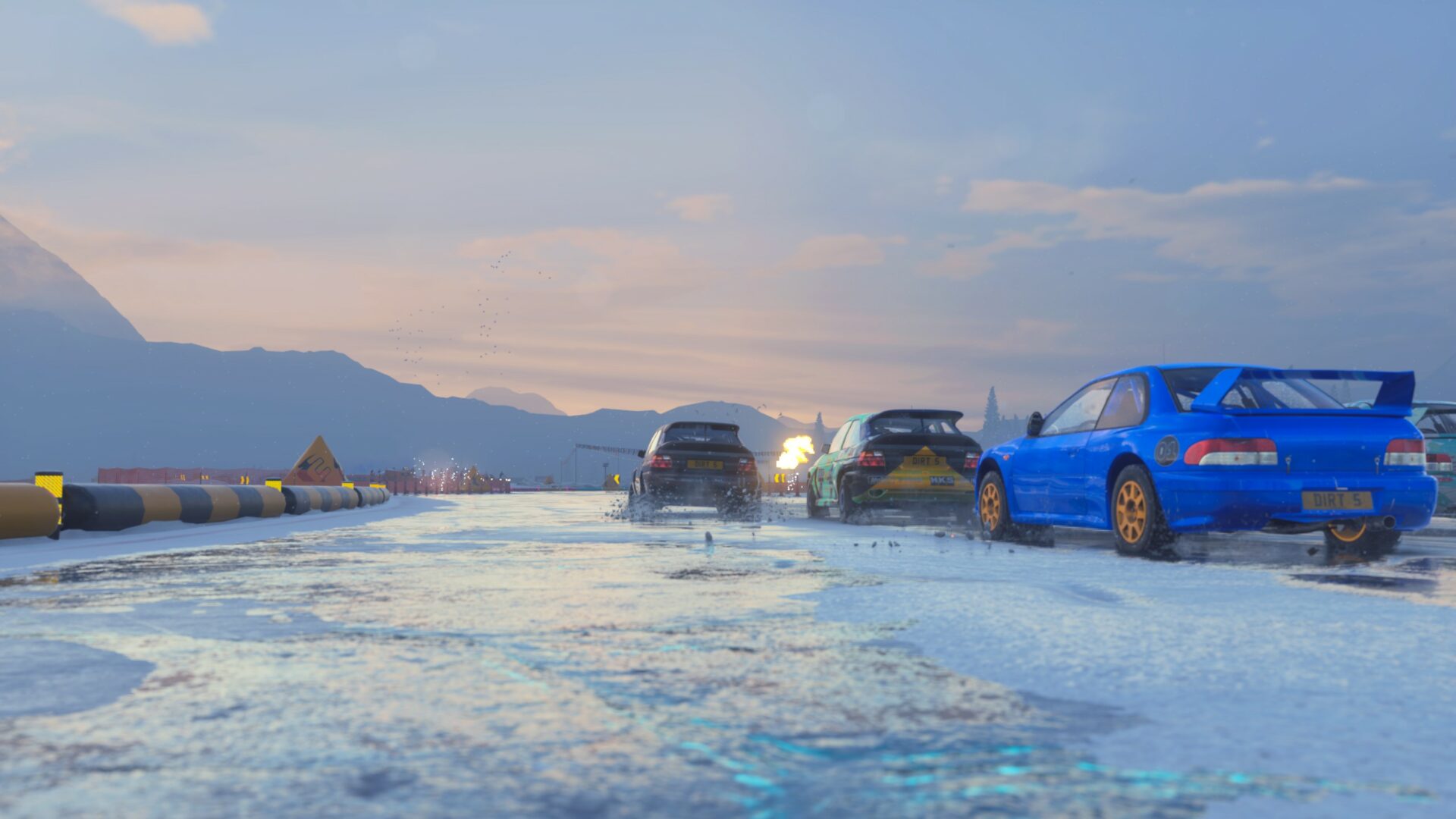 Gameplay
The game starts pretty cheerfully with an easy race full of action. Dirt 5 is all about fun, high speed, and beautiful sceneries all the way down and the game doesn't forget to remind you about it all the time. Every single race is filled with energic modern music, crazy enemies who always try to take you off the road, and the dynamic changes of the weather add the atmosphere for the game. Most of the time the game feels pretty easy so the player could sit back and relax driving their favorite cool-looking cars. But there is also a place for the challenge, as the more you progress through the career the harder the races become.
Physics in this game is really incredible – you can always feel the difference when you drive on the straight road, on the sand, on the gravel, or even ice. Especially when it comes to the dynamic changes of the weather and the gravel turns into the mud on the second lap of the race and this affects your driving style.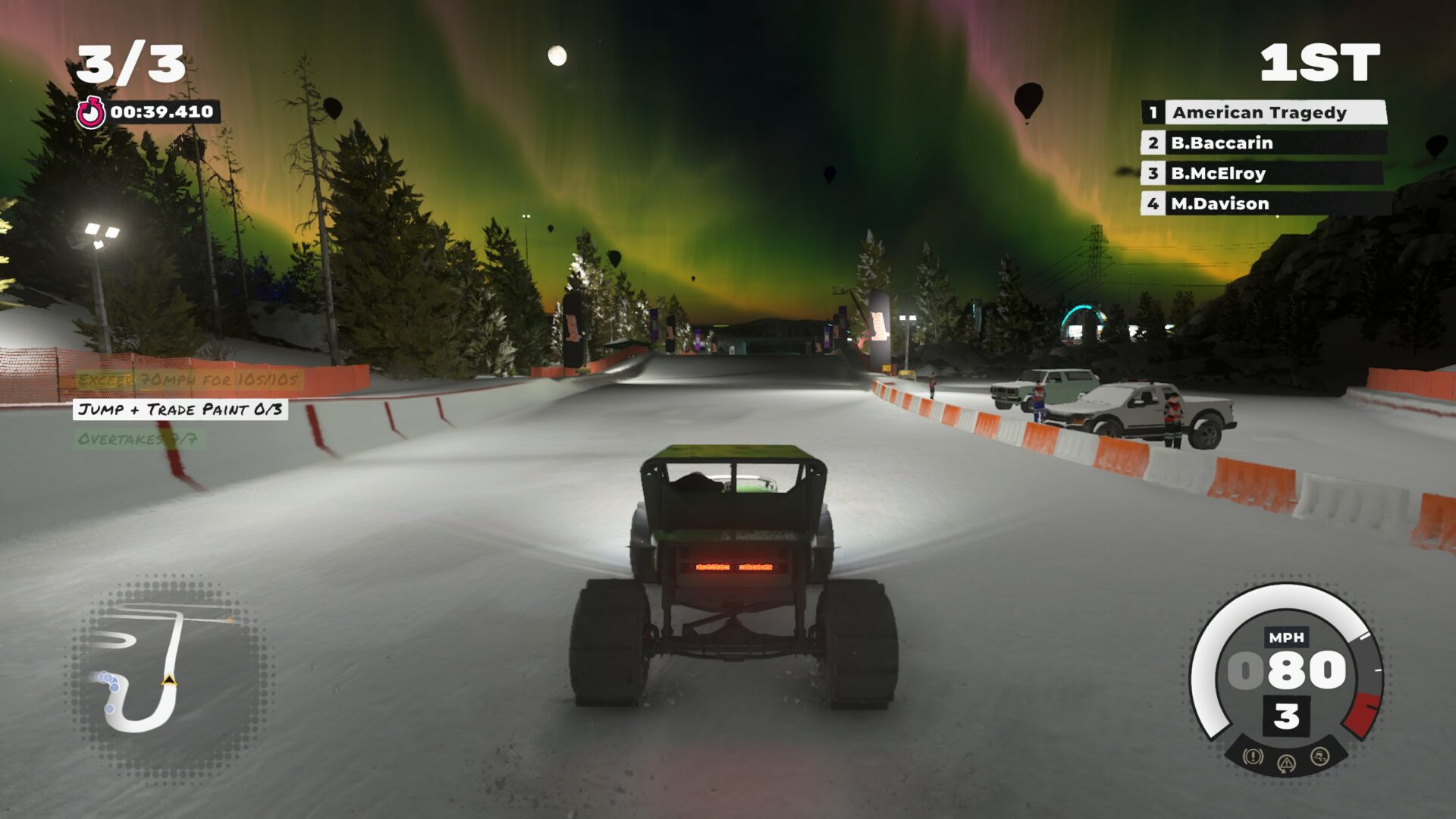 You can't choose the difficulty in this game and I would say this game is somewhere on the verge of medium and hard difficulty, where you can feel the real difficulty only closer to the end of the career. Opponents behave pretty fair on the track, sometimes they can be a real problem for the player, and sometimes they just can't do a thing to catch you, simply because your car is much faster. Cars tuning in Dirt 5 is only visual so if you are looking for a better and faster car – you should simply buy a new one.
Speaking of career – the game has to offer you a good amount of different modes and tracks to finish, you can divide them into a few parts: long serpentine sprint tracks to test your driving skills; drift related tracks; circuit racing; time trial races. All those tracks are located in different parts of the world: the USA, Brazil, Africa, Norway, China, Italy. I can say that I was really impressed by the variety of locations in the game, in general. However, sometimes those tracks can repeat themselves in different races and it can be a bit disappointing.
You will earn money and experience points during the career to level up your racer and to have the ability to buy new cars. There are also sponsors in this game who pay you money for completing a set of conditions, like to stay in first place for a certain amount of time or drift for 10 times on the track or spend 25 seconds in the air. Every sponsor has their own tasks and rewards and you can always change them whenever you feel so. My biggest problem with the game economics was that I never felt like I was earning money or struggled to have the needed amount in my bank account to acquire a new car, it was always easy to get them.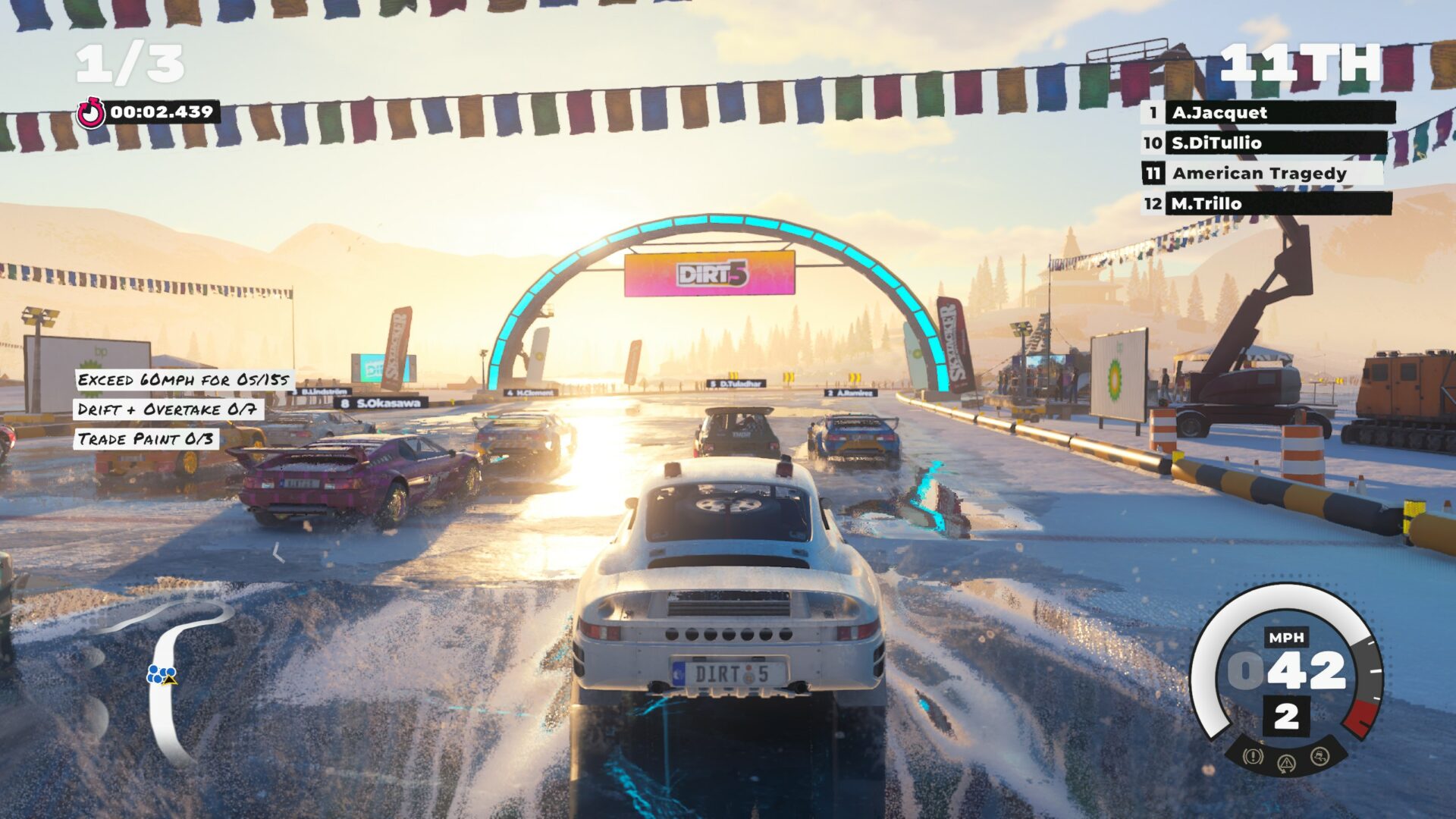 And when the career is done, you can always set your own unique race in the most favorite location of your with the needed weather, lap amount, and road type. Dirt 5 presented the ability to create your own custom tracks using in-game assets and to share it with the community. I spent a bit of time there and it was quite fun, players can be really creative with their insane ideas, but I am not sure how this entertainment will show itself on the longer distance.
I also wanted to tell you a bit about the online feature in this game, but to be honest, I was not even able to join any session. Maybe because I was playing during the day or because they had some connectivity issues, but right now Dirt 5 can't boast about their online mode enough.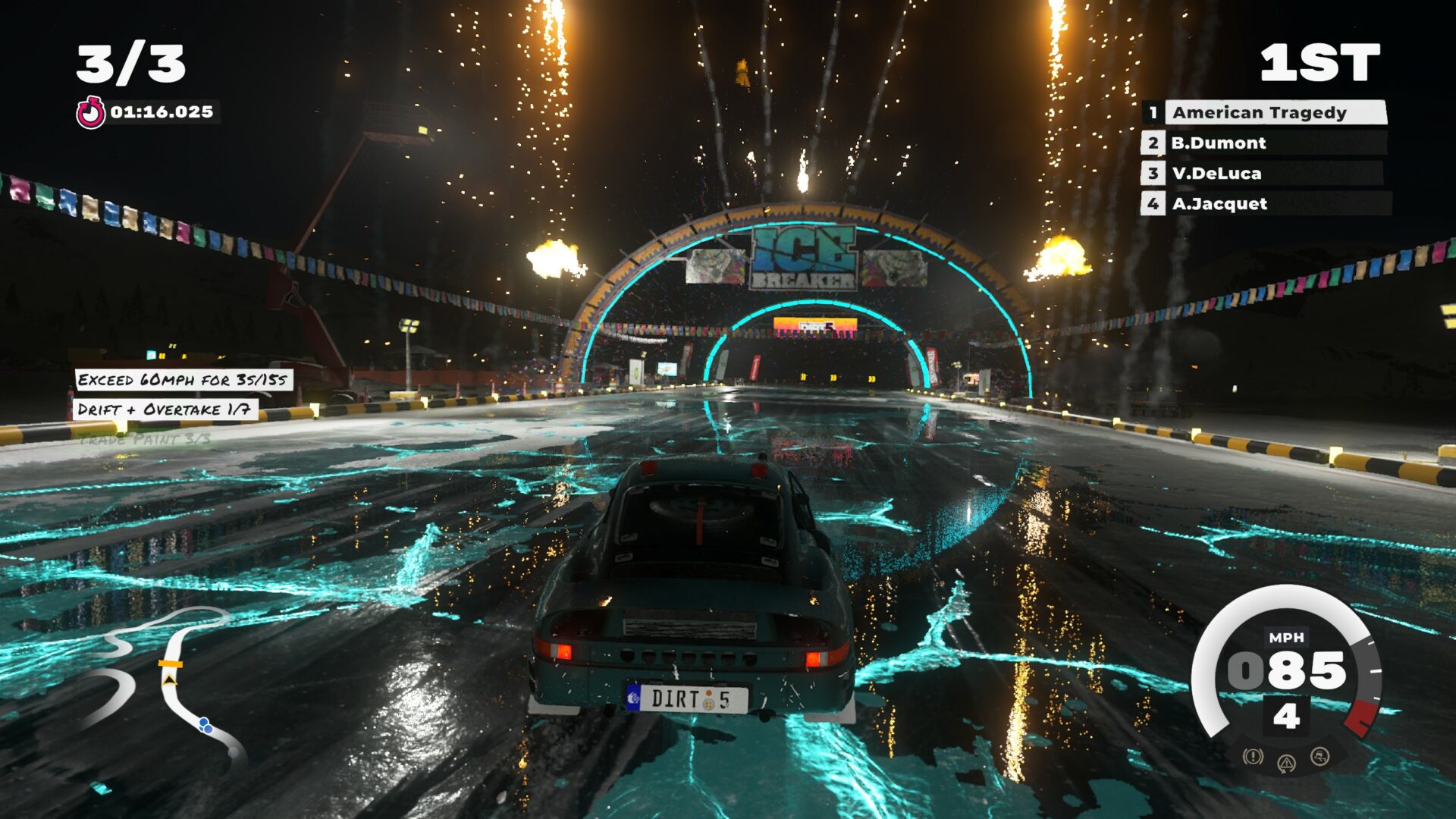 It is also important to mention that the game currently doesn't support the wheel and the developers work on adding this feature as soon as possible. So if you are the person who prefers to play racing games with this device, it might be better for you to wait a little bit for the update.
Graphics
Dirt 5 looks extremely amazing with detailed well-designed cars and its dynamic weather changes. Just imagine – you start the race during the day with a sun shining brightly in your rear window and closer to the end of the race, you can see a beautiful sunset. Or you can race through the desert and then the rain starts all of a sudden, your car turns into a messy muddy piece of metal on four wheels and it looks outstanding.
Sound
The game is filled with a vigorous soundtrack and modern compositions that perfectly fit the gameplay. Here you can hear some light pop-punk, hip hop tracks, and electronic music as well. There is also an in-game radio where you can hear some funny talks between the legendary Troy Baker and Nolan North, you can listen to their squabbles for hours. The developers also made a great job working on the cars sound – I was playing with a 5.1 sound system sitting in a comfortable chair and sometimes I really felt like I was a natural-born race driver.
Conclusion
Dirt 5 is a really good and pleasant arcade racing game that can be a good choice for casual players to spend a few evenings. This is not a masterpiece game that will be remembered for decades, it's just a quality product that will bring you dozens of hours of a good time. It doesn't require the player to be a professional in this genre. If you are looking for a good arcade racing game to play right now (remember: no wheel support at the moment) – you can get Dirt 5 at the full price and you won't regret it.