A unique non-game about exploring a lot of games in point-and-click style. By any means, this is NOT a game.
Released:
Steam
Type: Single-player
Genre: Point & Click
Developer: Draw Me A Pixel
Publisher: Draw Me A Pixel
Release date: 6 August, 2020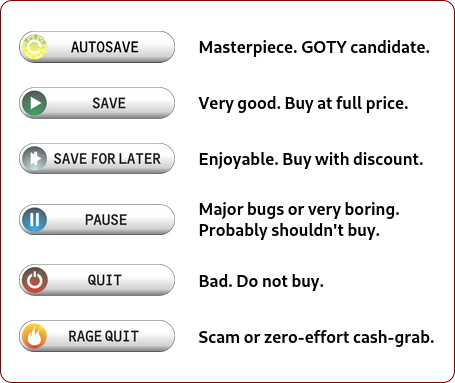 Intro
There is no game: Wrong Dimension is definitely not a game about a system that is trying so hard to let its users, you, to not playing its game. It's not a game after all. It's not like the system will be stranded in other dimensions and the user has to help the system to go back to its dimension. Not a chance.
Graphics
The game is usually presented in 2D, pixelated graphics, with a lot of simple-looking interfaces. Two of its chapters mimic the old Zelda graphic style in the Game Boy era with a tweak with its soft, vibrant colors. Some chapters mimic other interfaces, such as a desktop, phone device, and credits screen. All of them are simplified enough to understand with a lot of attention to detail, especially the backgrounds and shading.
Story
There is no game, so there is no story. It's always what the game keeps on saying in the first half of the game. The actual plot starts to kick in right after I got bored with the same, repeated concept and the story turns out to be an exciting one, not because of the story, but more because of the presentation. There is this chapter where the story was told in a song that rhymes and another where there are a lot of jokes involved.
Most dialogues are dubbed with voice actors that speak in different accents as part of the joke. Dialogues are clear and expressive – you can always see the emotion that was said behind every word. Subtitles are also provided to help you to read and the game is clever enough to give different colors for different "people". As for the dialogues themselves, they are mostly jokes and serve to progress the main story. There were also some references to other games such as Papers, Please and the Rusty Lake games. It's always hilarious to hear the system's comment about your actions.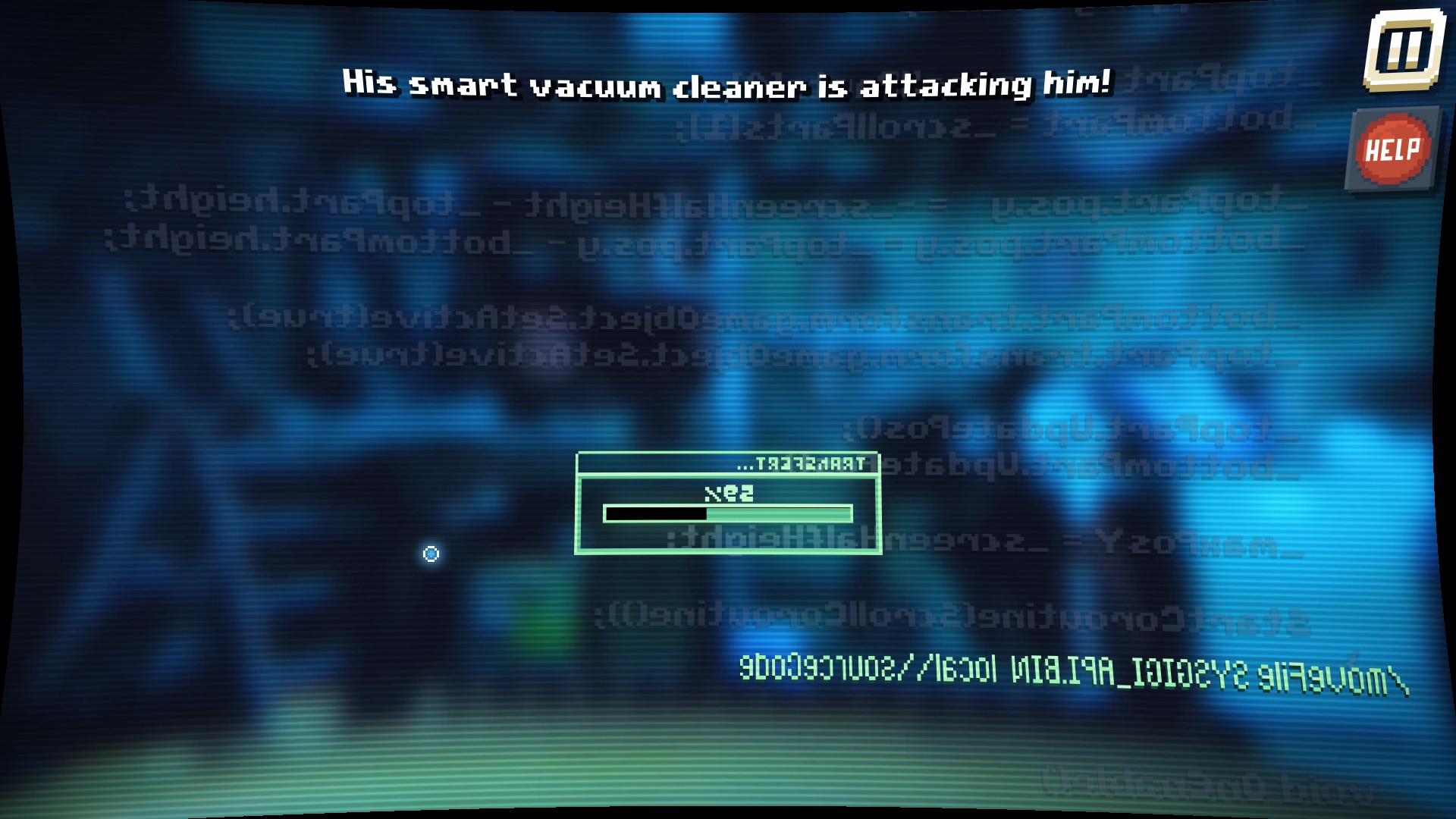 It's so exciting to solve a puzzle with someone being attacked by a vacuum cleaner in the background.
The Game
Point and Click
Unlike other point-and-click games, this game doesn't make its point-and-click element obvious. Sometimes you need to click an object to progress the game, sometimes you need to use your collected object to another object to do the same thing. Most solutions are tricky and you'll mostly need to think out of the box to solve them. If things don't seem to work, the game offers a hint button that can give you vague hints and solutions on what to do.
The game has 6+1 chapters in total where you have to "travel" to different dimensions, which translates to different games, to return to your dimension. Although the game that you entered is in a different genre, you still have to play the game in point-and-click style. There are always new varieties and elements when you start a new chapter and the jokes are great enough to keep you playing the game. However, it starts to get dull in the third chapter, especially since there is a lot of clicking involved due to its clicker genre, which is also part of the joke. The story was also repetitive at that point that it bores me out to continue playing in one sitting.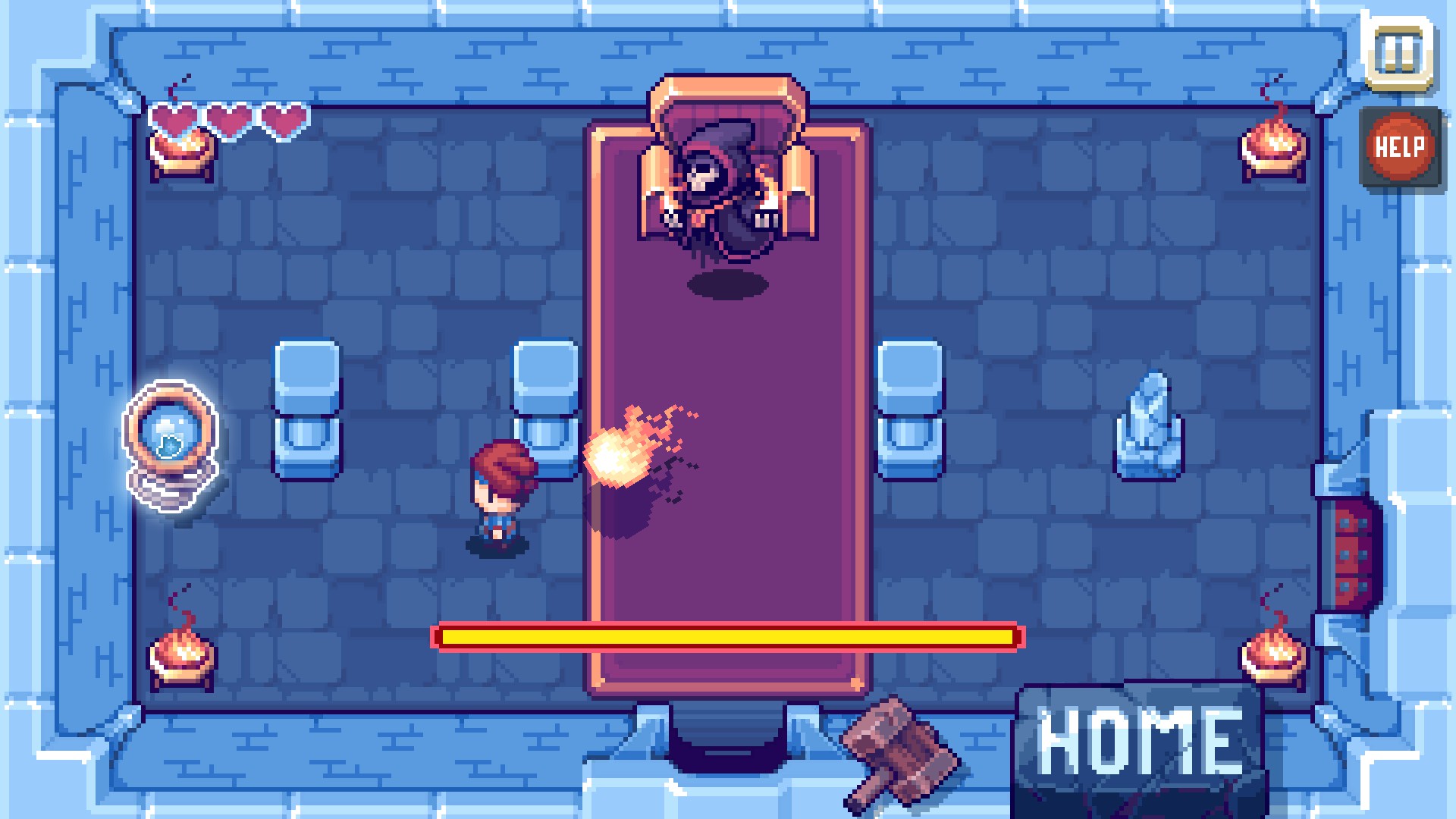 Point-and-click is always vital despite the genre of the game you are in.
The developer seems to be aware of this issue though and they upped the whole experience in the next few chapters. More stories are added to the game and a chapter where the stories were told in a song was added. The latter one was my favorite – I was impressed with how the dialogues still make sense with the rhymes and notes while still making it sound cool. I don't even mind to hear the full version of the "song", if there is any.
Length and Replayability
I finished the game in 4.9h and obtained all achievements in 6.1h. Two endings will diverge at the very end of the story. A second playthrough is not needed to experience both endings since you can restart the chapter that you have finished anytime. However, the game only has one save slot so your save file will be overwritten if you do that. Speaking of saving, it will be done automatically.
Problems
I didn't experience any bugs when I played the game although I found that it's time-consuming to replay the game to get all achievements and endings, especially since you can't skip any dialogues and the game is dialogue-heavy.
Specs
Intel Core i5-9300H 2.40GHz, 8GB RAM, NVIDIA GeForce GTX 1650
Verdict
This is a unique point-and-click game with a lot of jokes and references from other games. I didn't expect that I would get this entertained with a simple concept like this. Dialogues are clever, jokes are perfectly executed, and the gameplay is very unique with the out-of-the-box thinking. You'll definitely need to use your wits to finish this game. If you like point-and-click games, you'll like this game – it has great quality for the price offered. Some people might think that the price to be quite expensive for the game's length though so feel free to buy it on a sale if you're concerned about it.