Meet Lou. He's an angry drunk.
Released:
Steam
Type: Single-player
Genre: Action, Adventure, RPG
Developer: Big Way Games
Publisher: Big Way Games
Release Date: 10 Oct, 2019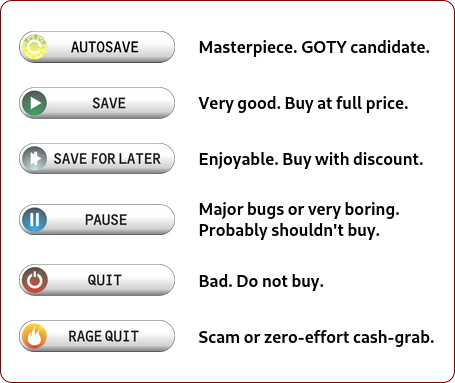 Introduction
BDSM: Big Drunk Satanic Massacre is the new Steam PC release from Big Way Games, developers and publishers of 2017's One Dog Story. It's about as different from their earlier game as you could possibly get, however, with BDSM's fancy graphical blood, violence, sex, and irreverent humour replacing One Dog Story's retro pixel-platformer vibe.
In BDSM, you play Lucifer ("Lou"). The story begins with you: a drunkard demon down on your luck, 30 years after the US Defense Force invaded Hell and won, turning it into a haven for tourists and capitalism, the major export being demon-meat burgers. Yum!
Getting kicked out of the Brazen Bull bar for getting drunk once too often and shooting up the place (and not paying your tab!) is the last straw. It's time to take hell back from the capitalists. Or go and work in a local brothel. It's your choice.
Got MILK?
The core gameplay is exactly what you'd expect from a twin-stick shooter: full controller support with left stick moving Lou nimbly about and the right stick aiming his weapon (ooer!). Controls feel smooth and responsive for the most part, though I did encounter a few unresponsive buttons at time, causing me to miss a heal or delay a spell longer than I meant to; I think it must have been something to do with some animations not being interruptible.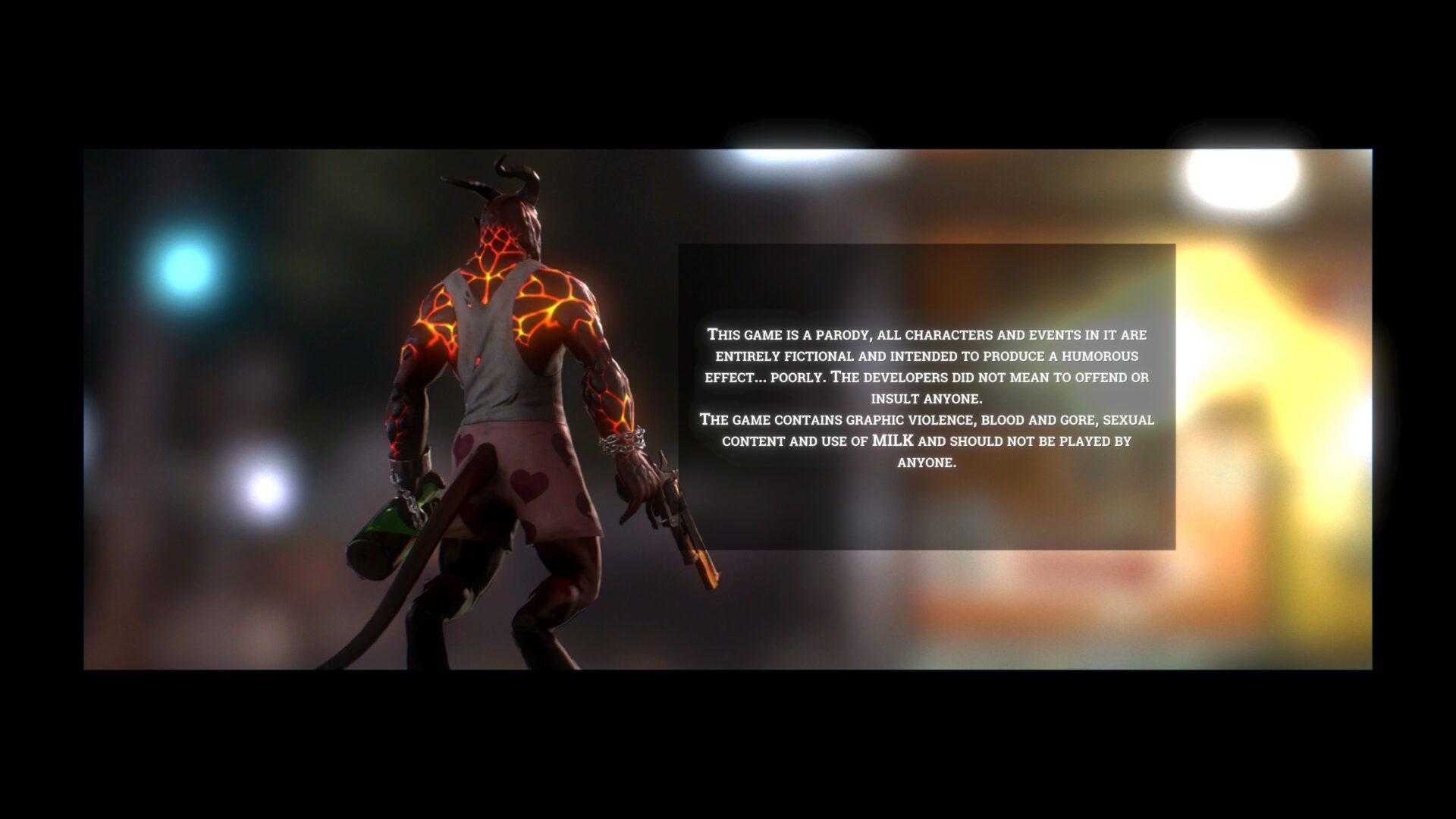 Speaking of healing, Lou has a health bar that decreases with damage taken, as you might expect, but he can instantly heal if he has a bottle of MILK (by which the developers mean booze). Pausing to down his favourite brew, Lou's health is completely restored with each bottle. At the lower difficulty levels, the game is quite generous with MILK, too, meaning that the only way you'll die is if you time your healing poorly, since you'll almost always have MILK available.
The other controls include a short dash, which damages nearby enemies and allows Lou to dodge traps, but has a recharge delay; and primary and alternative firing modes for each weapon. The primary mode is exactly what you'd expect, firing off a round or burst of the relevant ammunition. The alternative modes are a great addition to the game, with each of the six available weapons having a different mode, and thus a different use case. The pistol allows Lou to empty his clip, firing much faster than he would otherwise, and, with infinite ammo, making this a great backup weapon. The shotgun's alternative mode pierces enemies, allowing Lou to destroy whole lines of them in one hit. The assault rifle fires a grenade from the under-barrel launcher, the BFG (yes, the BFG; it's not the only Doom reference, either) fires off a sort of damage field, and so on. Most weapons can only be fired a few times in alternative mode before they run out of ammo, but these modes really do make the game much more fun. And Rage Mode is very cool, giving you a fantastic feeling of unstoppable power!
The action is all room-based, though. There's no tension from wandering about giant levels searching out enemies (or hiding from them!) here. Instead you enter a room, the door closes and locks you in until you kill everything inside, then you leave and enter the next room to do it all again. It's simple and it works well, like most of the game, really.
Strong RPG Elements?
Yes, the Steam store page for BDSM mentions "strong RPG elements". Just ignore it. You could potentially argue that it has very light RPG elements, but even that could potentially give certain people the wrong idea, implying the game is something other than what it is. It has two currencies for what basically amounts to incremental progression, and it has a few NPC interactions where you make choices from a small number of available choices, some of which lead to minigames or side quests: bonk this person / demon / pony (!), or collect this or kill that.
As you kill the forces of capitalism you'll collect lots of cash. You can spend this cash on weapon upgrades, which are mostly incremental things like +x% to damage or -y% to reload time, and on abilities, which are mostly incremental things like being able to use a spell twice instead of only once, or a spell gaining +z% to its power in some way. They give a nice feeling of progression and allow you to kick demonic butt better than before, but they don't make me think "RPG" (well, except for the bazooka).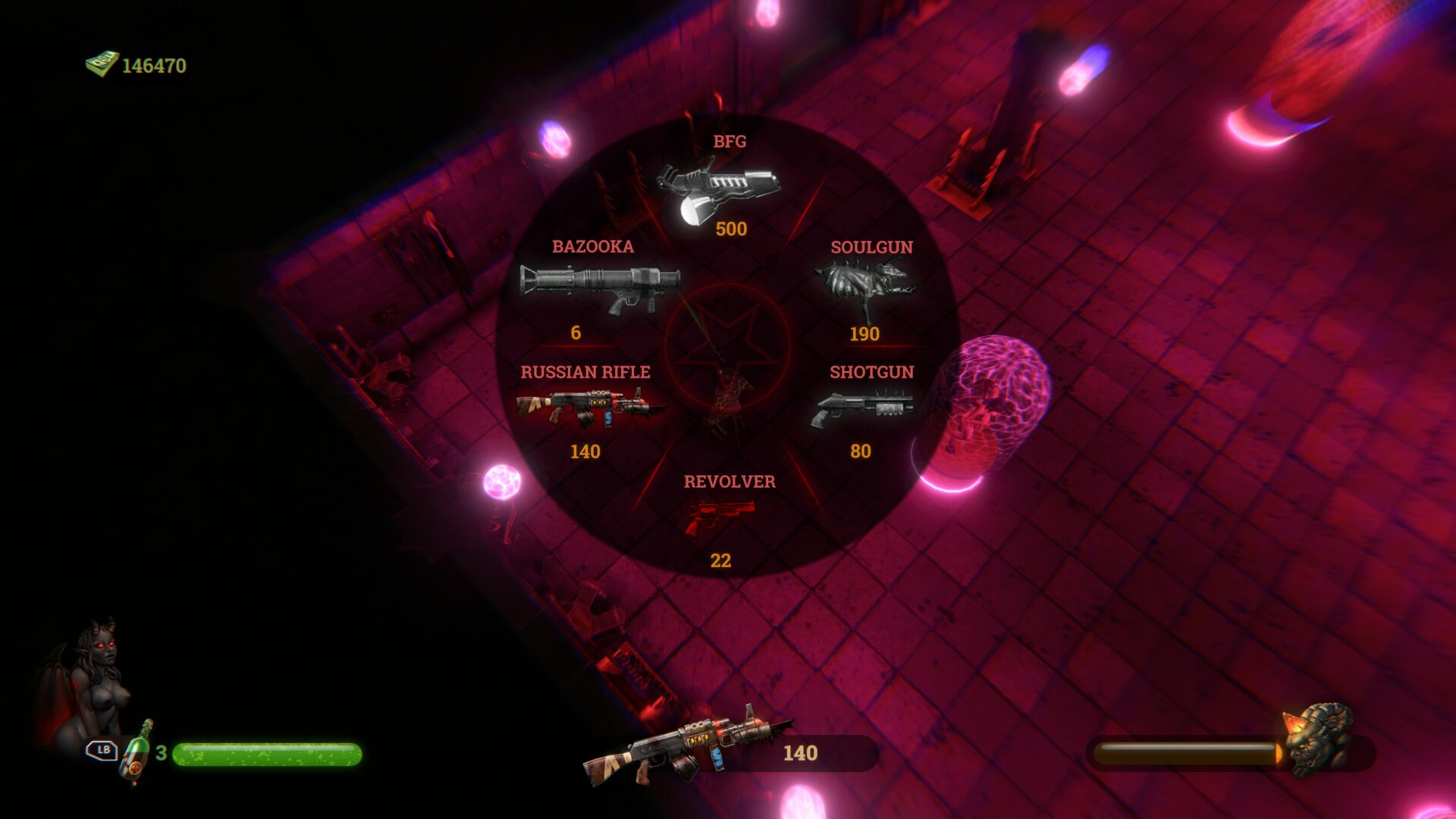 As you progress through the story you'll also have opportunities to earn points to upgrade certain stats, each of which has four levels: the amount of ammo you can carry, the size of your health bar, how quickly your rage meter builds up, or how many bottles of MILK you can carry. These increase your survivability, but feel like typical action game modifiers rather than some sort of RPG system.
None of this really promotes the feeling of strong RPG elements to me. That's not a bad thing, though. To me, BDSM is all about action and entertainment: guns, explosions, action, sex, violence, and comedy. It shouldn't try to be anything it's not, since it actually does all of these things pretty well.
Minigames
The game includes two minigames, as well: sex (or shooting) and a board game.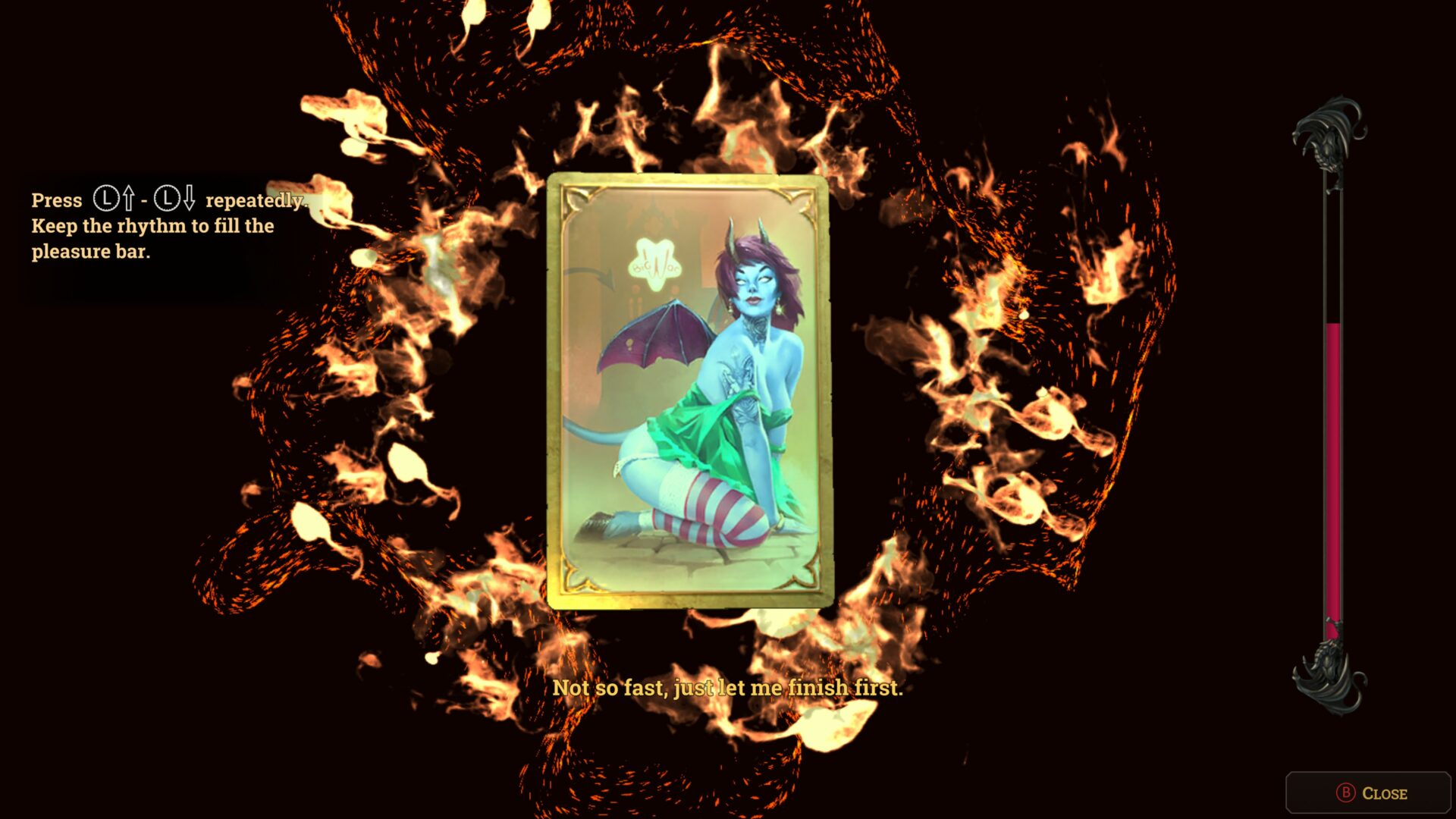 The first of these fits the theme well, with Lou either getting his end in with one of the NPCs or shooting his gun with them, depending on whether you're playing with the gun censorship option or not. Either way, it's a very simple minigame involving wiggling the left stick up and down at a rate determined by your partner's level of excitement, occasionally pressing a button at the appropriate time for a boost, until they reach their peak. You're then shown a "nice" picture of your partner.
The second really doesn't seem to fit the rest of the game at all, almost as if it were an afterthought or an idea from another game. In the board game minigame you move Lou around a small 4×3 board a turn at a time, trying to collect as much cash as you can while avoiding or killing enemies. There are no instructions, though a practice level or two should make everything clear, and it's a fun enough distraction, but it just doesn't seem to fit.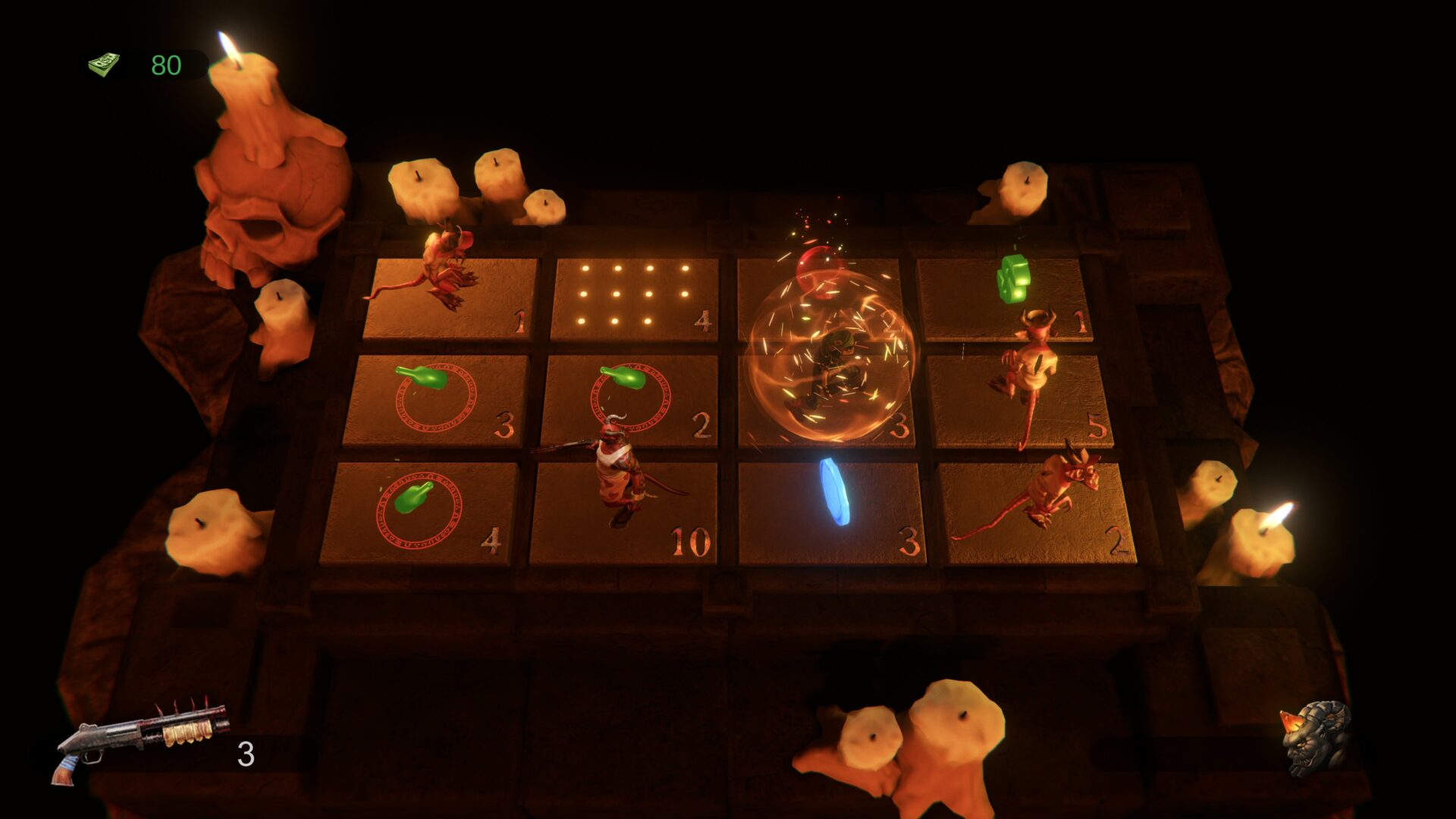 Particles and Explosions Galore!
BDSM looks nice, really nice. It's played from a fixed 3/4 perspective (some might call it isometric), with each of the four chapters having a unique look to it. World graphics are beautiful, though that seems somewhat inappropriate to describe pits of bubbling demon meat or the interior of a sex club. The inability to pan the camera is fine, but I did find myself wanting to zoom in at times, in order to get a better look at some of the characters and … err … "scenery".
In the main game there aren't that many different enemy types: I'm guessing about a dozen or so, with four distinct bosses, each with a different style and method for beating them into a bloody pulp. They're very creative, though, and fit the theme of the game well. All character models are detailed and nicely animated, with each type of enemy being instantly recognisable.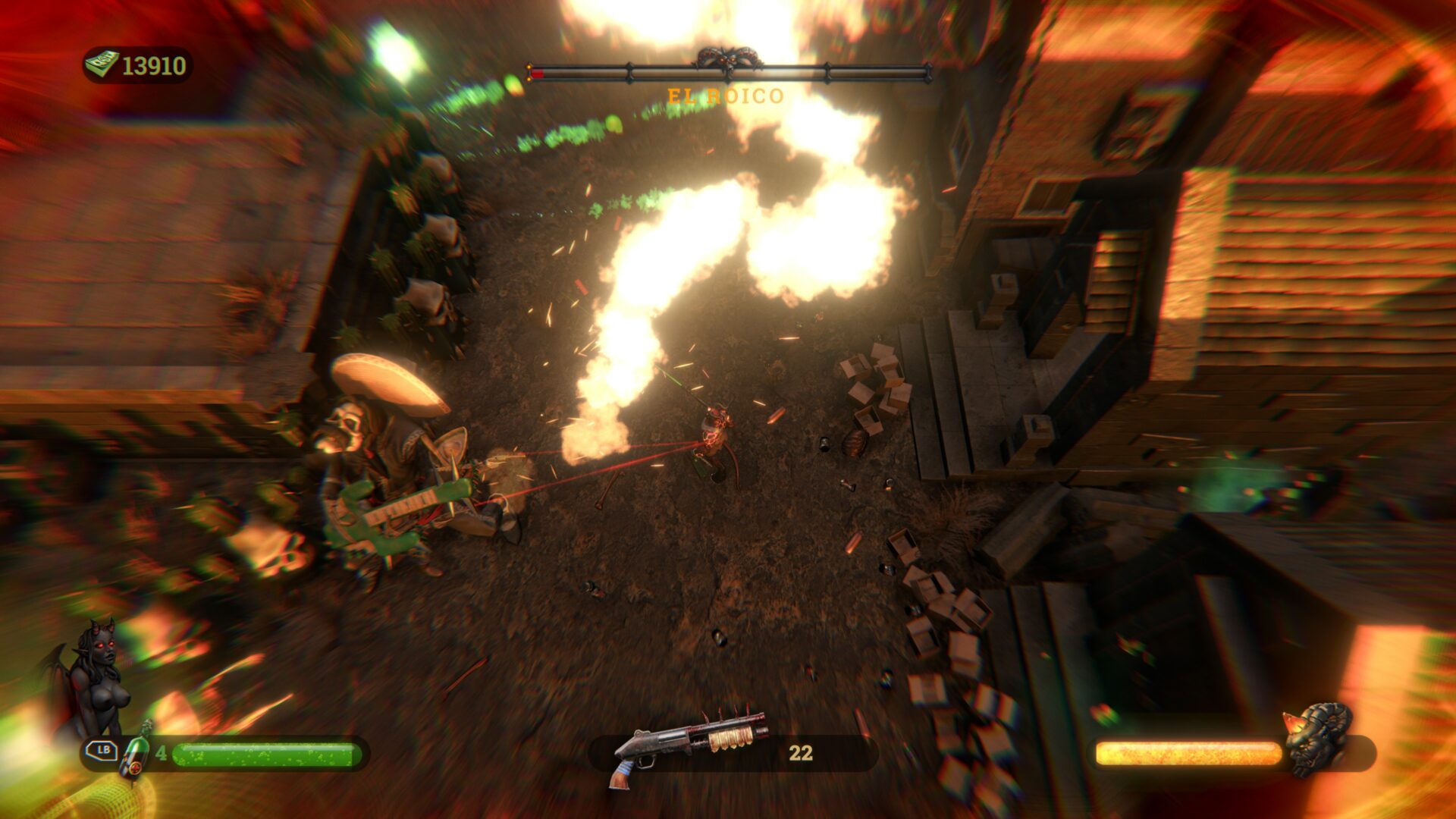 Special effects are something to behold. From Lucifer's summoning circle, to the weapon effects and rage beam, to the explosions and fog-like effects, they look fantastic and are animated really well. It's probably the most impressive-looking twin-stick shooter I've played in this regard.
Sounds and Writing
Sound effects are good, too, and fit everything to a tee. Music is in an instrumental heavy-metal style, which really isn't my cup of tea, but is to be expected given the setting and style of game.
The voice work is pretty terrible, though, with some of Lucifer's lines being cringe worthy in both script and performance, and one of the reporters sounding very amateur. The rest of the script is exceptionally well written, though, with some fantastic lines that had me cracking up, even after reading them again on my second play. A few small typos mar what is otherwise very, very good writing.
The game is filled with comedy, including pop culture and memes, some of which went over my head. For example, I seem to have a brief recollection of ponies and battle tanks from somewhere, but while I can't place it, I still can't help laughing when I read some of this stuff! It's also completely irreverent, with sex jokes, swearing, poking fun at all sorts of groups, and some funny references that I won't go into, since that would spoil the fun.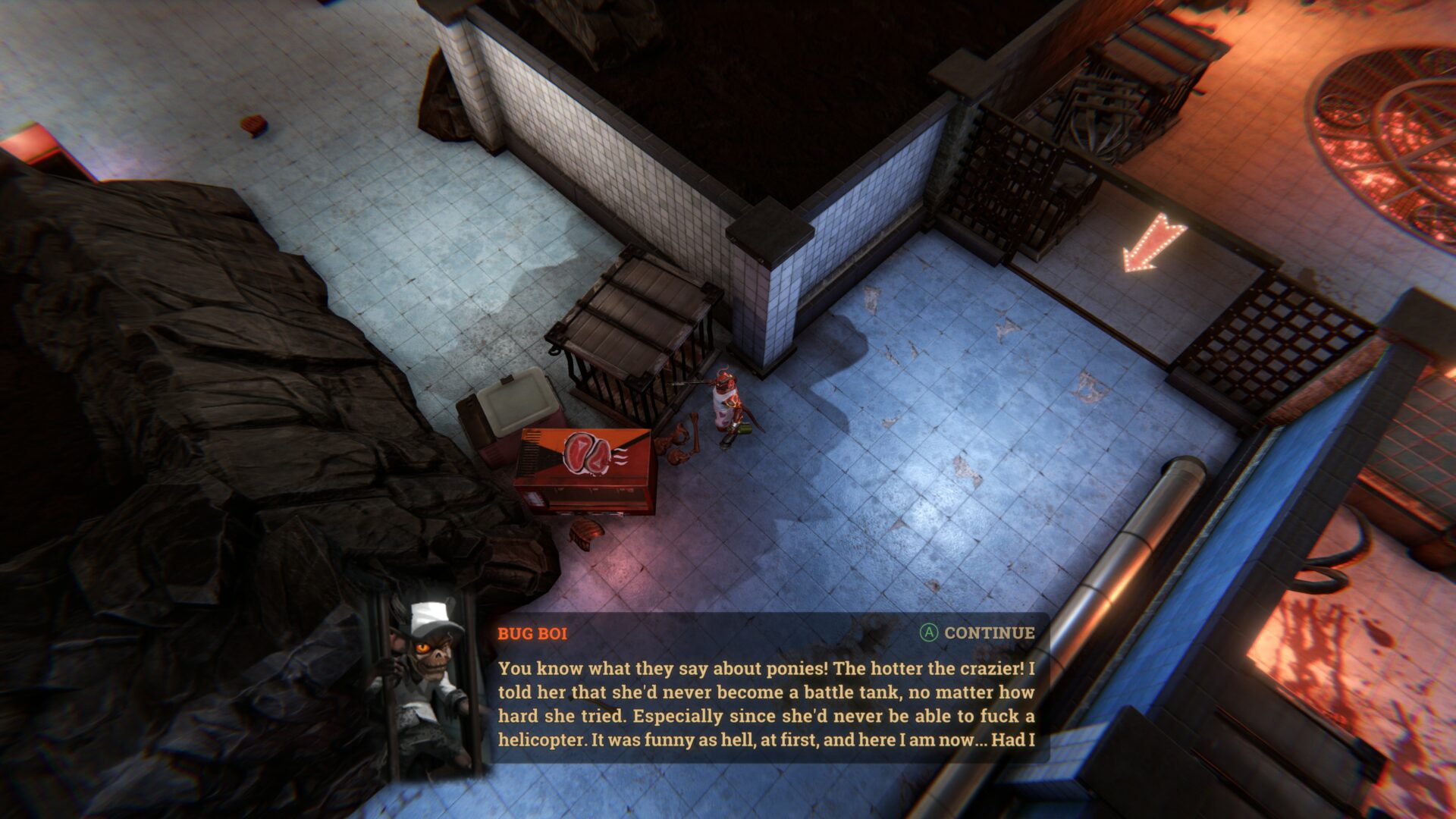 I have to say, though, that I am left wondering where they came up with the idea of having Lou head butt triple-breasted statues in order to open locked doors. I mean, a boobie door is a pretty cool idea, but … WTF!?
Performance
Performance-wise, let me first say this: Radeon RX 5700 Adrenaline drivers are a gamble! I just got a new desktop PC after my gaming laptop died and the RX 5700 caused me rather a lot of problems. BDSM caused the driver to crash immediately upon displaying the first splash screen, causing a Windows 10 BSOD, but it wasn't alone: at three other Unity engine games did the same!
But never fear! If you have a RX 5700, install the 19.10.1 driver, released on October 17th, and all will be well. Apart from an occasional one-second-or-so pause, which I'm pretty sure is a resource-loading issue rather than a graphics performance issue, BDSM now plays very nicely indeed with everything turned up in 4K resolution.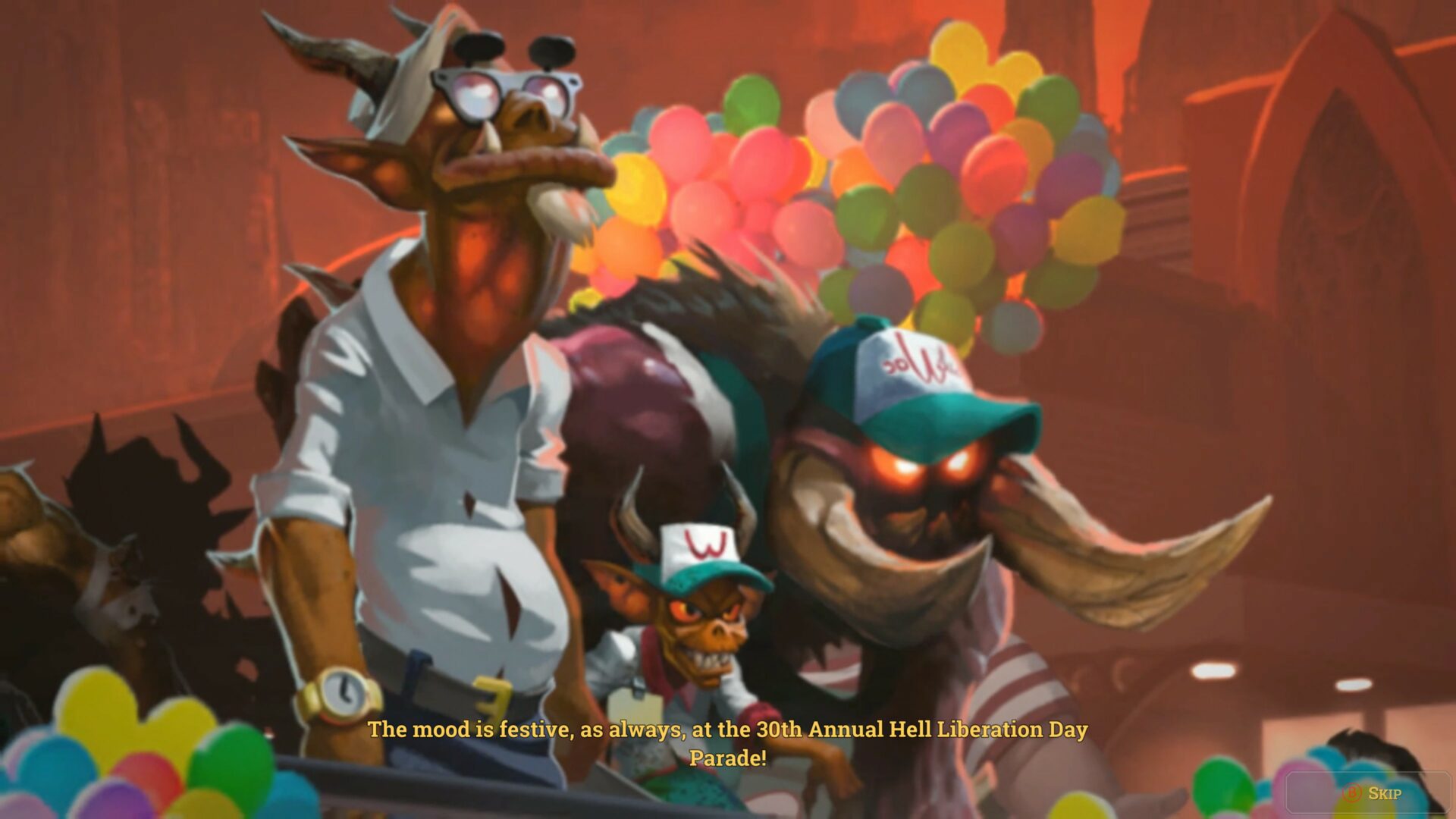 Issues
BDSM has a few small issues.
The most annoying one to me is that dropped MILK, ammo, and cash disappear after such a short time. I'll find myself charging into the battle or holding off on using rage because I don't want to let the game rob me of my reward, which isn't really how I want to play. Other than that, I encountered a few rare AI pathing issues, such as the Chapter 3 boss getting stuck on geometry, making him a very easy kill, and the lack of minimap, or even separate screen map, is a bit of a hassle on the larger levels. I also thought it was a bit silly that the traps that damage Lou do not damage his enemies, especially given their nature; metal spikes and giant blades should hurt anyone that touches them, right?
Probably the most serious, though, is the lack of replayability. With no procedural generation of levels and no meta-progression between plays, the only reason to play the game again after finishing it is to get the Steam achievements — or just to enjoy the humour again, of course. I finished my play through in around five-and-a-half hours, too, so it's not exactly a long game. Given the asking price, it doesn't seem like quite enough bang for buck.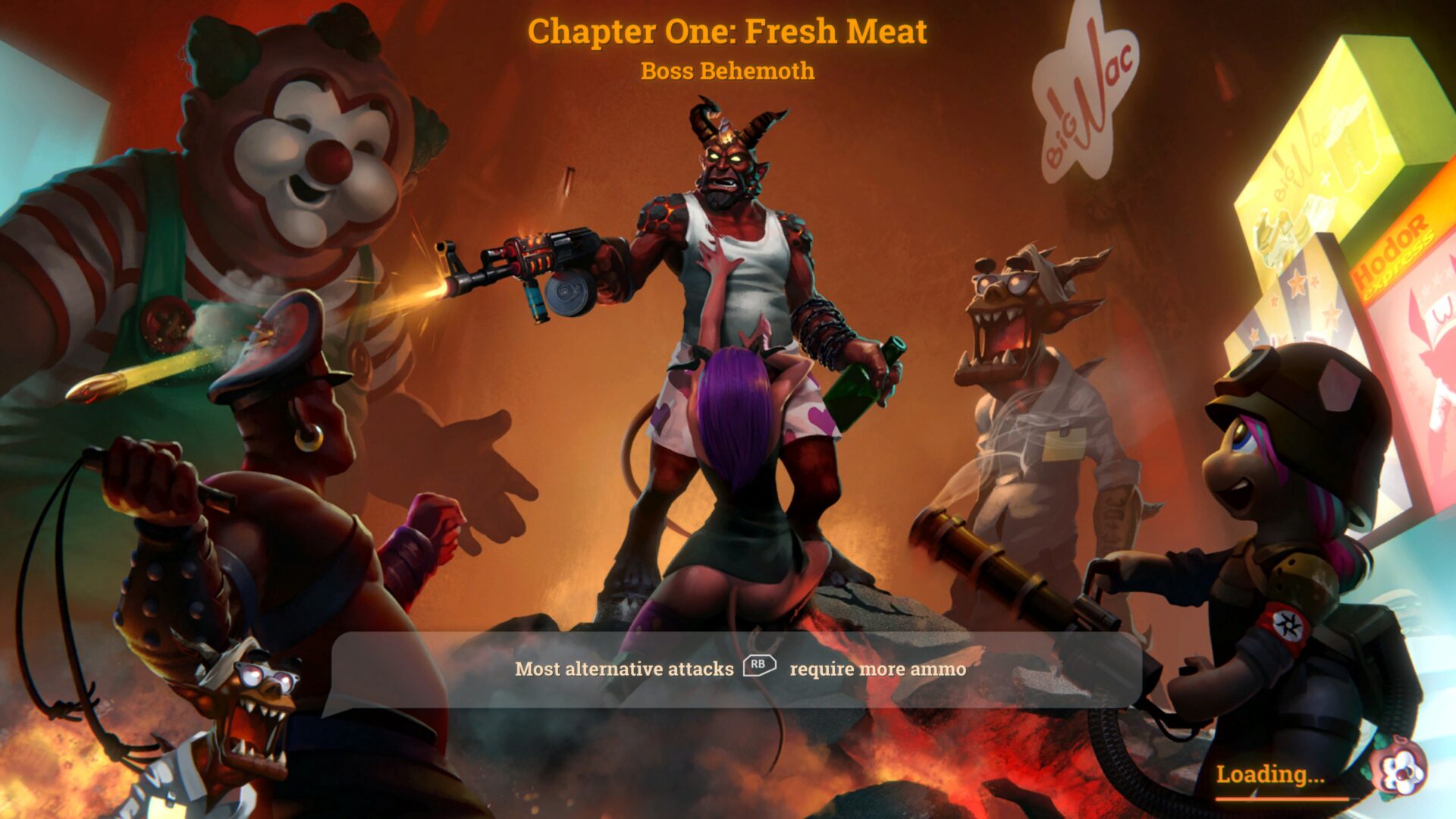 Verdict
Big Drunk Satanic Massacre is one of the more silly games I've played recently, but I went into it expecting that. What I wasn't expecting was for the script to be so funny, and the gameplay to be so good. A few minor issues aside, BDSM is a very clean room-based twin-stick shooter with some hilarious writing and creative enemies. Ignore the comment in the game description about "strong RPG elements".
It's great fun, but rather short for the price.