Thrilling story and fantastic protagonist are not enough to place Days Gone amongst the best Playstation exclusives as the game's performance issues, weird pacing, and somewhat forgettable character hold back Bend's entry from reaching its full glory.
Author: gamerexq
Released:
Playstation
Type: Single-player
Genres: Action-adventure,
Survival Horror
Developer: SIE Bend Studio
Publisher: Sony
Release date: 26 April, 2019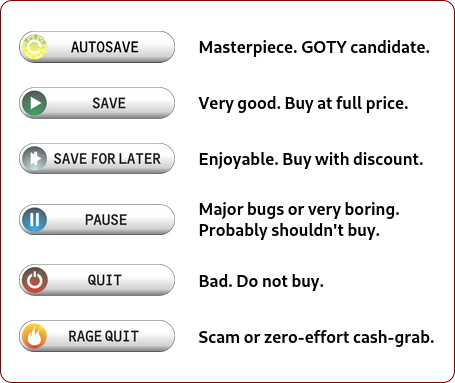 Intro
Another zombie entry, another try at reviving this thematic and serving a worthy experience to the players is a large bite to swallow in 2019. Bend studio tries to innovate providing some interesting gameplay mechanics but falls short in creating a compact experience that we expect from PlayStation first-party studios.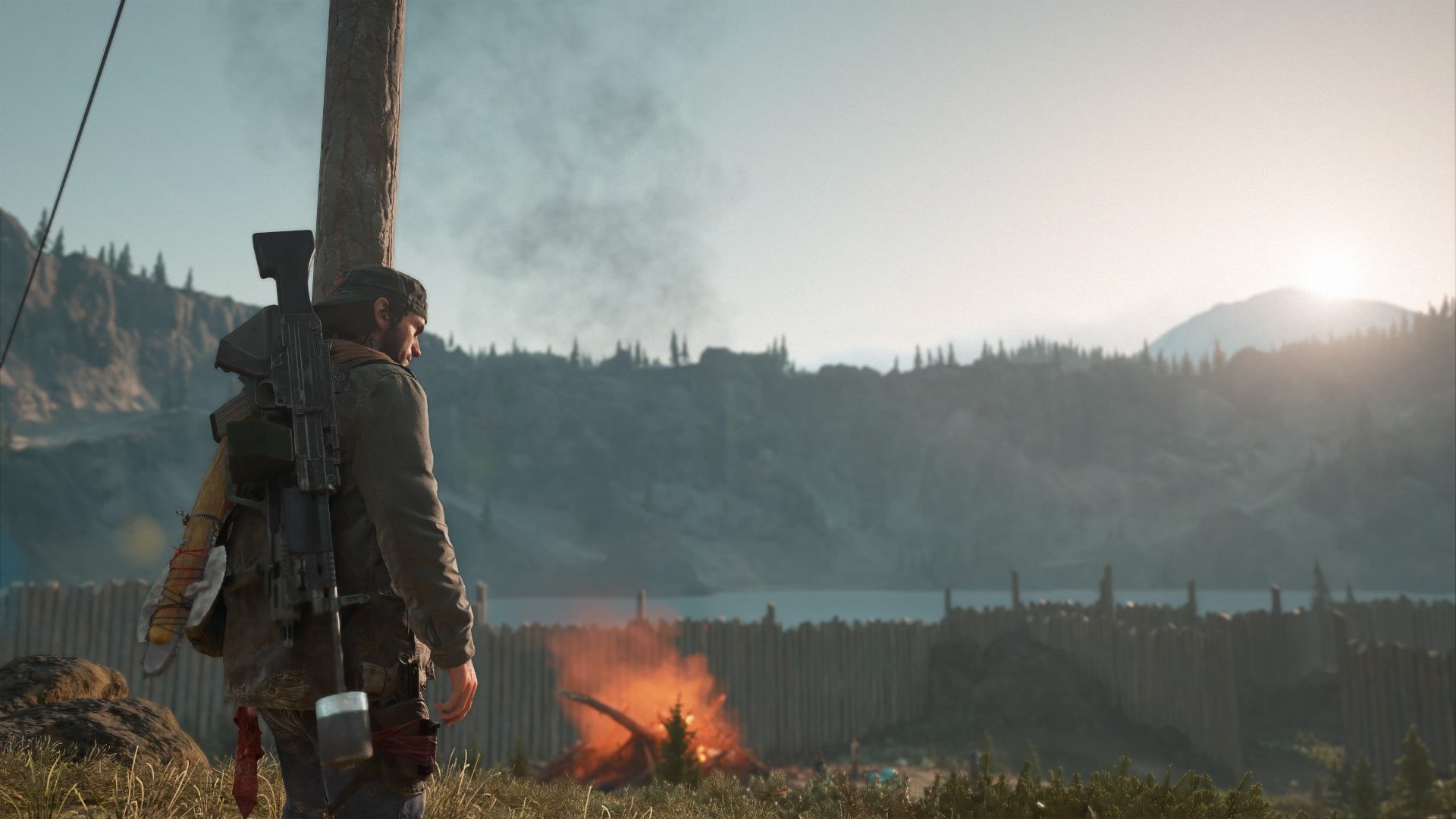 Exploring the world
Things start off slow and as simple as it gets, where you are introduced to the main character and its most worthy companion – his bike. It tries to set a precedent for what is to come with flashbacks that provide a sense of how this world came to life – or rather death. Almost instantly you are shown what it takes to survive in the wilderness and what it takes to endure whatever is thrown at you.
Throughout the game, you earn your place among the various camps while providing help to each of them – shown in either retrieving the missing member or getting your hands dirty and clearing out enemies that present threat to the camp.
As a loner, in the beginning, you never feel like a part of the camp but rather a provider who helps and gets the job done – for a hefty reward and experience.
Each camp provides different benefits. For each mission you do, you get a certain number of so-called 'camp credits'. They go towards either refilling your ammo and fuel, enhance your weapons or rather upgrading your bike, which seems like the most sought for choice.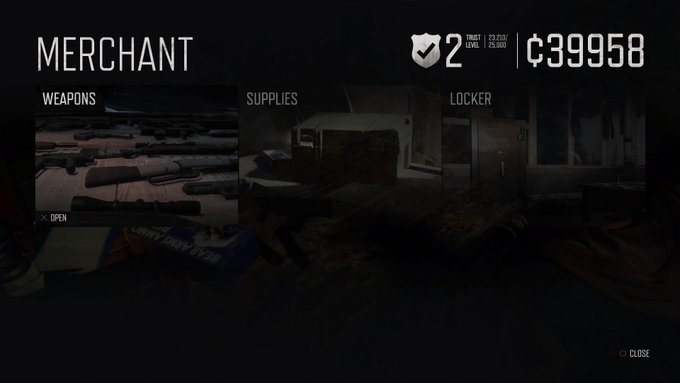 As you do more and more objectives for each camp, you'll increase their trust level which gives you the options to buy even better equipment for both yourself and the bike.
Missions or as they're famously called, side-quests are streamlined through your radio. Every now and then you'd get a call from these camps to visit them in order to accept the assignment and go on your journey. This kind of process leaves a lot to be desired as exploring doesn't seem to have a lot of weight given that your missions are served on the platter for you to do.
Exploration can be rewarding but it doesn't, unfortunately, bring a lot of benefits to the player. The occasional question mark '?' on the map would put you on a trail of finding a kidnapped person and rescuing them for which you are rewarded with, again, camp credits and trust level.
Your trusted companion.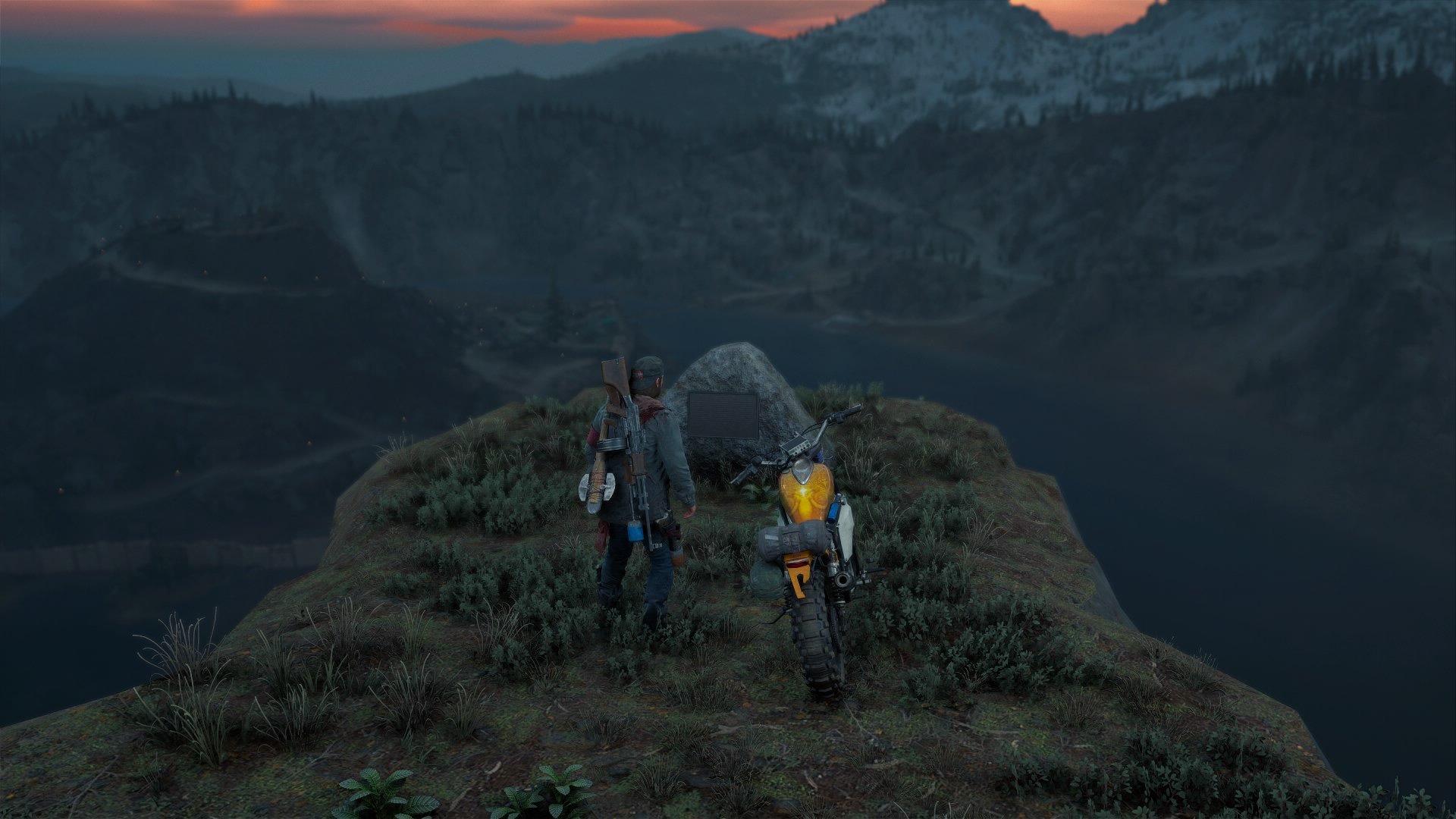 Your bike rides almost as you expect it to – after you upgrade it. You'd find it often a somewhat unreliable vehicle to get to your location as turning, accelerating and everything about it seem sluggish, slow and unresponsive. As you progress through the story, you realize the importance of your trusted companion so you put a lot of care into perfecting this ride of yours.
Traversing the world is easy when you got your bike – and fuel. For a world so devoid of resources and life, you seem to be able to find gas almost everywhere. If you manage to run out of it, be prepared to push your bike until you can refill it again and be on your way. Upgrading your bike to store more ammunition, fuel and have a better driving mechanic can go a long way when exploring this world. Although there is a fast travel option, it is very satisfying to drive a bike after you improve the speed, turning and overall feel of the bike. This, however, brings the infamous performance problems that are visibly present when your bike is at the maximum of its capabilities as the game really struggles to process the environment the faster you're going.
Later on, you get the ability to use a nitro boost. This ends up opening a few parts of the map that previously, without it, wouldn't be accessible. Those parts usually include Nero checkpoints – stations that you have to enter in order to upgrade your health, stamina or focus.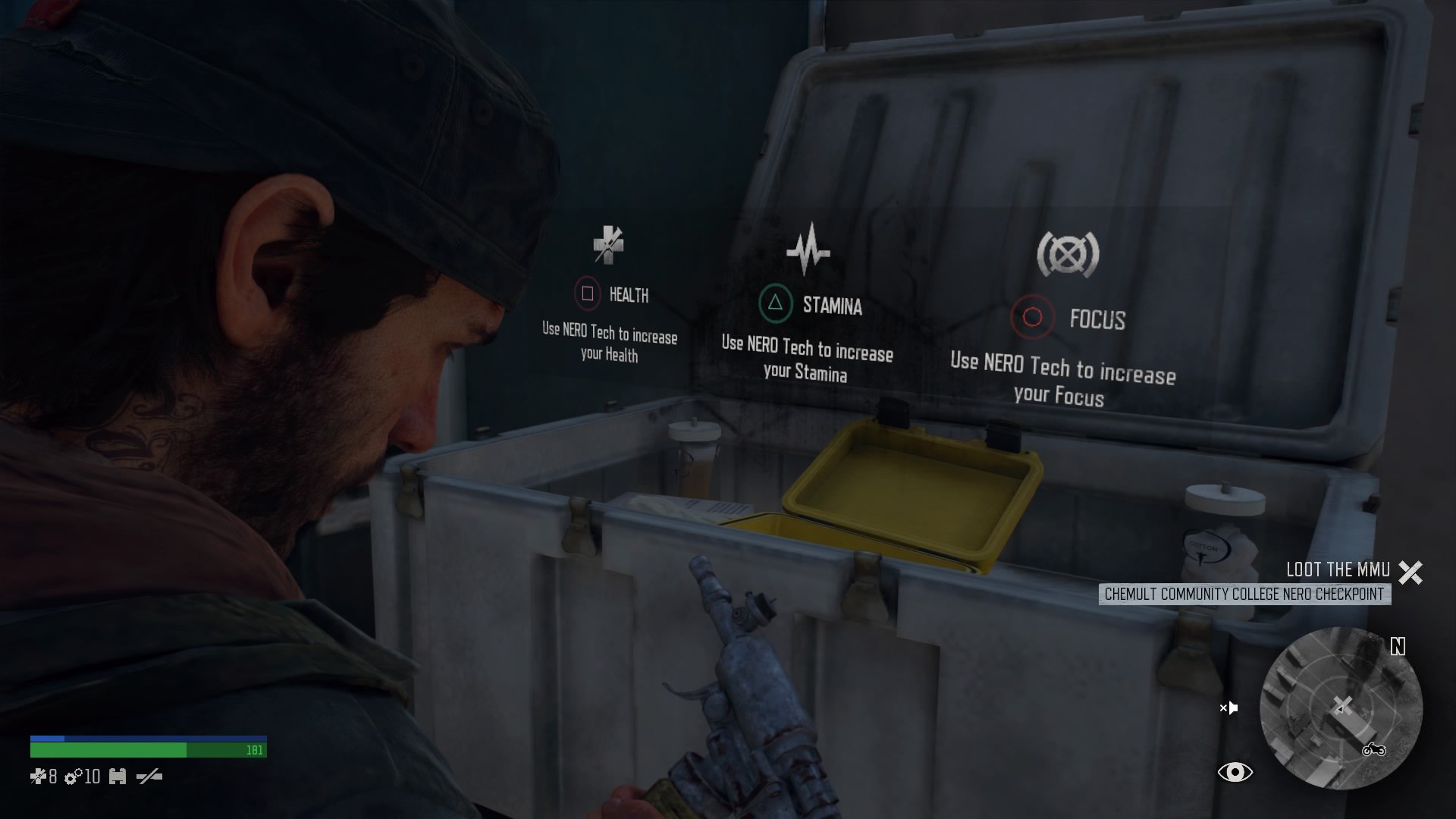 This would end up being handy when dealing with hordes – the best part of this game by far. There's a lot of ways you can approach these hordes no matter their size but one thing is for certain – fire is more than deadly.
Hordes and fire.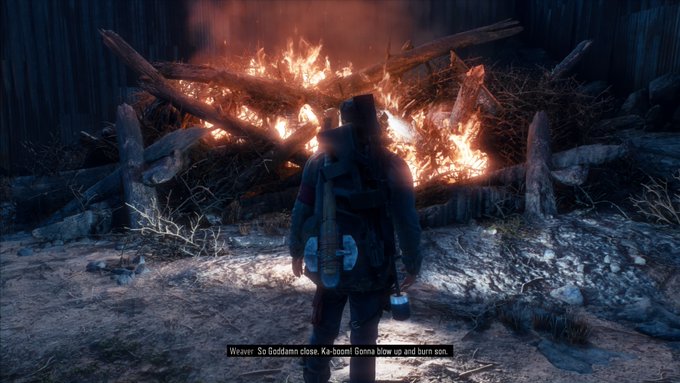 Fire, traps, bombs, smoke grenades are all tools you have at your disposal to navigate through what sometimes seems like an infinite number of zombies that make a horde.
This is where your stamina, health, and focus come into play. Ability to slow down time, also known as a focus in Days Gone gives you the power to carefully pick and drop zombies with one of your weapons, be it main, secondary or special. The latter are really special – crossbows or my favorite, machine guns that can rip through the horde in a blink of an eye. As long as you have enough stamina to run from them and a big mag, your problems are solved.
Hordes are stupid but their size can be tricky to handle depending on the environment you encounter them in. Going over obstacles and climbing on top of stuff is the safest way to slow them down while giving you some upper hand in picking them off 1 by 1 and lowering their count significantly.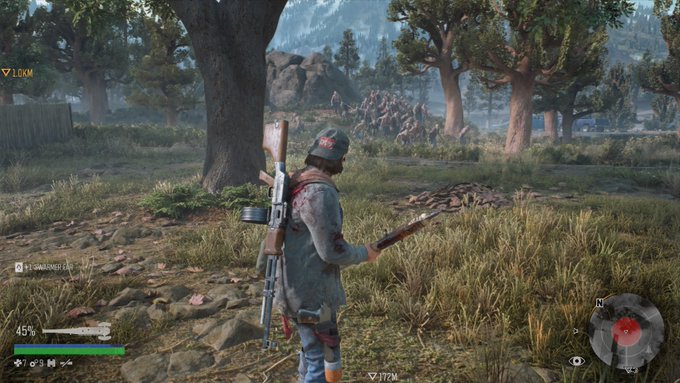 This all sounds great on paper and in theory but you'd soon realize see that this fantastically made out gameplay is let down by the story that has a lot of forgettable characters and predictable outcomes.
Deacon, the main character is a pretty weird fellow that takes a lot of time to get used to. The more you play, the better it gets in terms of story as the map opens up. The question is, are you willing to go through the incredibly sluggish first few hours of the game in order to reach the real deal that may be satisfying but overplayed in this time and age.
Verdict
Days Gone is a solid entry that leaves a lot to be desired. It sets a good base for a potential sequel in which if they improve upon on can create a fantastic entry that would pique the interest of a lot of players. Bend's studio proved it's worth with Days Gone but can they reach the so-called 'Hall of Fame' status when it comes to PlayStation exclusives is yet to be seen. Fingers crossed.