School is in session and this time you're the boss.
Released:
Steam Early Access
Type: Single-player
Genre: Simulation, Management, Strategy
Developer: Squeaky Wheel Studio Inc
Publisher: Squeaky Wheel Studio Inc
Release date: 8 September, 2017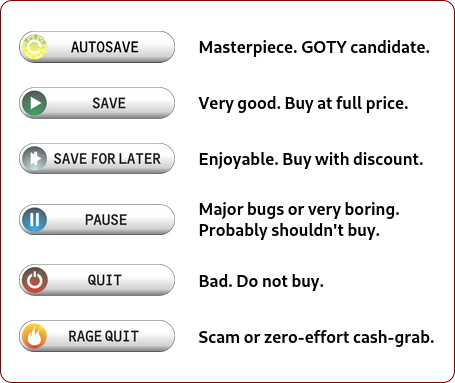 Overview
If you've ever wanted to design a school from the ground up, you've come to the right place. Academia: School Simulator gets you in at the conception phase as you lead your institution from establishing its name and emblem to achieving Ivy League greatness. Every step along the way involves you and the decisions that you make including not only the construction and design of its structures but also in who is employed there and the environment and overall routine of those who populate your center of learning.
The Founding Of Your Very Own School
When you first start your game you are brought to the school customization screen. Here you decide on your school's name, motto, emblem, and student uniform as well as the difficulty settings for your game. There are a number of options to mess around with to your liking and you are certainly not lacking in freedom of choice, though I would have liked even more options; the addition of teacher uniforms and biomes, for example, could do wonders for further differentiating one school from the next. However, even in its current state, the customization on this screen is more advanced and in-depth than one might assume and it was an enjoyable and intuitive experience that created a first impression that made me quite optimistic about the game that I was about to buckle down and play for several hours.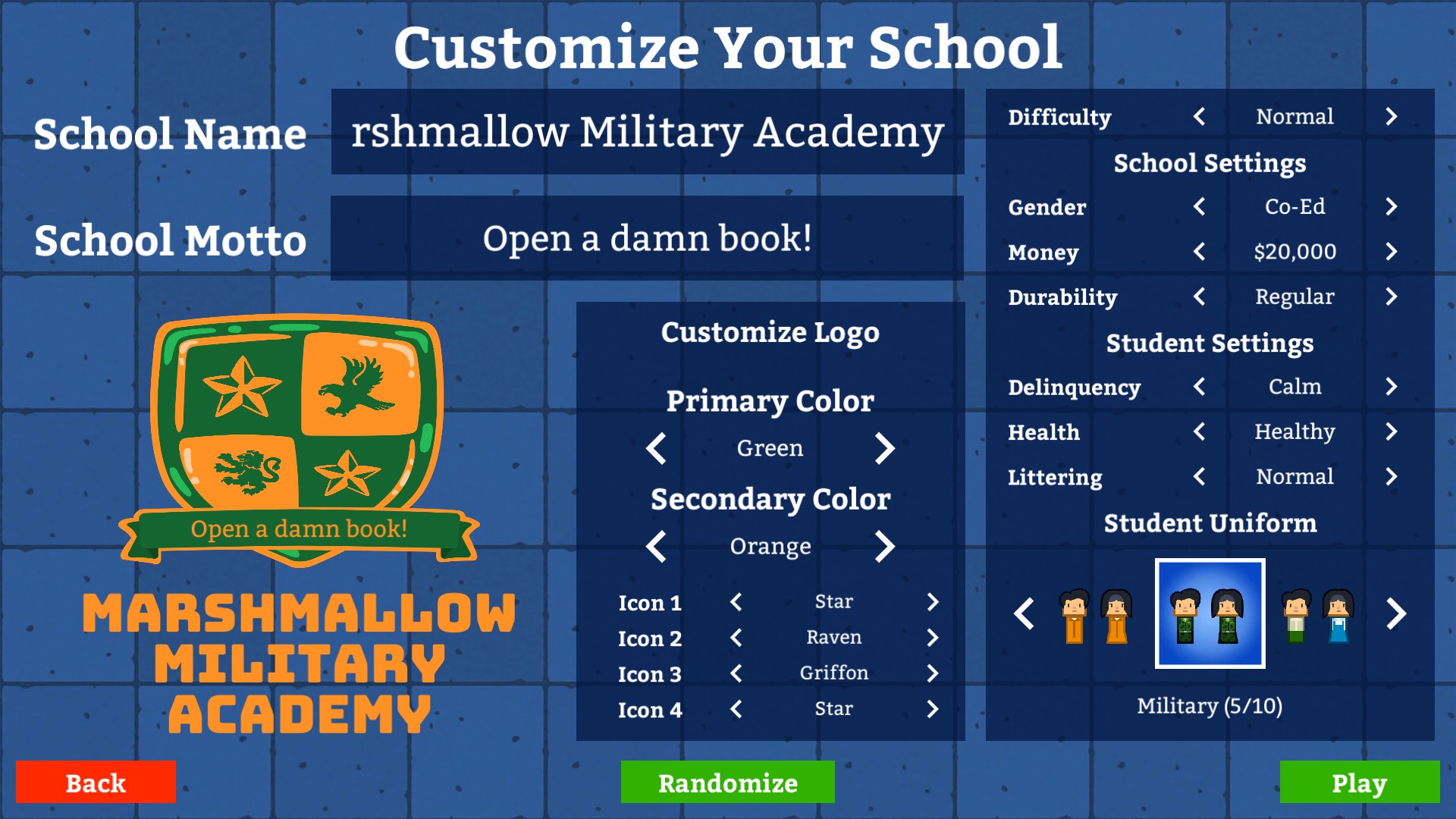 The Ribbon Cutting Ceremony
No, you're not actually getting a ribbon-cutting ceremony. Once your school is founded you will find yourself looking at a large, empty plot of land graced only with a road and a significant number of trees and bushes. This is where you will spend the vast majority of the game, the exception only being at the end of each year with a brief summary of your institution's performance. Your first step will be the construction of a principal's office and starting with this the keys to the castle are in your hands and within moments, you'll be introduced to three of the most integral aspects of Academia: School Simulator: grants, admissions, and staffing.
Grants are tasks that you can complete for additional funding that payout both in advance and upon completion. This type of funding is very important to the future success of your school and the tasks may include anything from hiring a few janitors and placing a few trash cans to researching and constructing a library.
Admissions are key to the success of your institution as they are the primary source of your income. Each year, including the first, you are informed of the number of students that have applied to attend your school and you may choose to accept as many of them as you have the capacity for. Every student comes with an upfront tuition cost that is immediately added to your treasury upon the start of the school year as well as having the effect of increasing the subsidy that you receive daily as long as they continue to remain in attendance.
Your staff is just as important as your student body as your school will simply not function without them. Most of the staff in the game are generic currently, for example, one cook is exactly the same as the next cook regarding their wages and efficiency although they may have varying names and appearances. Your teachers are the one exception to this rule and they are a major one; every teacher has a set of six skills, one for each subject that is taught at your school, and this determined how capable they are of ensuring that your students achieve the highest grades that they can. The better your students perform, the more your school is rewarded, the more its prestige grows, and the larger the number of candidates who seek to join your ranks the following year will grow. Teachers are separated into three categories as well: Bachelor's, Master's, and Doctorate degrees that offer significantly different levels of efficiency in their teaching as you might imagine.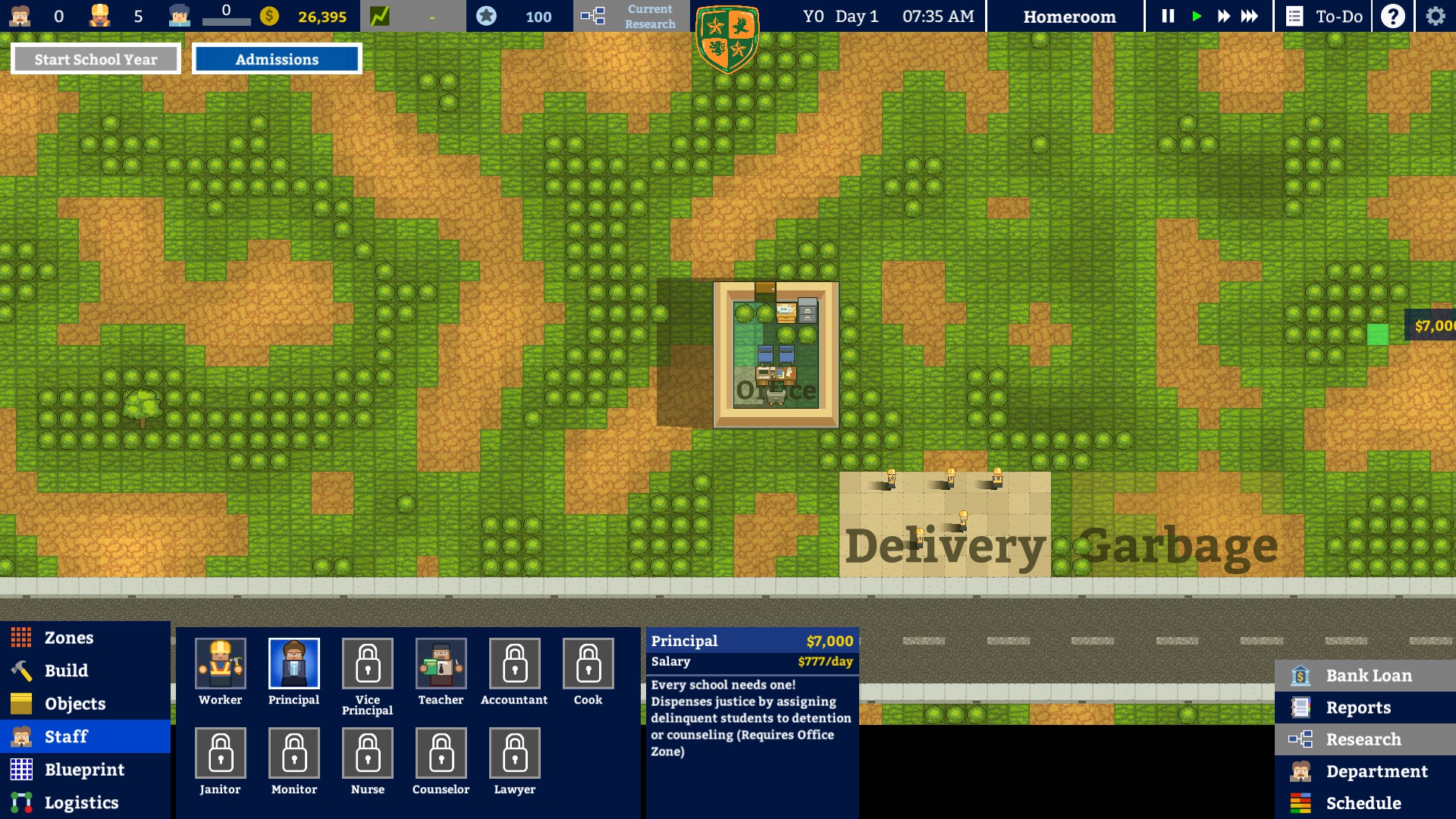 But How Are The Graphics?
The graphics and audio are not by any means going to push any system to its limits unless you are breaking out your Commodore 64 for the experience. I enjoy the simple art style and it never caused me to feel as if my immersion had been broken, as a matter of fact, the simplicity played in its favor by always keeping me on track and avoiding any distractions that came up. The music and sound effects were above average as well and worked well for the game, there weren't many but they set the mood as calm and relaxed, similar to something that you might hear in a game like Stardew Valley. In short, both the graphics and the audio work well for the game but they most likely won't be blowing anyone's mind.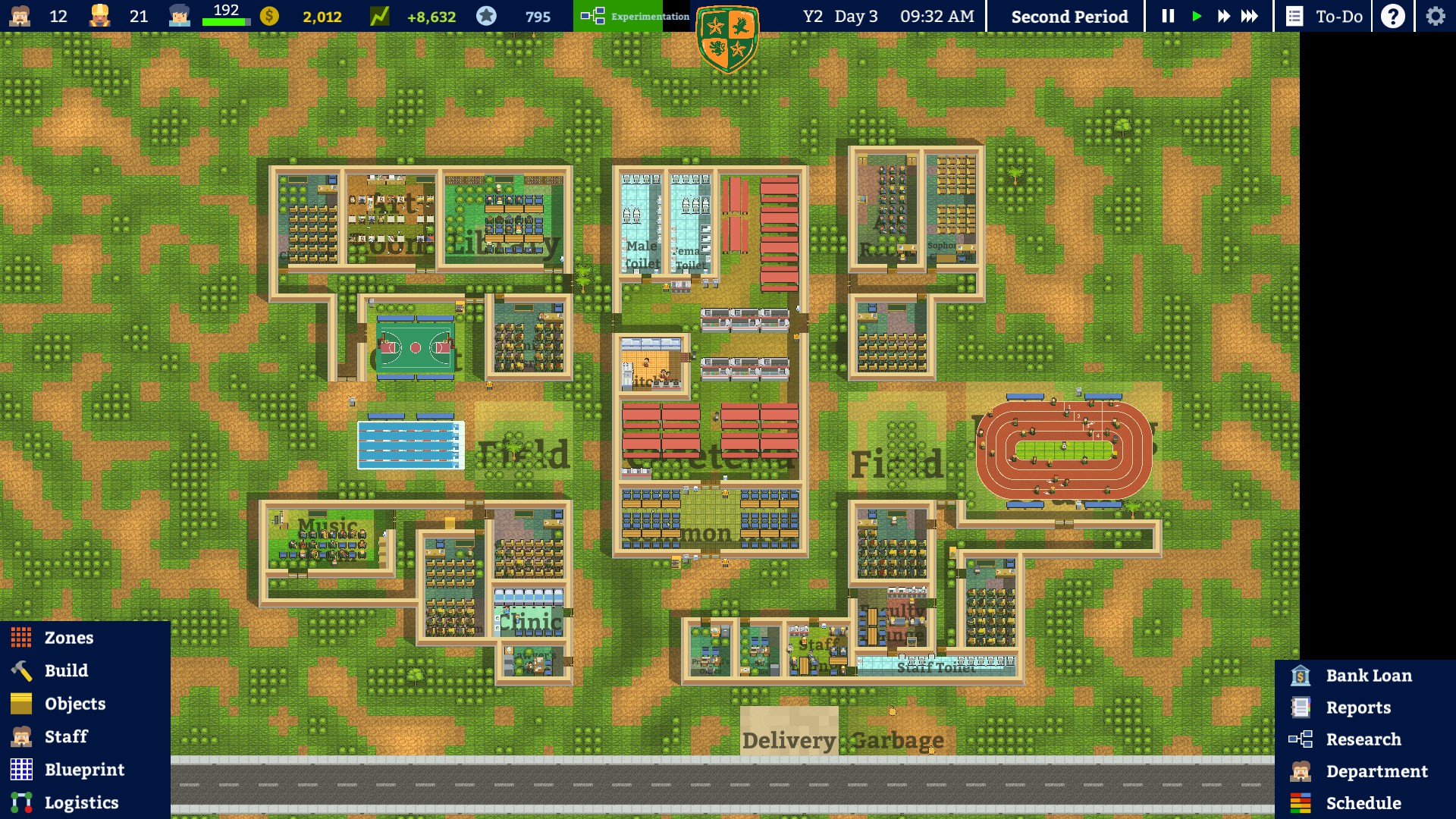 What Is Solid?
I played through nearly all of the content in this game twice on the default settings before writing this review and there are a number of features that are enjoyable. The first time, I made a 'classic' school that was a single building and designed to be a standard prep school and chose to use the British school uniforms (Gianni Bato Prep); the second time, I decided to make a military academy campus that was split into several buildings and the students were required to wear military dress (Marshmallow Military Academy). I was happy to see that both were efficient and that neither seemed to be a worse option than the other. I also enjoyed the variety of room types that you can unlock for your school, everything ranging from libraries to AV rooms to a variety of sports-focused rooms and so on; I never felt that my options were limited in this regard. The reports that are available to you were some of the most streamlined and efficient ones that I have seen in a game of this type, I always knew exactly what needed to be improved to keep my students fulfilled and out of trouble.
During the time that I played I encountered only one real issue with the game and it was one that was text-based. One of the grants on the list had a requirement that was not accurate for the technology required to unlock the building that was the only other requirement to receive the completion funds. I notified the developers via Steam and received a response within only a few hours of sending it that included a genuine 'thank you' and it added another layer of optimism for me that this game is destined to be great in the future.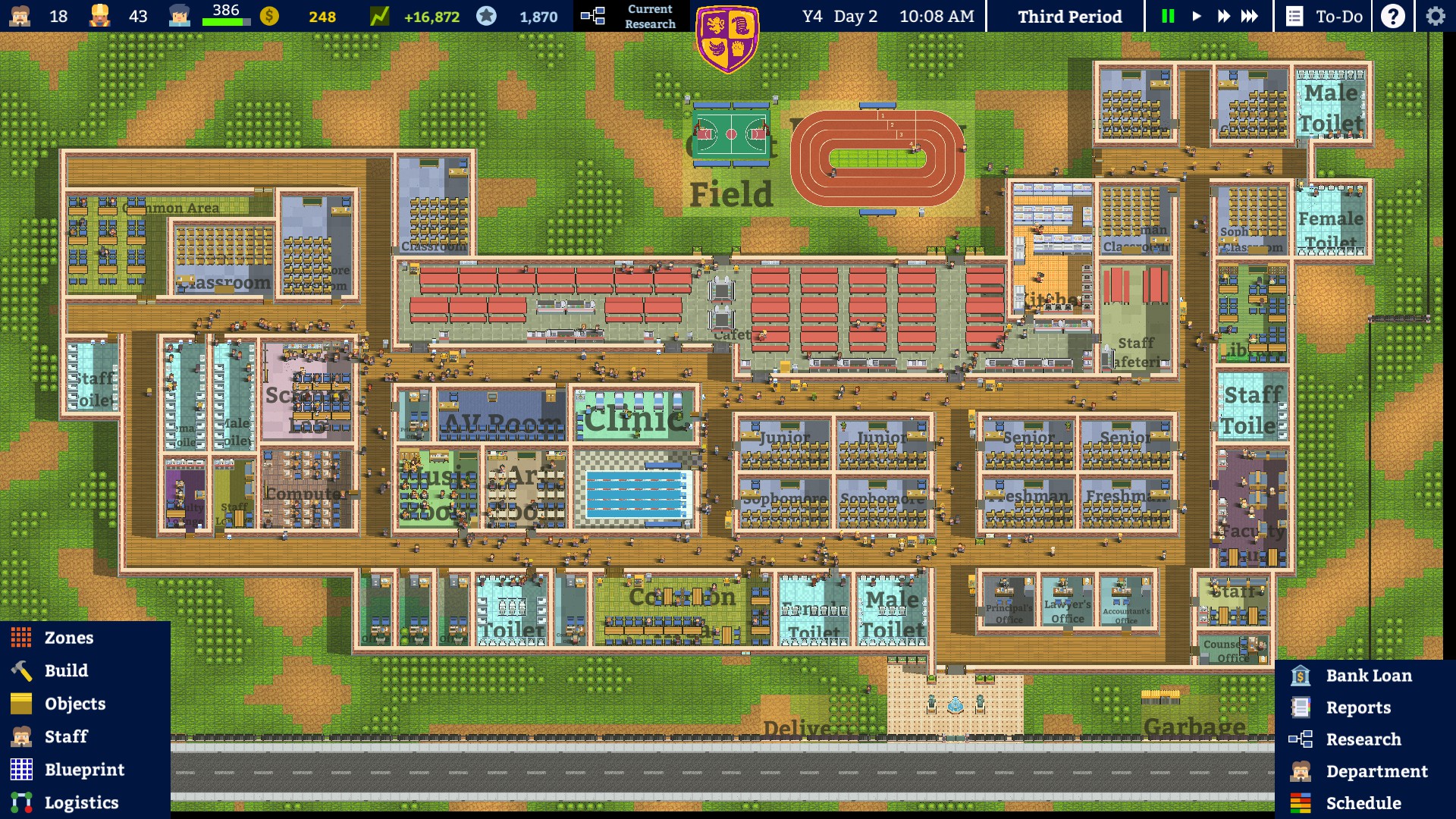 What Can Be Improved?
As contradictory as it sounds after reading my earlier praise, I believe that additional rooms would certainly add to the longevity of the game. Although my first school took several hours to get to the point of unlocking all of the content for building, on my second run I had it all constructed on my campus within an hour and a half.
I would also suggest additional challenges that arise during the course of your institution's career. My first year with Gianni Bato Prep was fairly challenging but by the time the windfall of funds from admissions arrived at the beginning of the second year, I never had any financial difficulty again. I still very much enjoyed the casual nature of building and managing a growing school but there was nothing left that offered a challenge. My experience with Marshmallow Military Academy was simply casual from start to finish after having learned the nature of the game previously.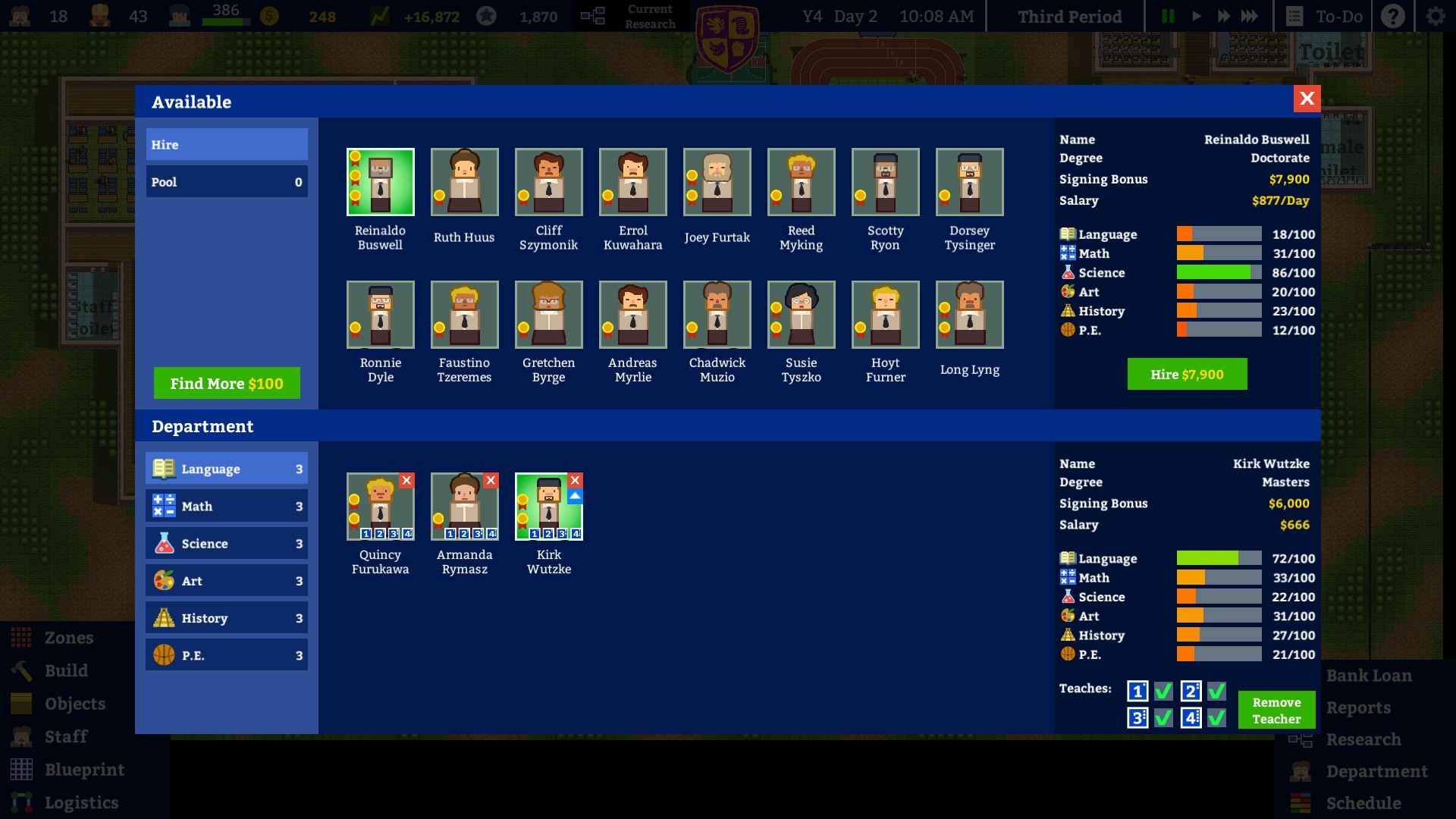 Verdict
My overall recommendation on this game currently is to pick it up if you're a fan of management and construction games like Prison Architect, these games are very surprisingly similar in their feel even if their themes are quite different. The game that is currently available to be played is certainly playable, I didn't feel that I was grinding through the hours to experience enough to write this review, I genuinely enjoyed every second in the game. It could certainly use more content, though, and within less than a dozen hours, I had experienced nearly everything that the game had to offer.
If you want a game that gets you the full value of your $20, the current asking price, I would look elsewhere but I would definitely suggest that you wishlist this one for later. Even with the amount of fun that I had, $20 seems to be a bit much for the content that's currently available unless you enjoy what's here enough to support the developers in building the gem of a game that this has the potential to become.