Any versions but the PC
Released on Multiplatform
Type: Single-player, Multiplayer
Genre: Action, Arena
Developer: Arc System Works, APLUS
Publisher: Arc System Works, PQube
Release Date: Jul 26, 2019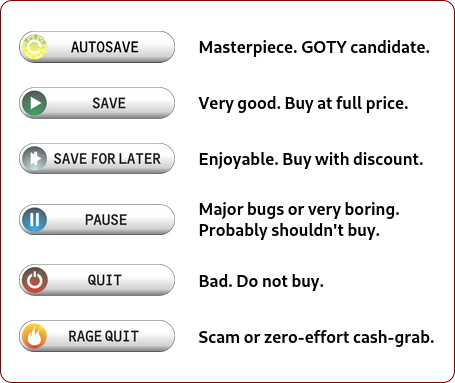 [Due to the size of the animated gifs present in this review, please allow some time for them to load. Chrome is recommended for best viewing experience]
Kill la Kill is the series that got me back into anime. I quite adore it to the point that I purchase several related merchandises which is something I rarely do. So yes, I am a bit of a fan. Have you seen my avatar? I was quite excited back in 2015 when Saito Kenji, the game director of Platinum Games (Metal Gear Rising, Bayonetta, etc…), expressed interests via a tweet in making a game based on this IP. Unfortunately, that went nowhere. This idea is later revived and realized by A+ games whose previous title consists of one Little Witch Academia: Chamber of Time which is based on another anime by the same studio as Kill la Kill, Studio Trigger. Although you see Arc System Works logo which may lead some to believe that the game was going to be a traditional 2d fighting game with unparalleled art style, to my understanding, it only acts as a publisher and as advisor to a certain extent. How did the game turn out? Kill la Kill IF is a 1v1 arena action game with solid core gameplay with mostly strong visuals dragged down by the execution of story mode and other issues.
Visuals
Unarguably, one of the strongest aspects of Kill la Kill IF is the aesthetics. While not completely on the same level as Arc System Works, the visual is still phenomenal. Save for some angles, the look and feel of the characters are taken straight from the source material especially during special attack zoom-ins. Seeing the majority of these moves is always a treat as it is akin to reliving scenes from the anime. Hell, even the way certain characters are animated is faithfully replicated in this game like Inumuta's no in-between frames or Gamagori variable sizes. On top of these, there are also original moves unique to certain characters in the game which look as good, if not better, than the ones that are translated from the anime.
Gameplay
Compare to other arena-style games, Kill la Kill IF is perhaps the closest to a fighting game. Fights occur in a 3d arena in a 1 versus 1 setting without any assists or support characters. All characters can perform normal attacks, shoot projectiles, and guard break attacks with the ability to enhance them into special attacks using left shoulder button and resources. By pressing the attack buttons in a string or a certain order, different kind of attacks often specific to each individual will come out. Combining this with the aforementioned special attacks and you get yourself a basic combo with an ender but this is just the surface. There is a decent amount of combo possibilities when taken into account various attacks, unique character traits, and move properties that are not immediately obvious. Everything is there in the command list. You will be rewarded for your hard work if you are willing to put in the effort.
Although the roster is small, I still want to commend A+ games for making each character unique by equipping them with tools and abilities that encourage playstyles that are in-line with their personalities. Some of them also possess mechanics that cannot be found in other characters. For example, Nonon Jakuzure's projectile attacks will sometimes drop orbs which can be picked up to form a rotating barrier around herself befitting her keep away approach while Ira Gamagori can soak damage like a tank which will also build up his damage potential at the same time.
Oh yes, there is also a move called Fiber Lost Secret Arts which will instantly defeat any characters at the cost of the entire SP bar and end the match. At first glance, this may sound extremely broken…until you know the context around it. To even have the ability to use this ultimate certain-kill move, you will need to get your Valor level to 3 by winning Bloody Valor multiple times. Bloody Valor is a mechanic that causes both of the players to clash and engage in basically a rock-paper-scissors(RPS) match. The reward for the victor will either be doing damage, gaining SP meter, or recover some HP depending on what was used to win. However, if the winner was also the initiator, their Valor level will increase by one which can unlock the characters' potential in addition to the mentioned immediate benefit. The bottom line for Fiber Lost Secret Arts is that if either of the players can read their opponent 3 times and get their Valor to the maximum level with all of the permanent buffs, they probably deserve to use the instant-kill move.
The problems with story mode
As the word "IF" from Kill la Kill IF implies, this is a what-if twist take on the original anime with Kiryuin Satsuki taking the center stage instead of Matoi Ryuko. That's the gist of it. The story itself is mostly fine with callbacks and nods to events that happened in Kill la Kill. The story did try to subvert your expectations a bit but some of them are not for the better. If I were to be completely frank as a fan of the original series, I must say that I am not too fond of how certain things play out in Kill la Kill IF. It feels like A+ games missed a huge opportunity to expand on the setting and characters that Kill la Kill wasn't able to. There is somewhat of a lore explanation to this but it's anything but satisfying.
Speaking of unsatisfying, there's the way that story is divided into 2 parts. Actually, that's not quite right. It is probably more accurate to say that these are 2 identical stories that got gutted in different places. They are set up in such a way that one side would contain snippets that the other doesn't. The problem is that both parts share about 70-80% of the same cutscenes, some of which require the context of the scenes only available on the other side. As a result, the overall narrative of the story is negatively impacted. This is especially worse in the first part that it left me both confused, and discontent. One cannot help but think that this was done to artificially extend the length of the story mode. I feel that the story would have been far better had A+ games combined both sides into one single complete experience.
There are fights in story mode that frustrates me to no end. To clarify, I am referring to any fights that are not the standard 1v1 format which this game is designed on. One could argue that these give varieties to the gameplay, and they are not wrong. I do not have any problems with that sentiment but, again, the problem lies with the executions or lack thereof. Any battles that you have to engage multiple enemies at a time are simply not fun due to the absence of the ability to manually switch target. Because you auto lock-on to the closest threats, have fun with the constantly changing camera angle and the general inability to even rotate the camera. Another thing that I would like to bring up are fights that require you to use Fiber Lost Secret Arts to finish the fight. Playing rock-paper-scissors against an AI is simply unfun, let alone doing it enough time to get Valor to the maximum level. I understand that they are trying to immerse the players in a dramatic moment by using cinematic instant kill move but the execution is just not right. The entire thing feels as if A+ games just did these because they could but did not stop to think if they should.
PC related issues
From what I have seen from the forums, the PC version of Kill la Kill IF originally launched with a myriad of issues such as crashing from plugging in the controller and overlapping music. By the time I got to play which is a few weeks later, some of the gameplay breaking bugs seem to have already been fixed but not everything. I still had about 2-3 crashes from approximately 7 hours of playtime. The overlapping music bug is still very much a thing. The music from the previous fights will keep playing on top of whatever is supposed to be playing at the moment. This is somewhat bearable in most situations until it starts happening in story mode…frequently. Now you have things like battle music playing over a scene that is supposed to be somber, and that is all it takes to destroy your immersion.
There is also the problem that online mode is currently more or less non-existent on PC version. PC port often has less of a player base than its console counterpart which is often especially the case with fighting genre and the likes. However, for a game barely a month old, this is quite a hard drop. Perhaps this is due to a combination of buggy launch, small roster, and the high price point? Whatever the case, It is an impossibility to find online matches.
Final Verdict
The PC version of Kill la Kill IF is a hard sell. The lack of content outside the story which is further worsened by dead online mode cuts hard into replayability. Story mode that, while serviceable to some degree, is unnecessarily fragmented with battles that fail to take into consideration the limitation and flaws of the existing core mechanics and gameplay. Bugs that will hamper your overall experience of the game and destroy a good chunk of immersion. Even the fantastic visual and solid gameplay that it does have cannot possibly hope to carry these gargantuan flaws. In fact, this port is on the verge of being crushed to death. Even as a fan of Kill la Kill, I cannot in good faith recommend the PC port of Kill la Kill IF. Had these bugs not exist, this would have gotten a save-for-later rating. Get the console version instead.