Explore without too much thinking, just to escape and to survive!
Intragames (CEO Bae Sang-chan) announced that Survive! Mr. Cube is finally released today, June 28, 2018 for Nintendo Switch.
Survive! Mr. Cube is a Rogue-lite action game you can enjoy casually. The players have to find the gatekeepers of the portals protected by a locked tower and have to escape from the unknown world. There are four themes consisting of a total of 25 stages and the hideous monster crowds press the player. If the player gets killed in the fight, everything that was gained from the game is lost except GOLD and will start all over again from the beginning with a new character, the rouge-like system. In order to increase the survival rate, the items have to be used in the right place and search for the items assiduously to grow the character's ability.
The players can enjoy the game with the same contents and performance provided in PlayStation®4. The developers focused on control layout for user's better experience on portable mode and it is made in high resolution which can be enjoyed the same visual quality as TV mode.
In order to survive to the end, the character must be strengthen, and there are treasure chests hidden in each stage that consist of items to increase HP, SP, speed up of an auto self-recovery, speed up of movement on Mr. Cube in the game. This will give higher chance for the players to survive. Other than that, if the competitor cube is killed, it leaves a heart, an item for life with a weapon. This will help the players to recover HP right before it gets 0. The most interesting part is that the location of boss of each chapters changes randomly and no one knows where it will be. It is all based on luck how fast the players can find it and as it is mentioned previously in the article, it is important to survive by using the strategy.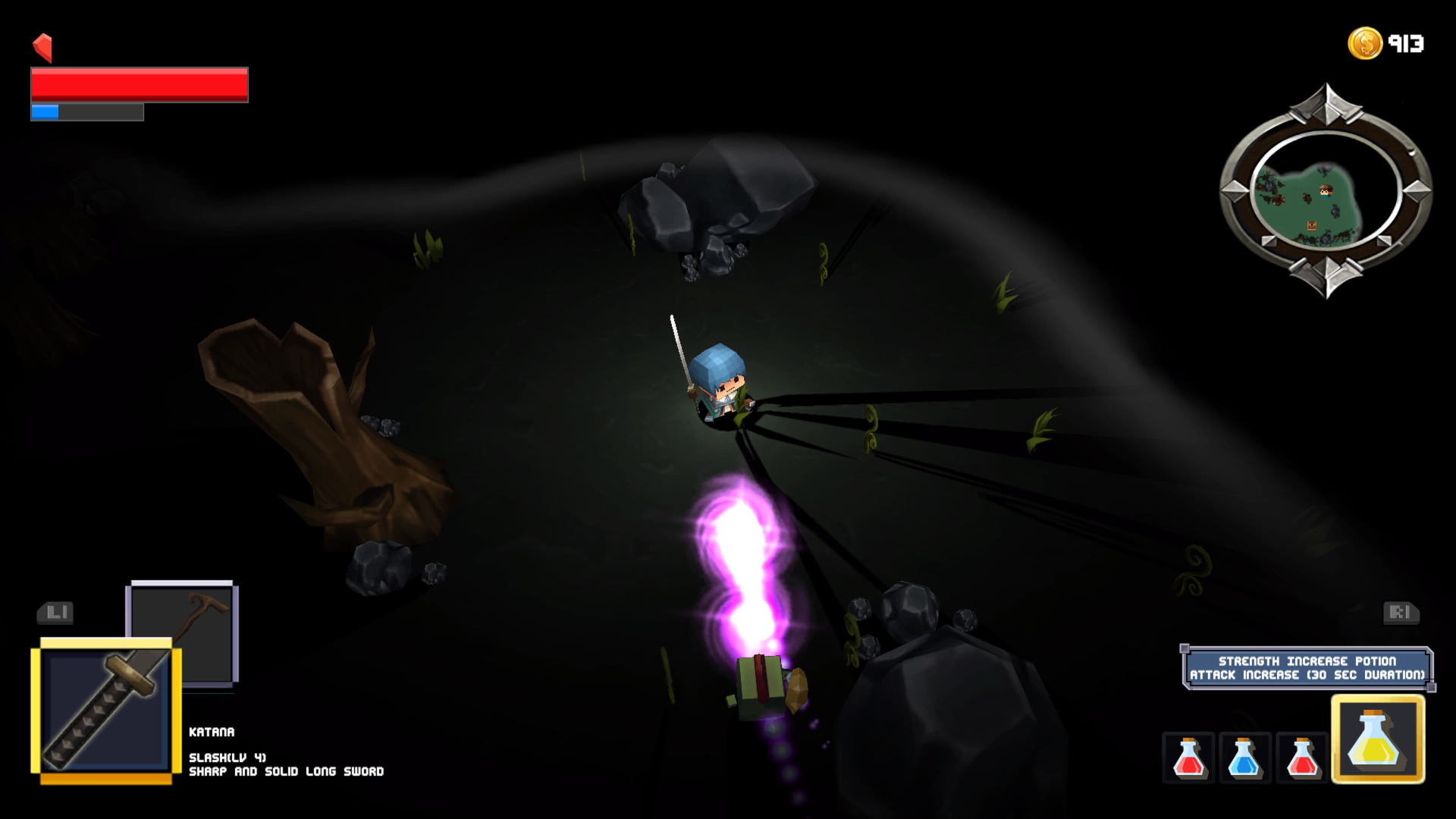 If the character is dead, make sure you investigate the tomb at the base camp with a new cube character. The player will be able to find a decent item. Also, trading with a merchant for items with gold the player gained from the game is another way to get items. The items offered by the merchant are not only randomly determined, but also increase in price every time you make a trade. As most of features are random in this game, this game is highly related to "luck" and the players may feel difficult but with steady and persistent effort, it will lead them to the ending.