Were the conferences set up at the worst possible time for you? Want to just hear the announcements made? Come on in!
If you do want to watch the E3 conferences, Twitch's Twitch channel has set up a collection for easy viewership.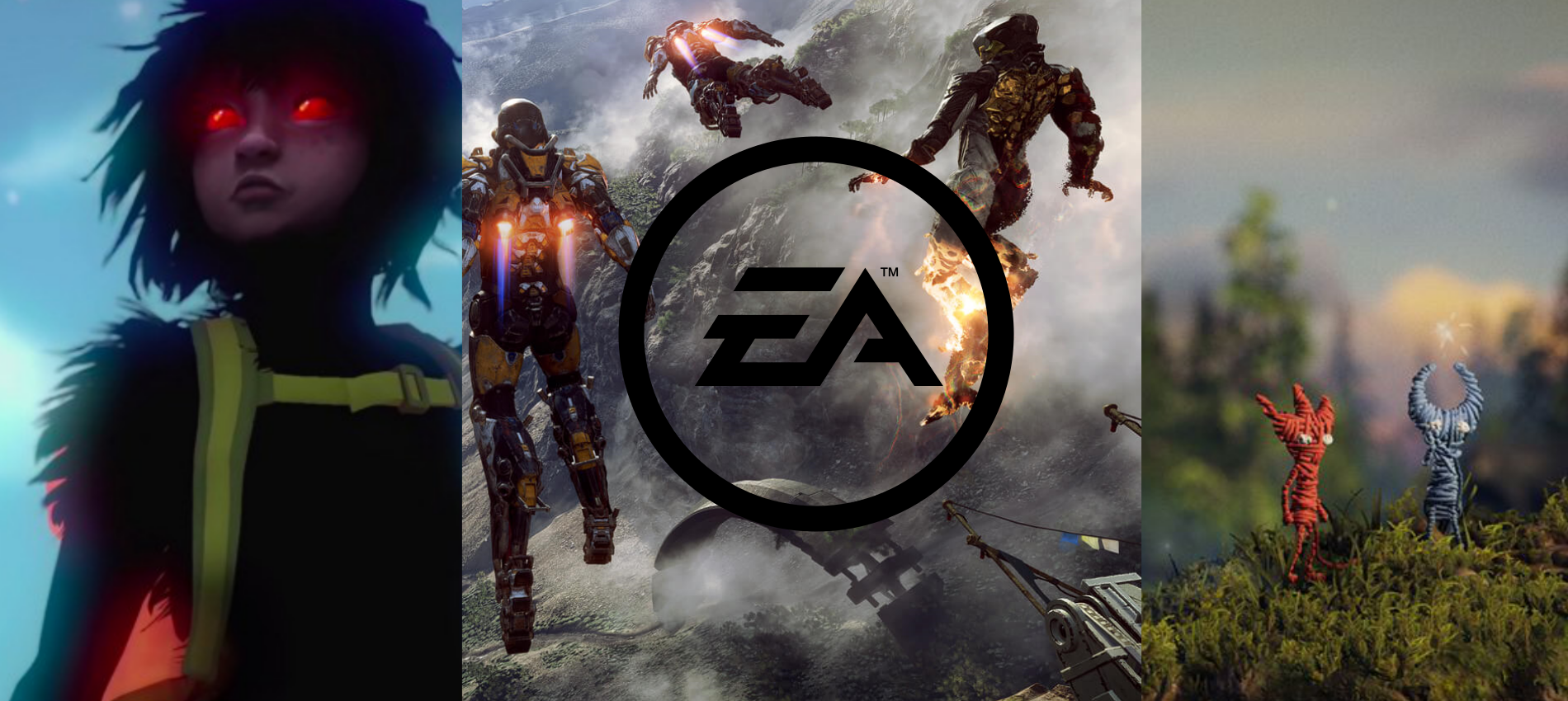 EA
Was it a mistake or did they not include EA's conference as Day One for E3?
Battlefield 5 has been announced to not have any lootboxes or premium passes, but will include a Battle Royale mode.
Champions League is coming for FIFA 19, which will be releasing on September 28th, 2018. If you decide to pre-order it, you will be able to play it three days early. In addition, FIFA 18 gets a free World Cup update.
EA Origin Access Premier
EA announced Origin Access Premier, which will be $15 per month ($100 per year), and will give subscribers the ability to play upcoming games early, access to The Vault (a collection of over 100 games), and a 10% discount. It's going to launch later this summer.
Star Wars: Jedi Fallen Order
Not a lot of information was given for this new Star Wars game, but we were teased with a little bit of information. Jedi Fallen Order will have you playing as a Jedi between episodes three and four during the time Jedi's were being hunted (or Dark Times ). It has been estimated to release late 2019 and will most likely be properly showcased next year.
Star Wars BattleFront 2 (New Content)
After admitting the rough start they had, they announced a lot of new content that they will be adding: Han Solo inspired content with the return of Extraction mode coming June 12 (should already be released by now of course), Squad system soon to be introduced, a new Starfighter mode focusing on capturing posts and ships, and announced the Clone Wars DLC coming this fall (which will include Geonosis as a new map and Obi-Wan Kenobi, General Grievous, Anakin Skywalker, and Count Dooku as Hero characters).
Unravel 2 debuts, and released (!), as a new co-op platformer game.
Sea of Solitude will explore loneliness and depression through the main character, who transformed into a monster, as they travel to find out why. It's slated for release early 2019.
The game been announced to be coming to the PC for the first time in 11 years. On other news, a Madden mobile title dubbed Madden Overdrive also got a trailer and will be released on August 15, 2018.
Command & Conquer got a new title… but on mobile. An on-stage gameplay session was shown to reveal how a match will generally be like. Pre-registration is open, but only Android users are able to play its pre-alpha.
After the new trailer, a live interview took place during the Anthem section, which showed a lot of emphasis on the story and how they're designing it in a way that they will be able to add new stories (such as more moments with certain characters or another plotline) for years to come. No loot boxes or anyway to pay for an advantage will be added, but you will be able to buy customization items (which you will know what you're buying up front). These customization options will involve your mech, or Javelin, as you can give it a different paintjobs and different armor pieces that will change the geometry of it. Javelins will also be able to be changed whenever to fit the situation as the four different types (Ranger, Colossus, Interceptor, and Storm) act just like classes. Anthem is releasing February 22, 2019.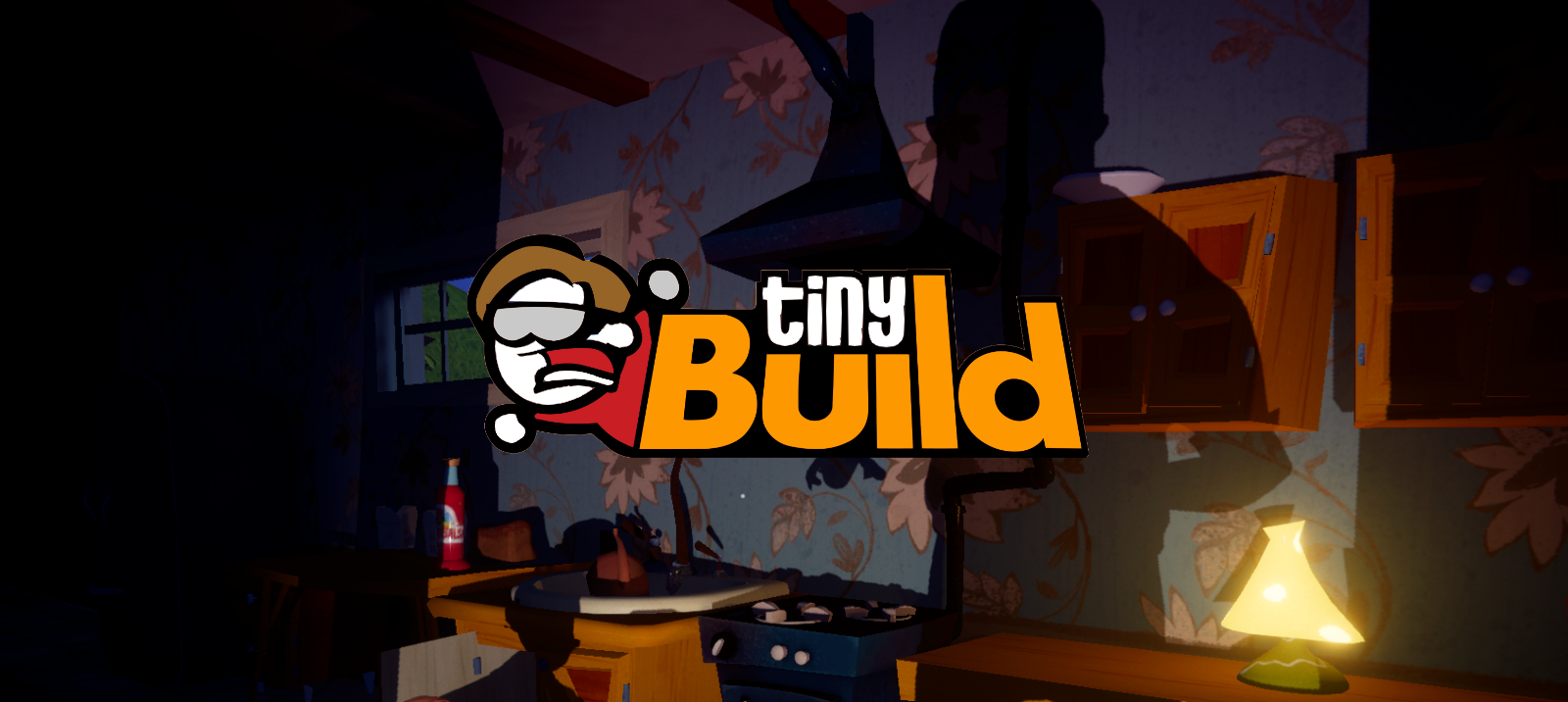 TinyBuild had a short segment right before Microsoft's conference to bring us a musical conference. At the end, they announced Secret Neighbor, a Hello Neighbor multiplayer game.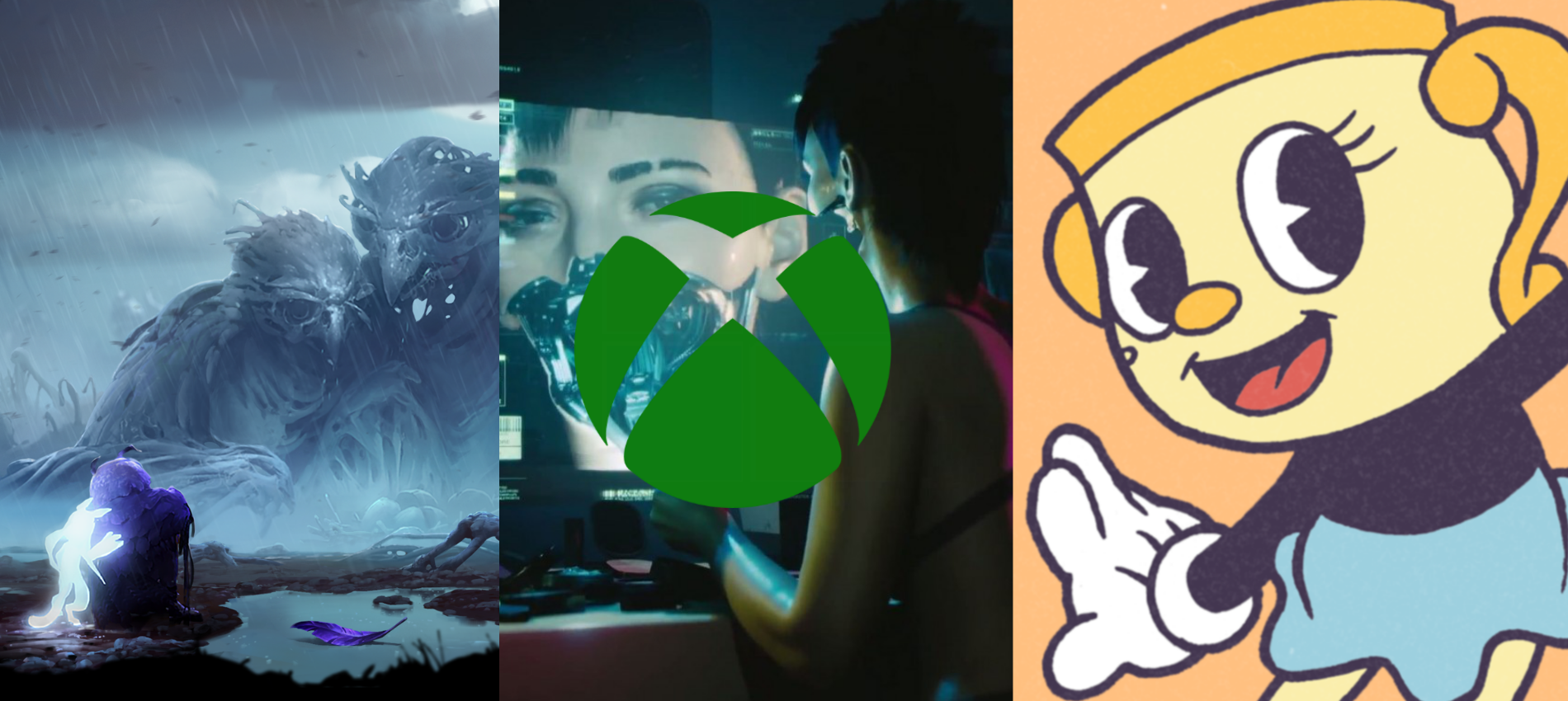 Microsoft
Microsoft focused on showing mostly all their trailers for upcoming games, but there were a couple of announcements. They brought in five studios: The Initiative (which is a new studio), Undead Labs, Playground Games, Ninja Theory, and Compulsion Games; and made room to talk about Gamepass FastStart which will be launching in late June for select titles.
Todd Howard also showed up to tease his own conference with a trailer for Fallout 76. For more info, check out Bethesda's conference section.
Onto the game announcements:
Neither Exclusive or World Premier
Exclusives
Halo Infinite staring Master Chief.
Ori and Will o' the Wisps gets a new trailer.
Crackdown 3, scheduled to release February 2019.
Sea of Thieves announces upcoming updates Cursed Sails in July and Forsaken Shores in September.
(Premier) Forza Horizon 4 coming October 2nd, 2018 set in historical Britain with dynamic seasons in a shared open world.
PUBG makes an appearance to show War Mode, Sanhok map, and to tease a new winter map to be released, you guess it, sometime this winter.
Session, or the skateboarding game that fooled everyone thinking it was going to be a new Skate title. Demo available.
Black Desert, a new MMORPG with beta beginning Fall 2018 (which you can register for now).
Cuphead in The Delicious Last Course DLC featuring Ms. Chalice as a new playable character, new bosses, a new isle, new weapons, and new charms coming sometime in 2019.
Tunic showcased.
(Premier) Battletoads coming 2019 featuring 3 player coach co-op and 4k hand drawn graphics. The meme is real.
World Premiers
Sekiro: Shadows Die Twice announced as a new From Software game set in 1500s Sengoku Japan.
The Awesome Adventures of Captain Spirit set in the Life is Strange universe launching June 26th, 2018 for free.
Tales of Vesperia Definitive Edition coming this winter.
Division 2 gets a trailer and gameplay footage with their usual fake com chat.
Devil May Cry 5 announced.
Jump Force, a fighting game focusing on anime crossovers (Dragon Ball, Naruto, One Piece, and Death Note was shown) and coming sometime in 2019.
Dying Light 2 announced while putting a lot of emphasis on how choices will matter.
Just Cause 4 releases December 4th, 2018.
Gears Tactics, a turn based title set 12 years before Gears 1, announced.
Also…the mobile title Gears Pop announced and set to release sometime in 2019.
Gears 5 announced as a story about Kait, who you also play as, and delving into the Locust mystery.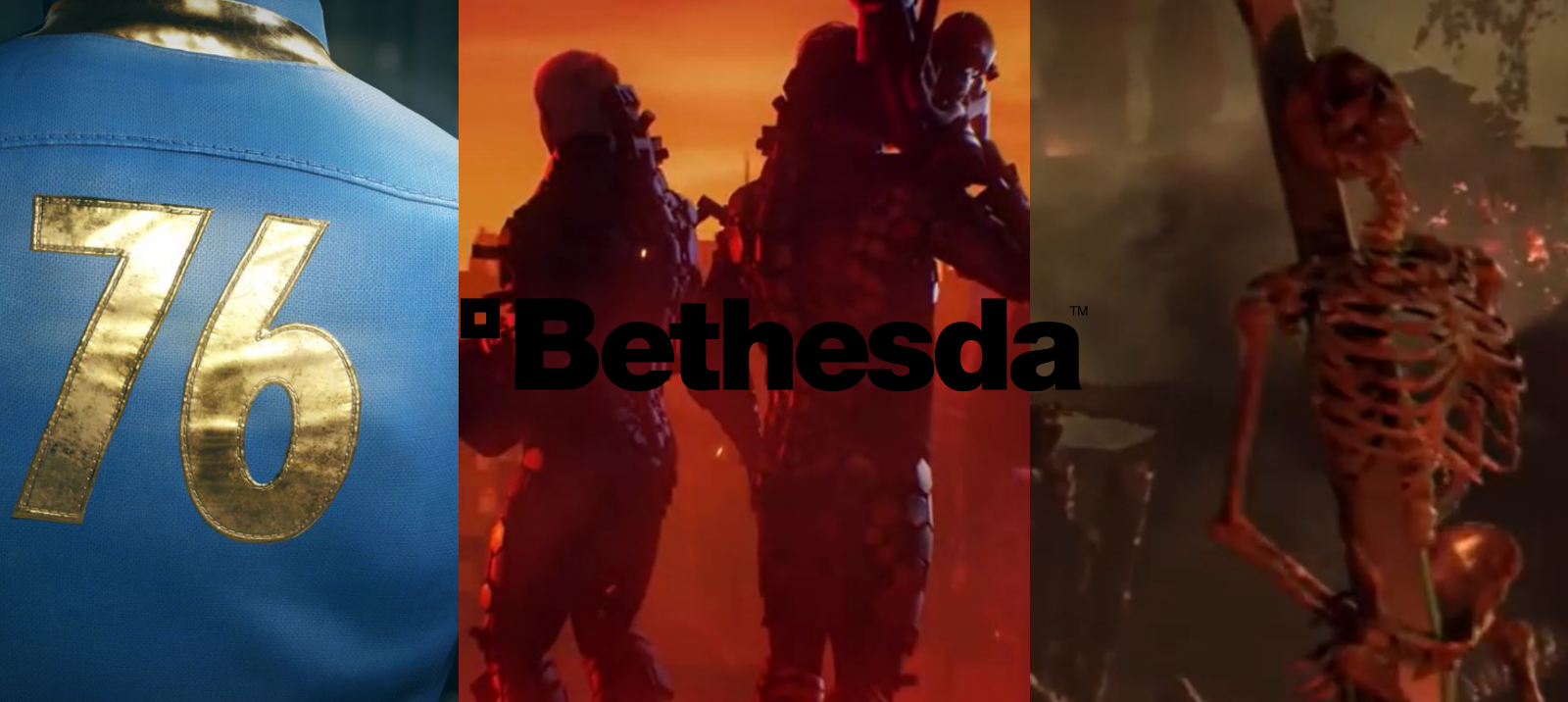 Bethesda
Okay, they started out great bringing out Andrew W.K. to open their conference and Rage 2. Confusing absolutely everyone there and resulting in the best audience reactions. Otherwise, Rage 2 was told to be a open world dystopian future with an extended look and gameplay trailer shown.
Elder Scroll's card game is relaunching later this year with new visuals.
Two new DLCs were announced: Wolfhunter that will give new dungeons focusing on werewolves and Murkmire which will have you return to Black Marsh, the home of Argonians.
A sequel that will have the protagonist twice as powerful, twice as many demons, and show more hell on earth, but you'll have to wait till QuakeCon for more information.
A multiplayer shooter that got a new trailer. If you get in on their trial now you will be able to stay even after it.
A huge free update comes to Prey that adds a New Game+ and a survival mode. A new rogue-like DLC also got announced called MoonCrash, which is out now. On top of this, a new multiplayer mode which pits one Mimic verses five called Typhon Hunter is set to release this Summer.
Focused on the tale of BJ's twin daughters and will be a co-op experience. It's coming sometime next year.
Wolfenstein Cyberpilot
A new VR game coming out sometime next year.
A joke that turned out to not be as bad as they meme the "Skyrim for literally everything" back to us. Also word on the web is that the Skyrim they showed on Alexa in the trailer is actually real.
Announced to be a prequel to all the other games, being 4 times the size of Fallout 4, and taking place in West Virginia. The game starts right after Reclamation Day where everyone finally gets to leave the fault, but you sleep in and leave last. This will be an entirely "softcore survival" online game where you can find people who will kill you on site, party up with others, go solo and quest (though teaming up is encouraged), build your own bases, and find nucleur codes which will unlock a nucleur missle you can launch anywhere; all while your progress is carried over wherever you go. It's coming out November 14th, 2018.
Fallout Shelter
Out for PS4 and Switch now for free.
A mobile first person, dungeon crawler like, game that will also go to consoles and PC (with VR available) and will be available sometime during Fall 2018. It will include three different modes: Abyss which will be a rogue-like endless dungeon, Arena which you will battle with others, and The Town where the main story mode, quests, town building (which you can visit other's) are placed.
Only a teaser trailer, but is a new single player IP in the works.
Only a teaser trailer this year.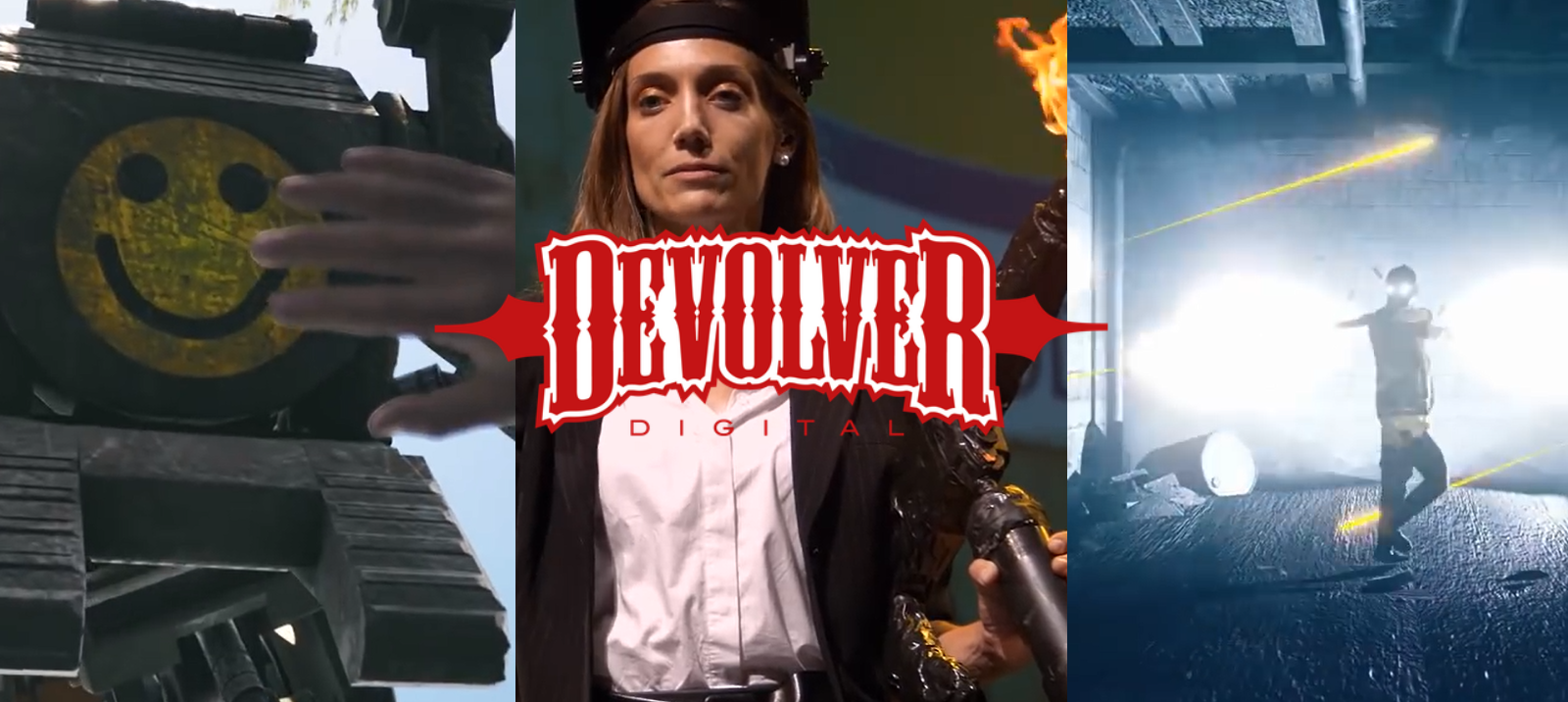 Devolver Digital
No words, just go watch their conference video. If you haven't watched last year's, go watch that first before watching this year's.
What was announced: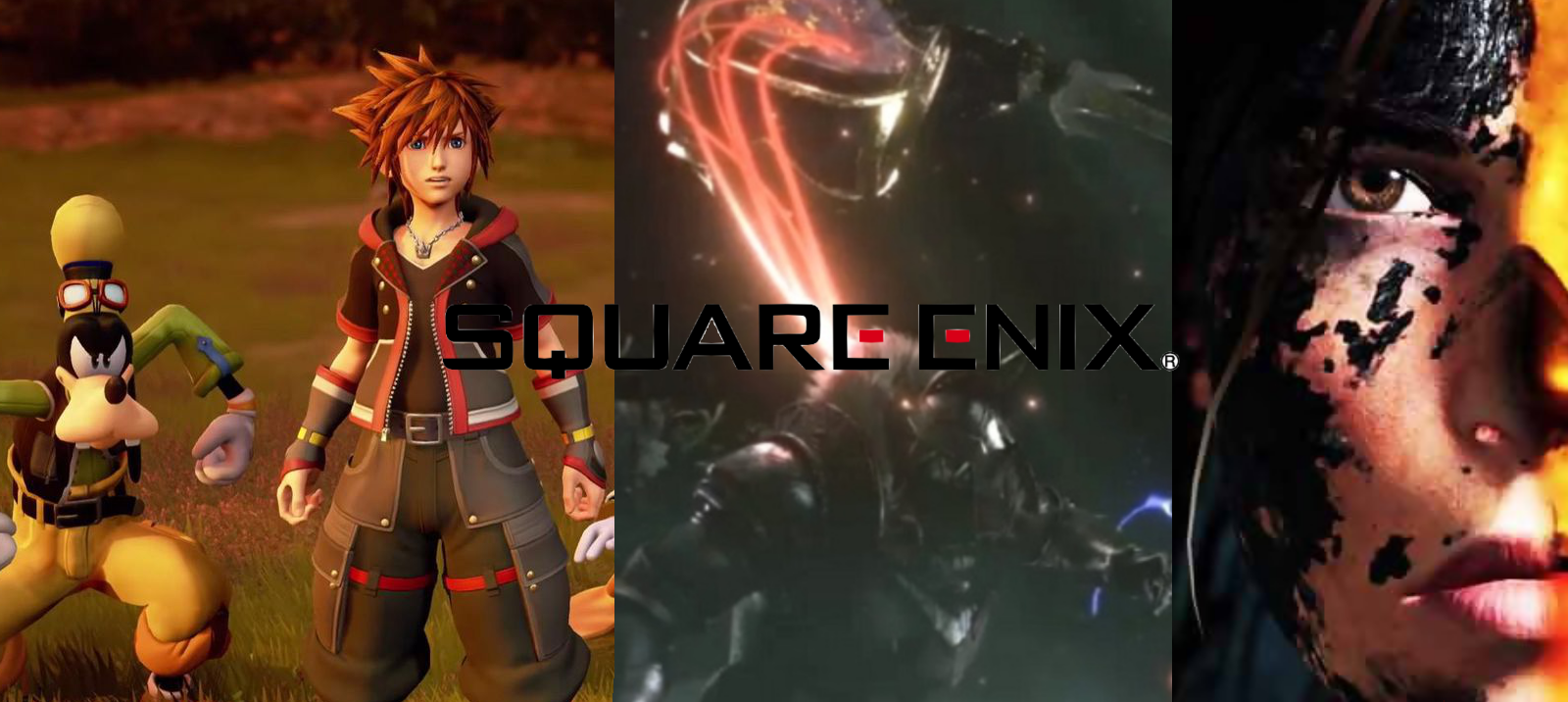 Square Enix
This year, Square Enix only showed trailers. For the games that were at Microsoft's conference, they included new trailers (apart from Nier Automata Become as Gods Edition Trailer and KH3 adding one more sound effect and a couple new scenes):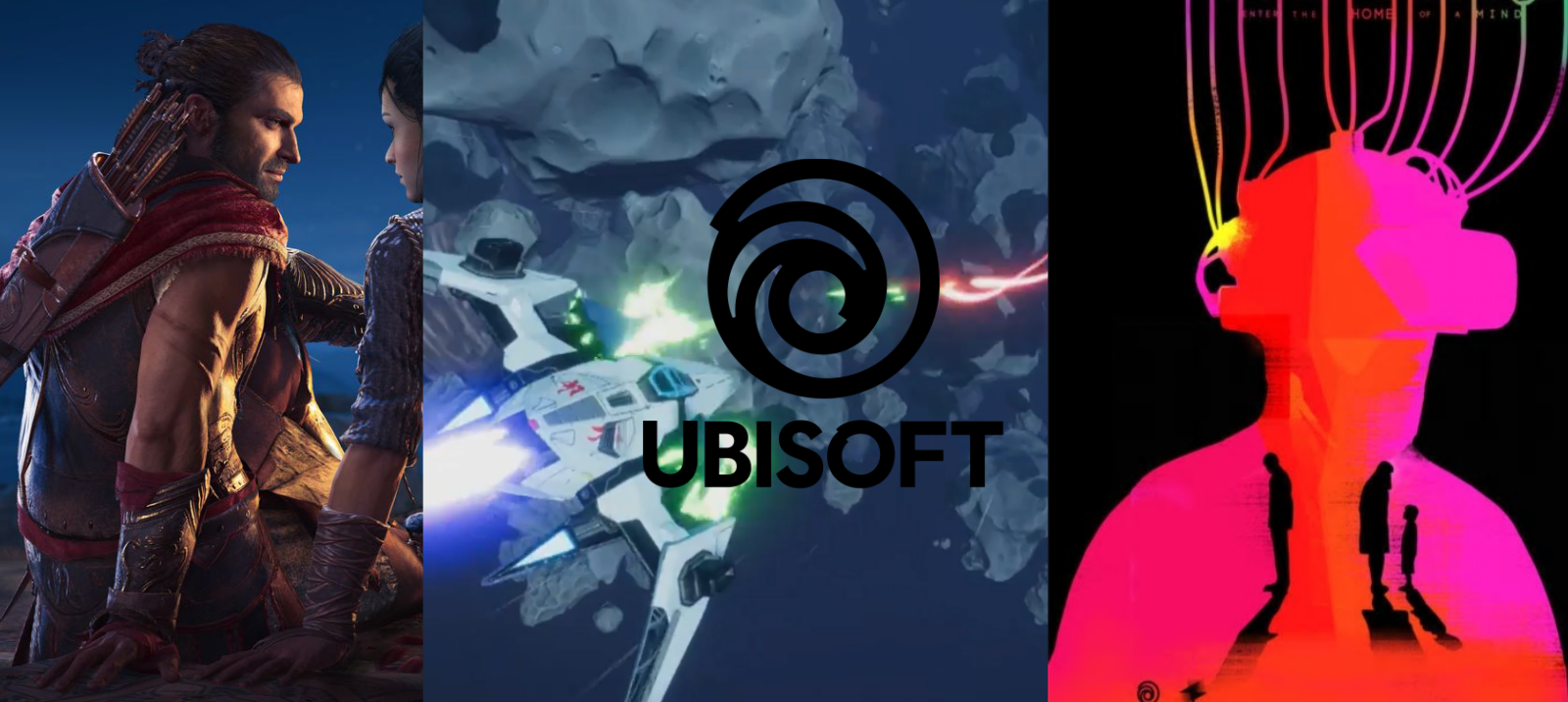 Ubisoft
As usual, Just Dance opens the Ubisoft conference (and the panda is all dolled up!) and along with the nice dance number we should expect Just Dance 2019 to be released this October ( even on the Wii, wiggle those wiimotes! ).
We got a whole new trailer and a short look at pre-alpha gameplay of Beyond Good & Evil 2, which will be a prequel to the first game, and got a look at a young Jade. In addition, they discussed that they will be working with HitRECord, which allows people to work on art or music together.
Note: Don't be fooled by the "2" on the end of this title, this is a prequel to Beyond Good & Evil 1.
Rainbow Six Siege
An ESports documentary called Another Mindset that will be releasing at Six Major Paris (August 13-19).
Trials comes back in the form of Trials Rising and you can register for their closed beta now, which will be happened later this year. Otherwise, it will be releasing on February 29th, 2019.
The Division 2 will set place at Washington D.C. where you are the last line of defense. They discussed how there will be specializations, or classes, you can pick after finishing the campaign, an eight player partner, raids, and frequent content updates. The first year will also see three DLC episodes to be released for free. You can sign up for beta now or you can wait for it to release at March 15th, 2019.
With the opening of a live performance, this DLC for Mario Rabbits is set to release on June 26th, 2018.
This is a shared open world pirate game where you just set out to steal everything, based on pirates in the Indian Ocean and even developed at Ubisoft Singapore. They also showed some gameplay and told us we should expect it sometime in 2019.
A VR psychological thriller title that is coming sometime in Fall 2018.
An action adventure space shooter game featuring Fox McCloud where you use a ship model placed on top of your controller to control and assemble the ships in-game. This is coming out on October 16th, 2018.
For Honor is getting an expansion called Marching Fire with a bunch of new content. New factions, 4 new characters, 4 v 4 castle siege, and new single player content will be included. It is set to be released October 26th, 2018. If you want to try it now, the starter pack will be free for PC till the 28th.
There will be an open beta for Crew 2 on June 21st and you can preload the beta now.
With a choice between a male (Alexios) or female (Kassandra) character, you will be set in Ancient Greece during the Peloponnesian War. There will be branching conversations where you can choose your own dialogue, change your story based on your actions, and romantic interests. It will be available on October 5th, 2018.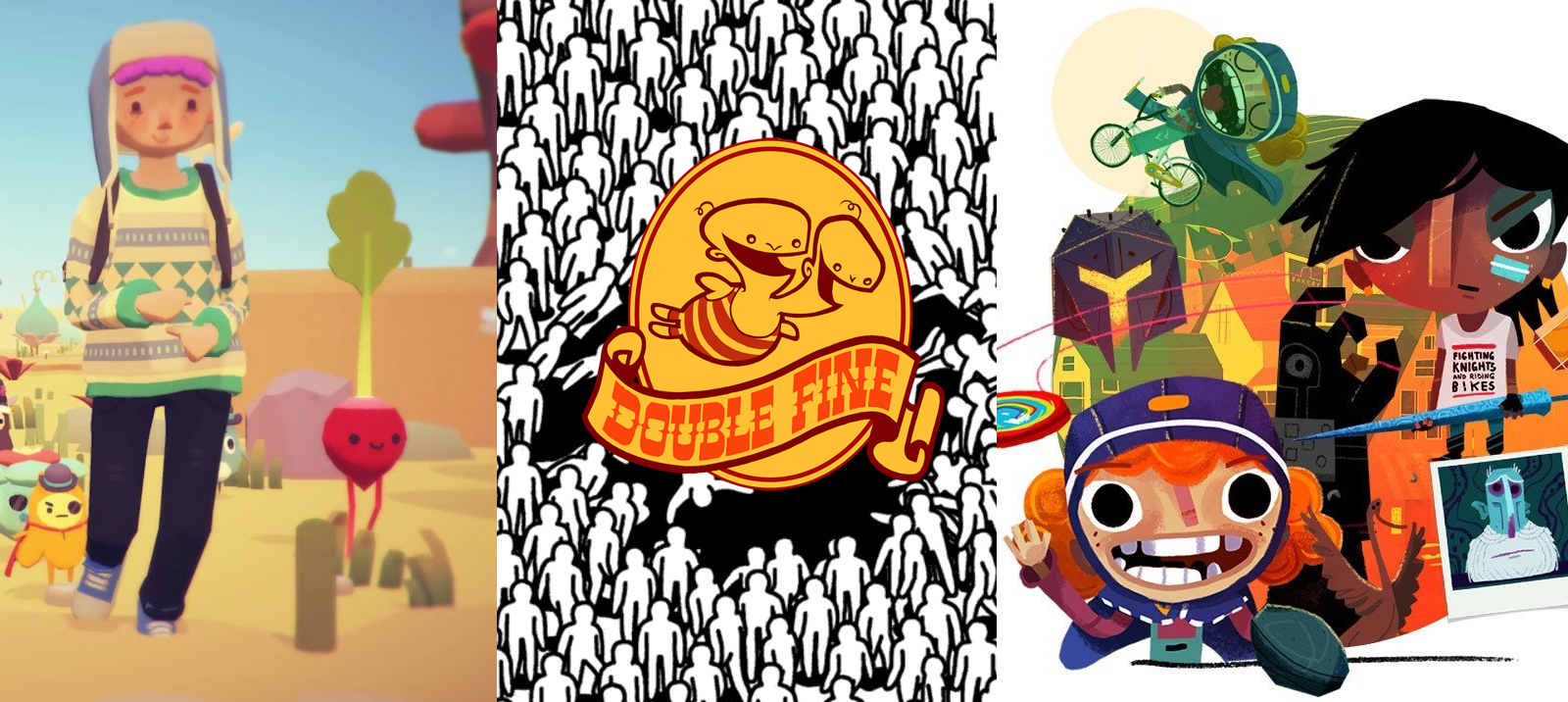 DoubleFine
Gang Beasts
Gang Beasts will be releasing on Xbox One sometime this year and is getting an update that will include a new train level, new modes, and new costumes.
A cute action, adventure game where you explore a British island in the 1980s. It will be a co-op, with online multiplayer, experience about friendship and going on adventures.
Kids
Kids was described as an interactive short film, but in a game and will be about group interaction and crowd control.
Ooblets (a farming, town life, and creature collection game inspired by Pokémon) gets a feature here, but more updates for the game was included in the PC Gaming Show.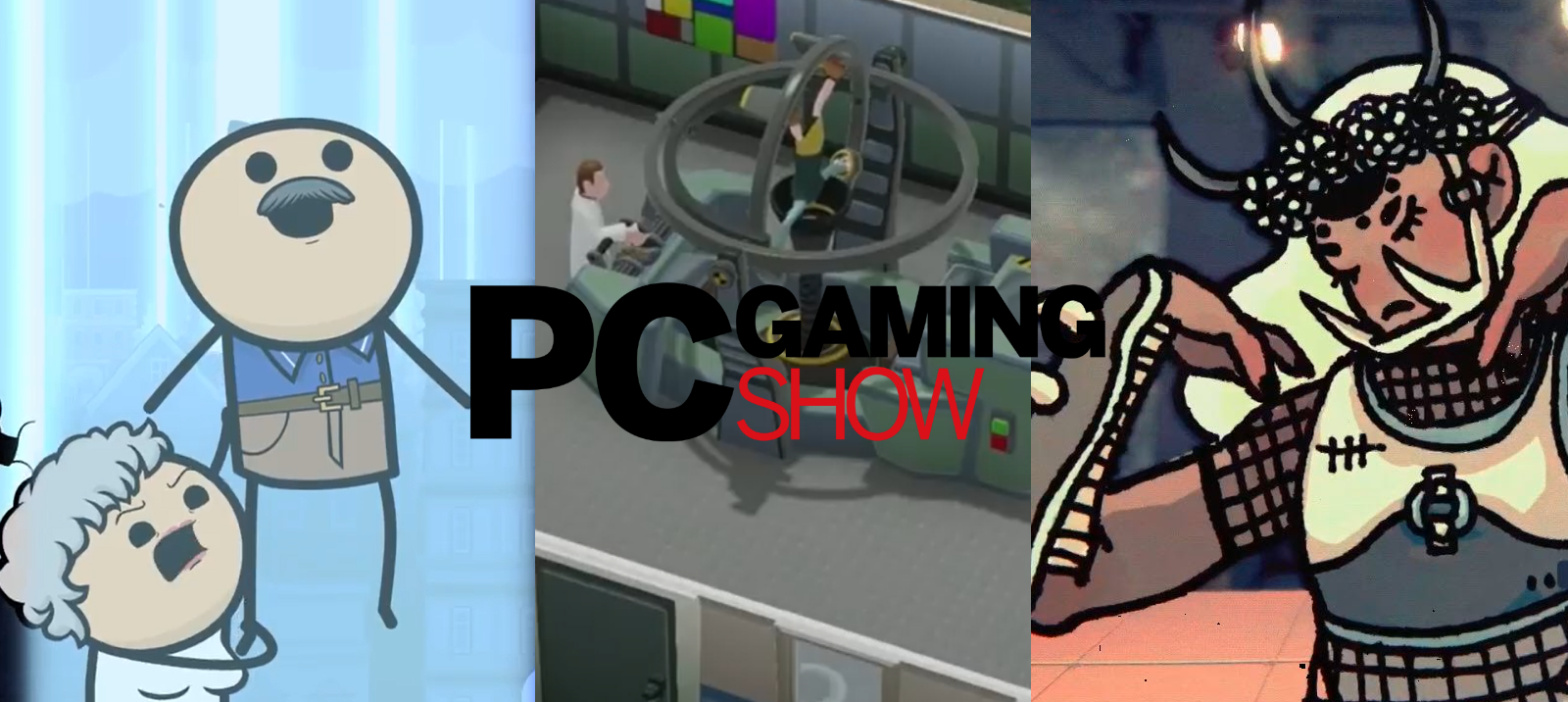 PC Gaming Show
Build factories and produce advanced resources in this first person, co-op, factory building game. There will be a closed alpha soon, but sign ups are available now.
https://www.satisfactorygame.com/
A cyberpunk survival game where you play as the last human driver for hire.
A battle royale game looking to redefine the genre as it brings in 400 and 1,000 player last man standing modes, dynamic weather, reactive wildlife, and ways to track information other players will leave. Closed beta sign ups are now open and if you sign up before June 17th, you will get E3 exclusive content.
A reimagining of The Forgotten City mod for Skyrim that will have you explore an ancient, underground city where one sin causes everyone to die.
An open universe action rpg that will include dozens of aliens, hundreds of stars, and thousands of planets that you can land on all of them, ship to ship combat, Fleet Battles mode (multiplayer), modding support, and will simulate the entire universe at all times. This will launch on September 20th, 2018
https://www.stardock.com/games/starcontrol/
New content have been added including crossbows, throwing knives, and sticky bombs. You can pick up Hunt Showdown now.
A multiplayer game that will have 4 maps, 6 different mechs, 2 v 2 pvp, and tons of weapons. It will be releasing on July 17th, 2018 but it is available as early access now.
A lovecraftian, open world, action investigation game where there is no handholding, objectives, or markers. Instead you will be provided with info, hints, clues, evidence, people to talk to, and suspects to question. In addition, there will be a sanity mechanic that will impact gameplay with hallucinations and distorted sounds. While there are monsters in this world, fighting them will not be the core of the game, but weapons, skills, and traps will be given to defend yourself.
An update called The Sacrifice is coming in June, which is the next cinematic quest in Warframe's story. More information will be revealed at TennoCon.
https://www.warframe.com/thesacrifice/info
Sega is releasing a handful of games to the PC:
Shining Resonance Reframe
Shenmue 1 & 2
Yakuza Kiwami
Yakuza 0 (releasing early August)
Valkyrie 4 Chronicles
Killing Floor 2 showcases their new update Summer Sideshow: Treacherous Skies (out now) that mixes circus freaks with steam punks. It adds 73 new weapons, a weapon upgrade system, and welcomes back Mrs. Foster. Two more major updates will be coming out sometime this year.
Tripwire is now a publisher for Road Redemption.
http://www.roadredemption.com/
Play as a shark in this single player, open world, action rpg.
Releasing sometime in 2019
http://morningstarthegame.com/
Available now.
Available now.
https://www.jurassicworldevolution.com/en-GB
An open world VR game that will have you playing as a robot and plans to use the VR tech to make the game as immersive as possible.
A narrative neo-noire game that you will play as a taxi driver investigating murders that have been recently happening around you.
A narrative open world game that will focus on solitude and exploration.
Alpha 3.2 update coming soon.
https://robertsspaceindustries.com/
A randomly generated universe where you will build and manage your ship, farm resources, deal with alien manifestations, and have the ability to splice DNA. This will release on September 4th, 2018.
While this is the third appearance of Just Cause 4, new information was given including different biomes being put in, everything from Just Cause 3 coming back (but better), and will have a reworked customization.
A co-op shooter taking place in Washington D.C. that will release November 6th, 2018.
Continue the story of Clem on August 14th, 2018.
https://telltale.com/series/the-walking-dead-season-4/
A magical, action rogue-lite platformer where every pixel is simulated.
Design and build your hospital as you will be able to see new and interesting illnesses (and cures) as you go through different regions ranging from easy to pretty darn difficult. Two illnesses were showcased: Turtle Head and Monobrow (which can cause a Monobrow Infestation). It will be coming later this year.
https://www.twopointhospital.com/
Realm Royale
A battle royale game that have fantasy classes with their own abilities that you can upgrade during the match. You can play this for free now.
A, very cute, combat system, more ooblets, and more environments have been added.
A sandbox, strategy, city building game taking place in the 19th century.
https://www.ubisoft.com/en-us/game/anno-1800/
A battle royale game that actually looks different from the others due to it being 2d with art based on the webcomic Cyanide and top down. You can sign up for the alpha now.
https://www.rapturerejects.com/
Hitman is back in business as he travels to Miami on November 13th, 2018 with all new content and mechanics: crowd mechanic where you can dip into a crows to hide, a picture mechanic, bringing back the sniper briefcase but will be able to use other guns with it, and will have limited time events. If you decide to pre-order Hitman 2, you will be able to play Hitman: Sniper Assassin Mode by yourself or with friends.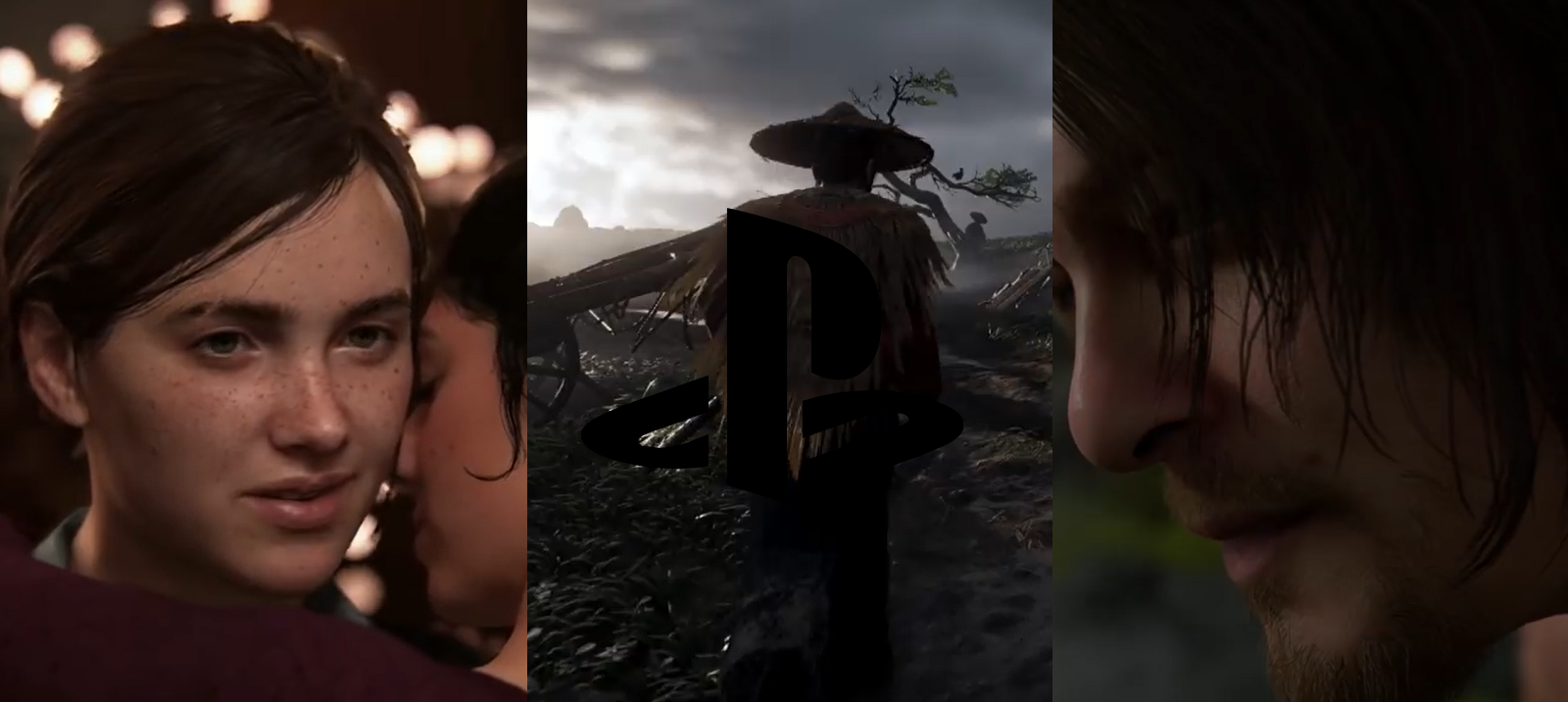 Sony
Sony, similar to Square Enix, only showed trailers (which are all new). They did have some nice intros with a sole musician playing the theme songs to some of the trailers, though. Our head editor, Dangerhighdoltage, noted that "Sony really felt like they wanted the player to be in an immersive game, and I think they have no fear of the single player aspect of that compared to other publishers. The single musician playing music, the single character as the central theme to each trailer, and the presentation of the E3 showing was aimed at observing a point in time of someone's life rather than a gauntlet of over the top action with multiplayer. They do it and they do it almost unchallenged with the emphasis on player experience being enveloped by the world they are taken to and how a single moment can make a game absolutely enthralling."
Black Ops news: pre-order 4 and get free maps for 3; Black Ops 3 is now on PS+
Control (Releasing sometime in 2019)
Resident Evil 2 Remaster (Releasing January 25th, 2019)
Kingdom Hearts 3 (Releasing January 29th, 2019 and shows a whole new world: Pirates of the Caribbean)
Spider-man (Releasing September 7th, 2018)
Déraciné (PSVR)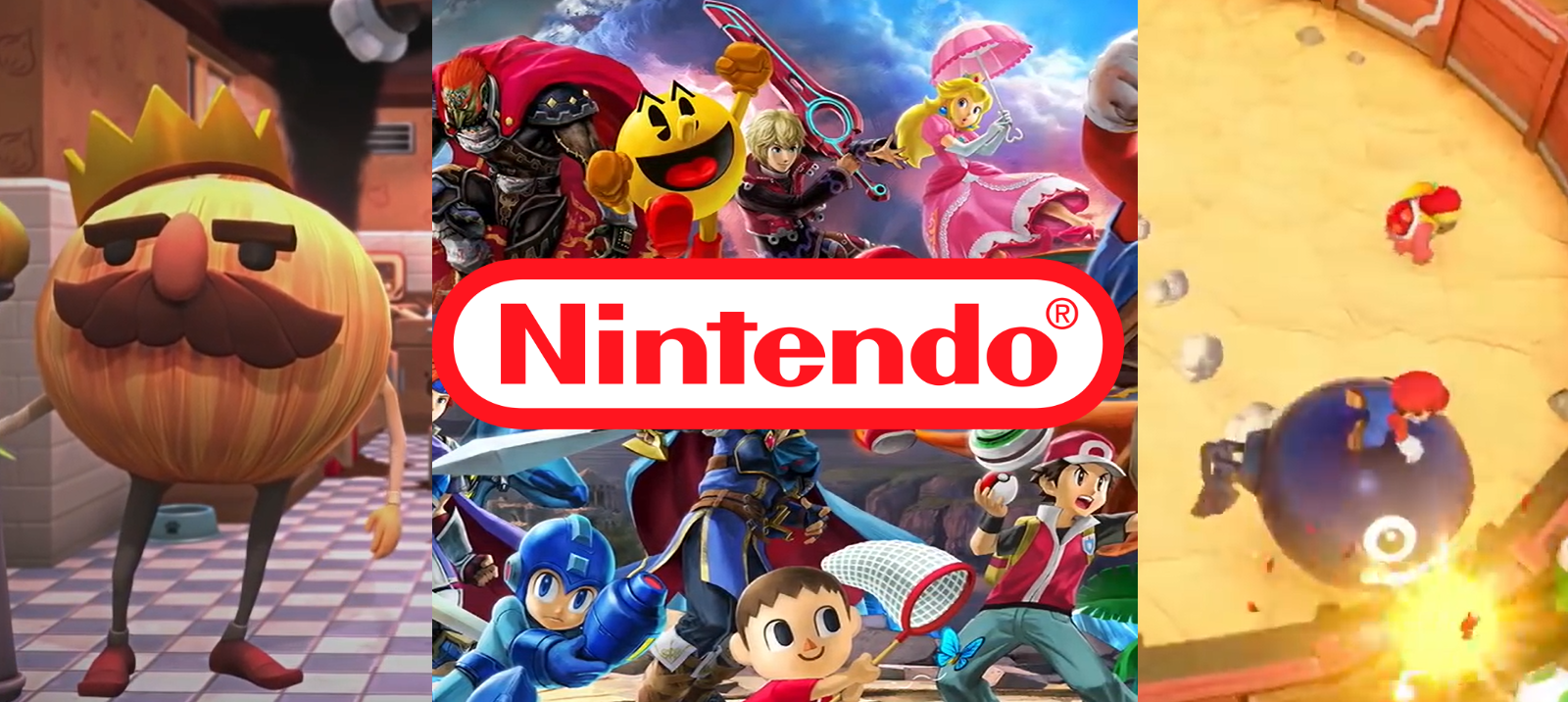 Nintendo
A whole slew of games were announced, along with a major reveal about a certain one:
StarLink Battle for Atlus (Coming out October 16th, 2018)
Arena of Valor (Expected for Fall 2018)
Minecraft (Releasing June 21st, 2018)
Sushi Striker: The Way of Sushido (Available now)
Mario + Rabbids Kingdom Battle: Donkey Kong Adventure DLC (Releasing June 26th, 2018)
Pixark (Coming out Fall 2018)
Just Dance 2019 (Releasing on October 23rd, 2018)
Dragonball FighterZ (Coming out sometime this year)
Splatoon 2: Octo Expansion (Coming out Summer 2018)
Captain Toad: Treasure Tracker (Releasing on July 13th, 2018)
Crash Bandicoot N-Sane Trilogy (Coming out on June 29th, 2018)
Ninjala (Releasing in Spring 2019)
Carcassonne (Coming out Holiday 2018)
FIFA 18 World Cup Update (Available Now)
FIFA 19 (Coming out on September 28th, 2018)
Ark Survival Evolved (Coming out Fall 2018)
Wasteland 2 Director's Cut (Coming out Fall 2018)
Paladins Champions of the Realm (Available now)
Fallout Shelter (Available now)
Dark Souls Remastered (Coming out Summer 2018)
SNK Heroines Tag Team Frenzy (Releasing on September 7th, 2018)
Monster Hunters Generations Ultimate (Releasing on August 28th, 2018)
Wolfenstein 2: The New Colossus (Coming out June 29th, 2018)
The World Ends With You Final Remix (Coming out Fall 2018)
Megaman 11 (Releasing October 2nd, 2018)
Mario Tennis Aces (Coming out June 22nd, 2018)
Have Pokémon Go? You will be able to transfer Pokémon you have from Pokémon Go to Pokémon Let's Go Pikachu/Eevee. In addition, you can use an accessory called Pokeball Plus, which will act like a controller and you can use it when catching Pokémon or for the whole game. You will also be able to store Pokémon in the Pokeball Plus to take it with you, and with each Pokeball Plus comes with an exclusive Mew. Pokémon Let's Go Pikachu/Eevee and Pokeball Plus is coming on November 16th, 2018.
That's right, the Super Smash Bros that was teased is actually called Super Smash Bros Ultimate. It will include all characters that have been in a Smash Bros game and will include three new characters: Daisy (Echo Fighter), Inkling and Ridley. A lot of changes and tweaks are being made from costume/design changes to attacks being changed to fit their personality better or to fit the fast gameplay. Eight player battles will be returning, 50+ assists trophies, graphics improved for stages, all stages will have both Battlefield and Omega forms, and introducing Echo Fighters (fighters based on other fighters). Techniques have also been improved: directional air dodge enhances mobility, short hops attack can be executed at any time, perfect shields need to be timed carefully, 1 v 1 damage dealt will be higher than in battles with more characters, and leaders in time battles will now sometimes flash with a light. GameCube controllers and all current amiibos, no matter what series they are from, are compatible. Super Smash Bros Ultimate will be rushing in on December 7th, 2018.
And that's it for this year's E3. I hope you found something that you were interested in and weren't too devastated if it doesn't have a release date yet. The wait for E3 2019 starts.